Interview: Aaron Rose's Coney Island
Coney Island is a natural playground for photographers, especially during New York's brutal summers. Noisy, fleshy people compete for space...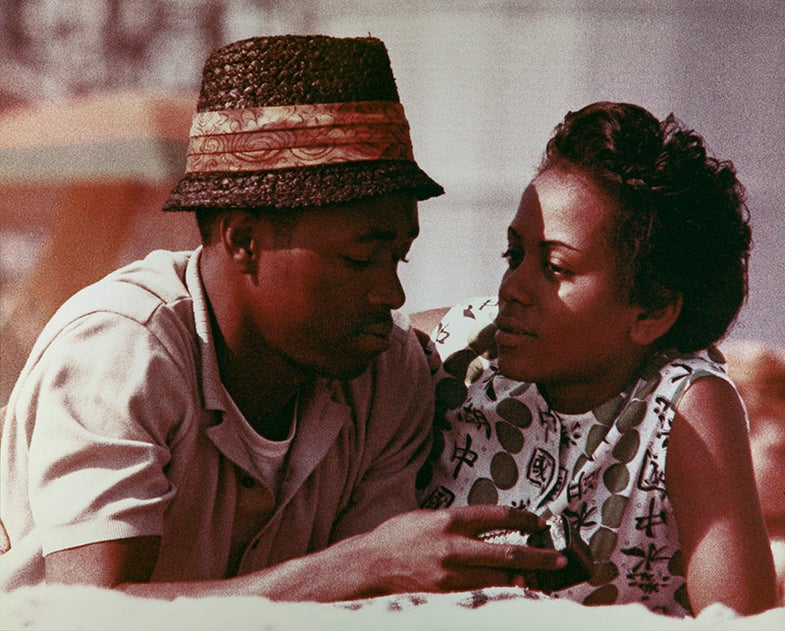 Coney Island is a natural playground for photographers, especially during New York's brutal summers. Noisy, fleshy people compete for space on the sand, much like they vie for seats on the subway during the week. This pent up energy is what attracted Aaron Rose to photograph the Coney Island beach-goers in 1961.
Shot over three summers when Rose was in his early 20s (Rose is an orphan and unaware of his exact age), these previously unseen photographs capture New Yorkers unaware and uninhibited, basking in Coney Island's beating sun.
While Rose worked on this project from '61-'63, only a handful of people even knew the images existed. Rose, now in his 70s, has been photographing his entire life but he rarely shows his work and has only sold pieces a few times. His work was first shown during the 1997 Whitney Biennial and briefly at the Paul Kasmin Gallery the same year. In 2002 his series about Penn Station's destruction, The Last Days of Penn Station, was shown by the Museum of the City of New York. "I was brought up in a system where people were exploited and I didn't want to go through life that way," he says.
Seventy of these never before seen images make up In a World of Their Own: Coney Island Photographs 1961-1963, on display at the Museum of the City of New York until August 3. We talked to Rose about his work and why, after so many years, it was time to take these photos to the public.
Tell me about the images currently on display at The Museum of the City of New York?
I went down there for the anatomical aspect: the varieties of not only different people from places in the world, but different shapes. Looking at them now, I'm glad that I got a sense of that time, that's the greatest pleasure I got. Coney Island has a universal concept to it, well that's my concept of it. I got the point.
I had a pretty good sense of photographic chemistry so I was able to use the Type C process that Kodak had invented, but I took it a little farther so I could increase the speeds, equivalent to a high-speed film. When I went down to Coney Island I needed that speed, you got one opportunity to take most of those shots and you just can't come back and do it again. I had to push the ASA rating up from 160 to over 1000. That enabled me to close down on my lens, get the maximum depth of field and it gave me a very gritty look, which I liked.
This is the first time these images from Coney Island have been seen publicly, why?
I put them away. There were a few people who knew about those pictures, but I didn't show them publicly at all. I didn't bother promoting myself. Even now, I don't promote myself. I do photography because I love it. Money isn't going to make a better picture for me and it is not going to make me happier. I wasn't working for the work to be shown or seen, I was working for the pleasure of doing the work itself. I guess the reason I didn't show my work is I was always busy going onto the next thing.
What did you like about shooting at Coney Island?
The gutsiness. To be amongst people in the flesh, with such an array of shapes and styles, I just felt it was the best way for me to get into my work with humanity. Everybody is so different when you go on the beach. Everyone has their own look. I think it was a mixture of people and bodies, just physical anatomy, I mean where else can you find such a great array of shapes and forms?
What were some of your favorite scenes to shoot at the beach?
I liked the big fat men. When they laid down their bellies stuck out and bulged out. I just find it very comical, very cartoonish. If the people I had photographed had seen the photographs that I took of them sometimes I wonder how they would reflect. It's them. It's the real people: they are not wearing clothes, they are not made up, they are out in the open. It's that kind of stark reality, in a very sunny atmosphere.

How were these images shot, what was your process for shooting them?
I'd get to the beach by noon and leave at six. At noon the beach started filling up, it reaches capacity mostly at three or four in the afternoon. I liked the light at that point too. It was real gutsy and nice and hard. I found it just beautiful.
I mostly picked the weekends, because the weekends were crowded. If there was rain, I didn't go. Or if it was very cloudy, I didn't go. I liked the sunlight. I liked the sun beating down on flesh.
I used a Leica 35 mm camera with a wide-angle lens and a slight telephoto lens. No one ever saw me taking their picture, that much I know.
How were you able to keep people from realizing that you were photographing them?
I would look, just like everybody else observing on the beach. I'd see an interesting woman in her beach chair, laid out, burnt to death, practically. Then I would ponder how I would approach it: from the left, from the right, from the back, from the front and then by the time I reached them I had a pretty good idea of how I wanted to see that grouping. I would walk by with my camera on my side. I never put the camera up to my eyes. They never saw me taking their picture, but by that time I knew I already had the picture in my field and I just continued walking on.
Even the picture of the weight lifter—everybody thinks he posed—he did not know that picture was being taken. He was just looking my way. The lovers were just a real lucky thing. I saw them, but I didn't think I could get them in the depth of field. The weightlifter was on one focus plane then the lovers [on another], they actually became more blurred, but still it added another element to it. It put the emphasis on him with that little action going on in the back of him.

Why did you want to work like this?
I don't like disturbing people, and once people are aware and conscious that they are being photographed you are not getting the same photograph as when they are not aware of what you are doing. So that was the key to it. None of those pictures in that whole exhibit—I can't remember anybody knowing that I took their picture.
How were you able to capture such intimate moments, especially between the entwined couples, while working in such a covert way?
It looks like I was very close to them, but I wasn't, I saw them but you do have to keep a respectable distance, just from the noise of the clicking camera. I was never that close as it looks.
If I got the picture and the subject was to far away, I would just enlarge the photograph. Because of the enlarging techniques I was using I was able to take very small portions sometimes.
After all these years why did you decide it was finally time for this work to be seen?
I'm at an age I've got to start putting it back. I was worried about the original prints of the Coney Island series. I love the body of work and I wanted to protect it. I wanted it to go back to the city of New York, that is where I took the pictures and it has to go back. I knew Susan Henshaw Jones from the photographs of Penn Station and I knew that she had a very keen interest in this kind of work. I trusted that she would know what to do with this work, and she did.