Instagram Takeover: Maureen Drennan's Portraits of Syrian Refugees in the Netherlands
Follow along @AmericanPhotoMag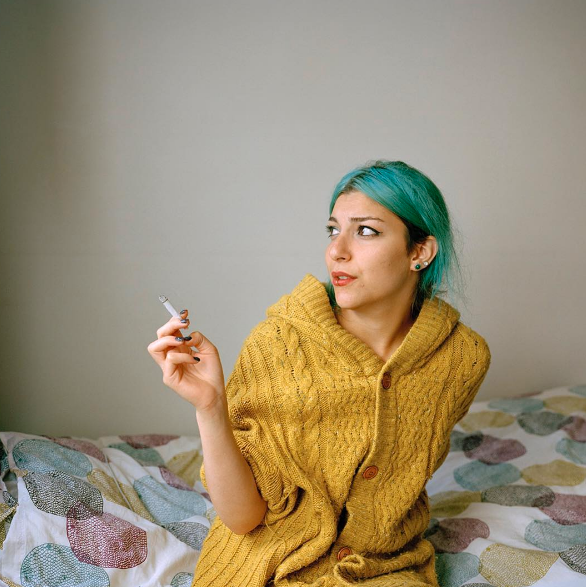 Photographer Maureen Drennan has always been drawn to investigating communities and individuals in states of isolation and vulnerability: ice-fishers in the midwestern United States, the community of people living in Broad Channel, Queens and even her husband's struggle with depression.
Her newest body of work brought her to the Netherlands, where she began investigating the lives of Syrian refugees who have resettled in Europe. This week Drennan will be sharing some images from her work-in-progress project on our Instagram feed. Follow along at @AmericanPhotoMag.
What brought you to the Netherlands this summer to start this project?
This summer I was honored to receive an artist residency through Foundation Obras in the Netherlands. The residency was in a small town called Renkum in the Gelderland region of the Netherlands. My husband and I applied in 2015 and so we have been planning the trip for over a year. He is a painter and I'm a photographer so we were both fortunate to be able to work on our art for three weeks.
What was it about the stories of these recent Syrian refugees that was interesting to you?
I was inspired to seek out recent Syrian refugees because I wanted to hear their stories individually. I wanted to hear first hand what it was like to have to leave your home and your family, travel across vast and often dangerous distances, and then live in a strange land. I was wondering what it was like for them now in this new country, trying to start a new life. You read and see on the news a particular portrait of refugees and the global refugee crisis. They are experiencing this tragedy and it is important for the media to tell that story. But there are so many stories to be explored. I am interested in the personal. I wanted to meet them, befriend them, see where they live, and how they might spend an afternoon. These are people who experienced a catastrophe and the fact that they are Syrian refugees is only one aspect of what defines them.
After spending some time with Fadi, Nabeel, Sherin, and Razan the overarching theme that appeared was that they were waiting and in a transitional place. Waiting for a permit, waiting to start school to learn Dutch, waiting to get a job, and essentially start a new life in a new country. I wondered what it would be like to be in this limbo for months or years. Two of the people I photographed have been waiting over a year to get a permit. Once they acquire a permit, they can work legally in the Netherlands. A permit also allows them to apply for a "reunion" to get their parents to fly from Syria to the Netherlands. They are worried about their families in Syria and want to get them to a safer country as soon as possible.
How did you get these individuals to open up and share their stories with you?
I am honest and straightforward when I initially contact people, or when I just meet people while walking around, which is normally how I work. A huge part of my process is relying on serendipity and my ability to relate to strangers. I draw inspiration from people I engage with and photograph. It is people's vulnerability as well as resilience that resonates with me. When I meet potential photo subjects I am direct but friendly and ask them lots of questions about themselves. If I end up talking with them for hours before making any pictures that's fine, I enjoy the interaction. You never know what is going to happen, what they will share with you. It can be an enriching and humbling experience.
I feel very fortunate when people open up to me, I think it's because I am a stranger and not a family member or friend that people feel comfortable exposing more. They understand that I'm not judging them and we have no history together. Our relationship grows in an intimate way pretty quickly. I correspond with my subjects through cards and texts long after I have photographed them. Mostly, the people and communities I'm drawn to tend to be remote and vulnerable, economically, socially, or environmentally. I'm sure it's due to my own feelings of vulnerability and solitude that resonates with me.
I operated in a very different way for this project, I knew I couldn't just walk around and find people and rely on serendipity. So I sought them out via social media. A few people didn't get back to me, which was understandable. I was surprised and pleased that a few of them did contact me.
You were shooting these portraits on film, why was that aesthetically important for this project?
I always shoot film. I only shoot digital for commercial jobs that need a quick turnaround. I love the rich color and grain of film but mostly it is the medium format that I can't imagine life without! When I started photographing, I was making images with a large format 4x5 camera and as wonderful as that process of image making is, to come off the tripod and use a medium format camera was liberating.
How has the project evolved since you've returned back to the U.S. and started editing your film?
It is making me realize that I want to go back! I want to spend more time with Razan, Nabeel, Fadi, and Sherin and photograph them at work, school and at art events. Razan and Nabeel are both artists and have had exhibits this month, it would have been so special to be able to be there. Hopefully in the future, there will be another chance for me to go back.