Instagram Takeover: Alexander Thompson Shows Us NYFW
Capturing all of the weird and wonderful looks in New York City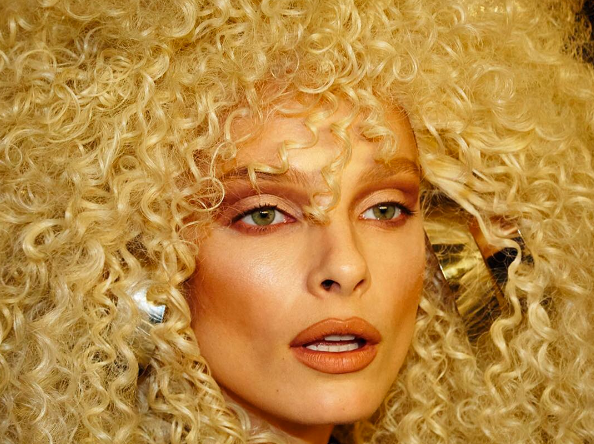 New York Fashion Week is officially underway and we decided to hand the reins of our Instagram account over to Brooklyn-based photographer Alexander Thompson to capture all of the weird and wonderful looks of the season.
Here Thompson speaks about what catches his eye and what it's like to cover the swirling chaos that is Fashion Week as a freelancer.
Follow along @AmericanPhotoMag
How long have you been shooting during NYFW?
I started shooting NYFW about seven or eight years ago. I came from more of an editorial/portrait background. My first assignment was from Mickey Boardman, the editorial director for Paper magazine. I covered several shows for a few seasons for their website. When I was on assignment, I remember my favorite show being the Anna Sui collection. It was a big deal to shoot that show backstage. And I also have a soft spot for that show, as my wife and I were personally invited to her first fashion show in the early '90s—Linda Evangelista, Christy Turlington and Naomi Campbell all walked. Anna always has very cool vintage inspiration, which I love.
What shows are most interesting for you to cover during this crazy week?
I prefer the more obscure downtown shows in more interesting venues. It's much more inspiring, and you see younger designers and cool kids attending the shows. It just seems all around more creative. Back when the shows were uptown at Bryant Park and Lincoln Center, it was very structured and rigid, with a lot of attitude. I understand it's a business, but being so far uptown and in huge event spaces, it really lost a sort of intimacy.
What kind of images are you looking to make once you are at a show?
I'm primarily looking for images that are not what you see everywhere. I don't really shoot runway, but have done it on occasion when I'm not allowed backstage access. If I have to shoot the same photo that 50 other photographers are shooting, I hope to shoot at a different angle, if possible, or a different crop. I don't want my photos to look like everyone else's.
My preference is definitely shooting backstage. I like getting portraits or random shots of a model in an awkward, yet beautiful pose or move—something unexpected. It can be quite tricky! Often photographers get kicked out while the models are dressing, which is my favorite time to shoot them. I am not looking for nudity or sex or anything inappropriate, simply great portraiture or an image where you can see incredible high-fashion clothing on a model, in a somewhat odd context or frame, not the given. I want my photos to be more unique and to be strong. And that's ultimately what I strive for.
Can you explain what it is like to be a freelancer covering NYFW?
Fashion week is brutal. Beyond the beautiful clothes and attractive models, it can be very rough. First, you deal with getting into the venue and backstage. Occasionally the status I am given has been changed or revoked. For example, suddenly I am not granted access to "first looks,"which refers to the time when the models are fully dressed and ready to walk out on the runway. Sometimes you have only two minutes to cover first looks, which can be stressful. At times it can be quite chaotic backstage, with hair and make-up artists, dressers, PR and other photographers all trying to do their jobs in a small amount of time, and often on top of each other in tight spaces, like at Milk Studios here in New York. You're really thrust into this world and it's a sink or swim sort of situation. You try and do the best you can without ruffling too many feathers or being beaten down. But ultimately, everyone is just trying to do their best job and make the show a success for the designer. And obviously getting the most amazing images for you and your client are what's driving you.
How do you go about gaining access to the shows you want to shoot?
It really is a process. About a week before Fashion Week starts, you reach out to the designer's publicist. Sometimes you hear back with news that you are not granted access. And other times you just never hear back, even after you have emailed a few times. It's a bit of a game, honestly. However, I do understand the need for bigger publications and websites to take priority, as they have the most exposure and followers.
I shoot for random clients, but also for a fashion/music site that my wife and I started a few years back called Ponyboy Magazine. It's vintage inspired and we feature some great shows, fashion editorials and underground musicians.
How does shooting during NYFW compare to shooting fashion the rest of the year?
Well, they really are just two completely different things. Fashion week is immediate. You spend about two hours at a venue, shooting hair/makeup and then first looks. Then you run home and start downloading, editing and retouching, which usually needs to be completed as quickly as possible for press purposes.
When you shoot an editorial or look-book, there is usually a fair amount of prep that goes into it. You start planning a few weeks before, finding inspiration for a shoot, scouting locations, and reaching out to stylists, designers, showrooms, modeling agencies, etc. It's a whole other process, and it doesn't usually seem as rushed or intense for the most part.
What is the most difficult part of shooting during NYFW?
I'd say the most difficult part is dealing with the crowds of people in a very tight space. These days there are a lot of hanger-ons, people with their cell phones snapping, as well as all the bloggers. It's a bit of a three ring circus at times.
Another obstacle with shooting NYFW is the attitude that you get from many publicists/P.R. firms. If you're not shooting for a big publication or fashion website, like Vogue or Style.com, you might experience some rudeness by public relations people. Of course, there are exceptions, but most people in the industry know what I'm talking about. I think it was Karl Lagerfeld that said fashion was cruel and unfair. He was right!
And the most fun?
The most fun part of fashion week is shooting young people. I've shot models backstage who blow up and you really won't ever have access to them again. We all move to New York City with a dream of finding success, in whatever given field that we choose. I can see the sheer excitement in their faces at wearing beautiful clothing and being photographed for magazines. It is very exciting, especially as such a young age. You're not in Kansas anymore!
I snapped Gigi Hadid backstage at Jeremy Scott when she first started walking shows. I didn't know who she was, but someone told me after. Of course, I have seen that Housewives show before, but didn't put it together. She was very nice and approachable, a pretty young girl.
Another time I was shooting musician Avril Lavigne's show here in New York City, probably six years ago? All of the sudden the curtains opened and in walked Kim Kardashian backstage with her then husband Kris Humphries. I snapped a few of her walking in and nobody stopped me or said anything, which I thought was odd. I didn't know that her younger sister, Kylie, would be walking in the show. Before the show, I snapped both Kylie and Kendall Jenner. They were just young teenagers from California. I just walked up to them and asked them if I could take their photo and they said yes and were very nice and there was no security around them. Of course, things are much different now, and they also look very different now, when I go back and look at the photos.
Really the best part of shooting is seeing these young kids try to live their dream. The above mentioned were celebrities, but I'm really more about models when it comes to shooting fashion. I'm old school that way.
What shows are you looking forward to covering the most this year?
New York designer Adam Selman. He's young, very creative and designed that Swarovski crystal see-through outfit for Rihanna a few years back for a big CFDA event. It was seen all over the world. The gown had 230,000 crystals on it! But, besides that, he makes very cool, fresh clothing for younger women. And I've never shot his show before, so I'm excited.
I also love shooting the Blonds every season. They're really over-the-top! The clothing is great for photos and the shows are a like a nightclub event, with hip, downtown types. And, of course, I always look forward to shooting the amazing Libertine and threeASFOUR collections, which are both super creative and make for the best photos.