Hands On With the Olympus OM-D E-M1
We may earn revenue from the products available on this page and participate in affiliate programs. Learn more › Olympus...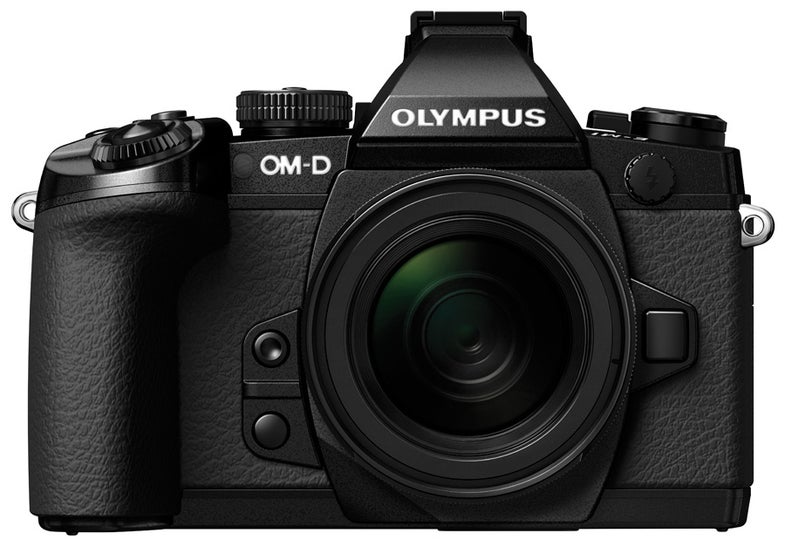 We may earn revenue from the products available on this page and participate in affiliate programs. Learn more ›
Olympus had an instant hit when it kicked off its premium OM-D line of Micro Four Thirds cameras with the E-M5. From the looks of the new flagship E-M1, history may repeat itself.
This interchangeable-lens compact doesn't push the pixel count much higher, sporting a 16.3-megapixel Live MOS sensor, but Olympus fans will notice improvements to most other aspects of the camera.
Check out a full Camera Test of the OM-D E-M1 on our sister site, PopPhoto.com
First off, the grip, a solid protrusion that contrasts with the E-M5's slight bump that had many photographers springing for an accessory grip. The E-M1's extensive weather-sealing makes it dust- and splash-proof; the Supersonic Wave Filter dust-reduction system should cope with what comes in during lens changes. And the sensor-based, five-axis image stabilization allows handholding at slower shutter speeds, no matter what lens is on the camera.
Like the Olympus Pen E-P5, the E-M1 includes the company's 2×2 dial control system. This small lever switches the two command dials between different sets of functions, letting the photographer control aperture and shutter speed with the dials while shooting, then switching them to control ISO and white balance (or other such combinations) when adjusting for the next shot. It's a fantastic way to provide direct access to more settings on a fairly small camera. Compared with previous Olympus electronic finders, the E-M1's new EVF is a big step up. Its 2.36 million–dot LCD, with a 1.48X magnification factor equivalent to 0.74X on a full-frame DSLR, is a great way to frame.
The lever next to the autoexposure/autofocus lock button lets users switch between two pairs of controls assigned to the command dials.
Perhaps more important: The E-M1's new Dual Fast autofocus system, which incorporates 81 contrast-detection points and 37 phase-detection points into the imaging sensor. In our brief hands-on with a preproduction camera, this made focusing with Four Thirds lenses much faster (Olympus's legacy glass works well with its $160 MMF-3 adaptor). Plus, when using Micro Four Thirds lenses, the contrast- and phase-detection systems work in concert during continuous AF to bolster tracking performance.
With continuous AF and metering, Olympus claims the E-M1 will capture at a rate of 6.5 frames per second for up to 50 RAW shots. Without continuous AF, the rate jumps to 10fps for up to 41 RAW shots.
Like many new cameras, the E-M1 has built-in Wi-Fi connectivity for uploading and control on smartphones and tablets. While Olympus's old camera control app supported only auto shooting, the new Olympus Image Share 2.0 app gives access to all the main shooting modes for full manual control. It will even operate in Oly's Live Bulb shooting mode, which shows the progress of a long exposure during capture.
Besides some new creative filters, the E-M1 can automatically merge an HDR image from three exposures, assemble a time-lapse movie up to 1.67 minutes long, or shoot at intervals from 1 second to 24 hours for up to 999 frames.
With the camera, Olympus announced two new lenses. The 12–40mm f/2.8 M.Zuiko Pro Digital ED (a 24–80mm equivalent), shown at left from the top view, will be available as a kit with the initial release of the E-M1 in October. The 40–150mm f/2.8 M.Zuiko Pro Digital ED (80–300mm equivalent), shown on the opening page, will be available in the second half of 2014. Meant to be the best that Olympus makes for the Micro Four Thirds system, the new M.Zuiko Pro line will have dust- and splash-proof construction to complement the weather sealing in the E-M1.
The Olympus OM-D E-M1 is estimated to retail for $1,400 for the camera body only, while the kit with the 12–40mm f/2.8 lens is estimated at $2,200.
Olympus's new 12–40mm f/2.8 M.Zuiko Pro lens, offered in a kit with the OM-D E-M1, shares the camera's ruggedness.
Noteworthy Spec:
SENSOR 16.3MP Live MOS (Four Thirds format)
SENSITIVITY ISO 100–25,600
AUTOFOCUS 81 contrast- detection points and 37 phase-difference detection points, all on imaging sensor
SHUTTER 1/8000–60 sec (in 1/3-, 1/2-, or 1-EV steps); Bulb/Time: 8 min default setting; 1, 2, 4, 8, 15, 20, 25, or 30 min selectable
EVF 2.36 million–dot LCD; 1.48X magnification
LCD MONITOR Tilting 3.0-inch, 1.037 million-dot touch screen
MEMORY CARDS SD, SDHC, SDXC; single slot
VIDEO Up to 1920×1080 pixels 30fps H.264 MOV
DIMENSIONS 5.1 x 3.7 x 2.5 in. (130.4 x 93.5 x 63.1 mm)
BUY IT $1,400, body only, $2,200 with 12–40mm f/2.8 M.Zuiko Pro Digital ED lens; getolympus.com