Food Photography Like You've Never Seen
Food photographed "with humor and without mercy"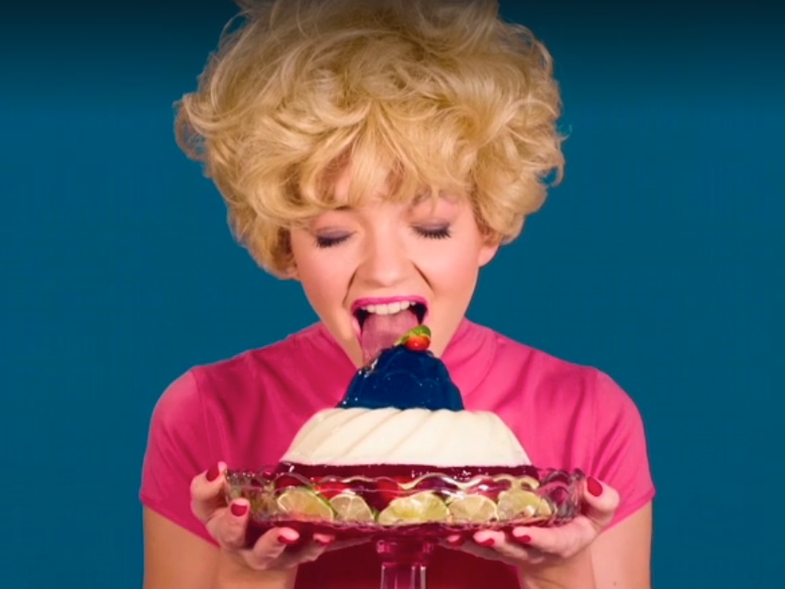 Amy Kellner, a photo editor at The New York Times Magazine, says it was old box of Betty Crocker recipe cards that inspired her idea for the wacky, technicolor Jello salad that graces the Magazine's food issue this week.
"I brought [the recipe cards] in on a whim, thinking 'No way is this going to fly—everyone here is way too classy,'" Kellner says. "It just seemed quintessential—salads in aspic—the whole aesthetic is so lost." When she shared the ridiculous box of recipe cards with Kathy Ryan, the Magazine's Director of Photography, the feedback was instantly positive.
Maurizio Cattelan and Pierpaolo Ferrari, a Milan-based duo, were hired to execute the eccentric idea. Kellner made a select of approximately 50 of her favorite dishes, scanned and emailed the cards to the two photographers.
"We gave them a lot to chose from," Kellner says. "They could do pretty much whatever they wanted, but they had to make the recipe." Cattelan and Ferrari added extra touches of absurdity as they worked—shrimp head fingers, a gold lobster, a hot dog for stirring coffee and a lit sparkler to top the Jello salad monstrosity. "That looks so awesome, the way it's exploding over The New York Times Magazine logo," Kellner says.
Although the food featured on the cover and in the pages of the Magazine looks shockingly artificial, especially in the "farm-to-table" age in which we currently live, according to Kellner everything for the shoot was 100 percent real. "We don't fake food. We make the real recipe," she says. "All the food we shoot has to be real because we're a news publication."
Unfortunately Kellner wasn't on-hand to try any of theses atomic-age recipes, but says the photographers did sample the dishes. "They said they tried everything. They didn't say much more about it," she says. "But I'm sure it's delicious."