Documenting Strength Through Photography
Photographer Sara Naomi Lewkowicz has just come off a banner year. While pursuing her master's degree in visual communication from...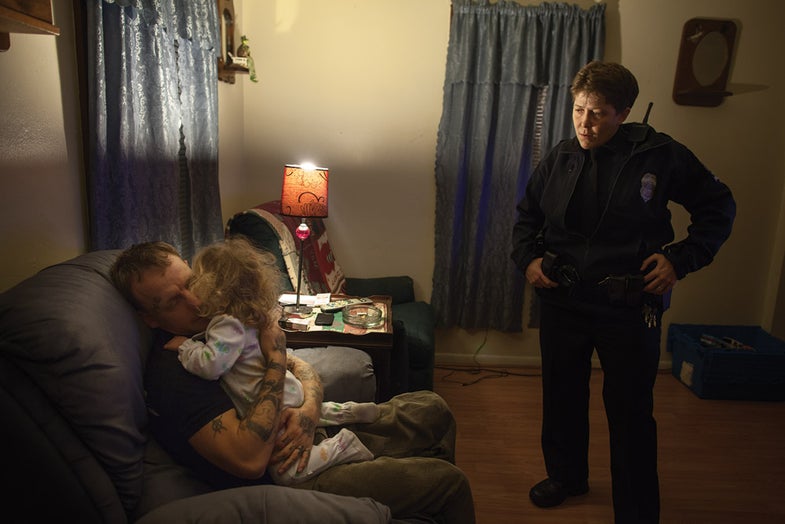 Photographer Sara Naomi Lewkowicz has just come off a banner year. While pursuing her master's degree in visual communication from Ohio University in Athens, Ohio, she's had work published in magazines including Time, Stern, L'Espresso, Das Magazin, and Days Japan.
Pictures of the Year International named her the 2013 College Photographer of the Year, and the Alexia Foundation awarded her a student grant.
To top it off, the 31-year-old garnered the 2013 Ville de Perpignan Rémi Ochlik Award, presented annually at the Visa Pour l'Image festival in Perpignan, France, to a young photographer producing the year's best single series—an honor that had never before gone to a woman or to a student.
Many of these accolades were based on images Lewkowicz made of a couple for her thesis project, Shane and Maggie. She met the pair while shooting a school assignment at a county fair. She initially focused on Shane, a 31-year-old ex-convict covered in tattoos. Her idea was to do a story on recidivism and life after incarceration, but her attention quickly turned toward his girlfriend Maggie, a 20-year-old mother of two children (then ages 2 and 4), who had left her husband in Alaska after discovering that he'd cheated on her. "I became more interested in Shane and Maggie's relationship than in a story on recidivism, so I spent as much time with them as I could," Lewkowicz says.
As it has evolved, the project's focus has further shifted to Maggie and her ability to find power and strength as a single mother after enduring two destructive relationships.
The images from the series that have gained the most notoriety include a violent fight that erupted between Shane and Maggie when Lewkowicz was with them. The pictures, capturing Shane's physical assault of Maggie, have become perhaps the most prominent documentation of domestic violence since Donna Ferrato's seminal work, Living with the Enemy. "My photojournalist's instincts just kicked in," Lewkowicz explains of her reaction.
But Lewkowicz reminds us that this episode is only part of the story. She is much more interested in Maggie's journey as a single mom, which she continues to document. Even during a break from the series while studying in London, Lewkowicz speaks to Maggie and the kids every few days; she will continue to photograph them when she returns to Ohio.
"When you embark on a story, you don't necessarily know if it's going to become a long-term project," says Lewkowicz. "I tend to photograph people I click with, whom I want to keep photographing because I want to keep knowing them. Maggie and I have become friends."
Lewkowicz is not concerned about becoming too close to her subjects. "I am not a detached photographer," she says. "The idea of strict objectivity is kind of BS. If you can fool yourself into thinking you're completely objective and then knowingly fool the person you're photographing into thinking you care, you're lying either to them or to yourself." Although what began as a school assignment has become a career builder, Lewkowicz knows that's not enough. "Shooting one story is great, but it doesn't make you a bona fide photographer," she says. "It just means you have a good story. I want to be known for more than one story." No doubt she will be.
Close-Up: Sara Naomi Lewkowicz
SaraNaomiPhoto.com
Lives In: London, England (studying abroad) and Athens, Ohio
Studied At: University of North Carolina at Chapel Hill (B.A., Journalism); Ohio University (M.A., Visual Communication)
Publications: Baltimore Sun, Claudia, Das Magazin, Days Japan, Internazionale, L'Espresso, Opzij, Stern, Time
Honors Include: 2013 Ville de Perpignan Remi Ochlik Award, Visa Pour l'Image; 2013 Alexia Student Grant
In the Bag: Two Canon EOS 5D Mark II bodies; Canon lenses (24-105mm, 70-200mm, 135mm, 24mm, 35mm, 50mm); Canon 580 EX II flash; Manfrotto tripod; SD cards; Zoom H4N digital recorder; Sennheiser Lavalier wireless microphones; Sennheiser shotgun microphone