Dan Winters' Artistic Proving Ground: The Streets of New York
An outsider's take on an indifferent city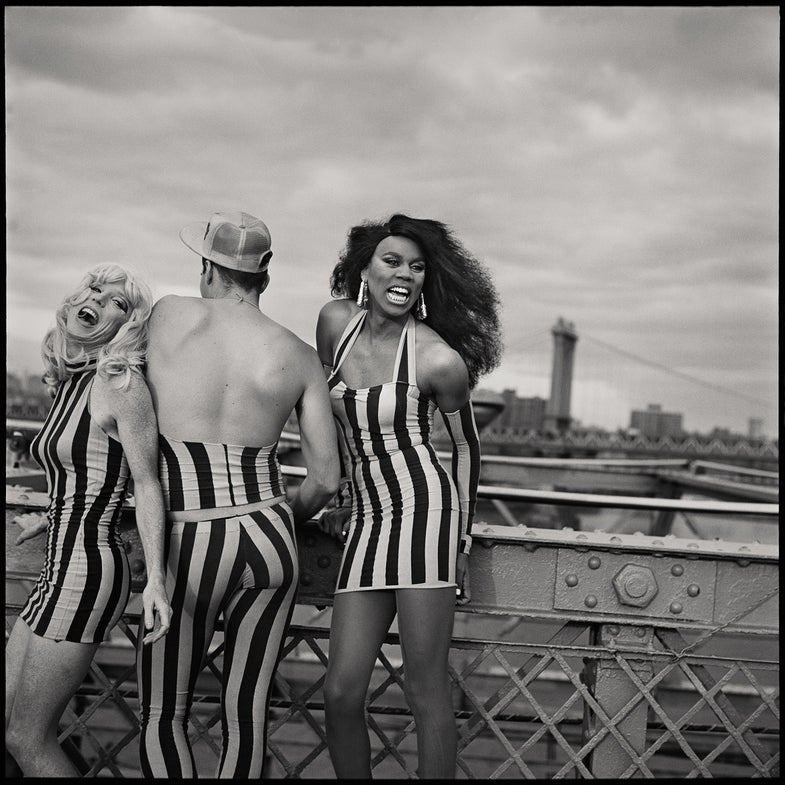 At age 25 in 1987, working as a staff photographer for a small daily newspaper in his native southern California, Dan Winters got some time-honored advice—head east.
"I was talking with Greg Heisler at an Eddie Adams Workshop and I told him I wanted to work for magazines," Winters recalls. "He said, 'Here's what you do: Go back and quit your job and move to New York City.'" Winters took it to heart. "Three weeks later I was in New York," he says. "There was a lot of naiveté involved in that move, but also there's that feeling that the parachute's going to open somehow."
After finding work as an assistant to commercial photographer Chris Callis, Winters kept his own creative juices flowing by shooting black-and-white street photography in the city. "It was a way to express my passion as I rode my bike around town," he says. Inspired by legendary urban street photographers—Alfred Stieglitz, Paul Strand, Harry Callahan, Lee Friedlander—Winters snapped away with hand-held medium-format cameras and Tri-X film. "It was a self-assignment—my attempt to wrestle the beast to see what I could do with it. Sort of an artistic rite of passage."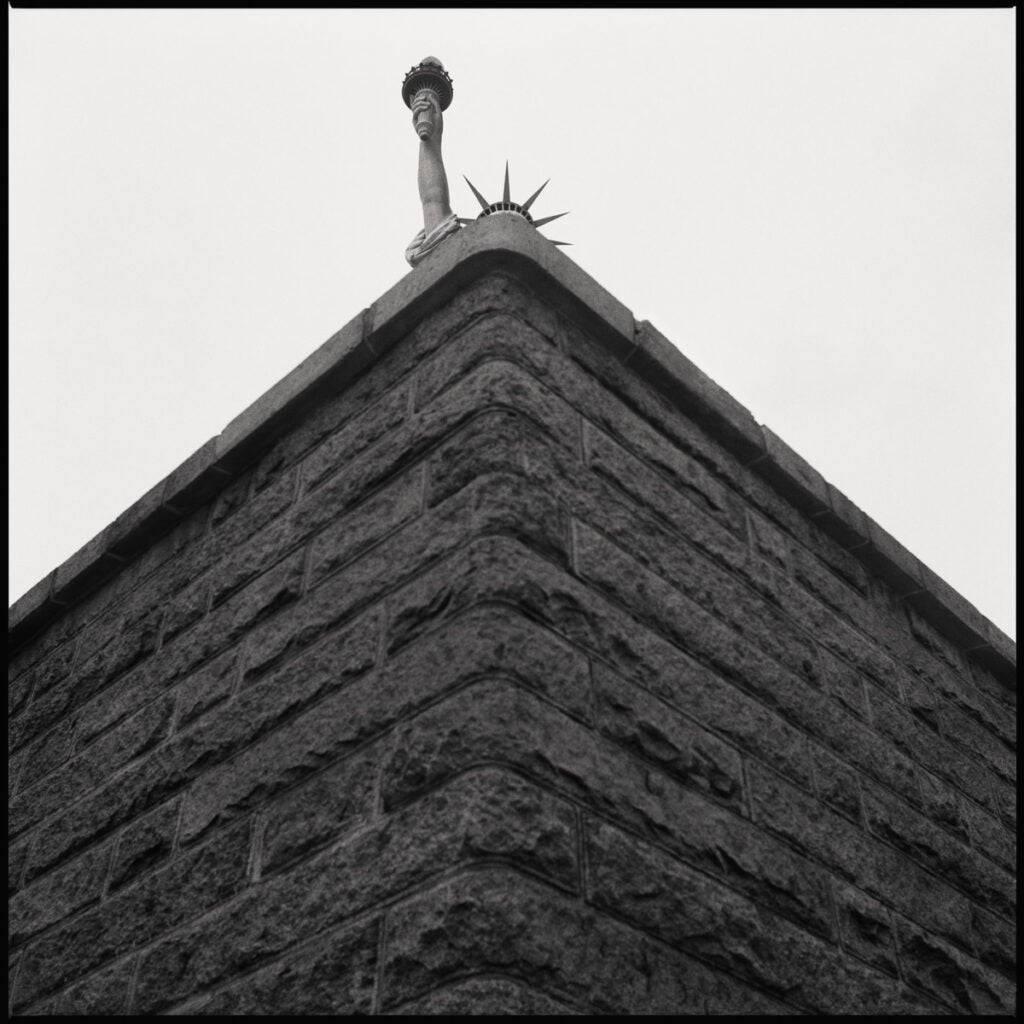 Statue of Liberty, 1990
From: The Grey Ghost: New York City Photographs
After leaving New York in 1990 Winters became a famously versatile commercial and portrait photographer; he now splits time between Austin, Texas, and Los Angeles (with a beach house in Savannah, Georgia). While working on his 2014 photo history/memoir, Road to Seeing, Winters dug up his black-and-white NYC oeuvre, which he'd continued in subsequent years while visiting the city. "That work started to resonate in a new and special way," he says.
The result is Winters's monograph The Grey Ghost: New York City Photographs, an artful, personal collection reflecting an outsider's take on an indifferent city. The series is also on view at L.A.'s Fahey/Klein Gallery through October 15. Here Winters shares his fond memories of creating this body of work.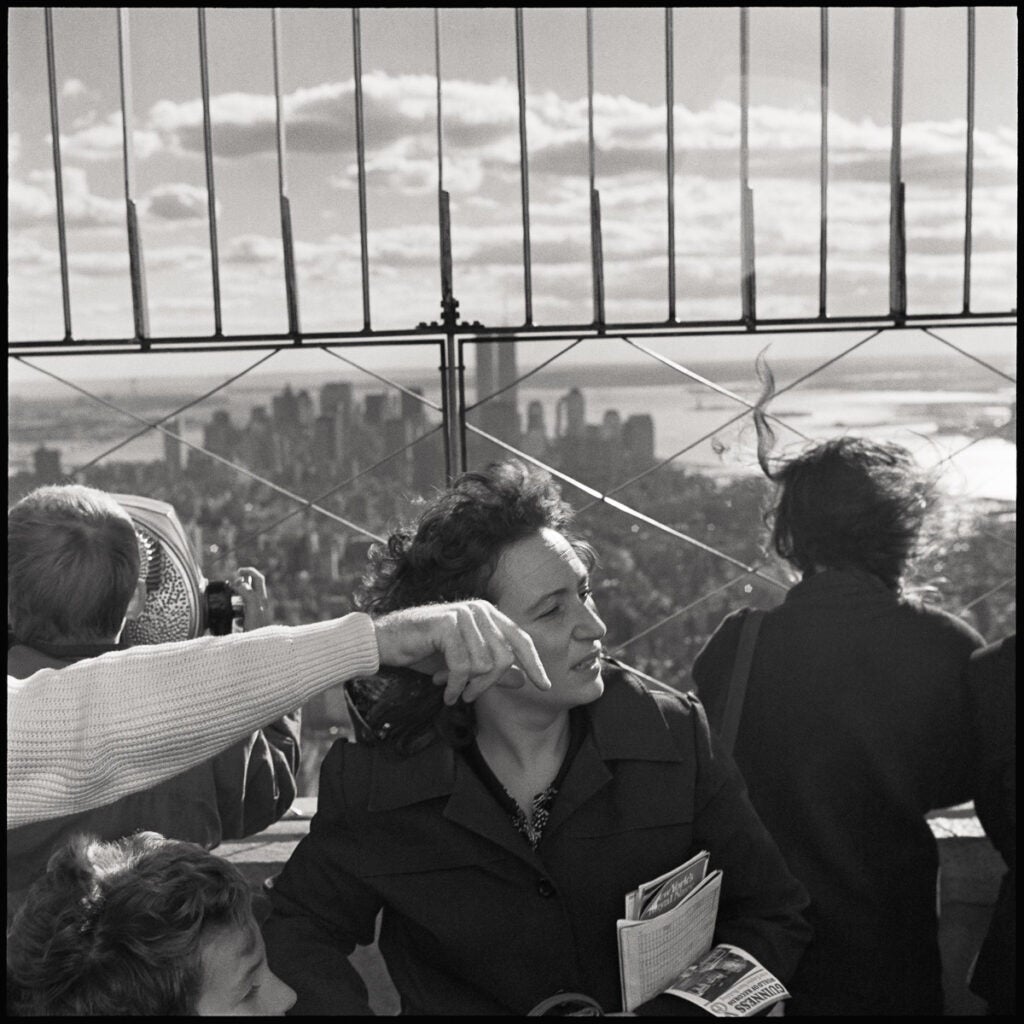 Empire State Building, 1989
Winters played fly-on-the-wall in capturing tourists at the Empire State Building's observation tower. "I would go to places where people are taking pictures and just blend in. Photos are happening so you become a part of that vernacular," he says. "I did a series of people pointing from these places: 'Look over there.' It's great to seize those little moments. Because street photography is hard. I can have a celebrity come to my studio and do portraits all day long and not struggle—not nearly as much as you do out on the street with just a camera and some film."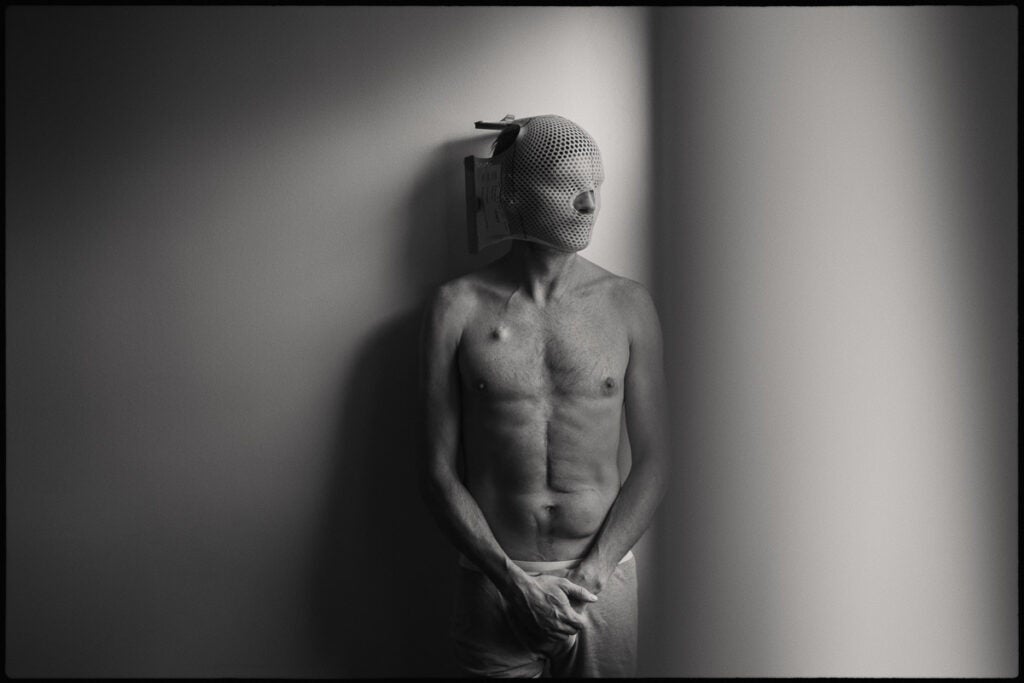 The Grey Ghost, 2015
The book's title image was made in the New York apartment of Winters's friend Brett Kilroe. "The title came from a beautiful song about the city by Mike Doughty," Winters says. "When I was working on the book my close friend Brett, an art director I worked with for many years, got cancer." Winters documented Kilroe's battle with the disease before his death in March 2016; The New Yorker ran a touching photo essay. "He developed a tumor on the top of his head, and they had to give him radiation, and they used a mask molded to his head so it would hold him perfectly still," Winters says. "I made that picture of Brett, and he passed away while I was editing the work, so I put it in and called it 'The Grey Ghost.'"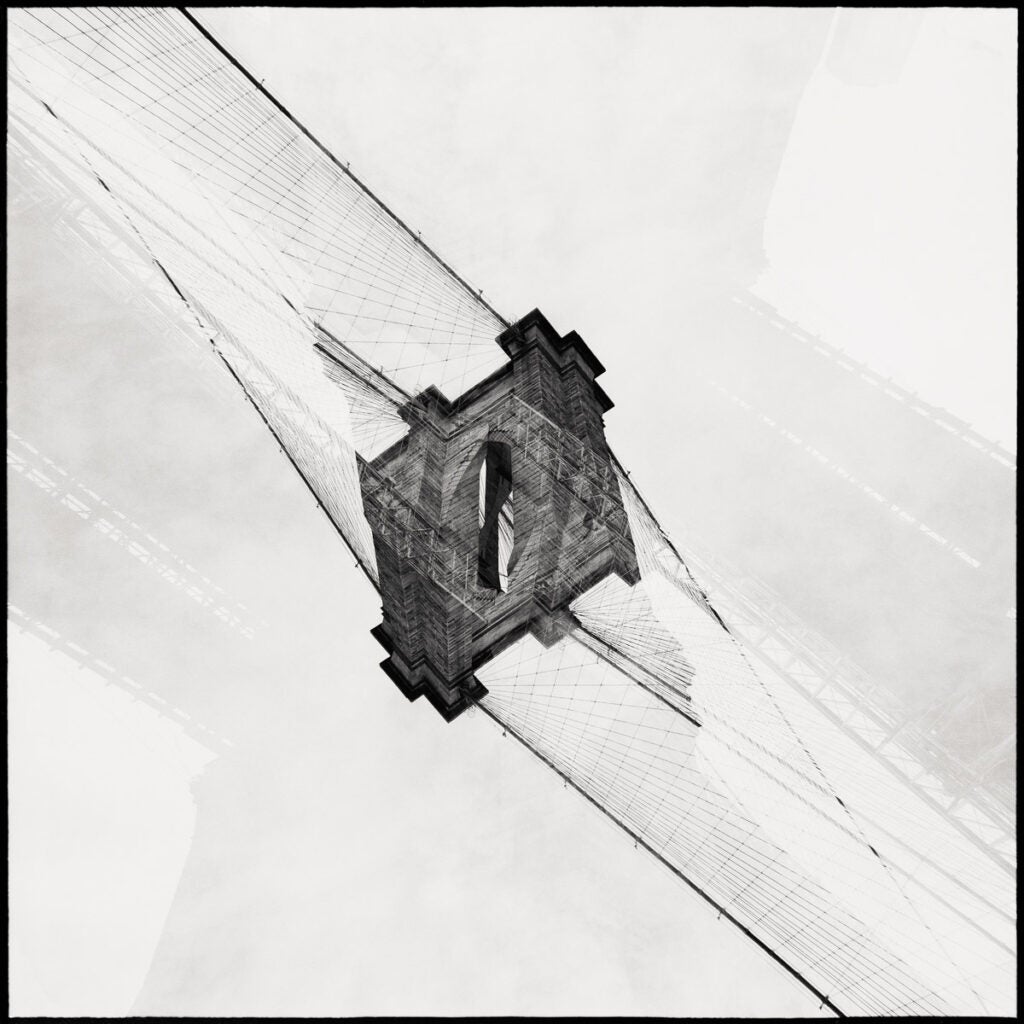 Brooklyn Bridge after Callahan, 1998
Using a Mamiya RZ67 medium-format camera, Winters created this multiple-exposure homage to Harry Callahan. "I shot the picture—a vertical with the top of the bridge in it—and then I took the back off, advanced it, put the back on, turned the camera upside down and shot the same picture. The center section didn't change; it overlapped so there's density there, and the sky washed out the bottom part of the bridge on the top and bottom. Callahan did these beautiful multiple-exposure images of a city street with a bright sky—he would turn the camera around and shoot it again so that it became a dark strip in the center with bright sky on both sides. So of course I had to experiment with that."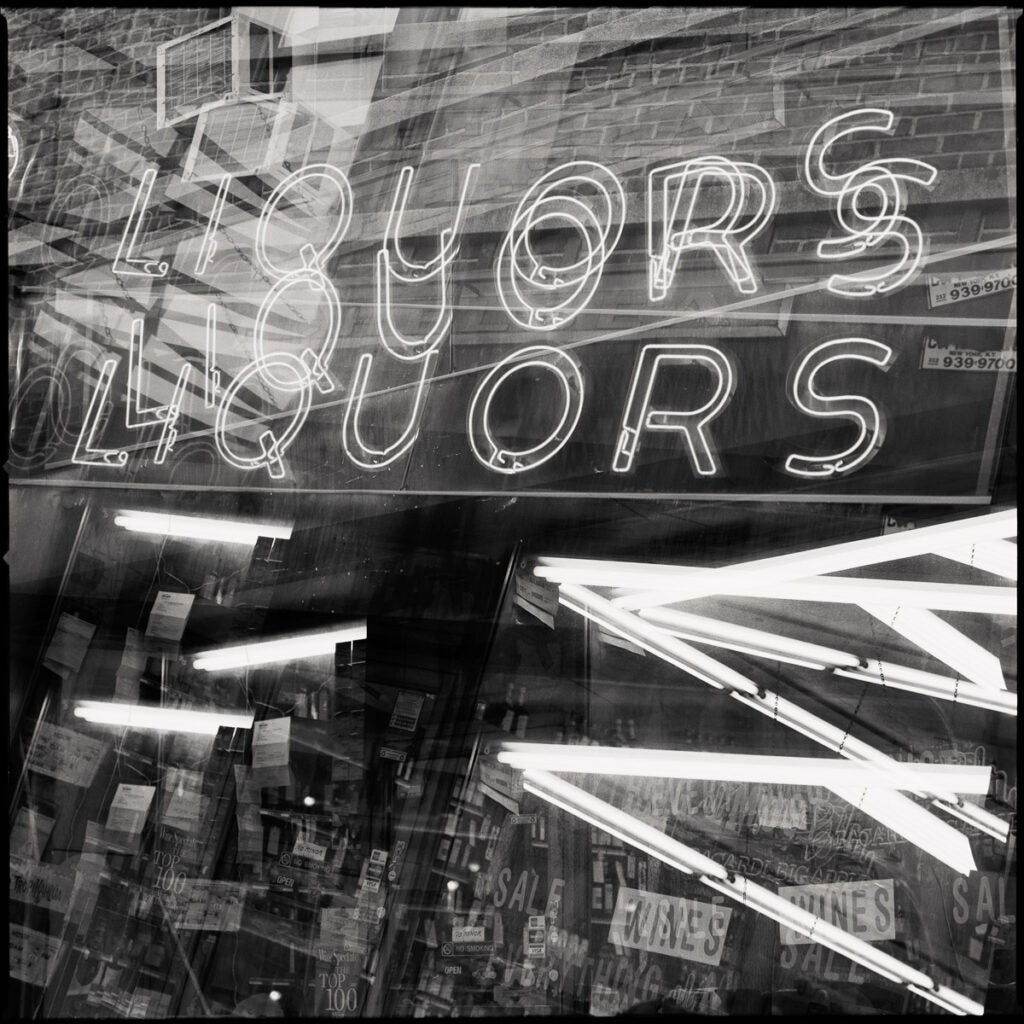 Liquor Sign after Callahan, 2009
Winters shot this liquor store facade with a Hasselblad 500C/M during a visit to New York in 2009. "It's a triple-exposure of the neon," Winters recalls. "'Again, I took the back off and put it back on, advanced, took it off and put it back on. It almost feels kinetic, like the way neon signs flicker on and off sometimes. It's influenced by Callahan and by Lázsló Moholy-Nagy, who did light-modulation photographs and films as a pioneer of the Bauhaus in Weimar, Germany. His idea was to take these light patterns and shapes and create a kinetic experience."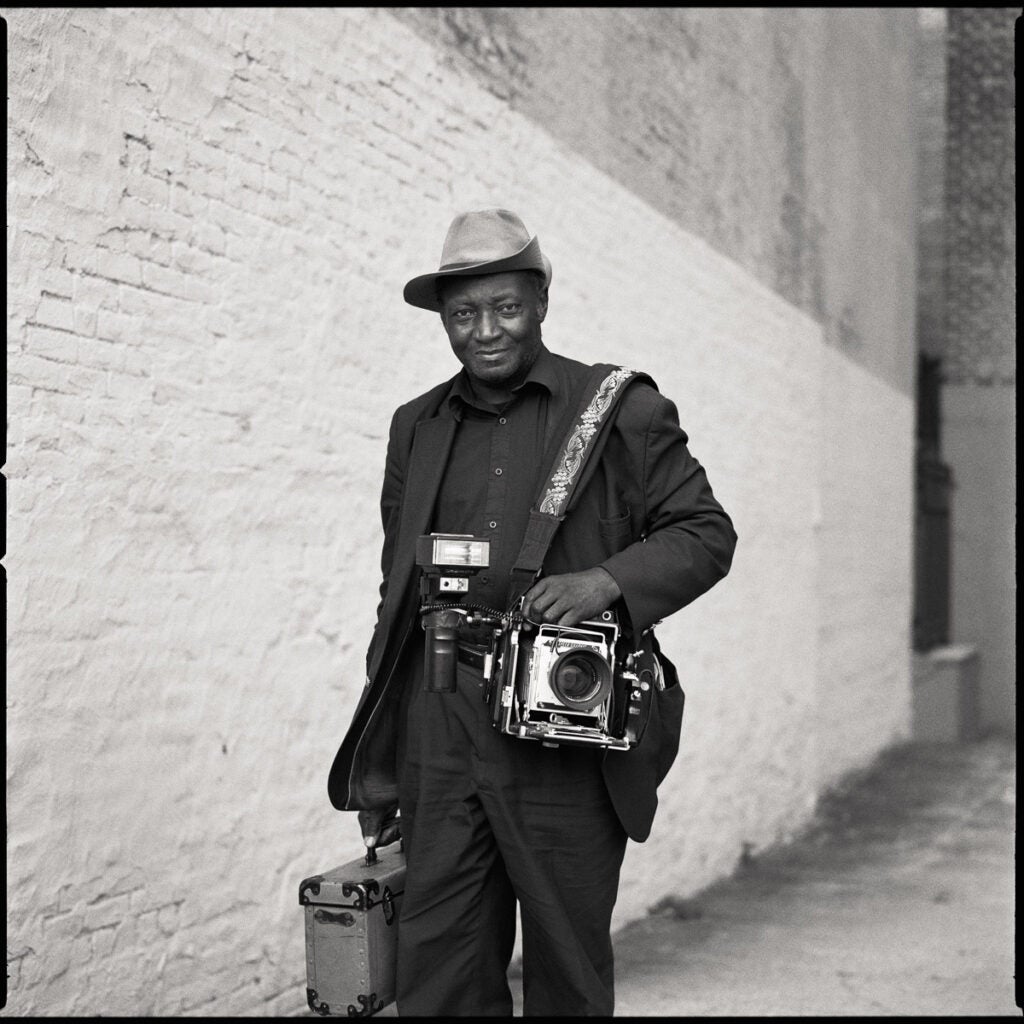 Street Photographer, 2009
Winters snapped a fellow street photographer with a Hasselblad 500C/M medium-format camera. "In New York I've also used older twin-lens models including a Kowa Six and a Rolleiflex, where you look down at the camera," he says. "It's almost a welcoming experience for people—they engage me about the camera if it's old. The beautiful thing about street photography is you use a regular 50mm or 35mm lens and Tri-X film, and it's such an equalizer. The approach and methods are almost secondary."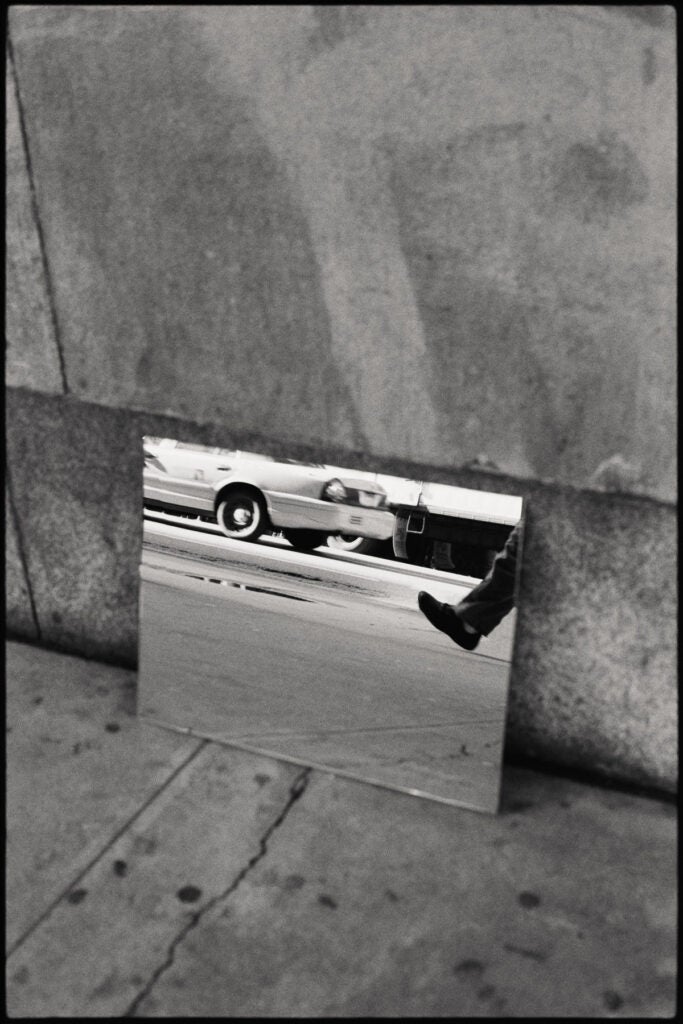 7th Avenue, 1996
This sidewalk scene by Winters echoes the work of street-photo forebears like Lee Friedlander and Garry Winogrand. "They're good at doing those sort of cheeky, clever juxtapositions," he says. "The hardest part of being a photographic artist is to establish that inner dialog with ourselves: 'Here is the world, what's your take on it?' It's not so much about 'This is what I do' as it is, 'This is what I think.'"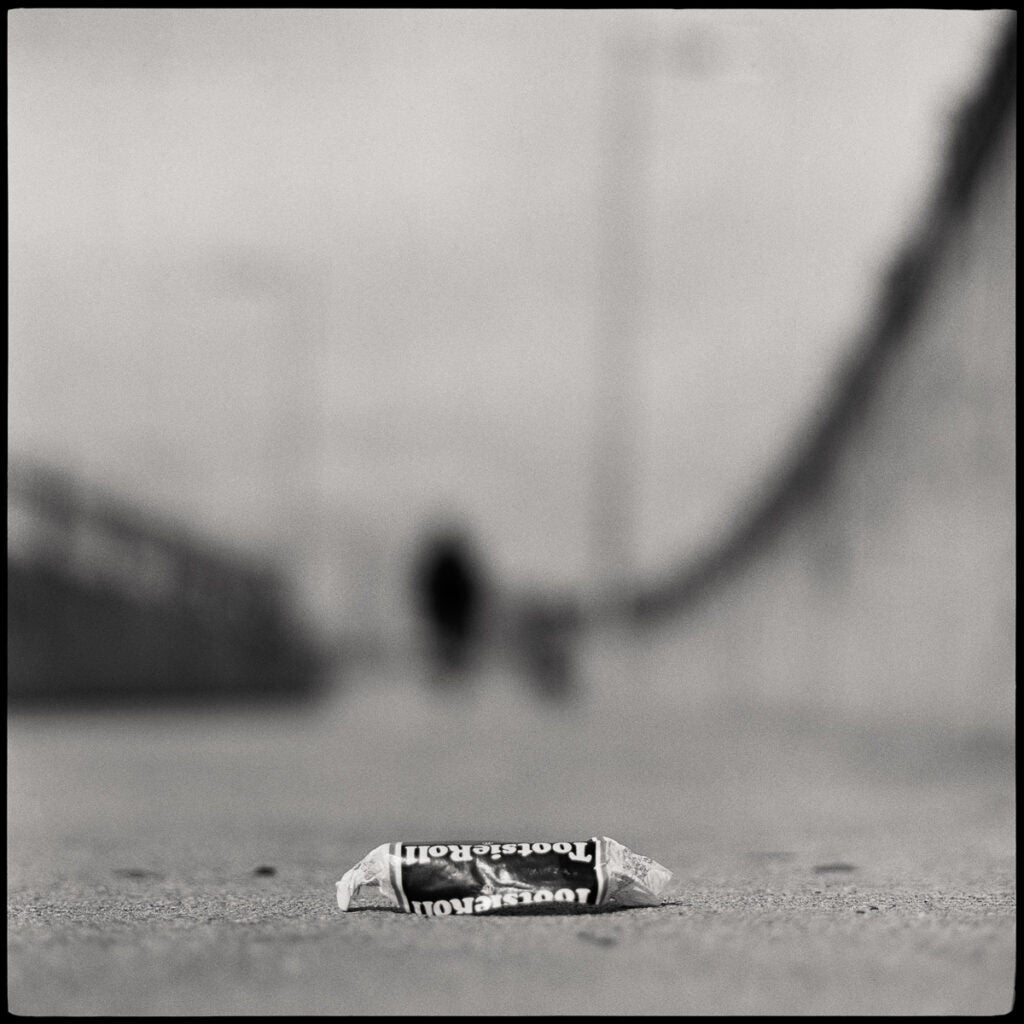 Candy Wrapper, 1988
This experimental photograph is "sort of a family connection," Winters says. "My wife has this obsession with Tootsie Rolls—she loves them. I shot this before I met her. I love the guy looming in the back, out of focus. I was experimenting with space and background—learning how to use multiple planes to my advantage. We can manipulate the way space is presented because we have less latitude photographically than our eyes have, so we can change the way a scene is perceived."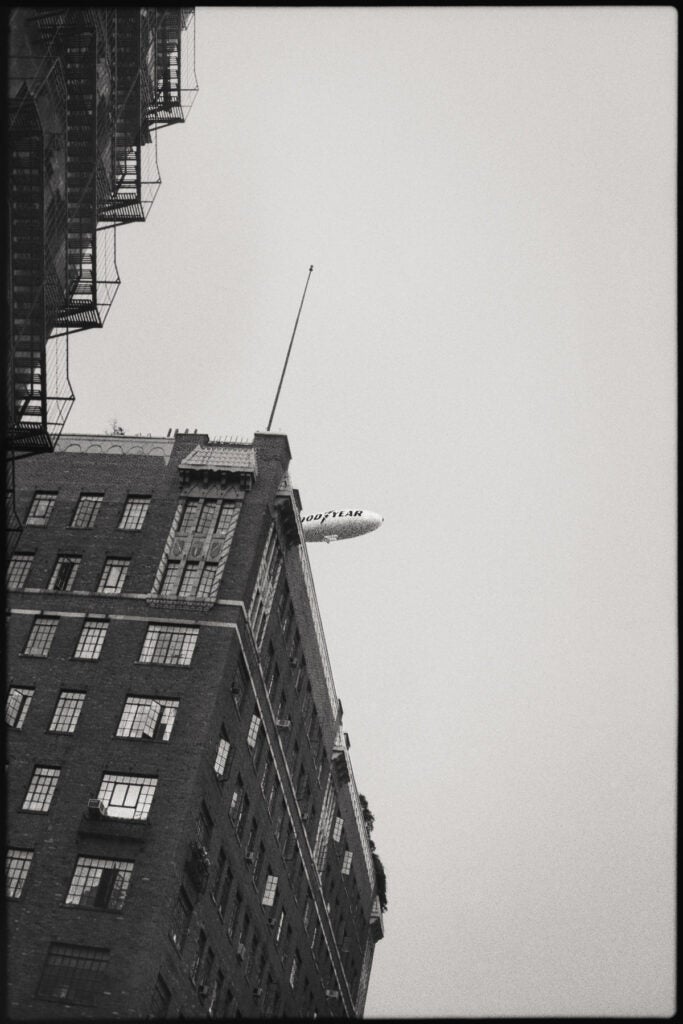 Airship, 1987
One of Winters's first New York photographs depicted a Goodyear Blimp coming over a building. "I have that same shot with the blimp perfectly isolated in the sky, floating, because I shot that whole progression," he says. "But there was something about it just emerging, when it revealed itself: 'Oh my God, there's a blimp!' That was the magic moment."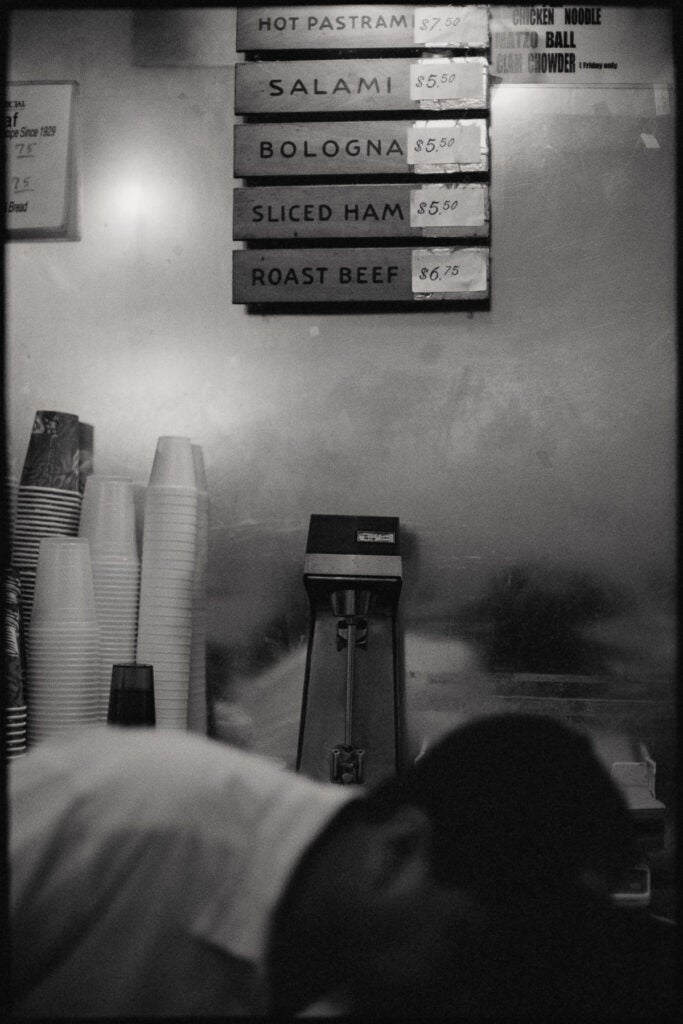 Deli, 2009
Though he moved away from New York in 1990, Winters still feels a kinship with the city and often returns for business and pleasure. "I go to Eisenberg's every time, and I get a hot pastrami on rye and an egg cream and I feel like, 'Okay, I'm home,'" he says. "It's a deli on 22nd and 5th, near where I worked, and I have many fond memories of sitting at that counter. For decades they had this sign with the sandwiches, and they would just tape the numbers for whatever the sandwich would cost. Recently I visited and the sign was gone. The lady said, 'We were cleaning and we knocked if off the wall and it broke so we threw it away.' Broke my heart."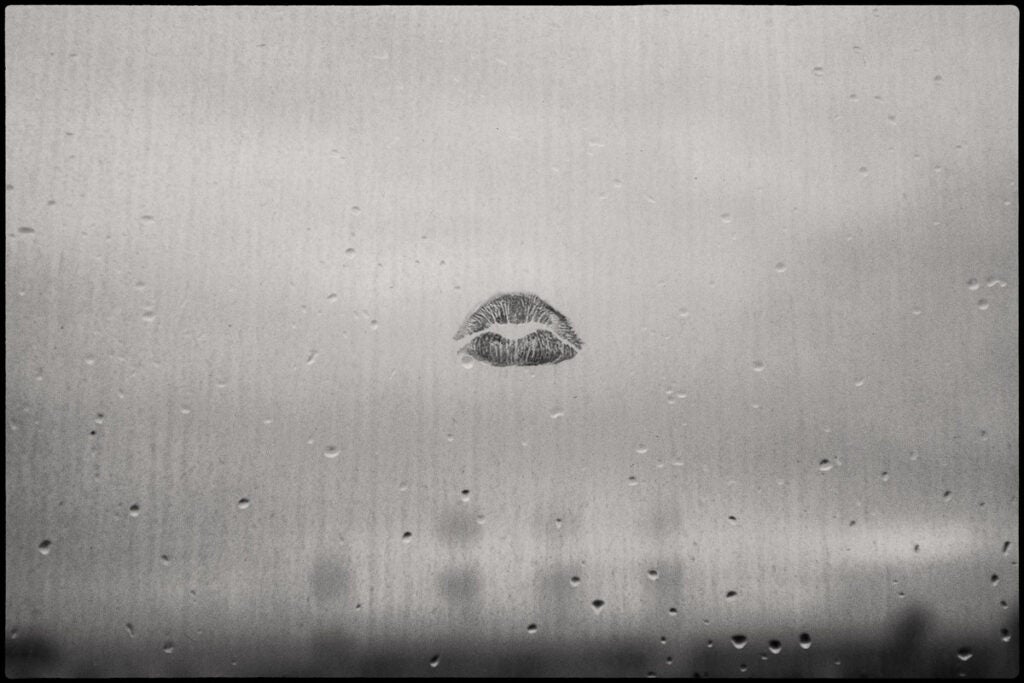 19th Floor Kiss, 2016
The final image in The Grey Ghost reflects Winters's romantic ties to the city. "I was courted and seduced by New York. She took me in and showed me the vulnerability that lies beneath her hardened shell," he writes in the book's afterword. "Throughout the history of the photographic medium, she has acted as a proving ground and a rite of passage for countless photographers."