Brian McCarty's War-Toys
Working with children in war zones, Brian McCarty has discovered a couple of truisms: Whoever's shooting at you is the … Continued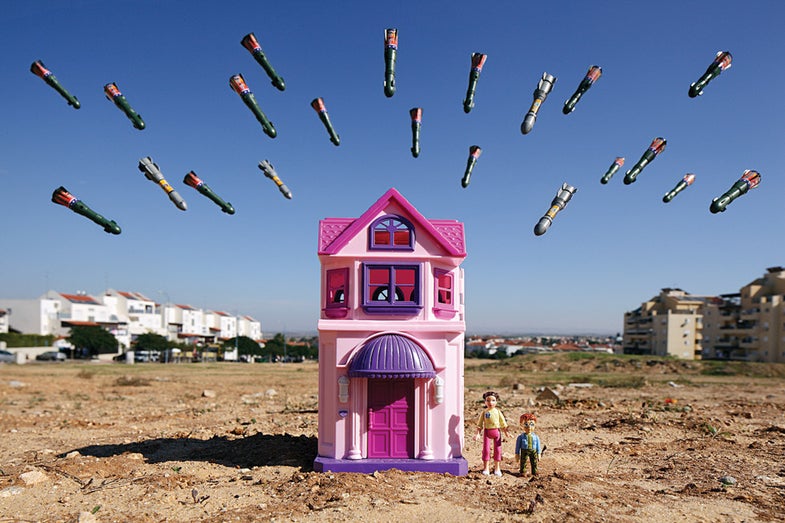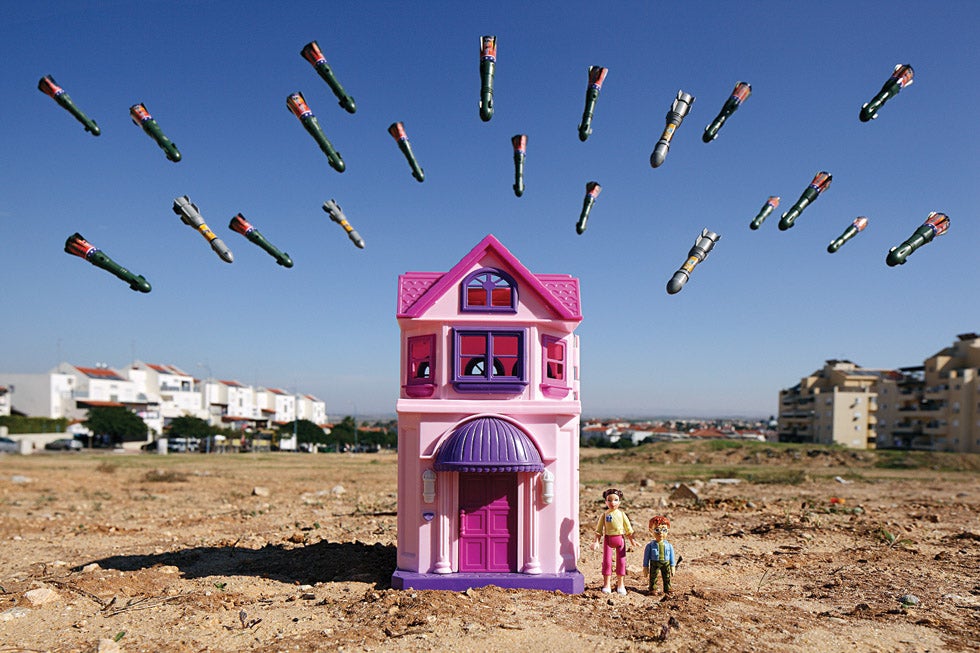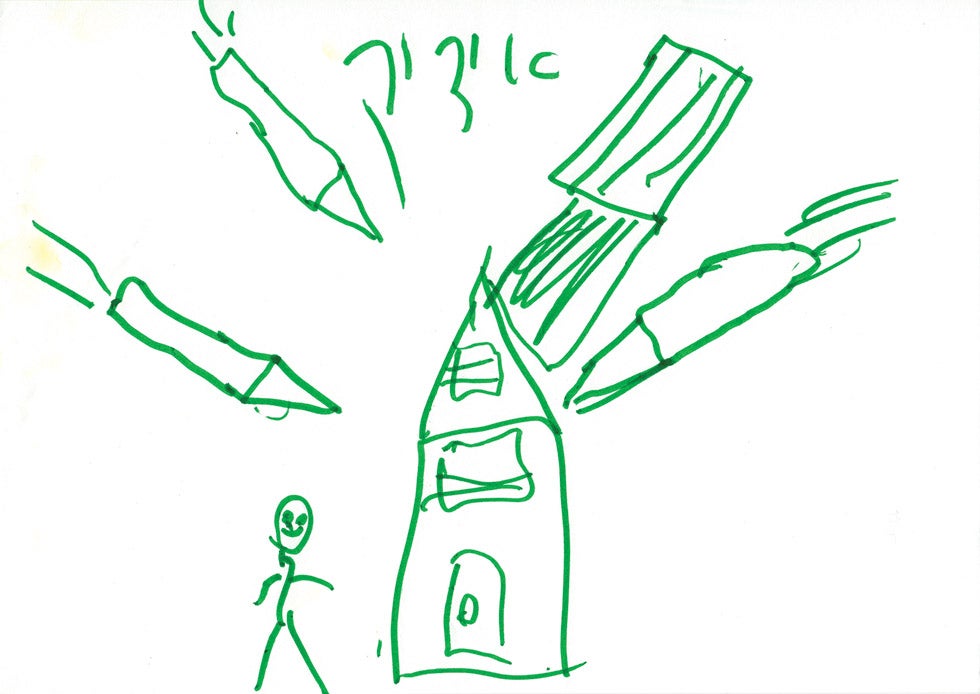 Working with children in war zones, Brian McCarty has discovered a couple of truisms: Whoever's shooting at you is the bad guy; and it's really hard to talk about war. "You can read studies on the effects of war on children, but you almost never get them talking about it—especially the most traumatized, who've sometimes lost the ability to talk altogether," the photographer says. "Art is a way for them to share their experiences."
These observations underpin McCarty's recent self-published book, War-Toys ($32, wartoysproject.com). Composed of images paired with children's drawings made in Israel and Palestine, the book is the first phase of a planned transcontinental survey giving voice to children traumatized by war.
McCarty works with art therapists who ask the youngsters to draw pictures reflecting their experiences of living amid conflict. In subsequent interviews, McCarty uses the drawings to coax more details from the children. The photographer then constructs mise-en-scènes based on their experience, placing toy surrogates in locations the same as or similar to those in the drawings.
McCarty is something of a toy specialist: He started taking pictures of them as an undergrad at Parsons The New School for Design; now his commercial clients include Mattel, Disney Inter­active, and the Cartoon Network. Photographing toys in war zones, however, has brought surprises, such as getting caught in an escalated eight-day offensive—Operation Pillar of Defense (the Israeli name) and Operation Stones of Baked Clay (the Palestinian name)—during a planned photo shoot.
"For that brief moment I realized how high the stakes are, and that the fear I felt is just a matter of daily life for the kids," he recalls. While air strikes rained on the region, he continued shooting; the result, "House Bombing–Gaza Strip," depicts a house on fire in the background with toy people lying dead in the foreground and a fighter jet overhead. "It's a wonderful shot," he says, "but it also summarized how helpless and powerless I felt."
His process is not always so intense. After deciding which drawings to interpret, he scouts for toys in local shops; this reflects area socioeconomic realities, as well as the proliferation of American war-toy designs. "The idea that war toys are as ubiquitous as the AK-47 is fascinating," he says, "because it reflects ideas of exported westernization, violence, and ways of conducting war."
However political this project may seem, McCarty makes it clear he steers neutral. "It would be very complicated with NGOs and nonprofits if I were to take a political stance," he notes. "And I need to take on the mindsets of the kids I am working with."
Close-Up: Brian McCarty
BrianMcCarty.com ; WarToysProject.com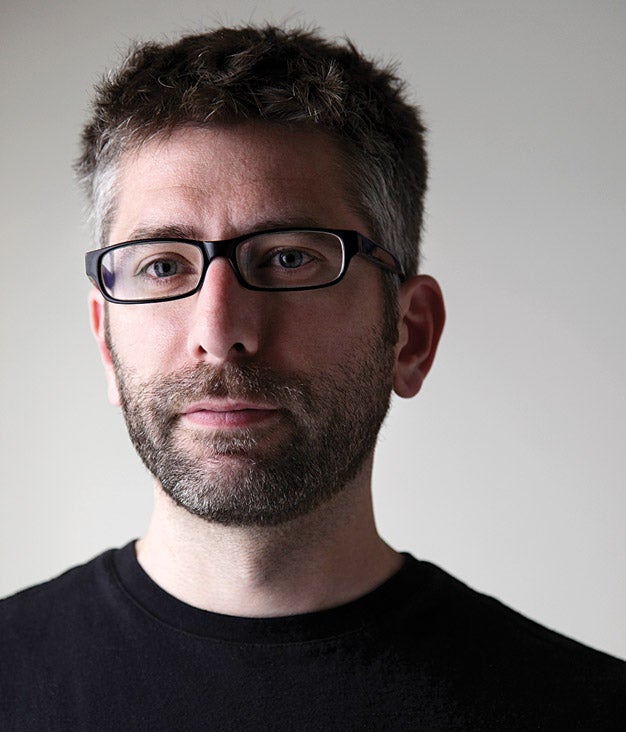 Lives In: West Hollywood, CA
Studied At: Parsons The New School for Design, New York
Publications: War-Toys: West Bank, Gaza Strip (McCarty PhotoWorks, 2013); Art-Toys (Baby Tattoo Books, 2010)
Ongoing Work: With the completion of the first phase of War-Toys in Israel, McCarty is raising money for a trip to Afghanistan; he hopes to continue the project in regions of Sudan, Mali, and the Congo.
In the Bag: Canon EOS 5D Mark II; Canon lenses (24mm, 15mm, 50mm, 24-105mm, 600EX); Gitzo GT2531EX tripod with ball head; Shure LensHopper VP83F microphone; Zacuto Z-Finder viewfinder; 13-inch Apple MacBook Air; LaCie Rugged Hard Drives (2 TB)