Books of the Year: Lisa S. Johnson's Guitar Art
_For 17 years, Lisa S. Johnson has been pursuing the world's biggest guitar heroes — or rather, their favorite axes....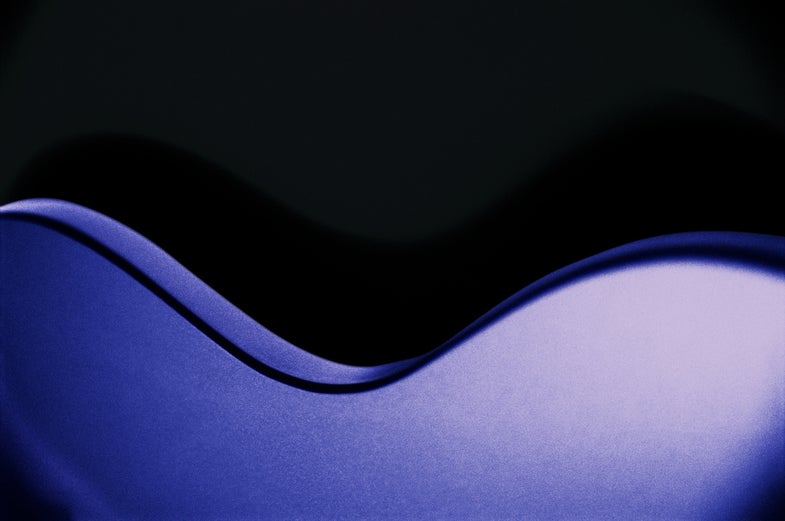 _For 17 years, Lisa S. Johnson has been pursuing the world's biggest guitar heroes — or rather, their favorite axes. An avid music fan, Johnson has built her "Guitar Art Project" with dogged zeal, accessing and photographing the instruments of living legends such as Eric Clapton, Jimmy Page, Bonnie Raitt and Keith Richards, as well as lesser-known "musician's musicians" like Richard Thompson, Steve Morse, Eric Johnson and Nancy Wilson. The result is a lavish new coffee-table book,108 Rock Star Guitars (Glitterati, $108), a leather-bound, 8.5-pound volume that's as remarkable as a big beautiful object as it is a showcase of dazzling images.
A former sales rep for Eastman Kodak, Johnson experimented with new and unusual Kodak films in her early macro shots, often in low-light conditions at sound checks. More recently, she has been managing and teaching in yoga studios in her adopted cities of Malibu, CA, and Las Vegas, NV, and shooting guitar images digitally with a Canon EOS 5D Mark II and 24–70mm f/2.8 macro lens. "I like to get in really close," she says. "The instrument might be completely groove-worn — it's like a map. These guitars have personality marks left behind."_
Not everyone goes around shooting famous guitars. What led you to do it?
I was living in Memphis, Tennessee, working for Kodak, and I started dating the guitar player at church. My father told me I was never allowed to date musicians — being a musician himself — so I called my dad to confess. But I said, "He owns a vintage guitar store." So my dad said, "That's totally different. Vintage guitar store? Hey, I've always wanted a Gibson mandolin." Two weeks later, my boyfriend gets this 1917 mint-condition Gibson mandolin. I said, "I'd love to buy that for my dad." He said, "You can't afford it, but if you will photograph some guitars that I have to sell, I will trade you for the mandolin." So I shot a bunch of pictures for him and I got the mandolin for my dad.
And you fell in love with photographing guitars.
Yes. And within six months, Kodak transferred me to New York City, where every artist and band comes through, so I may as well try to photograph famous guitars. Then I said I want to do a book on guitars — I had that in my heart.
Les Paul wrote the foreword — wasn't his the first famous guitar you shot?
Right. Les played every Monday at the Iridium. I went by myself, and the stand-up bass player was Paul Nowinski, and he came up to the bar and I started talking to him. "Would Les Paul let me photograph his guitar?" He said, "We'll give it a try." And Les said yes. He just sat on a regular old stool all those years, and he left his guitar on the stool, so I went over there, never touched the guitar and shot it. After I took the prints back to show him, Les said, "Hey there's that girl that does that guitar art!" And I loved that. That's how I view the guitar — it's a work of art; luthiers spend hours and hours to make an instrument that creates a sound that moves the world.
Do you play guitar?
I'm taking lessons. It's something I give my dad a hard time about: "You never taught me to play guitar!" He's an avid player — he's 77, still plays all the time and gets paid for it. I was always around music.
Do you choose subjects according to your own taste as a fan?
Well, most of these guys I grew up listening to. They've been with me during the dark times and the light times in my life. To photograph their guitars is really homage to the music they've made. It's their passion; it's what they have to do. The true musicians, they are in it because they had no other choice. Somehow I was born to do this too. I have to pinch myself: How did I — a girl who grew up in a town of 3,000 people in Canada — end up being the one that got access to all these incredible guitars? I just was persistent. I had this passion.
And you chose the number 108 …
The 108 part came in after I became a yogi. I went to India and I was getting a reading from my yoga teacher's astrologer, and I said I needed a title for my book. He suggested 108. In India, instead of dialing 911 like we do here, 108 is the emergency number. There is a Wikipedia page on the number 108 — it has a lot of meanings. But I've shot more than 108 guitars; I had to edit some out for the book. I have other genres — blues, rock, jazz, country — and more rock guys. And I'll keep trying to get some people. My vision is that there will be more volumes similar to this one.
Who were the big fish who got away?
I requested Angus Young's guitar more than anyone's. AC/DC is my all-time favorite rock band. They were the third concert I ever saw — the first was Kiss, my second was Alice Cooper, and then AC/DC.
Your first concert where the singers were not wearing makeup …
Yes! They just had the schoolboy outfit. But I was really taken — Angus Young is such a powerful guitar player.
And you couldn't get access?
Couldn't get past management. Sometimes you can't.
But you seem to have a knack for doing just that …
I've been able to get access to a lot of them, but sometimes people don't understand your concept. "Why does she want to photograph the guitar?" Or they don't care, they don't need press, they're like, "Nah." But I'm not going to give up! I'll keep trying.
You didn't include Pete Townshend. But maybe none of his guitars are still intact …
Right [laughter]. I'll photograph a broken one! We did request Pete, and we didn't hear back. I requested Mark Knopfler, the Edge, Eddie Van Halen, Prince, Dylan, McCartney … so far, no.
But now you have this beautiful book as a calling card.
Well, that's partly why, in the design process, we couldn't do anything less. I had a wonderful design team called SMOG, and they understood my vision and input their own skills. Glitterati [the publisher] also loved the concept. I wanted the artists to feel proud that they are in this book, where they could say, "Cool, she did a good job, I'm glad I gave permission for her to put my guitar in there." I didn't want to come out with something half-assed.
Are there others on your wish list?
I photographed Julian Lennon's guitar, but I didn't include that in the book because I want to photograph John Lennon's guitar and put it next to Julian's. I actually haven't requested John's yet, but I'm going to.
You can send the book to Yoko — she might like the numerology part …
Exactly. I felt that I needed to show Yoko something tangible. I feel intuitively that she's going to be protective, so I am happy that now I have this book to send over. I'd like to photograph Sean's guitar, too, and put them together.
What about Chuck Berry?
Chuck Berry I haven't tried yet. I met somebody who knows him, and he said he'd give the book to him as a Christmas present. I can start using that book as a tool — it's been an expensive project to do, but it's the entrée to other things, so it's an investment in my career. I sent limited-edition copies to all the artists in the book. And before it was out I sent them 13×19 prints of their guitar images. Because this project was 17 years in the making — some of these guys have completely forgotten that their guitar was ever photographed. They may think, "Whatever happened to that girl who shot my guitar?" Now they know.
See all our picks for 2013 Books of the Year.