2013 Photo Books of the Year: Fine Art
Skeletons in the Closet by Klaus Pichler | Self-published | $40 Dead animals have never been so much fun. At...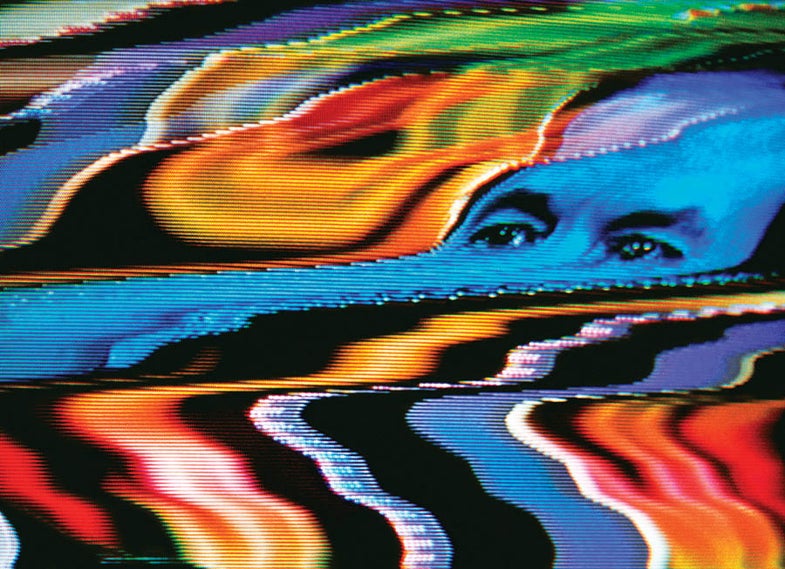 Skeletons in the Closet
by Klaus Pichler | Self-published | $40
Dead animals have never been so much fun. At the Natural History Museum in Vienna, Austria, Pichler discovered a behind-the-scenes room full of stuffed animals; he later got permission to photograph throughout the netherworld of the museum's backroom holdings. The unstaged results—from a pterosaur stashed under a maze of air shafts (above) to a gape-mouth shark lurking around a hallway corner—are as humorous as they are visually arresting. (Visit kpic.at to order a copy.)
Home Truths
edited by Susan Bright | Art/Books | $60
Editor Bright sets out to explore an "alternative history of the mother in photography," she writes, "one that is not dominated by…the male gaze." The imagery by a multitude of photographers—from nude mother-and-child candids to vernacular photos—turns conventional notions of motherhood on their head, or at least inside out.
Vivian Maier: Self-Portraits
edited by John Maloof |Powerhouse | $50
A Midwestern nanny passes away, then lights up the art market and merits three big monographs in three years—who was this woman? Here, she's a gifted visual thinker with a strong sense of self. Through Maier's lens, self-shadows and window reflections are deftly composed, more about context than the figure at the center. In mirror shots, the constant is her pensive and inscrutable gaze: an artist at work.
After the Threshold
by Sandi Haber Fifield | Kehrer | $50
Fifield's triptychs and quadriptychs meld dissimilar scenes into evocative meditations. Through variations in color, texture, and depth of field, these images accentuate each other, reverberating like musical chords.
Emmet Gowin
text by Keith F. Davis | Aperture | $65
This catalog showcases Gowin's brilliant versatility, from intimate studies of his wife and family to aerial shots of environmental woes to more recent abstract composites.
The Last Roll
by Jeff Jacobson | Daylight | $40
After being diagnosed with lymphoma in 2004, Jacobson turned to his photography as mental therapy; when his beloved Kodachrome was discontinued in 2010, he savored his last roll. "I have outlived my film," he writes. These images reflect longing, and gratitude, amid glimpses of beauty.
Boxeo Clasico
by Christaan Felber | Self-published | $30
Felber's portraits of amateur boxers in Brooklyn delineate a throwback subculture: intensely focused athletes, wrapped hands, hooded robes, musty gyms, and timeworn characters. "Though the boxer works with others in a brightly lit space," Joyce Carol Oates writes in her foreword, "he is really alone, and his is a curiously private and meditative art, as these photographs so vividly remind us." (Visit christaanfelber.com.)
Edward Weston & Harry Callahan
edited by Laura G. Flores | La Fabrica | $55
Though they never worked together, Weston and Callahan shared a remarkable artistry and a creative penchant for eroticism, often in images of their own wives and lovers. This exhibition catalog deftly juxtaposes the art of these two masters, as well as contrasting naturalistic forms (desert sand formations, vegetable close-ups) against the beauty of the human figure.
Kolor
by Elliott Erwitt | Teneues | $125
Erwitt's previously unpublished trove of Kodachrome slides pops with saturated hues, as well as his trademark wit and timing. And he has a Zelig-like presence at 20th-century cultural events—from Marilyn's skirt-raising sidewalk show to KKK marches to Nixon's nomination.
Japan's Modern Divide
edited by Judith Keller | Getty | $50
This exhibition catalog celebrates two forerunning Japanese image makers: Hiroshi Hamaya, who artfully documented everything from daily street life to volcanic eruptions; and Kansuke Yamamoto, who took photographic surrealism into wild new realms long before Photoshop.
Imagen Cunningham
text by Celina Lunsford | TF Editores/D.A.P. | $65
Cunningham's graphic still lifes, incisive portraits, and impressionistic nudes continued to push the envelope until shortly before her death, in 1976, at age 93.