The 10 Best New Photography Books of Summer 2015
From beach reads to collectors' tomes, here's what were looking at this season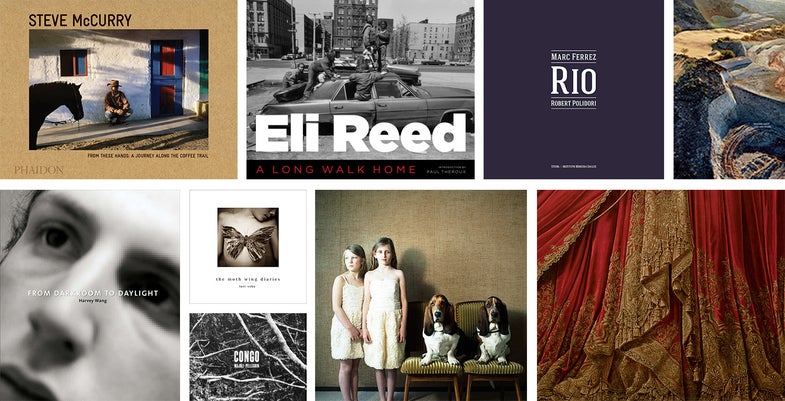 In and around the U.S. city that perhaps best symbolizes the burst of the housing bubble in the aughts—Nevada was the fastest-growing state in the nation prior to the 2008 crash—we now see half-finished neighborhoods, empty cul-de-sacs, oversize castle homes and lush golf courses surrounded by barren desert, all evidence of real estate speculation run amuck. Yet as with his other aerial surveys in the West, Light makes it look weirdly beautiful.
While her imagery concentrates on young female subjects on the cusp of maturity, dogs and ponies also play prominent roles and lend a bit of levity to the intense mood. With a mix of honest, straightforward portraiture and otherworldly scenes, van Meene imbues real life with a haunting yet alluring strangeness.
This retrospective spotlights his gift for quiet candid moments in housing projects and playgrounds, ghettos and boardwalks, as well as more strident photojournalism depicting civil-rights demonstrations and uprisings in Haiti and Central America. It's a long-overdue salute to a social and visual trailblazer.
Shot in large format from the vantage-point of the stage, each peopleless image conveys the architectural majesty of its hall as the performers see it — a fitting tribute from a photographer who's the grandson of an opera singer and the son of two architects. Ranging from the 18th-century ornateness of the Théâtre Royal de la Monnaie in Brussels, Belgium, to the sleek modernity of Den Norske Opera og Ballett in Oslo, Norway, these opulent creations reflect the universal splendor of high society.
Using traditional black-and-white, medium-format darkroom techniques, she's turned day-to-day scenery and found artifacts into a compelling dream world with disconcerting undertones, not unlike the ethereal work of the late Francesca Woodman. But Vrba is still with us, emerging in the art-book world with this debut monograph.
Nor with captions or descriptions. The dramatic pictures are left to speak for themselves — though the book comes with a booklet of text by Congolese writer Alain Mabanckou, whose poetic passages allude to the images in order (tricky to match up with no page numbers). But never mind. Just take in the powerful photos: Grand landscapes, gritty industrial sites, wild creatures, impoverished villagers and elaborate tribal rituals all co-mingle to reflect the complexity of the Republic of Congo (not the neighboring DRC). Mainly black-and-white with a smattering of color, this imagery conveys the stunning beauty and harsh reality of its geographic backdrop.
Part one presents the imagery of Brazilian native Ferrez, who documented Rio in the late 19th and early 20th centuries as the vibrant city emerged within its naturally splendid environs. Part two gathers recent Polidori photographs showing the continuing majesty as well as the congestion and poverty of modern Rio, from its grand vistas to its dense favelas. What's most striking are the similarities: Both bodies of work feature large-format panoramas (with zig-zag image combos; no photo-stitching here) and breathtaking views of burgeoning urbanity in a glorious landscape.
Wang combines his own black-and-white portraits with interviews of photographic peers, including Sally Mann, Jeff Jacobson, Susan Meiseles, and Elliott Erwitt—as well as technical pioneers such as Thomas Knoll, co-inventor of Photoshop—about the pros and cons of each side in the darkroom-vs.-digital divide. While most concur that the digital side has an insurmountable advantage, this is a poignant reminder that the debate lives on.
But here he's put together a remarkably original set of impressions of the coffee-farming trails in far-flung lands—Brazil, Vietnam, Colombia, Ethiopia, Peru—depicting the families, craftsmen, and side characters in the bean culture behind the brew. All are illuminated by McCurry's trademark brand of portraiture: warm, enigmatic, well composed, and almost ready-made for a yellow-bordered cover.
With bound book in hand, I stand by the blurb:
Cynthia Carris Alonso depicts Cuba with an insider's access and a visitor's sense of wonder. In an era when the island was cut off from the West, she captured rare views of authentic Cuban culture: innovative artisans and vibrant musicians, vintage cars and buildings in faded glory, colorful characters whose relative isolation hasn't dampened their spirits. It's an insightful survey of a land with a rich but enigmatic past and a promising future.
Photobooks on young womanhood, the chaotic landscape of Las Vegas, coffee-farming in South America, and more in American Photo's roundup of the season's best. Revisit our picks for last season's standouts here.
[See also: The 10 Best New Photography Exhibits of Summer 2015]