Adobe Premiere Rush CC offers video editing on iPad and iPhone
Adobe announced the new product during the Max 2018 event.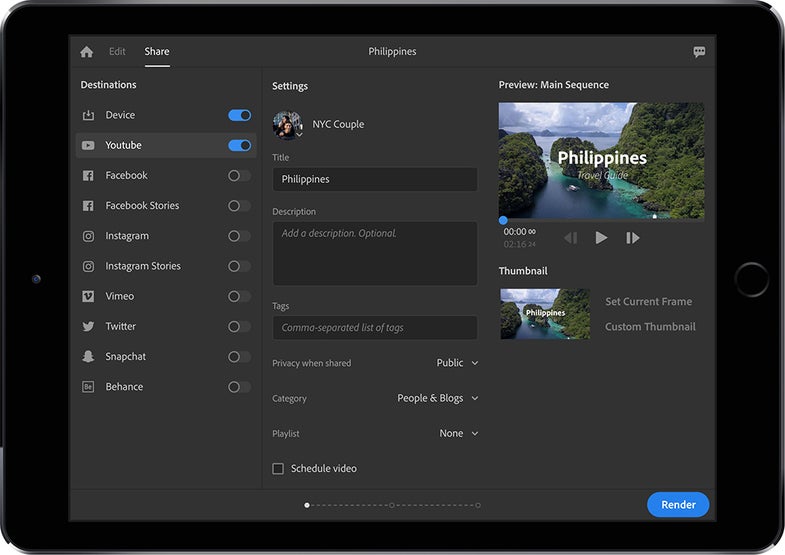 Yesterday during Max 2018 Adobe had some big announcements for Creative Cloud: a new video editing platform called Premiere Rush CC and Photoshop CC for iPad. Both new programs were designed for content creators on the go, who need the ability to edit and share their work across digital devices. Here's what we know about the new programs:
Premiere Rush CC
Originally introduced over the summer as Project Rush, the refined version of the program is called Premiere Rush CC and is available through CC immediately. Premiere Rush CC is Adobe's first all-in-one video editing app to work across devices, giving creators the ability to start a project on their phone or tablet and make refinements at home on a desktop. Projects automatically sync to the cloud—making it easy to work on something in any location at any time.
The interface of Rush is essentially a more intuitive version of Premiere Pro CC. If you are familiar with that program the interface of Rush will be easy to understand. With Rush you can shoot, edit, color correct, edit audio, create motion graphics and publish your content from a single program. Rush also makes changing the orientation of a video simpler than ever before—so the correct format can be shared to various social media platforms like YouTube, Facebook, Instagram, and Adobe's own Behance.
Premiere Rush CC is available today on all iOS devices and desktop for Windows and Mac. It will be available on Android soon.
Photoshop CC for iPad
Adobe also used Max 2018 to announce that the highly-anticipated Photoshop CC for iPad will be coming in 2019. Like other Adobe tech, the program will sync with the cloud so you can edit RAW images on an iPad and pick up a project later at home. It will also be compatible with a stylus—making it a great option for anyone working with an iPad Pro.