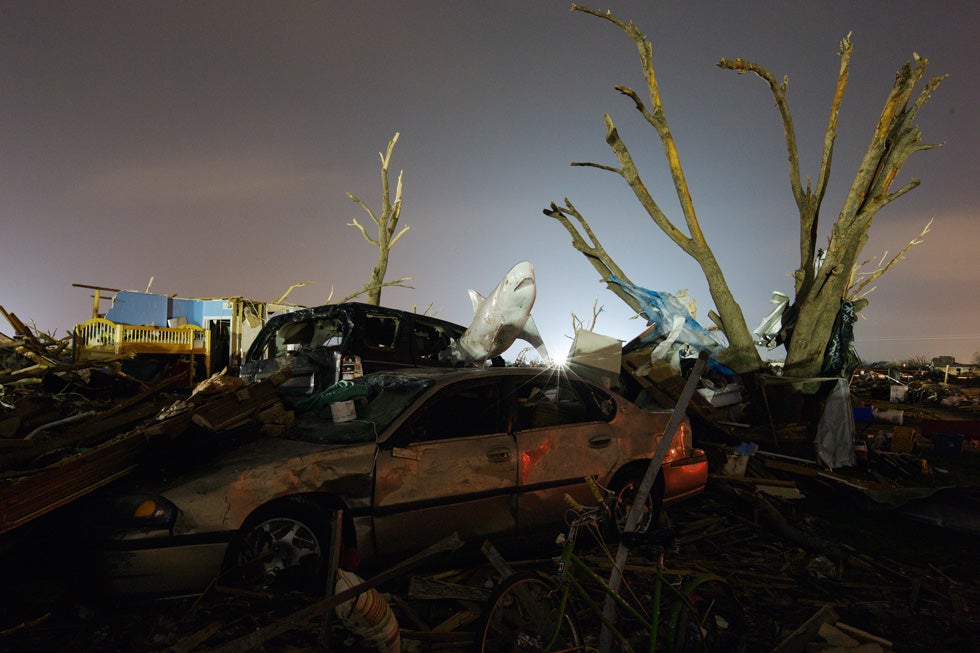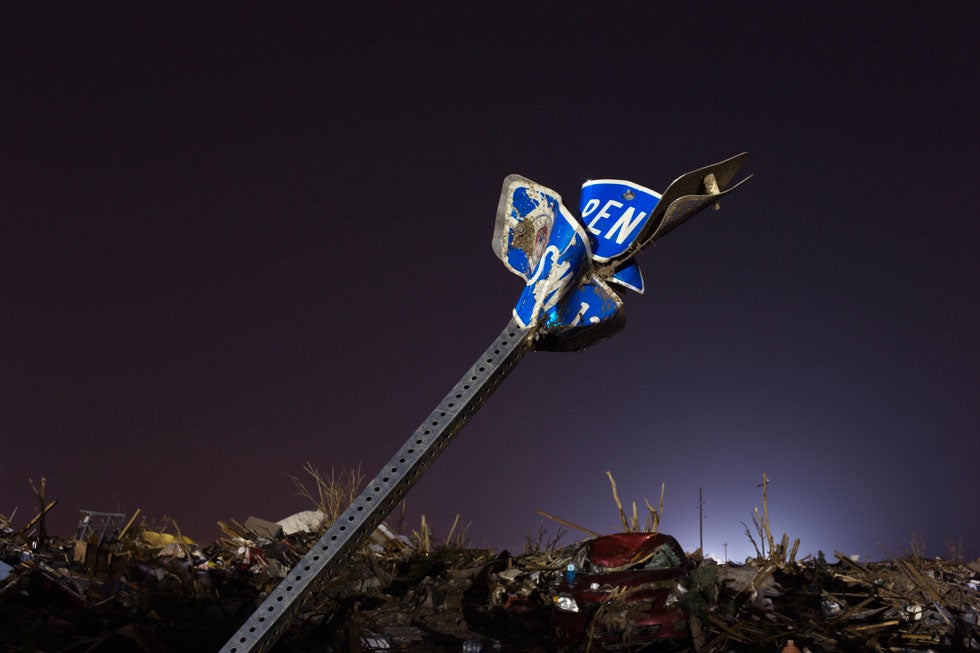 If you follow our regular Photojournalism of the Week series, Lucas Jackson's name should be familiar. We featured his image when a gunman open fired in front of the Empire State Building and when hurricane Sandy ravaged the New York metropolitan area. So, it came as no surprise to us when his long-exposure night shots of the aftermath from the massive tornado in Oklahoma brought a unique visual element to a scene saturated by media. We spoke to Lucas as he was getting back to New York. Here's what he had to say about how this unusual series of images came to be, and just why they do such a good job at telling their story:
How do you bring a fresh perspective, as a photojournalist, to a disaster scene that is being widely reported by other media outlets?
Reuters committed to having me stay on this story long enough that I was able to see beyond the obvious images of people reacting to their situation, so that was a big part of it. In the early stages of a news story like this, it is difficult to do something different because your job is to cover the story as it unfolds. Only once things have reached a point where the story has begun to slow down, and is not developing by the minute, can you start to follow your own curiosities. In my opinion it is at that point that it becomes possible to take a step back and come to a deeper understanding of the story.
Where did you come up with the concept for this series of images? Have you employed this style of shooting to other similar scenarios?
The concept for the series evolved by accident actually. I had been working to send pooled photos of a memorial earlier in the day and the only real time I had to photograph was after that ended. By that point in the day it was twilight. I had originally stopped to photograph the Memorial Day fireworks over a damaged home, and while driving away I saw a tree that grabbed my attention. I took out a tripod and took a slow-shutter photo allowing the ambient light to bleed into the frame. I liked the effect that the ambient light and deep depth-of-field had on the photograph so I looked for more subjects knowing that a series would be much more impactful. I also felt that the light in these very still and deliberate images did a better job of three-dimensionally capturing the extent of the damage.
I have used slow shutter speeds before to varied degrees of success both in Afghanistan and in Iceland. I feel that slow-shutter photographs, taken in a still camera, are something that no other technology can match. It is a technique that can be used to show people something that they cannot see otherwise, even with their own eyes.
These photos are void of people, yet, from everything we've seen of the tornado's aftermath, they are some of the most moving images out there, why do you think that is?
I actually felt they did a unique job of capturing the extent of the damage when I was shooting them. I think that in a disaster like this, the damage is so extensive and complete that it becomes difficult to convey, especially when so many images start to look similar. During the day you tend to concentrate on the human toll of this disaster and all of the stories that are playing out as time goes. These images, being essentially landscapes, force both the photographer and the viewer to concentrate on the destruction, and the human element is implied by the recognizable items in the frame. The viewer can imagine those elements being connected to them and it evokes empathy.
Were you by yourself when you shot these?
I was. This area was actually not accessible to the public after dark because of a curfew, but I spoke with a Moore Police Department Sergeant when he stopped to ask me what I was doing, and once I explained it, he said that I could stay. Luckily he understood what I was trying to do and was open to it, while trusting that I would behave as a professional and not do anything that would make him regret letting me stay. That does not always happen. I think it helped that he enjoyed photography as a hobby.
I know you recently came back from Afghanistan and since, have covered quite a few domestic disasters and breaking news stories. Do you consider yourself to be a conflict/disaster photographer?
I do not actually consider myself a conflict/disaster photographer. My job has me doing a plethora of things every day. I literally take photographs almost every single day in New York. I am in charge of our entertainment coverage here in the city and Reuters covers all kinds of financial, news, sports, and feature stories as well. It is actually the deluge of daily work that has helped me improve my skills as a photographer. If it is possible to make some of these press conferences or the floor of the New York Stock Exchange look interesting, than working in a conflict or disaster zone, where there are genuine stories to tell, is easy in comparison. I say this because my first job is to honestly and accurately capture the subject. Second, my job is to inform the reader. If the subject is not displaying obvious emotion, then I need to use composition, color, or exposure to make the photograph interesting enough to draw in the viewer. Finally, I need to create content that is timely and helps Reuters tell the story visually. In conflict or disasters the subjects are instantly recognizable and the situations inherently evoke emotion. That means my first two jobs come more easily and what I have to do is figure out what information to squeeze into a little rectangle.
For the technical geeks out there, do you mind sharing with us the gear you used to make these images, and your approximate exposures?
Gearwise I was using a Canon EOS 5D Mark II and either a 50mm f/1.4, 16-35mm f/2.8, or 70-200mm f/2.8 lens on an Induro carbon fiber tripod with a ball head. I didn't have an intervalometer with me so the longest exposure I could get was 30 seconds and since I wanted a really deep depth of field (f/8-f/22) for these, I was using either the shutter speed or ISO to change the exposure. With the images that have people in them I was often shooting at ISO 800-3200 in order to get the beautiful low light in the photo while also freezing the subject. For the still life and landscape photographs I was most commonly on ISO 800 but I went to 400 sometimes and even up to 1600. My exposures for the landscapes was anywhere from 5 seconds to 30 seconds. I also played with the White Balance in the camera which gave the background different colors. The crazy part is that these photos are basically straight out of the camera, I had very little, if any, toning to do to them.