New Gear: Yuneec Goes Pro with its H920 Plus Hexacopter Camera Drone
The new drone has six rotors and sports a gimbal-stabilized 16MP camera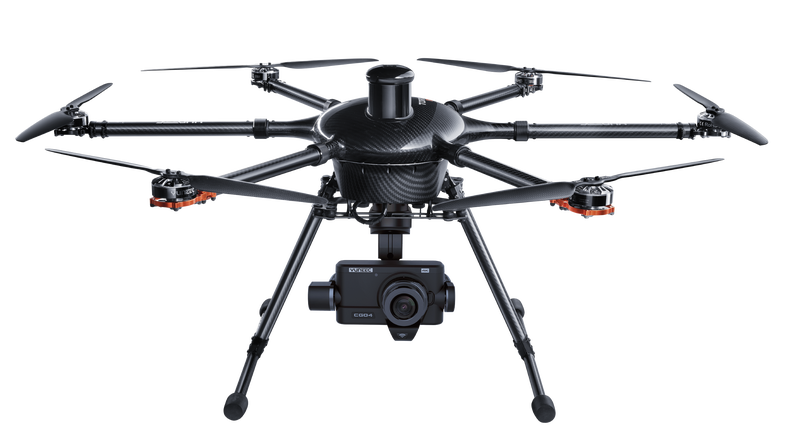 We may earn revenue from the products available on this page and participate in affiliate programs. Learn more ›
Not to be outdone be its competitors, Yuneec steps into the the pro drone arena with its new H920 Plus (from $2,500, street). We quite enjoyed getting to try out the company's previous release, the Breeze, but this latest drone is no backyard toy: The H920 Plus hexacopter weighs in at 11 pounds and can move at speeds up to nearly 25 miles per hour.
The six rotor arms that protrude from the carbon-fiber chassis are easily detached for portability; likewise, the carbon fiber propellers can be quickly attached and removed for storing the drone between shoots. Once airborne, the H920 Plus will stay aloft for twice as long as its smaller cousin, the Breeze, giving drone pilot 24 minutes of flight time on a single charge.
The H920 is aimed at professional and commercial markets, as evinced by its more advanced camera and dedicated gimbal stabilizer. Yuneec worked in tandem with Panasonic to develop the CG04 interchangeable-lens compact Micro Four Thirds-format camera that's designed for use with the hexacopter. Utilizing a 16MP CMOS sensor, the camera is slated to pump out still images or 4K video at 30 fps.
While it will ship with an Olympus M.Zuiko Digital ED 14–42mm f/3.5–5.6 EZ lens, you'll also be able to two other optics to suit your needs. The other lenses, a 12mm f.2 and 45mm f/1.8, also from Olympus should provide an array of options for still and video shooters alike looking to glean more professional-looking results from their drone.
A three-axis gimbal, which will also work a number of other Yuneec cameras (including a thermal one), promises to provide for smooth shooting in windy conditions.
Control of the drone itself has been upgrade from a mere smartphone app to a dedicated remote called ST16 Ground Station, which integrates a transmitter, manual flight controls, and a 7-inch 720p screen to show real-time flight footage from the hexacopter's camera. The Ground Stations runs off a variant of the Android operating system and will also provide the array of automated selfie and "hero shot" flying features that drone pilots have become accustomed to.

The Yuneec CG04 Camera
The drone is designed to work with this 16MP MFT ILC that pumps out 4k 30fps video.