Your Best Shot Gallery: May 2016
The best reader photos of the month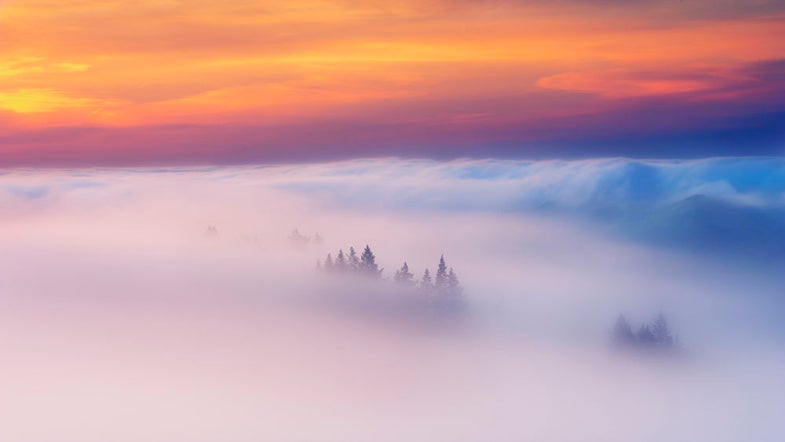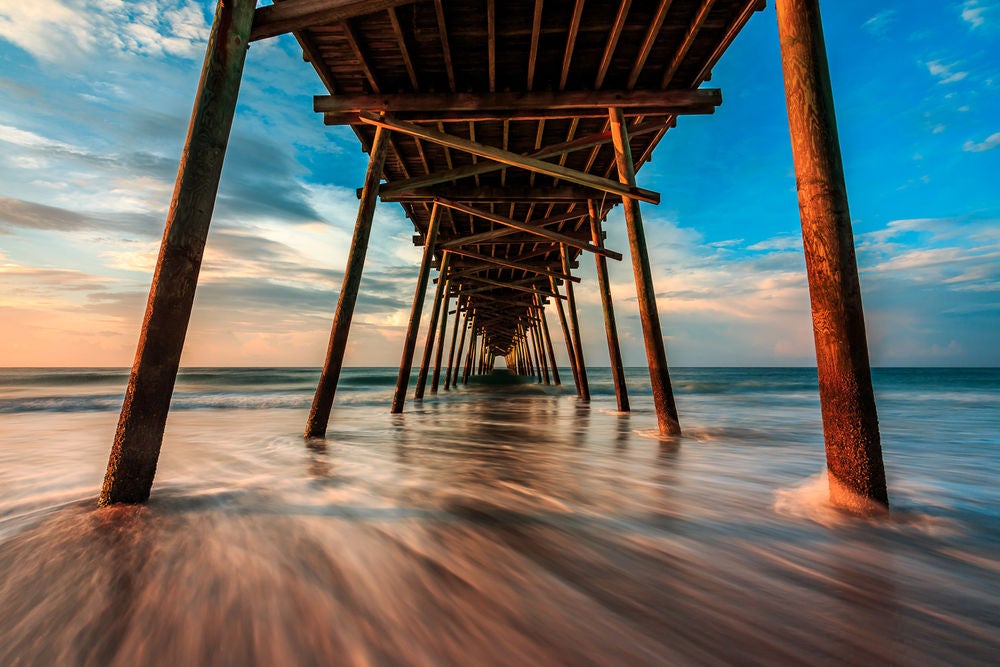 Sun Kissed
During our vacation at Emerald Isle, NC I woke up every morning to see a sunrise and to get a good beach photograph. I visited the Bogue Inlet Pier five mornings hoping to get good light and a pretty sky. The first four sunrises didn't cooperate with too many clouds and not enough color to make the photograph I had envisioned. During the sunrise of the fifth morning, a huge cloud rolled in, covered up the sun, and I was about to give up when it moved just enough out of the way to allow me to capture this awesome scene. This image is the product of persistence, patience, and a little luck. Canon 6D, 16-35 F4L lens @ 16mm, RRS Tripod, Hitech ND Filter. F11, 1.6s, ISO 100
*As we enter the summer months here in the USA, the Your Best Shot photo competition tends to heat up. There's no gross weather to keep people inside, so everyone is out there making great photos. This month's collection had an abundance of rather stunning landscape photos that were very difficult to cut down. I also noticed an uptick in excellent street photography that goes beyond the from-the-hip snapshots and surprised strangers staring blankly into the camera.
If you're feeling particularly inspired after seeing the great images in this gallery, head over to our Contests page to see more chances to share your work and get published. I can't wait to see what's in store for next month.*


San Francisco in Morning Haze
From the Marin Headlands with a 400 mm lens the foreground hills and the San Francisco skyline are compressed. The initial Raw Capture had little contrast. Levels adjustments made the blacks/dark areas darker giving some contrast to the image. Canon 70D and 100-400 mm IS Lens. Cropped to be a panorama.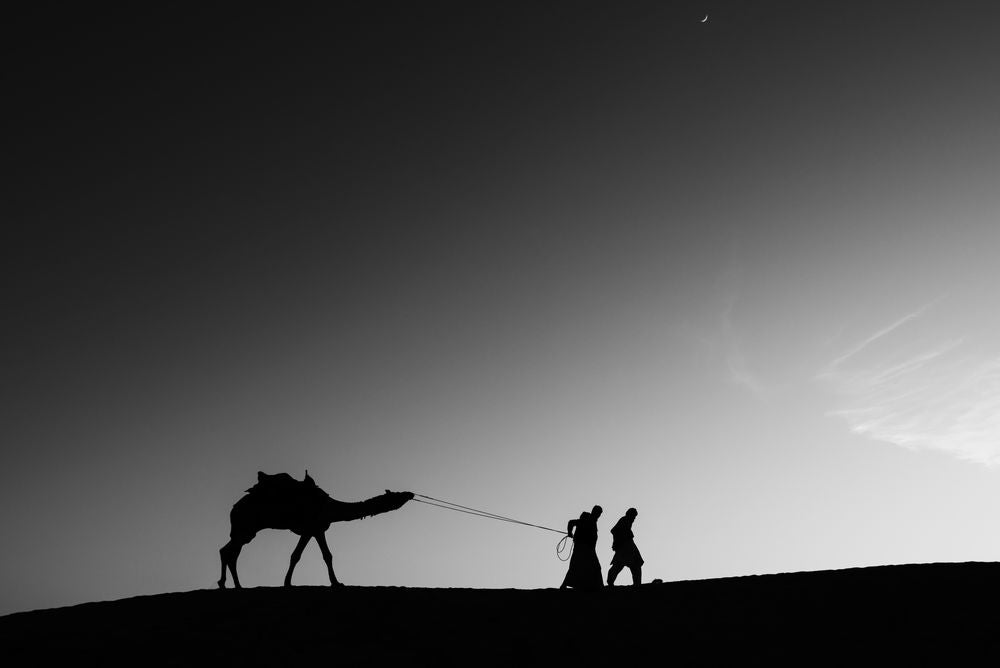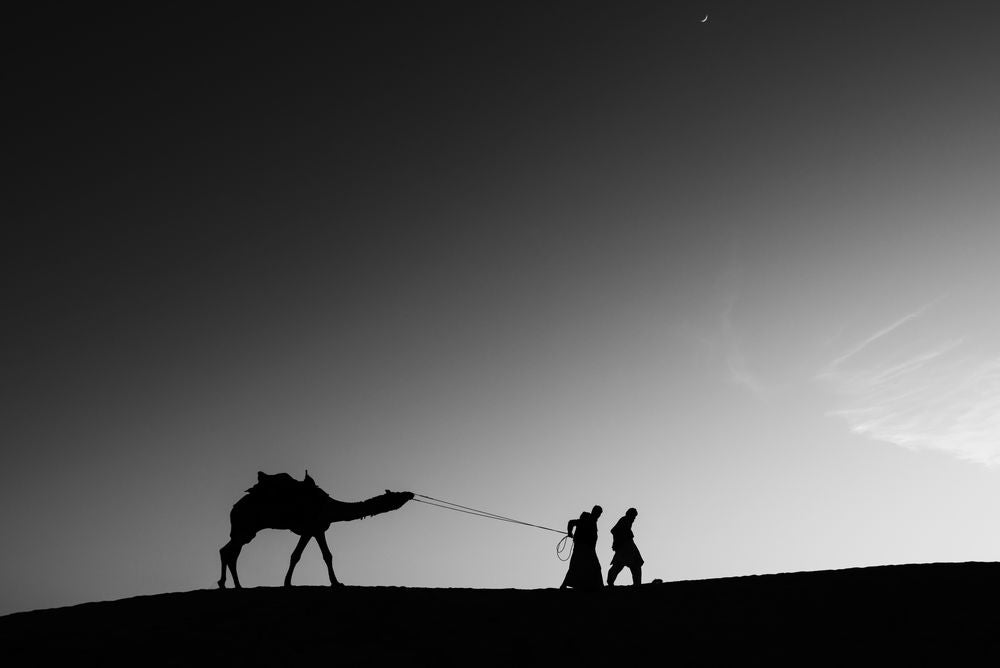 A Walk
Camels are heading back home after a tiring day in Sam Sand Dunes Desert, Jaisalmer, Rajasthan, India.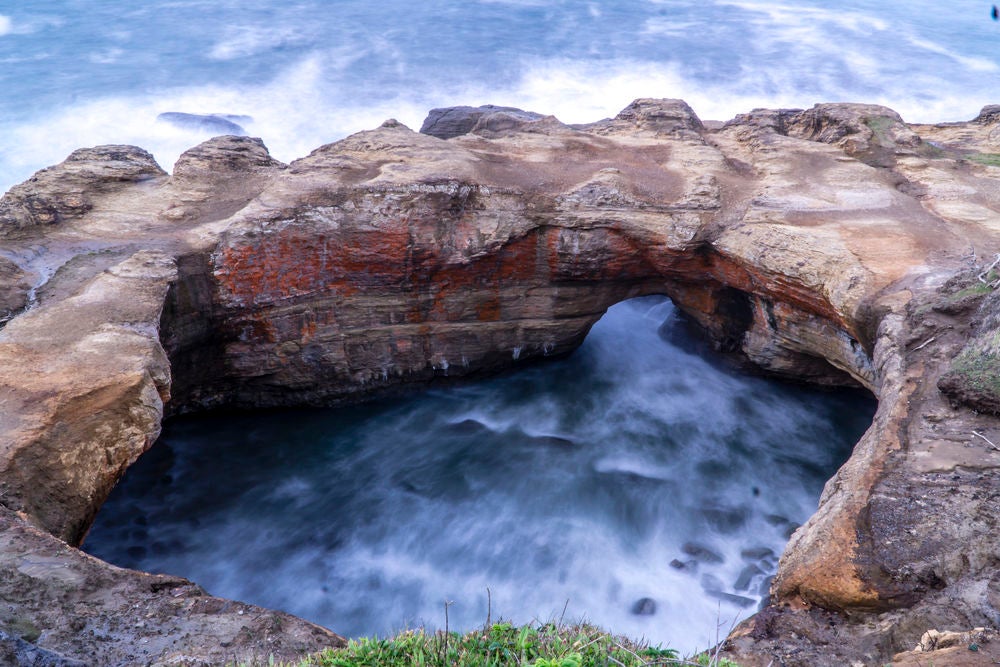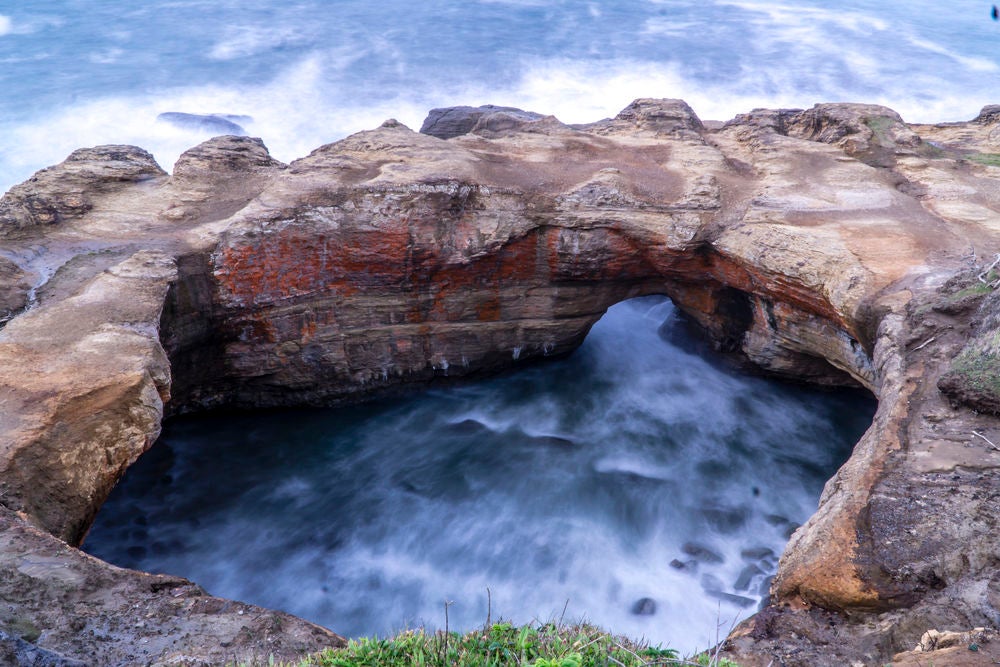 Devil's Punchbowl State Park, Oregon
This is thought to be the remains of a sea cave whose roof collapsed forming this punchbowl formation. It is located near Otter Rock, OR and on the incoming tide the water inside looks like it is boiling, thus explaining the name of the park. Taken with a Sony a6000 with the Sony 18-105 f4 G lens mounted on a Bogen 3221 tripod with a Slik Pro ballhead. To emphasize the boiling water effect, a circular polarizer coupled with an 8X neutral density filter allowed for an exposure of f22 for 10 seconds using an ISO of 100.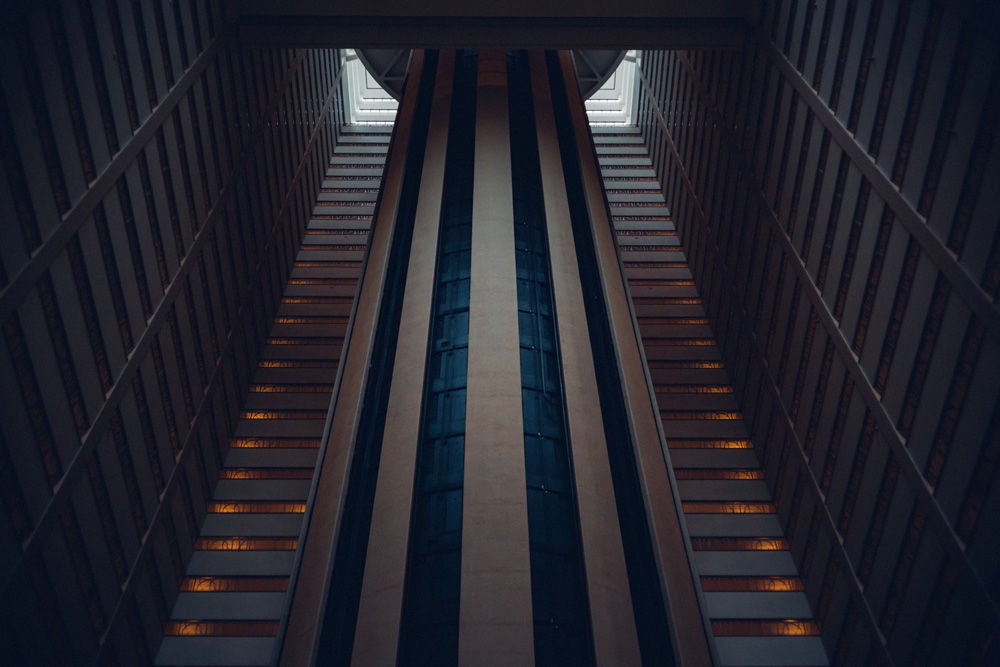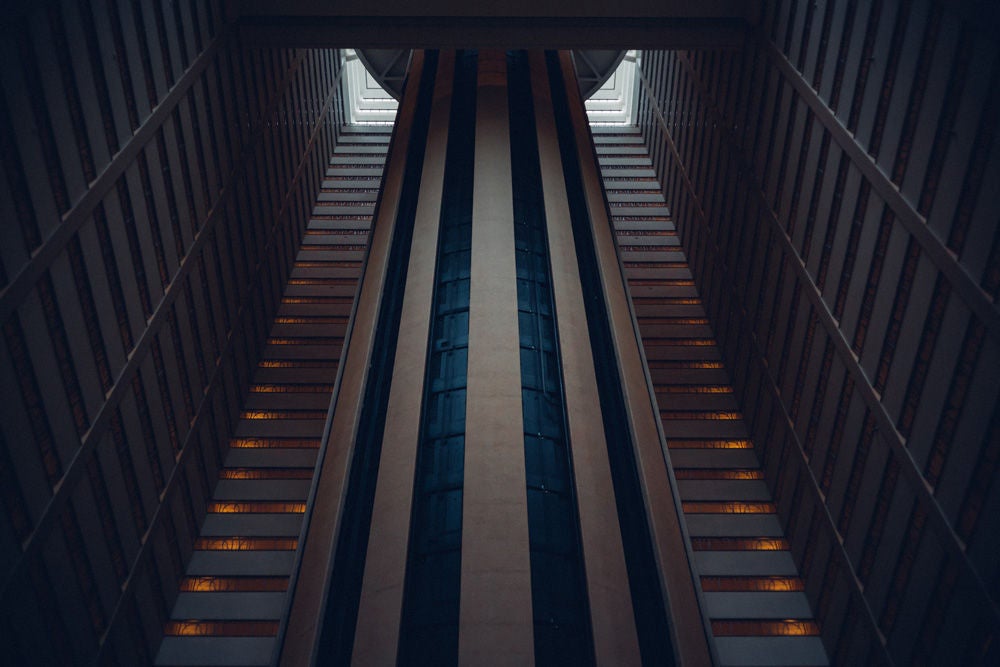 Ever Upwards
Inside the Mothership Sony A7Rii + 35mm Summicron f/2 Version 3
disappearance
photo of my younger brother shot with a minolta film camera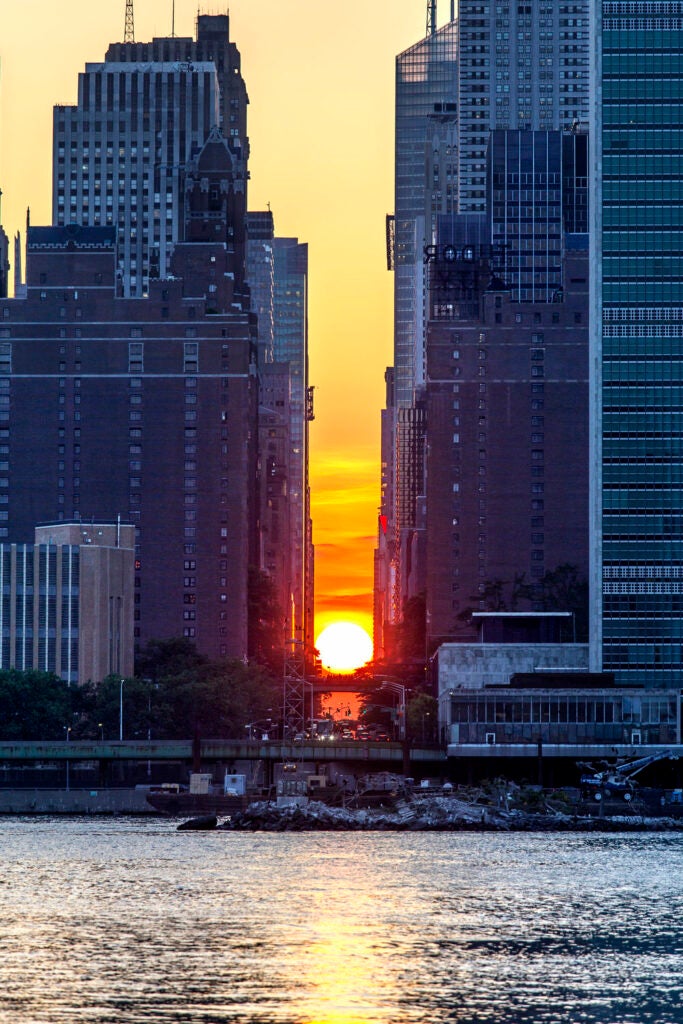 Manhattanhenge #1
Several times per year the setting sun aligns with the East/West running streets of Mid-Town Manhattan. Originally a local affair, now thousands of people come from around the world to witness this infamous event aptly dubbed "Manhattanhenge" (an homage to the Stonehenge monument in England.) This photo documents the setting sun along 42nd Street. Taken from Queens NY with Canon 6D + 70-200 F4 L IS @ 200mm. F5.6, 1/250th, ISO 100, -3 EV. RAW file developed in ACR 9, color & contrast adjustments in CS6.
Fruity Oatmeal Breakfast
I just started to experiment with food photography in the past month because I didn't really have time to go out and take pictures outdoor. So I grabbed my camera and "take it to the kitchen" to shot the food that I served for breakfast. The photo was taken with Canon EOS 70D and Canon EF 50mm f/1.8 STM lens in natural window light and side reflector. (ISO 100, 50 mm, f/1.8, 1/100s)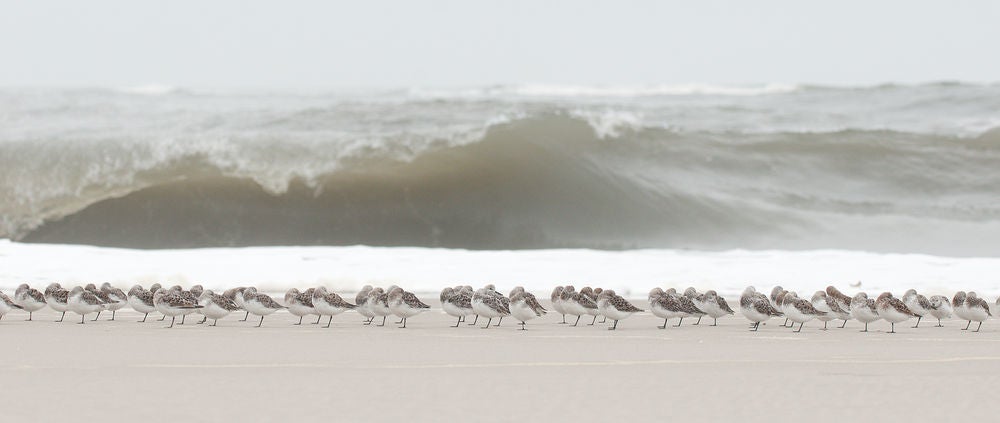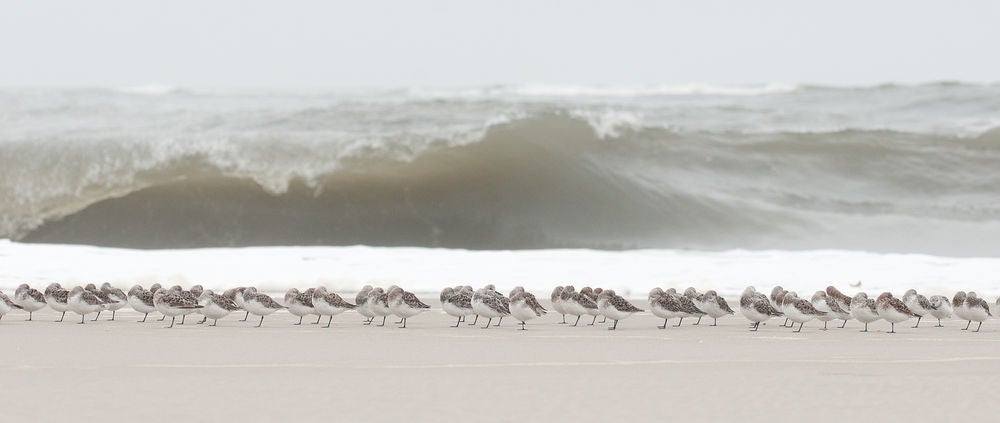 Sandpipers and waves
I had the beach to myself on this gray day with rain forecast. It did not rain and I had a lovely day with nature. Photographically I liked the many bands of color and texture and the drama of the big wave in the background.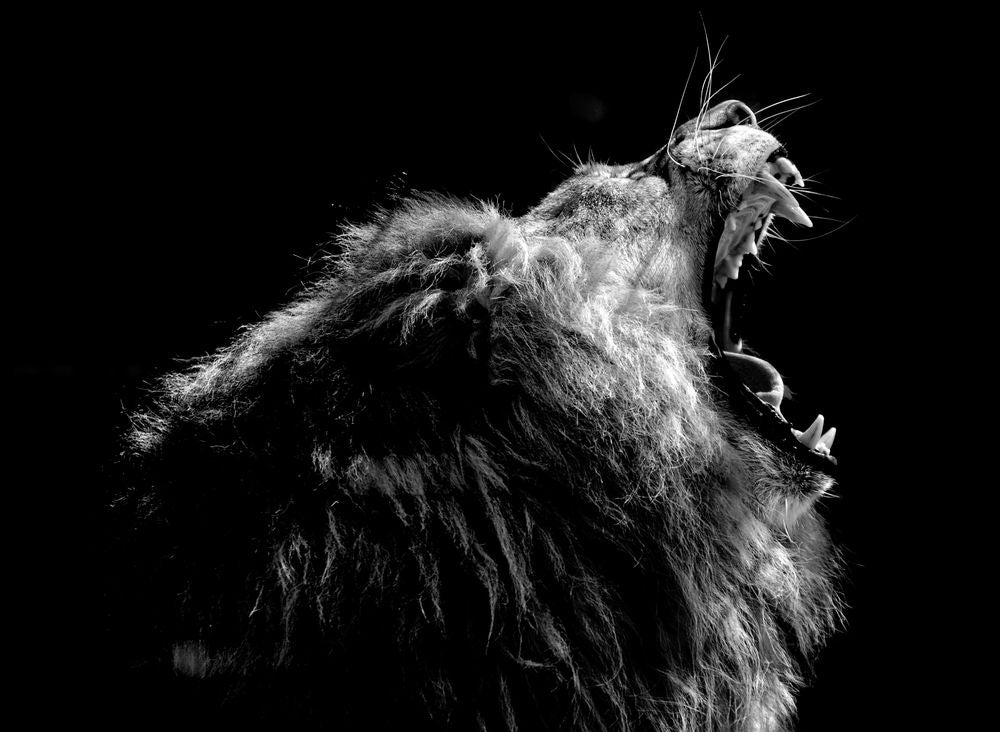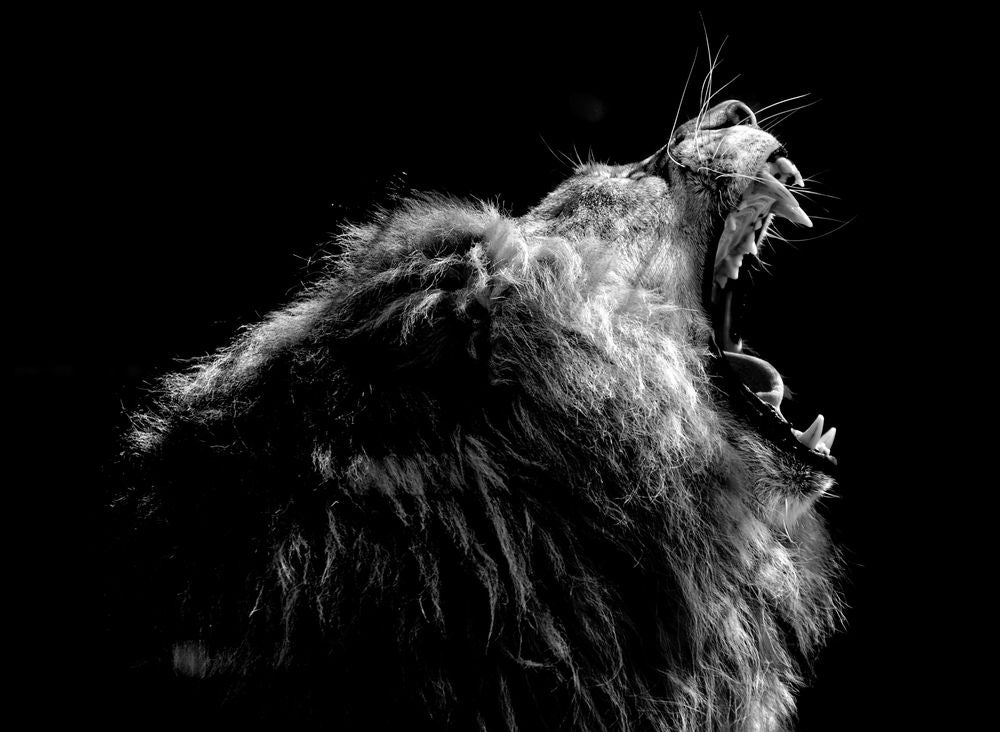 The King
A yawn turned into a dramatic moment at the Tregembo Animal Park, Wilmington, North Carolina.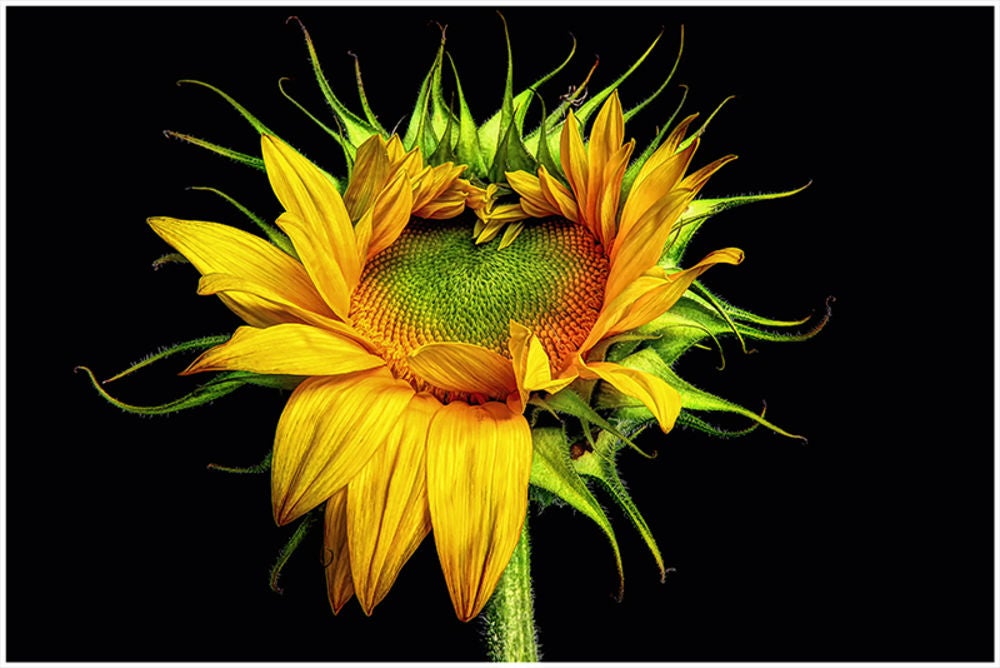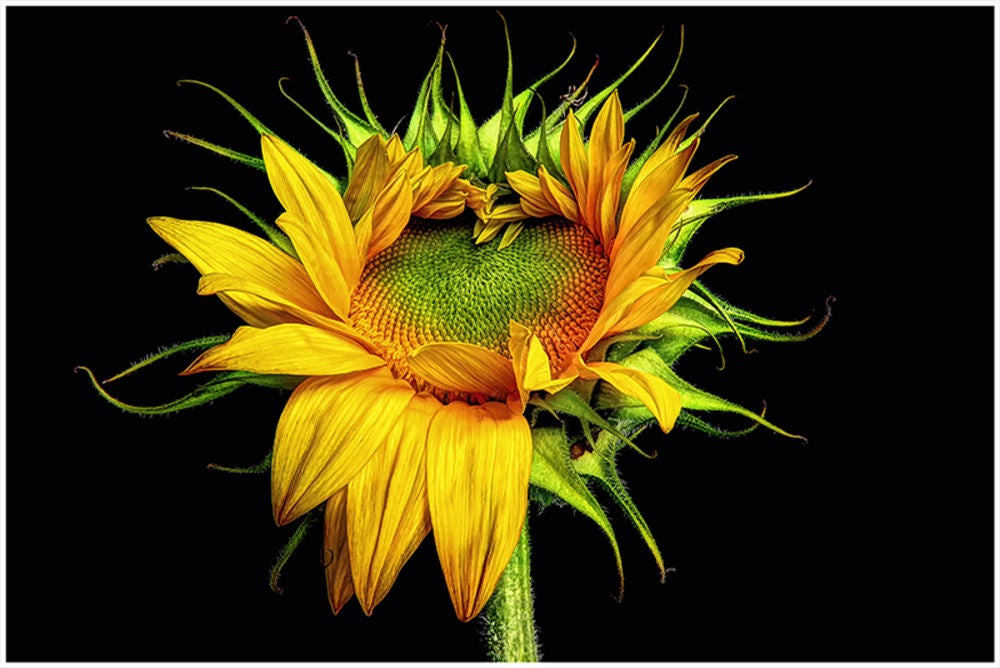 Emerging Sunflower
A sunflower as it was emerging. I used a piece of black fleece to hang behind it outside using natural light (open shade). Thanks, Mike.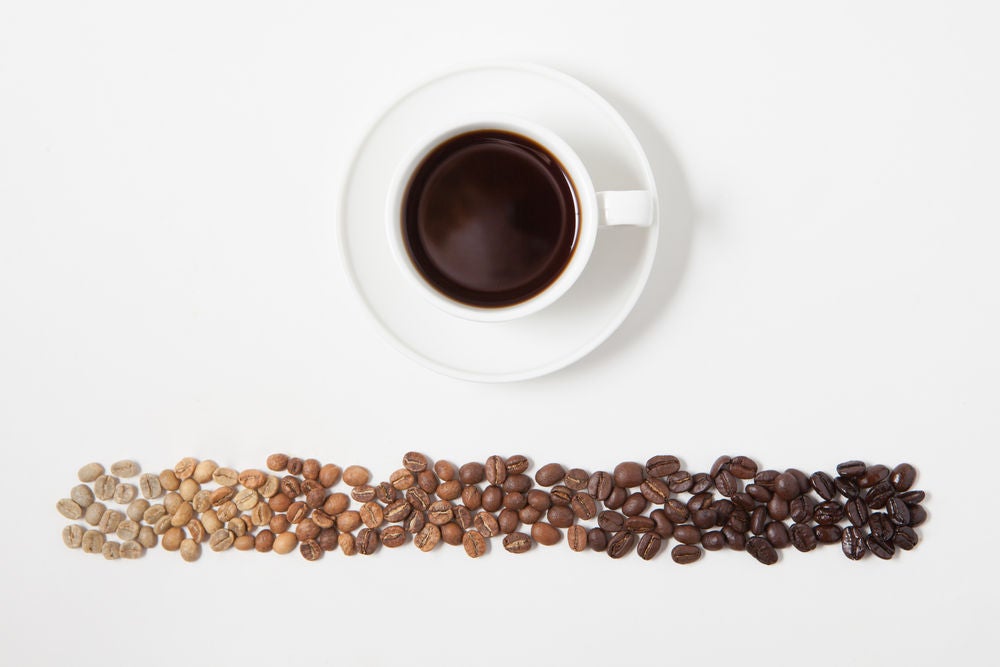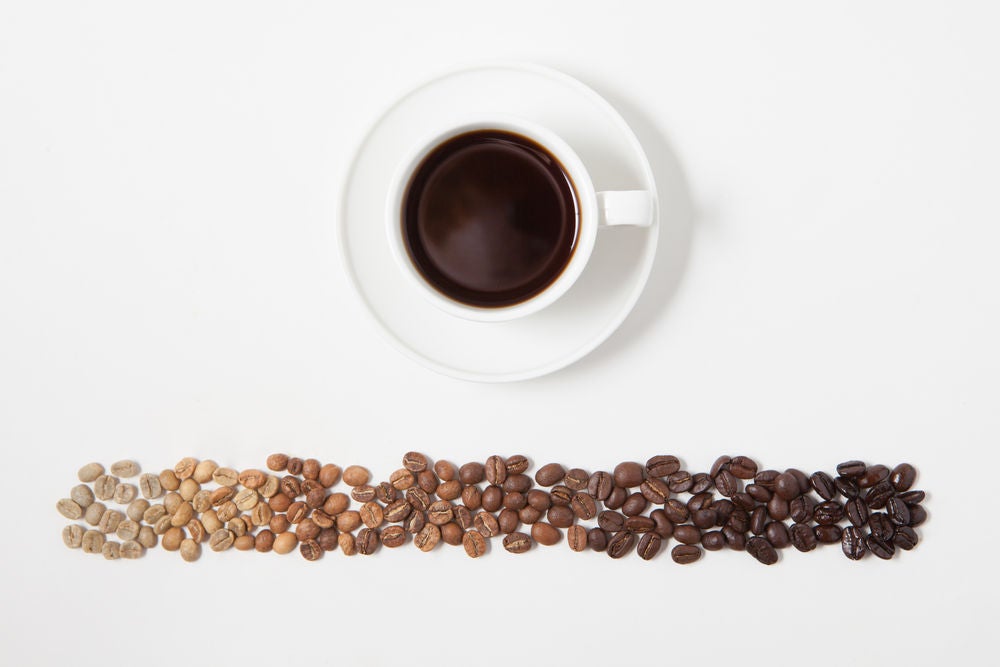 Coffee Spectrum
Practicing with some studio photography with some coffee (my other passion). Shot with a Canon 5DII and 24-70mm lens at f/8.0 and 1/100sec. I used a speedlight in a shoot-through umbrella to the left and a large white reflector to the right. The backdrop is some posterboard I had lying around from an old school project.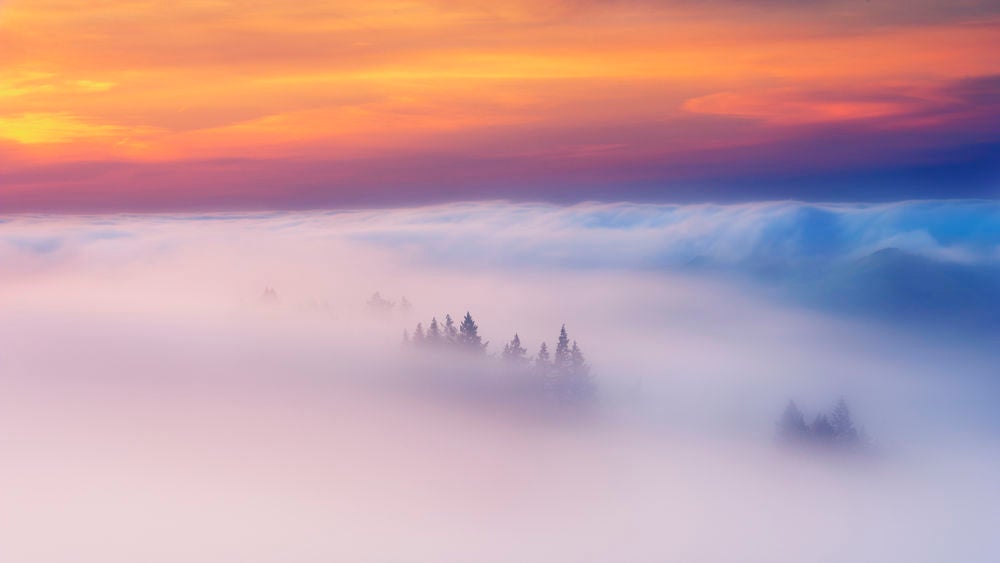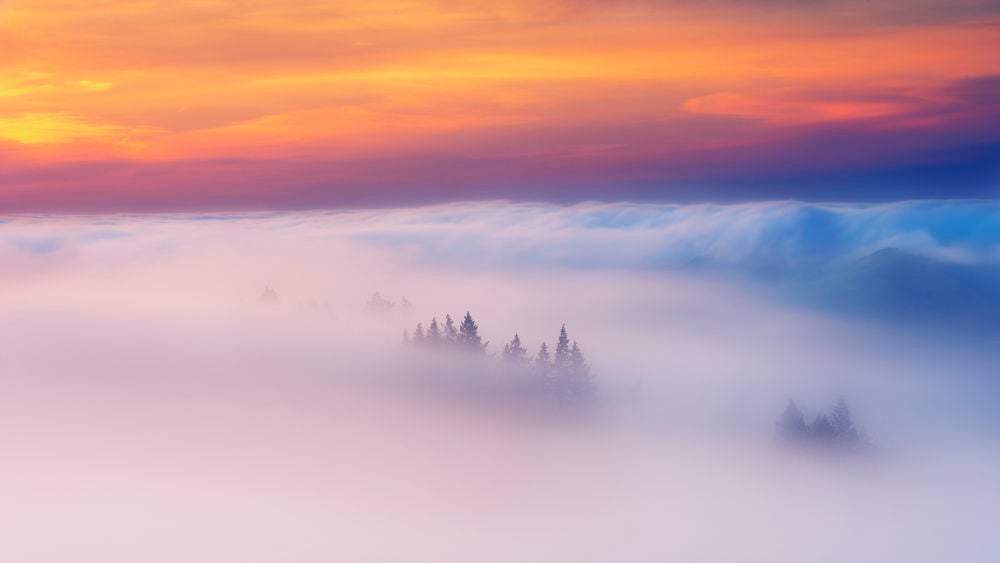 Whispering Pines
As the fog rolled over the ridge the sky erupted in color.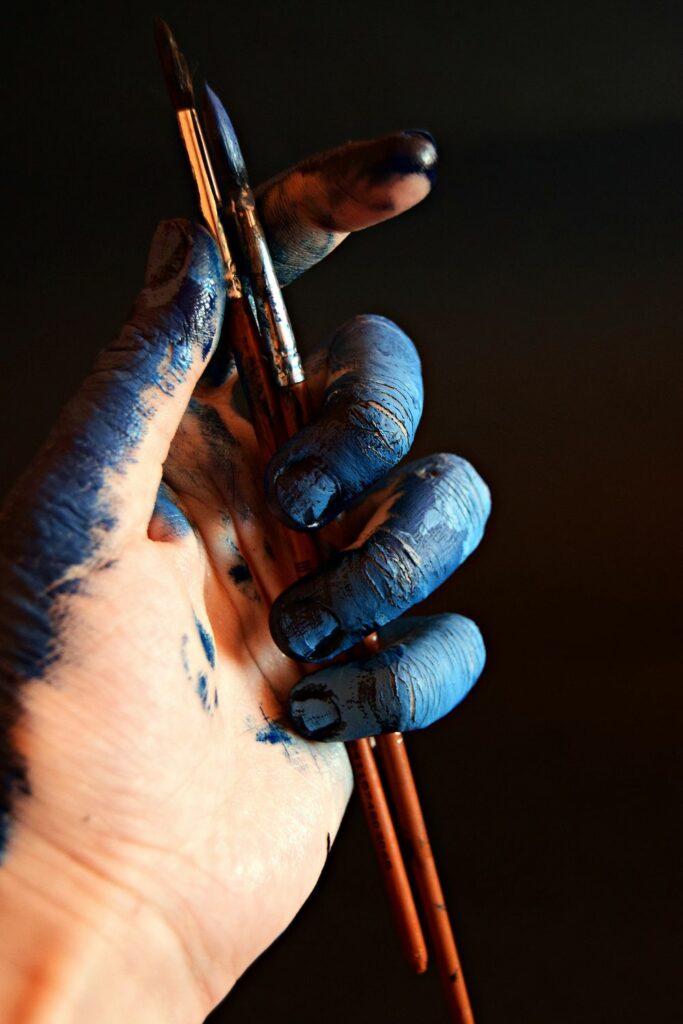 Artist hand
Make art not war.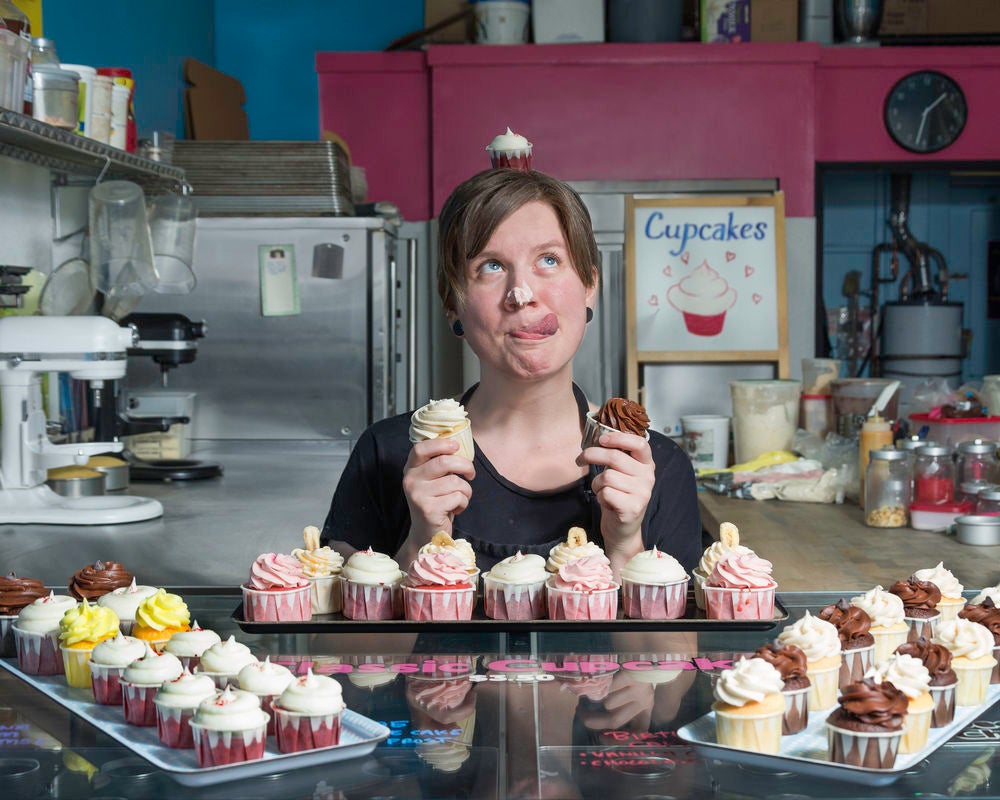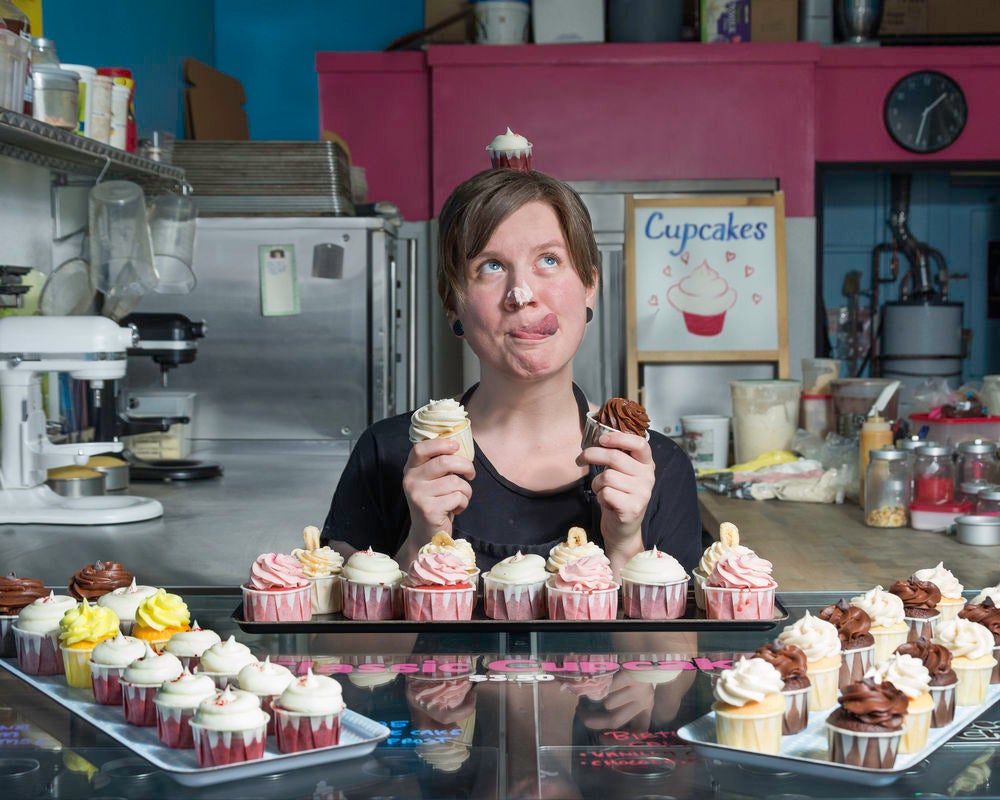 Cups and cakes
I love photographing humor to add sweetness to our everyday lives. This image is a part of a series that is based on local business owners and workers in San Francisco.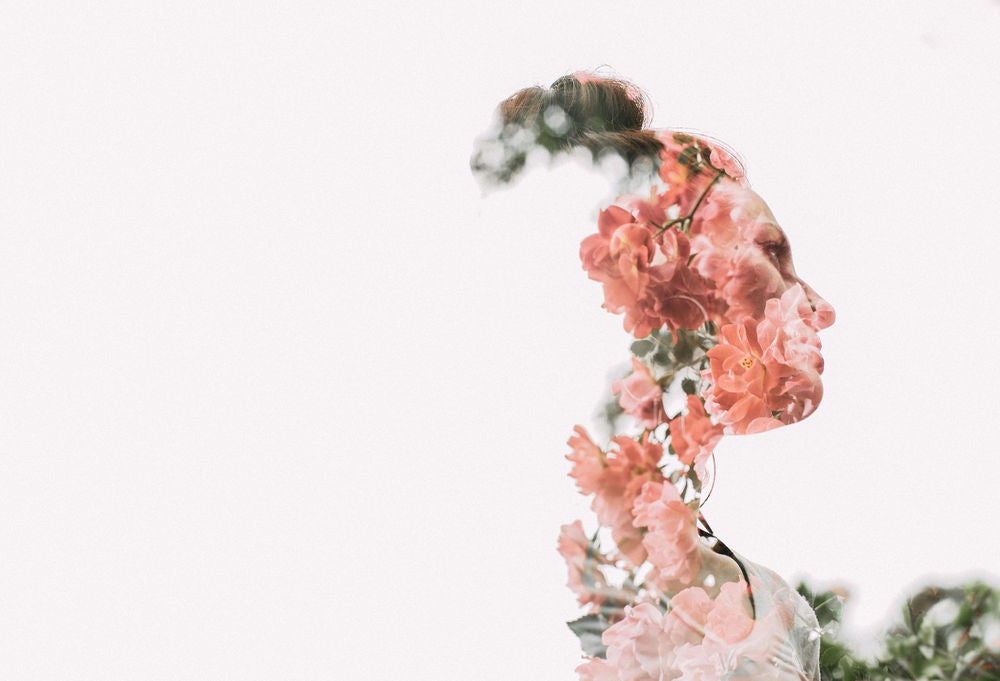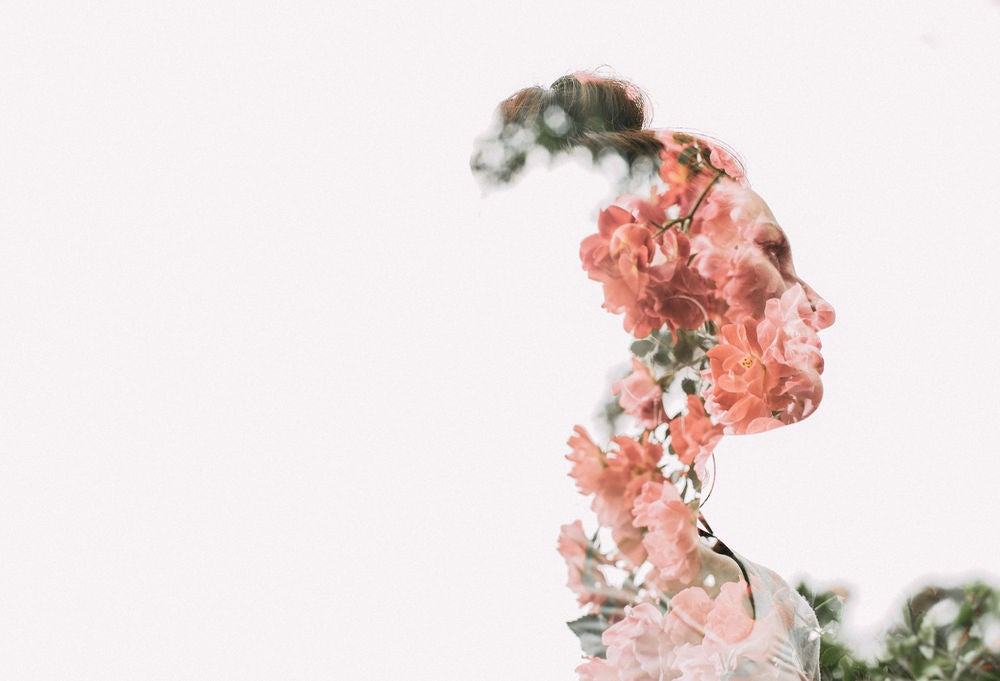 Untitled Double Exposure
This is an in-camera double exposure taken with the 5D Mark lll 50L.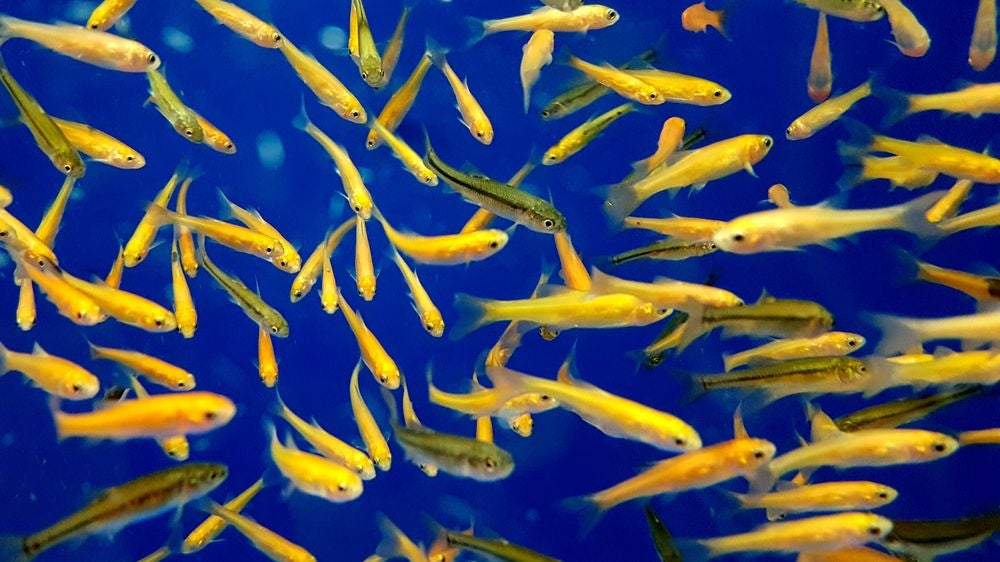 Minnows 2016
Rosy red minnows, photo taken in a PetSmart store.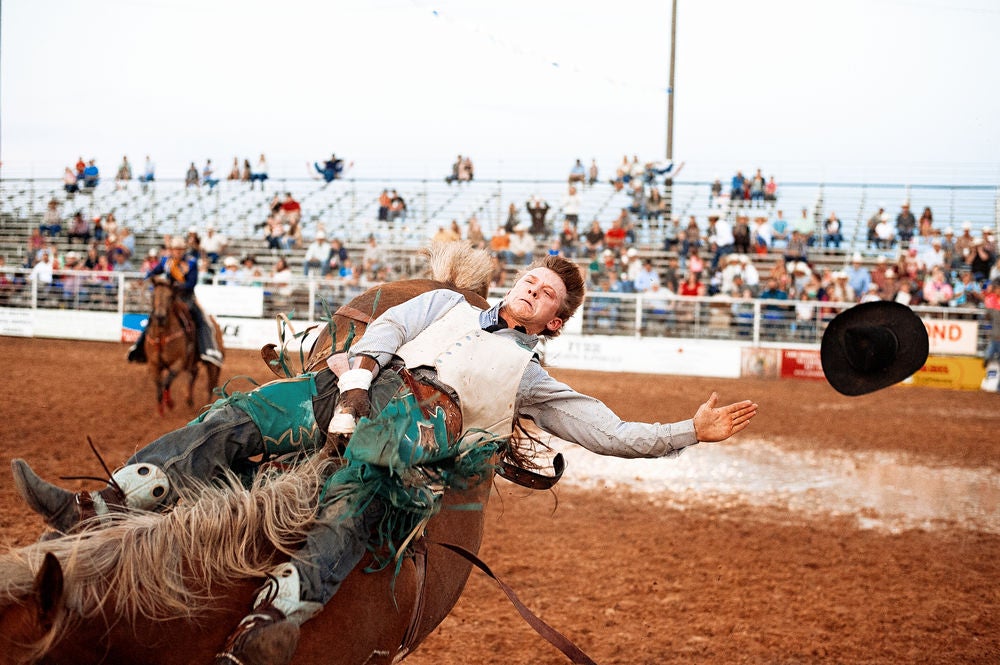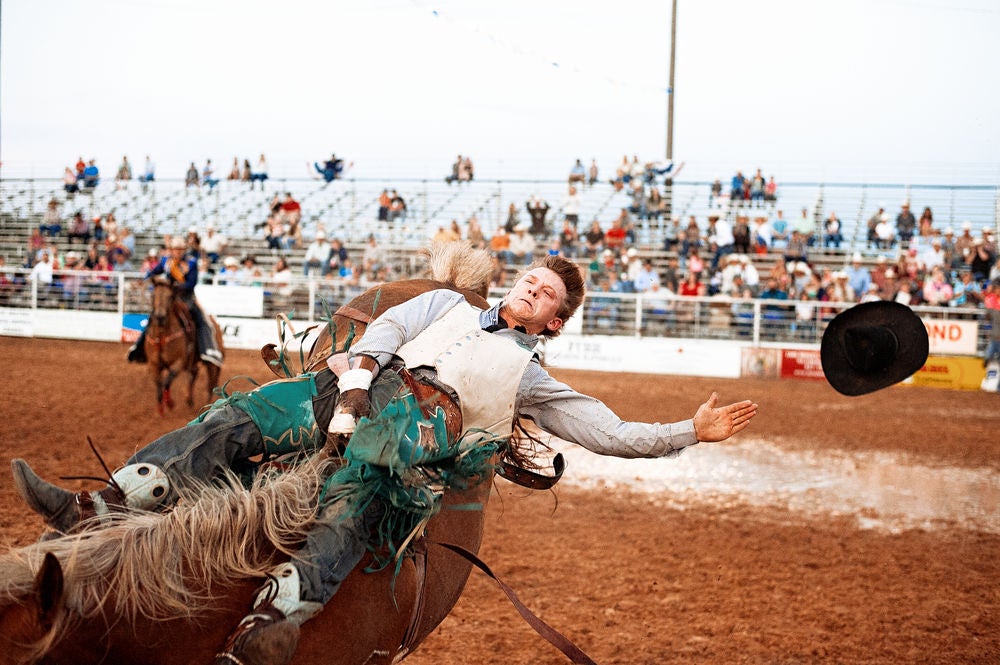 8 secs
rodeo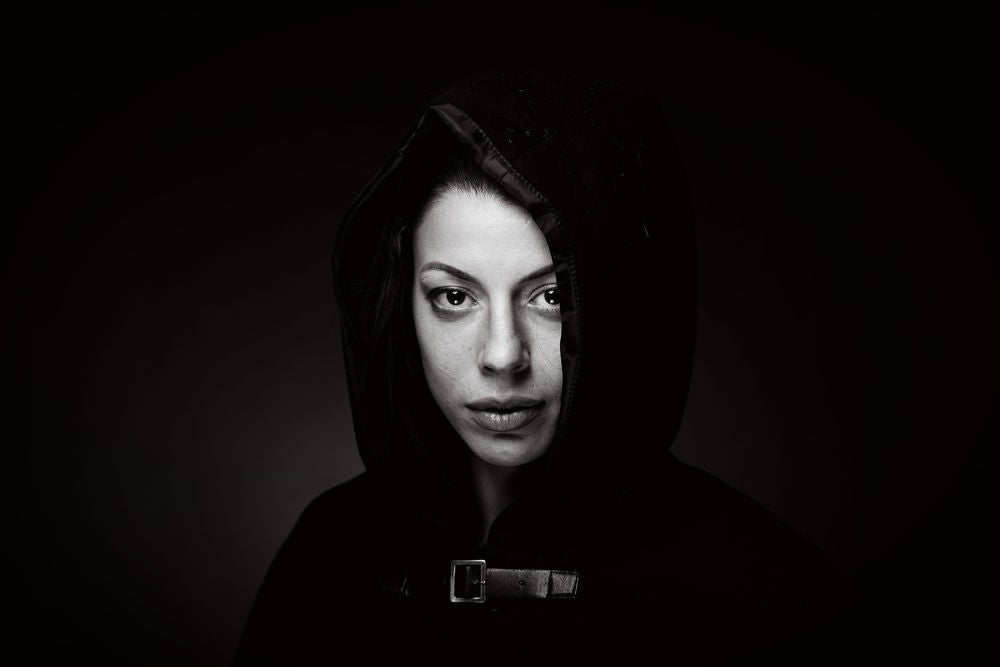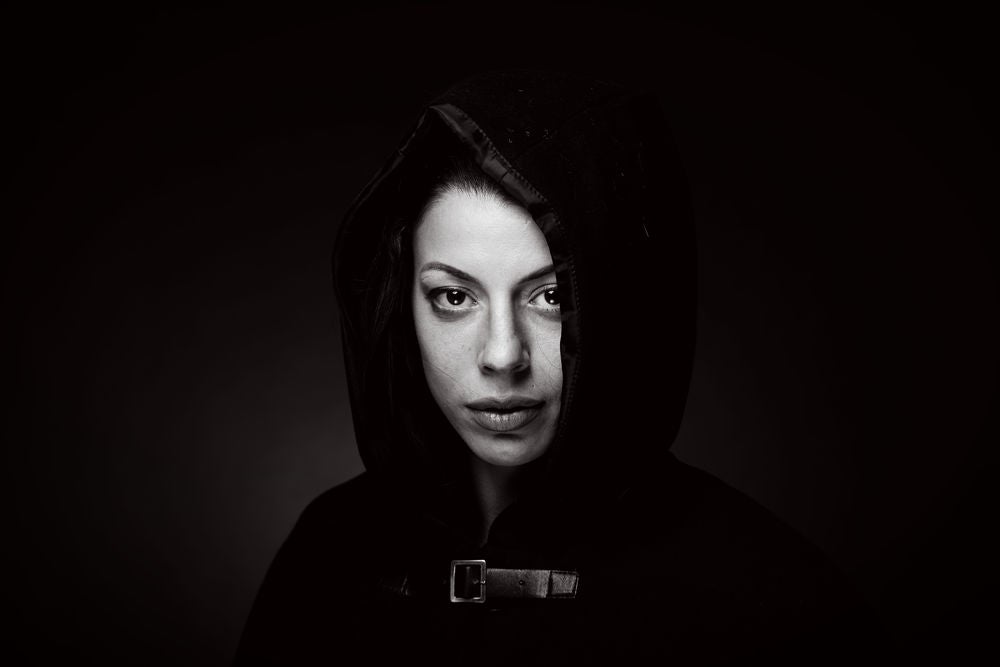 VANIA
A favorite from my recent photo shoot with the beautiful Vania Borges. Nikon D800 with Nikon 80-200mm f/2.8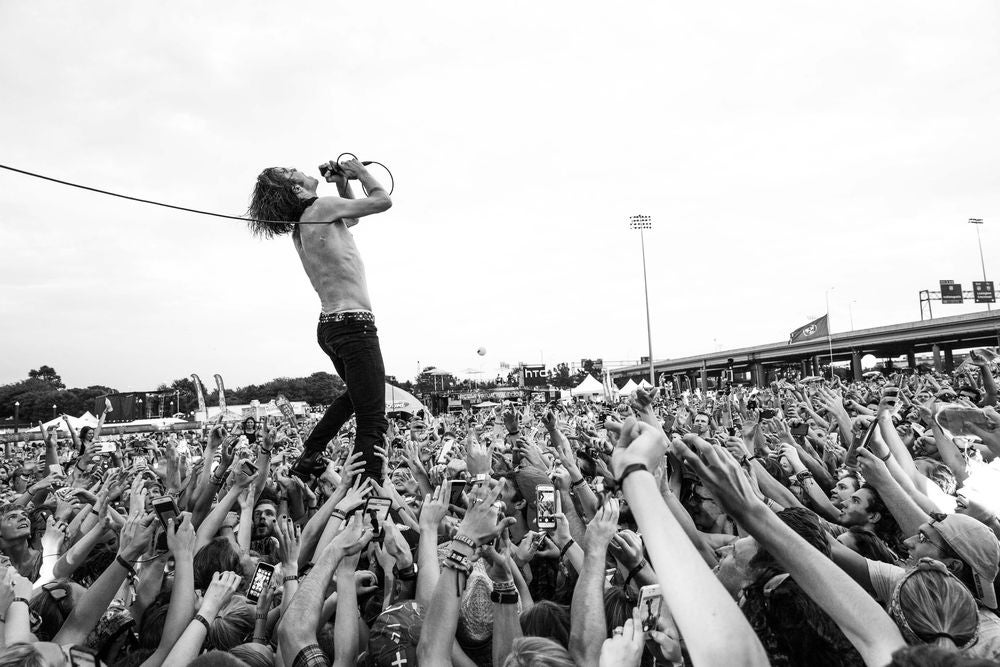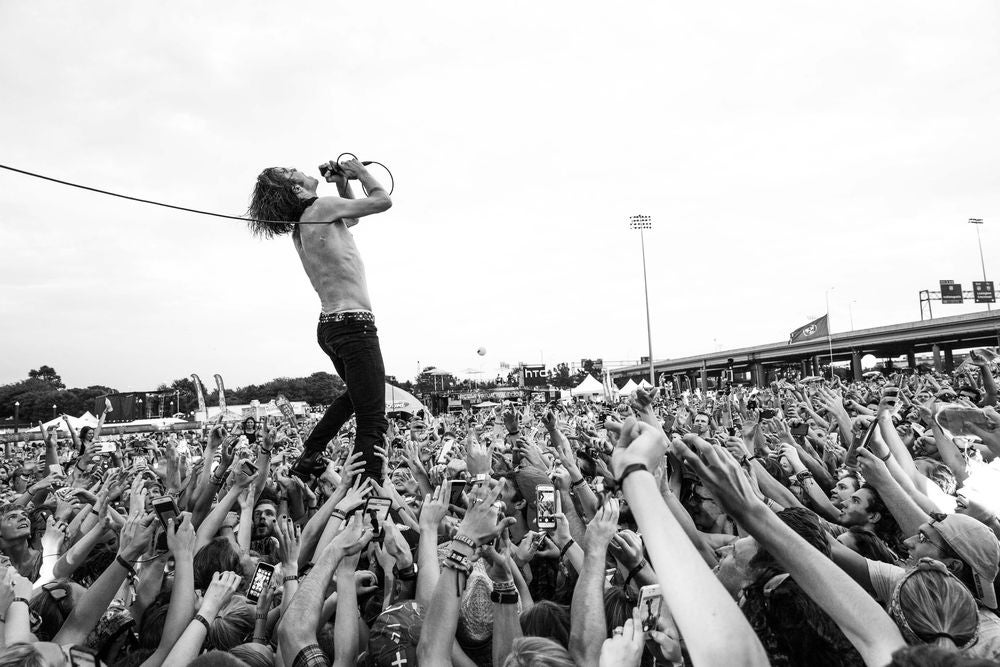 Matt Shultz, Cage the Elephant
Matt Shultz, Cage the Elephant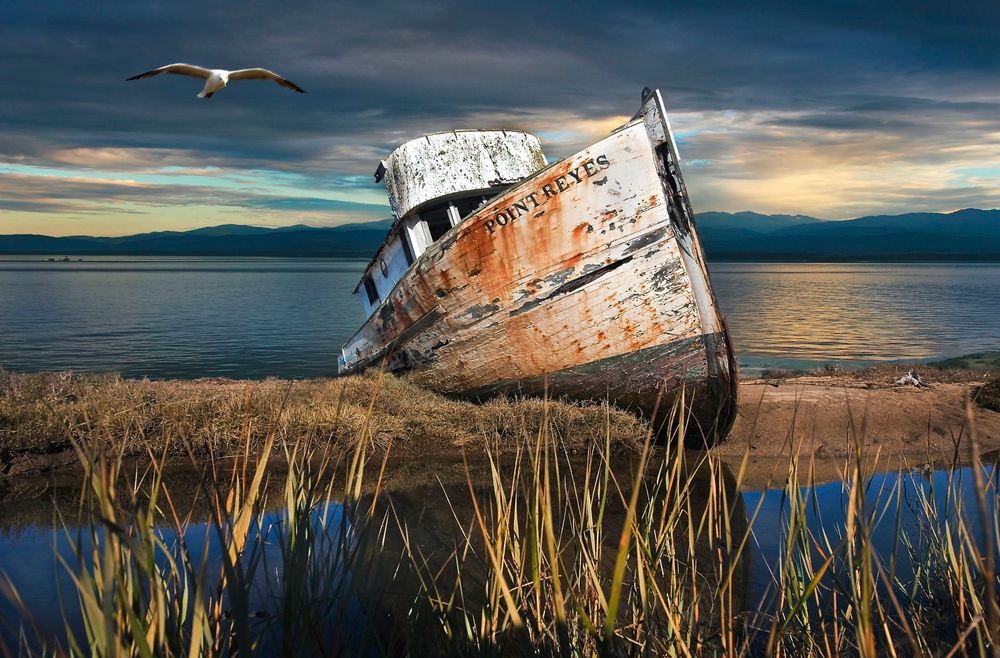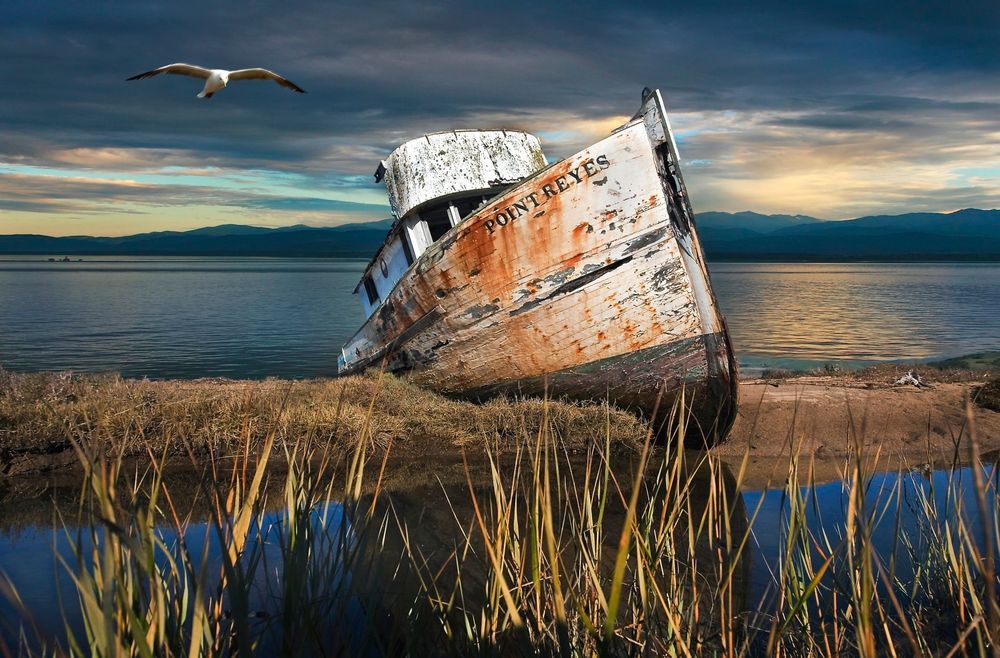 Beautiful Relic
A beached fishing boat weathers on a Marin County Beach at Pt Reyes.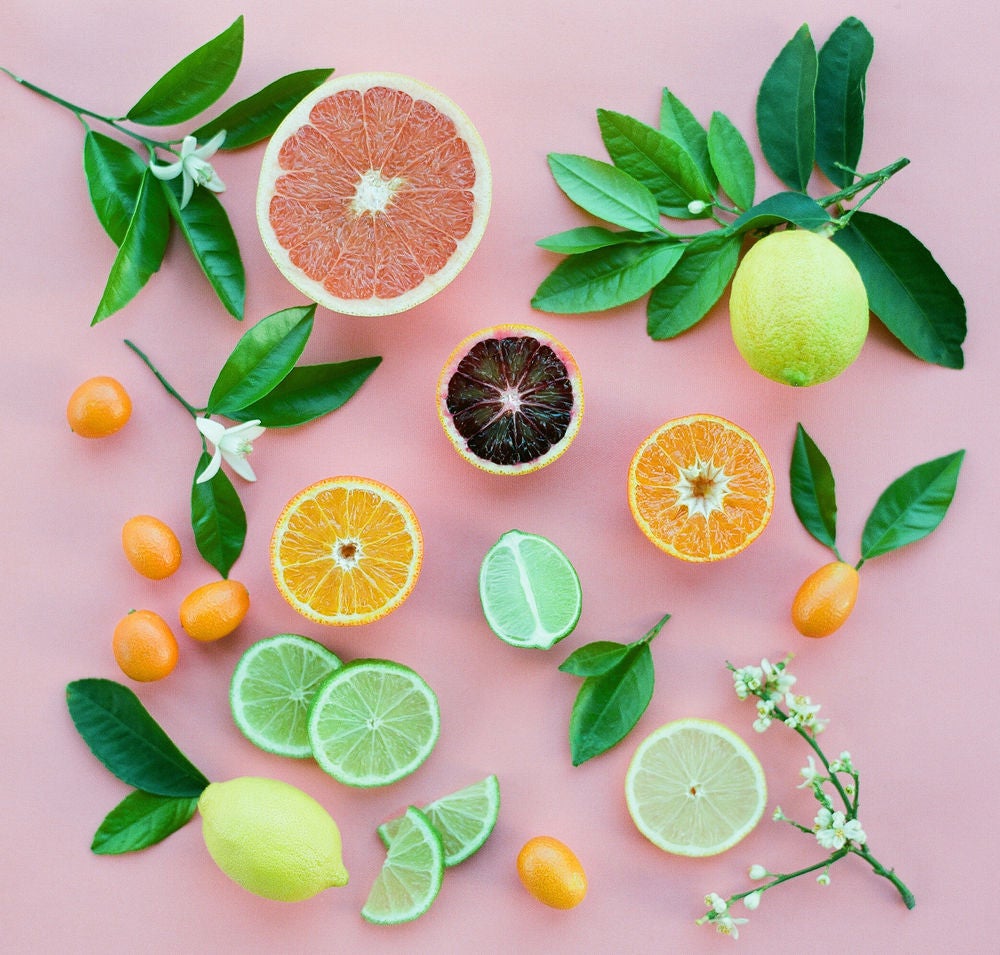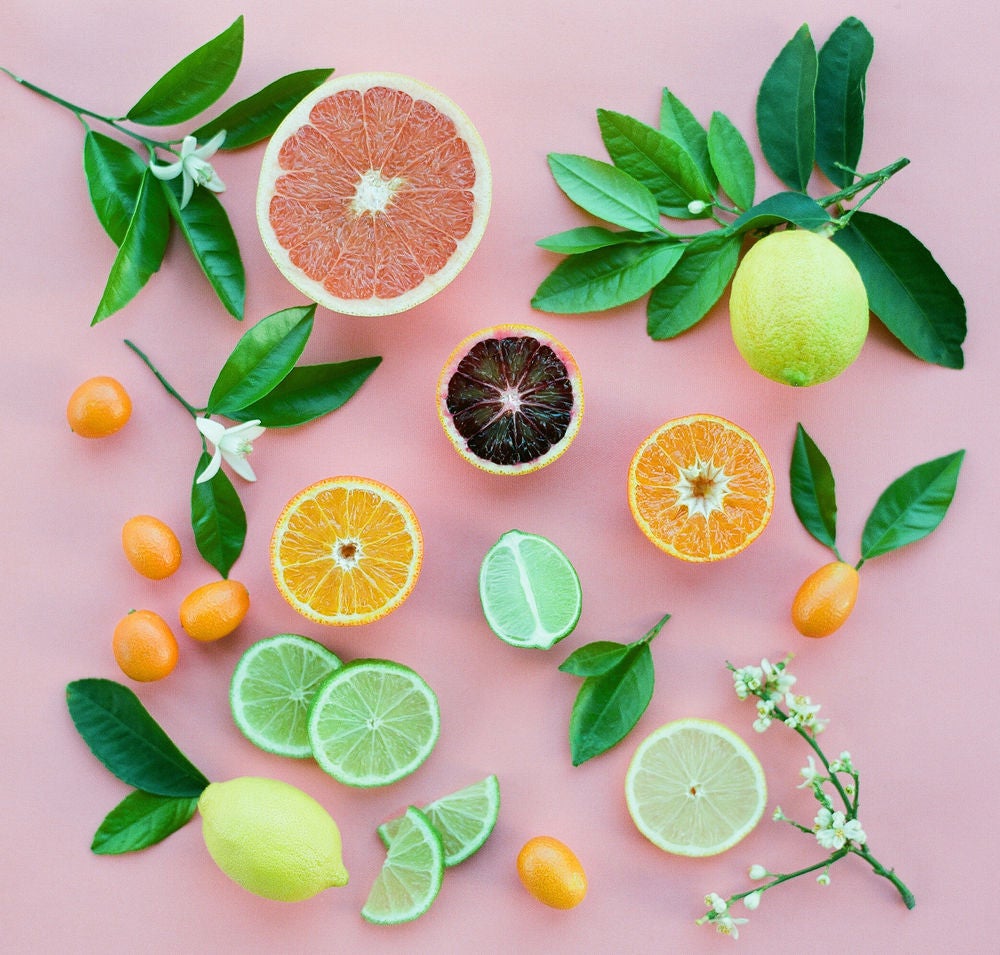 Citrus Summer
I love the smell of citrus trees blooming in Southern California in the spring and summer. I gathered as many varieties as I could find for this photo.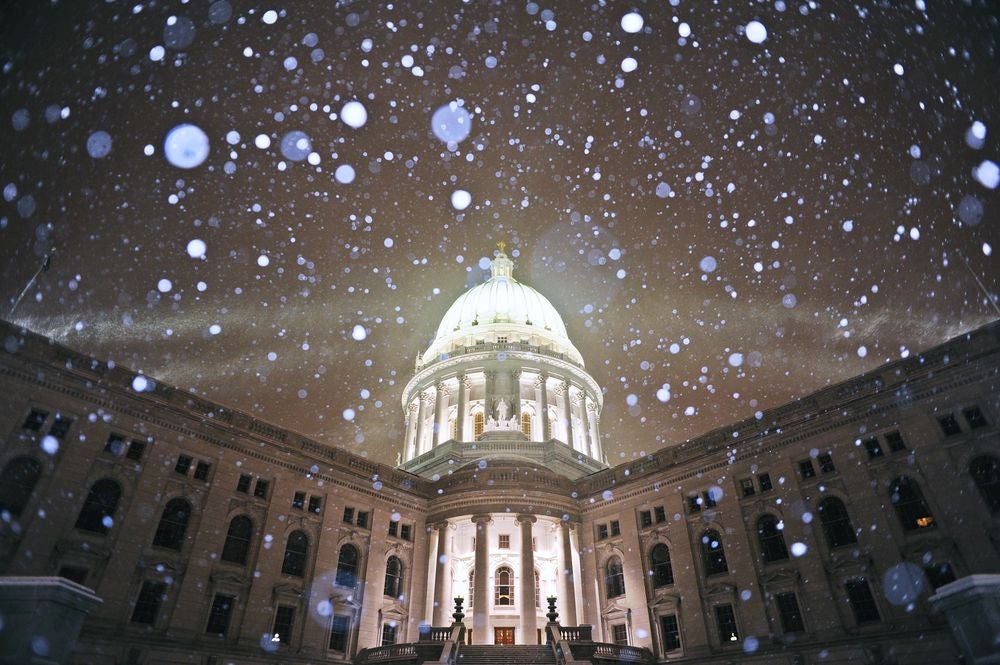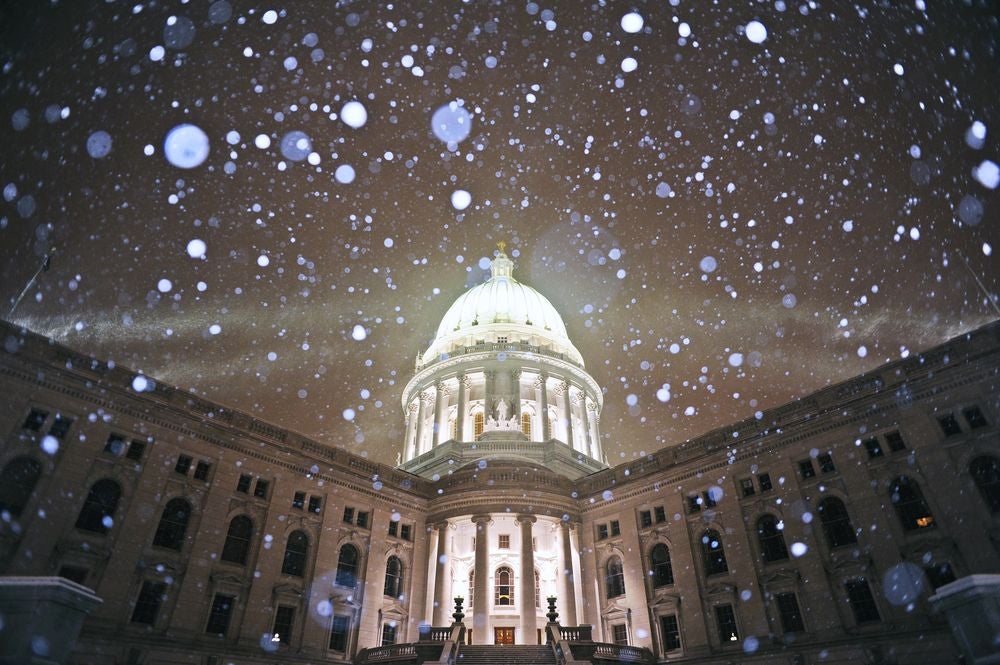 Trapped in a Snow Globe
I've always wanted a get a unique shot of snow as there are many opportunities to do so in a Wisconsin winter. One night after work the snow was falling down in perfect little clumps. I set up with a wide angle and oriented my flash in an upright position to illuminate the beautiful flakes. I left my aperture wide open in order to make the snow appear as round orbs, giving a soft and calm feel to the whole scene. I waited three years for a shot like this and it was well worth it. Nikon D700, Tamron 20-40mm f/2.7-3.5 @ f/2.8, 1/20 sec, ISO 800, flash fired with a speed of 1/6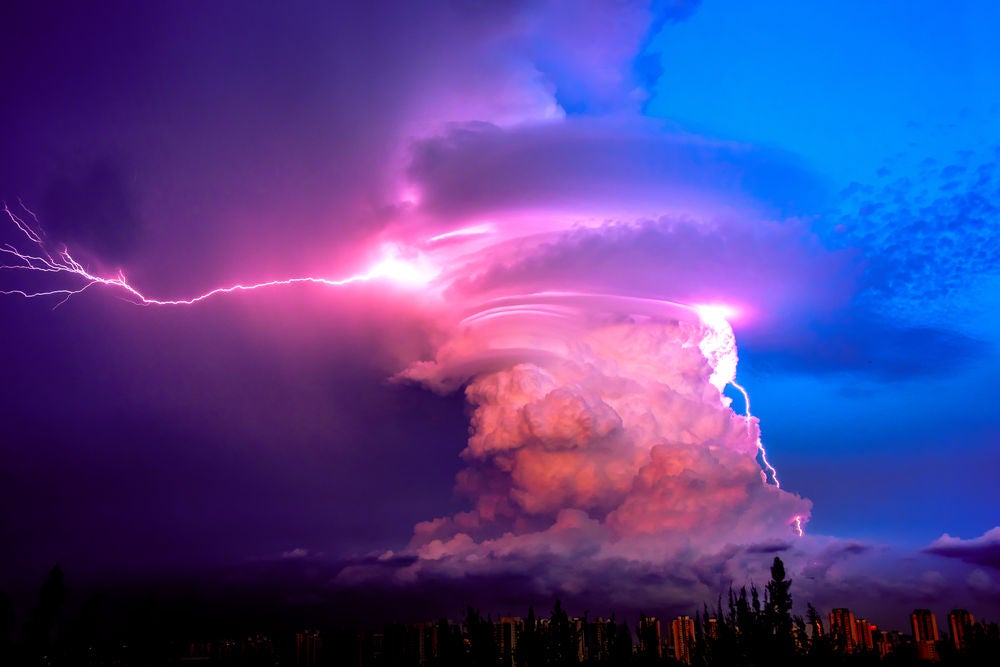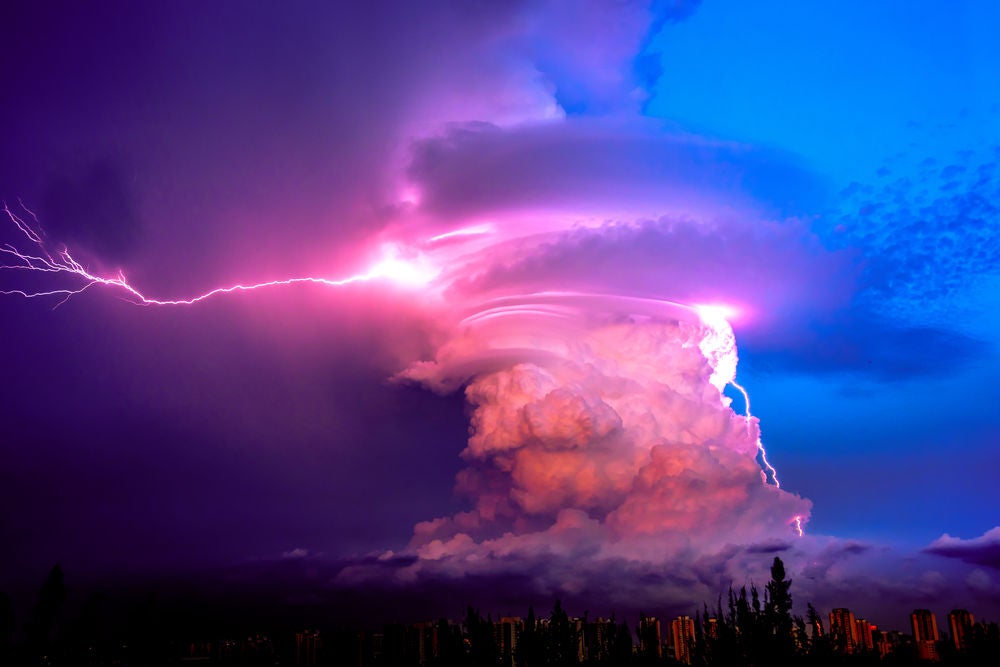 God's reply to my prayer
Taken on my balcony, I almost sh*t my pants.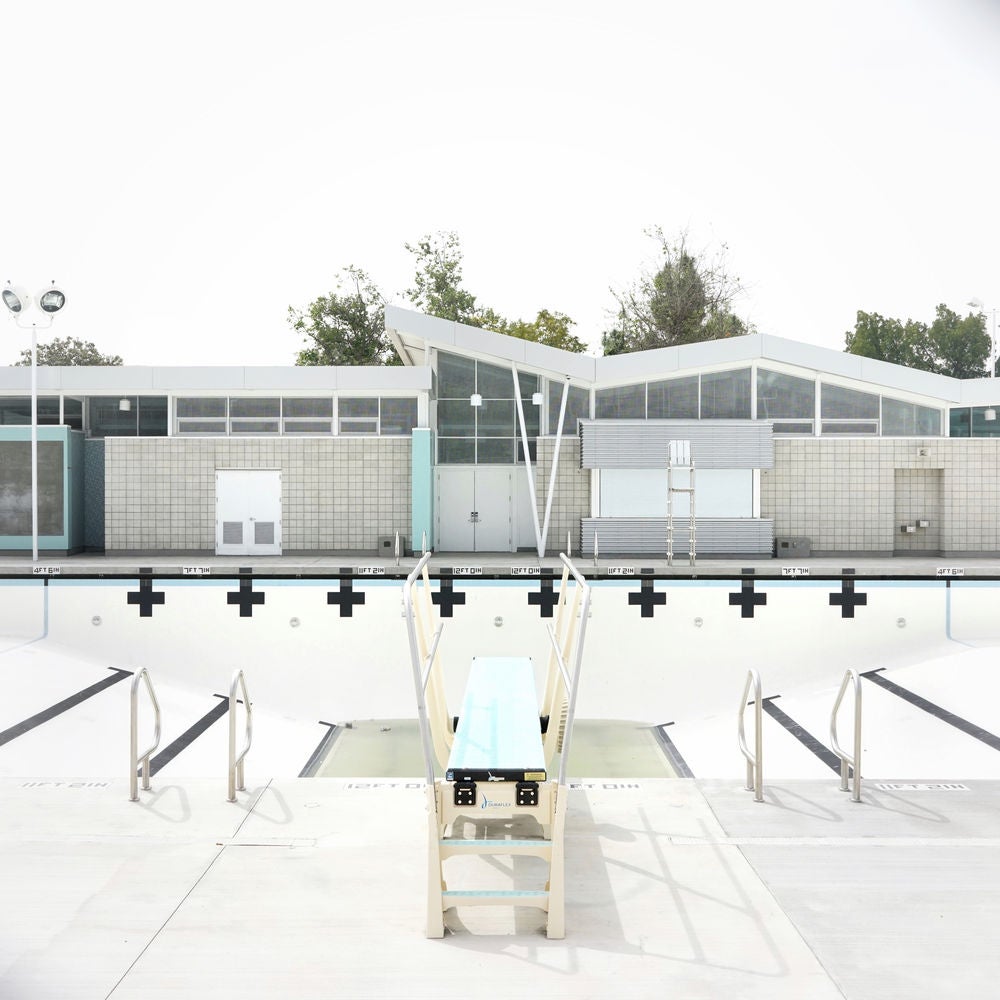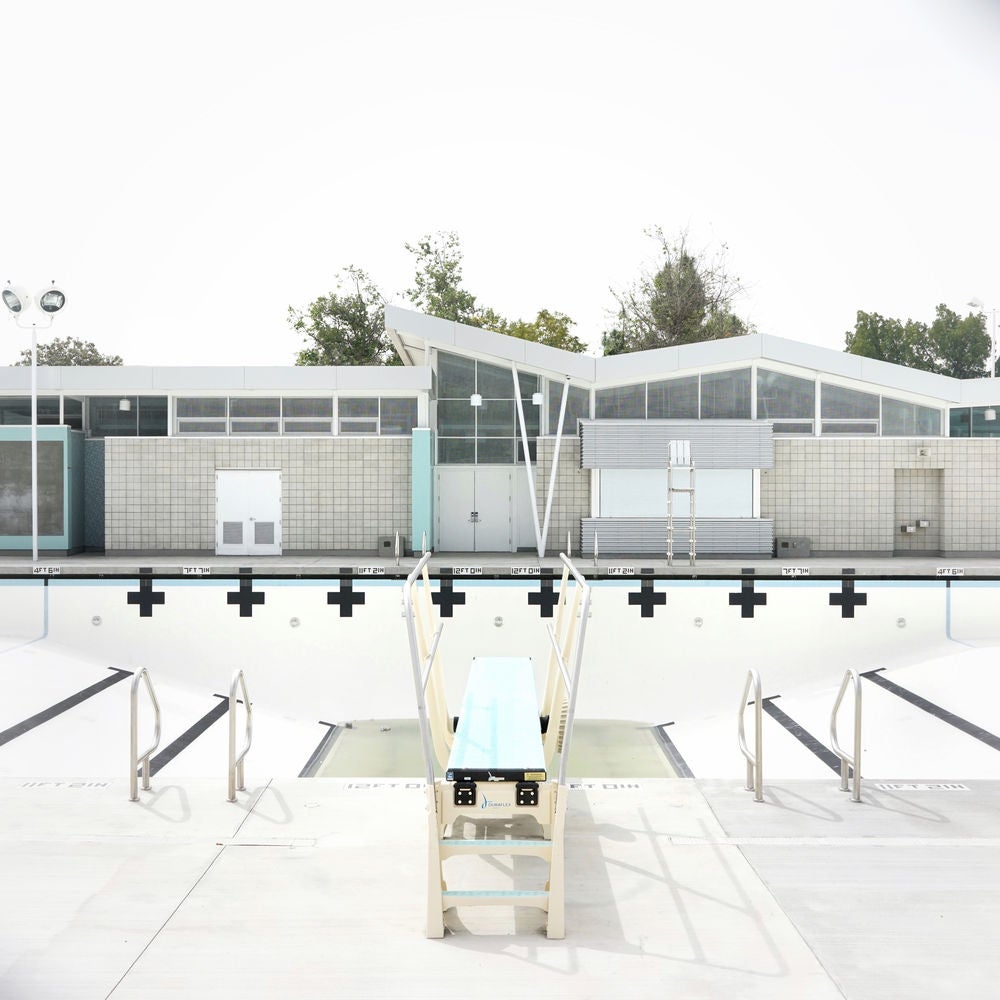 Empty Hollywood Pool
Shot of the Hollywood Public Pool which is closed until the summer.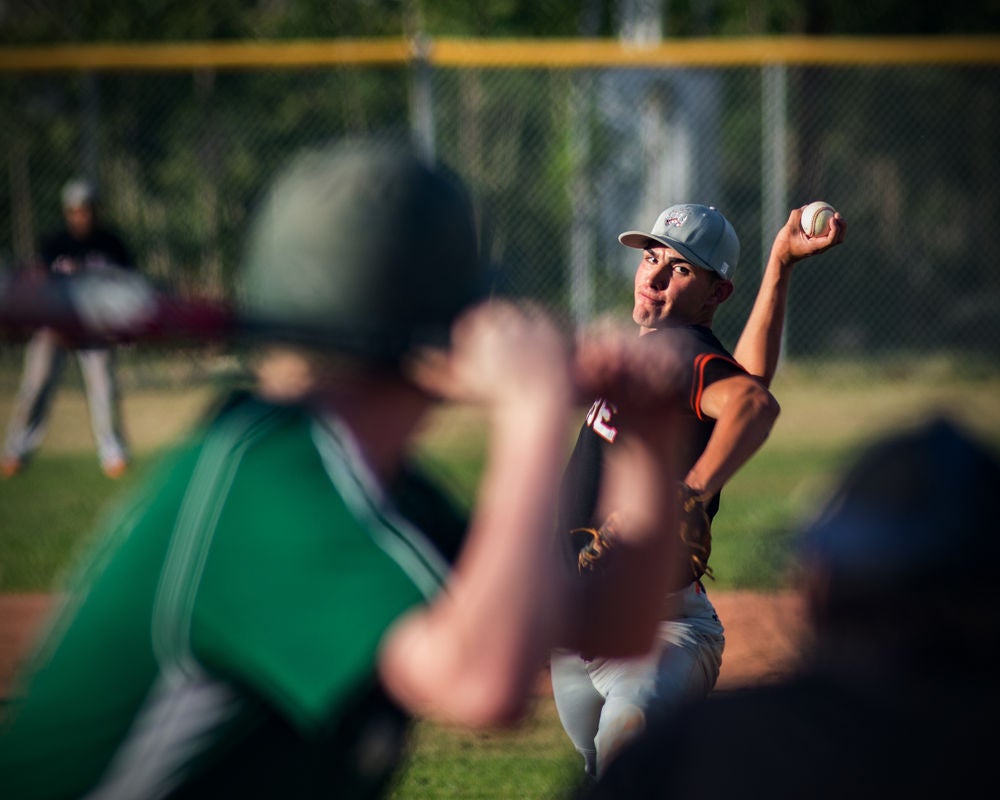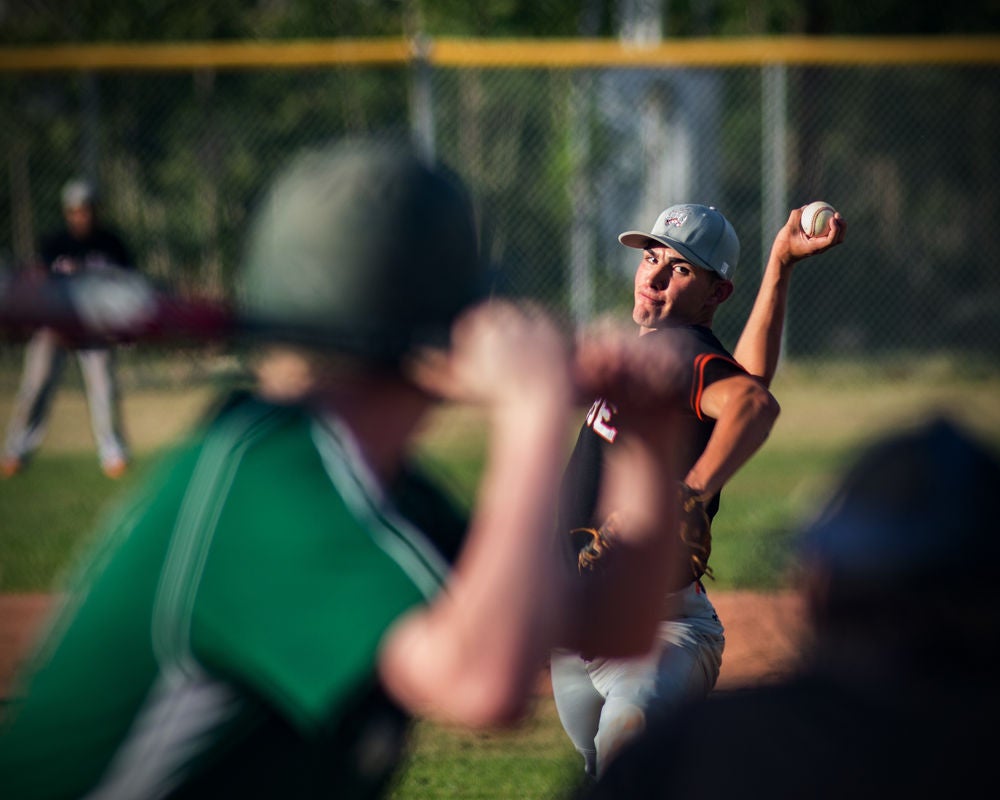 Staring Down the Batter
I was taking senior pictures for a friend's grandson. We decided to get some action shots on his final game of the year. There were lots of great shots, but I think this is one of my favorites.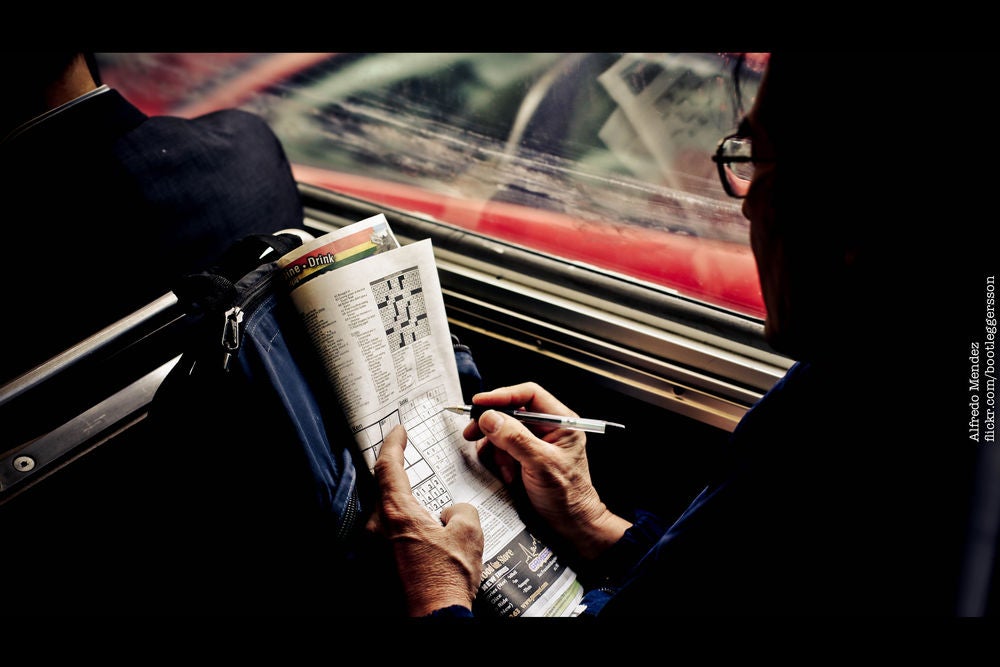 The Ride Home
I took this shot on the crowded 38 bus. Everyone was being crushed as everyone in Union Square was headed home. while this gentleman was in peace minding himself.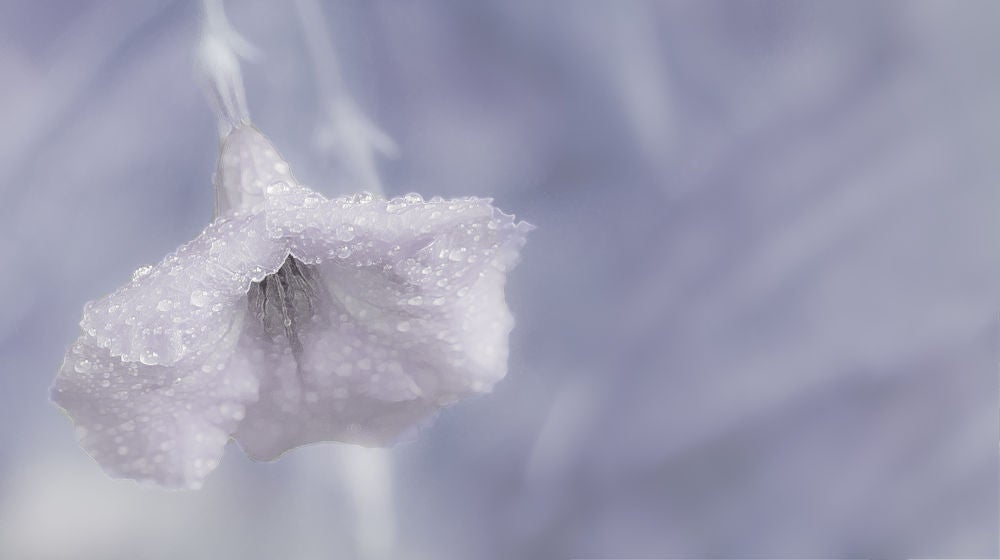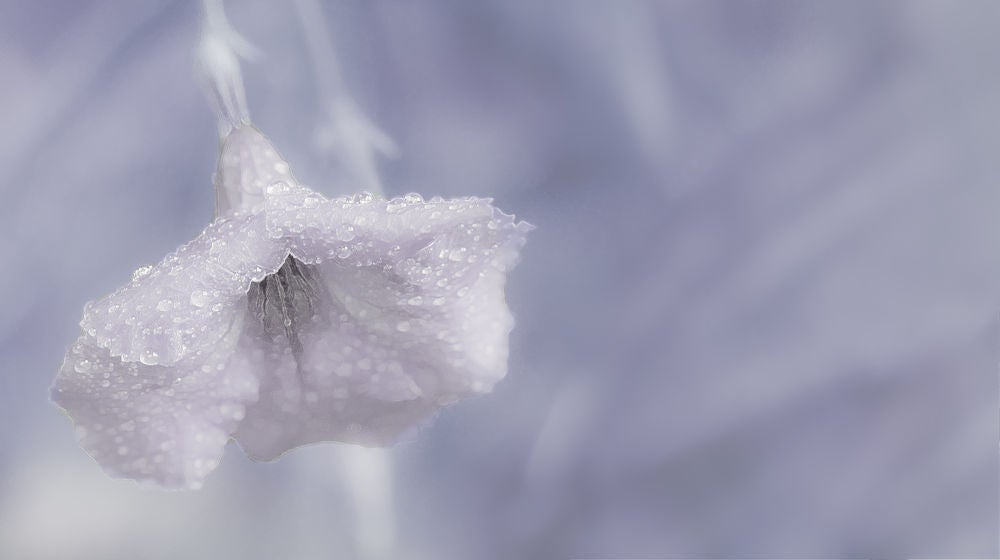 In Her Frozen Beauty
An image of nature's beauty in winter.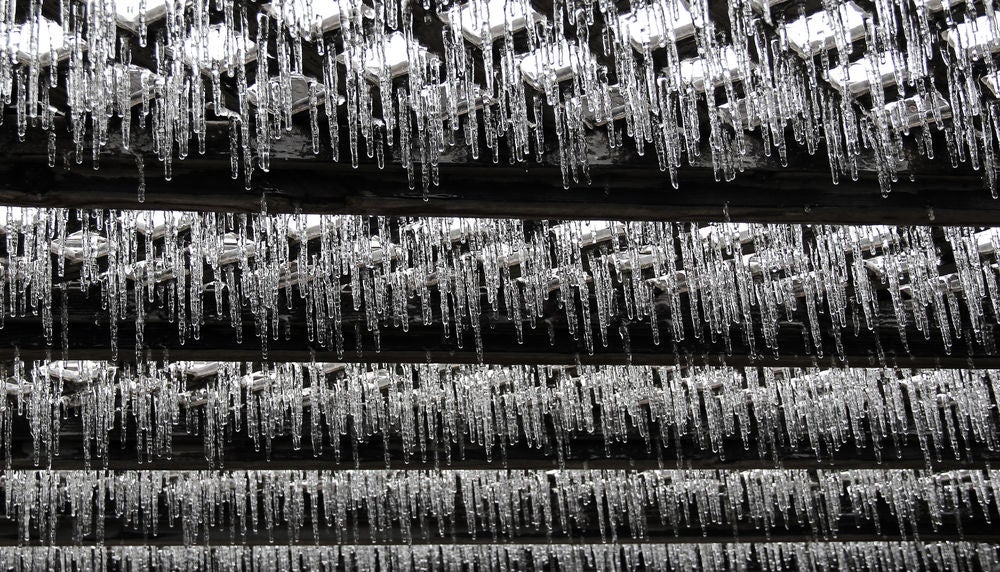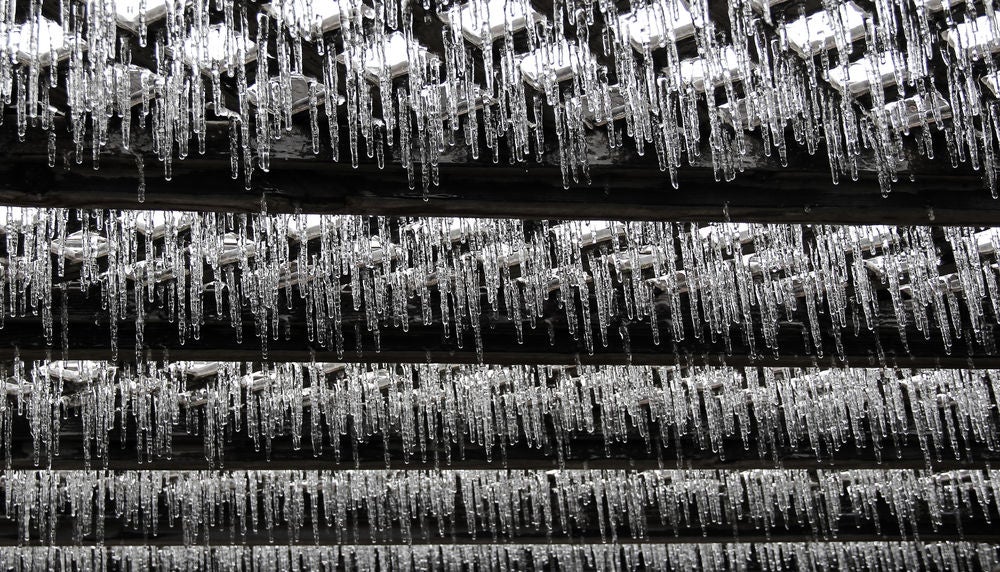 Ice
rain frozen into icicles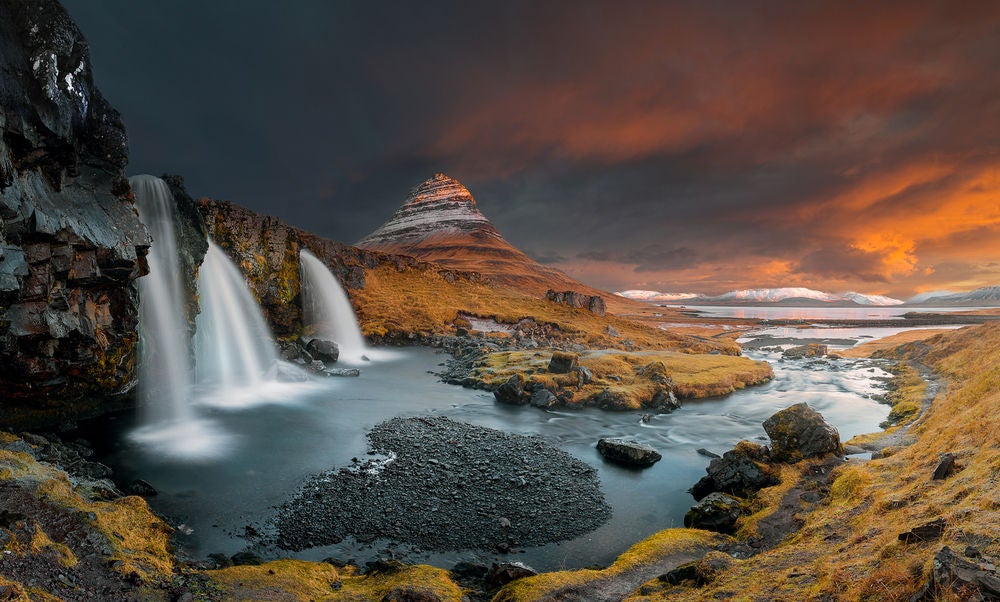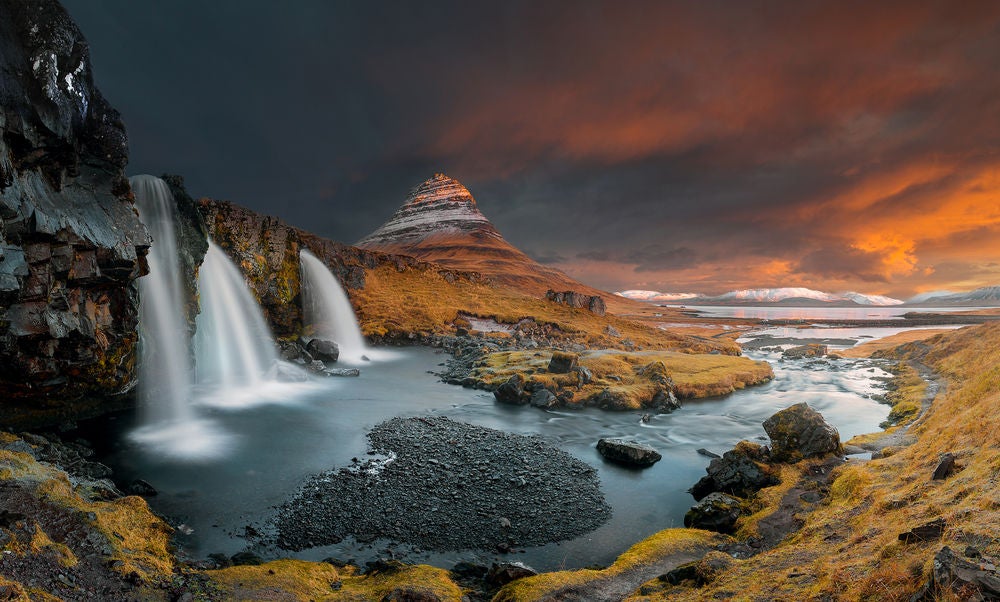 Burning
This shot was taken on the northern shore of Iceland's Snæfellsnes peninsula, on the west side. It's about 2 miles from Grundarfjörður town. And the main mountain in the background of the photo is called Kirkjufell.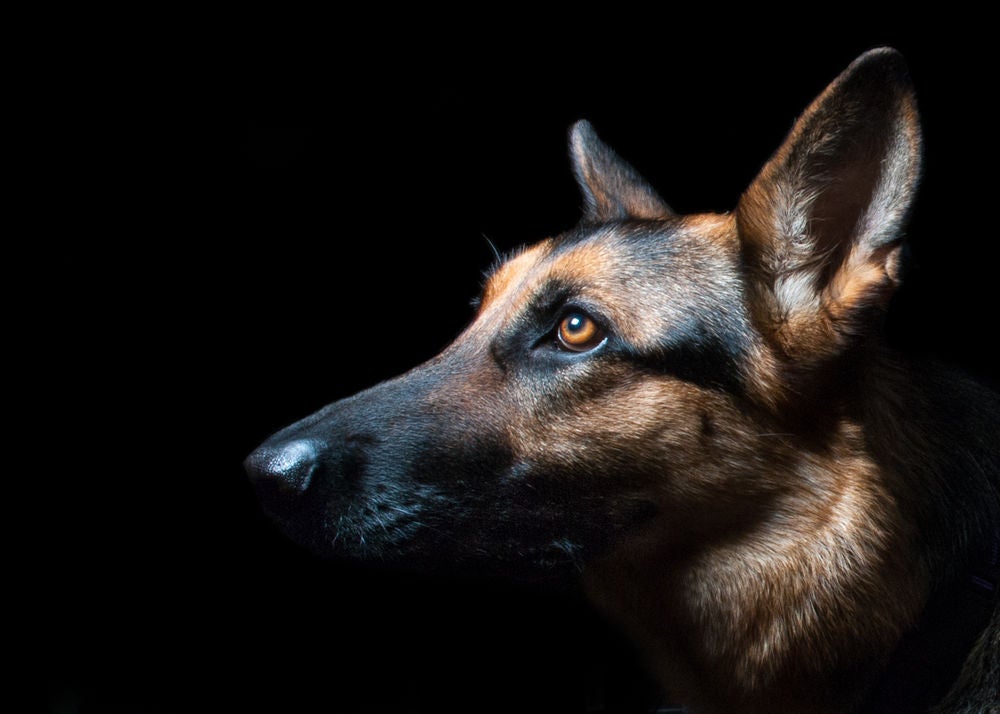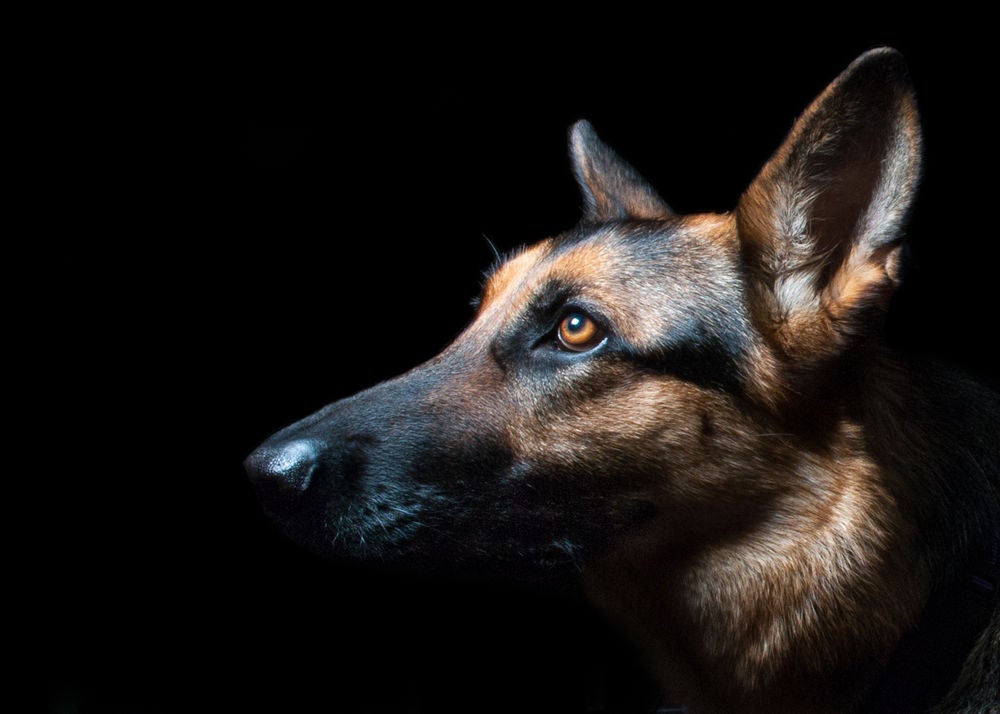 Avery
Low Key of our third foster dog, Avery.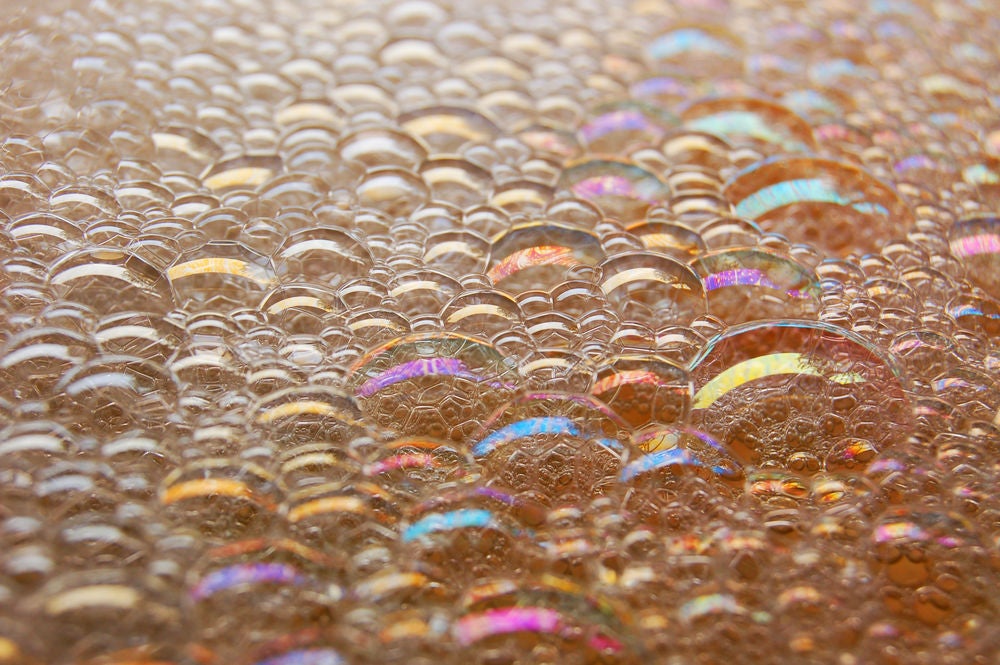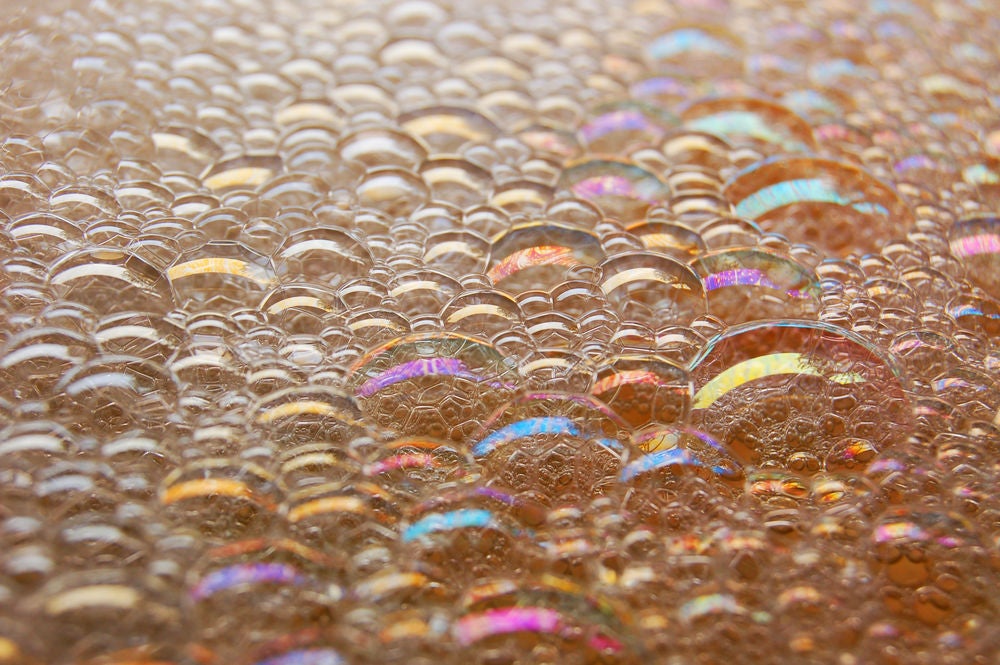 Bubblescape
A shot of a cluster of bubbles using a Nikon D50. Was doing dishes when the color reflecting off of the bubbles caught my eye, so, I figured I'd capture it!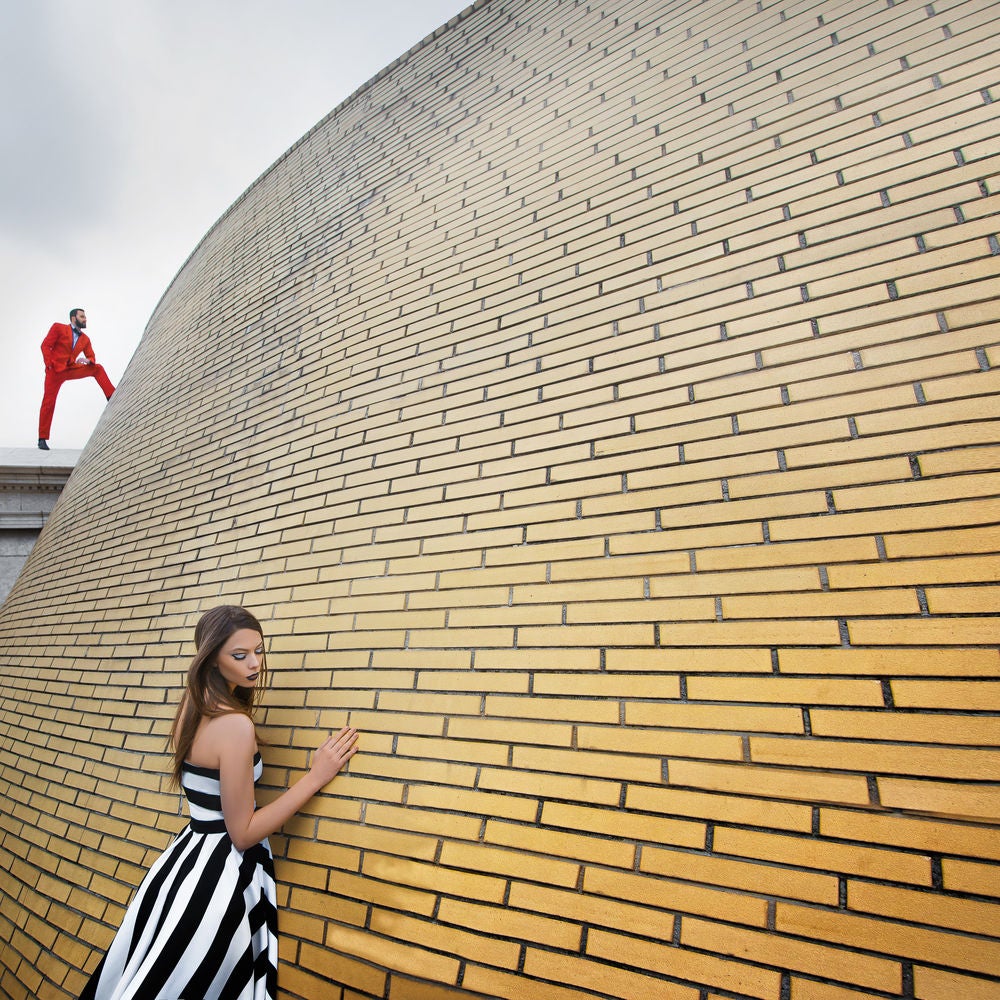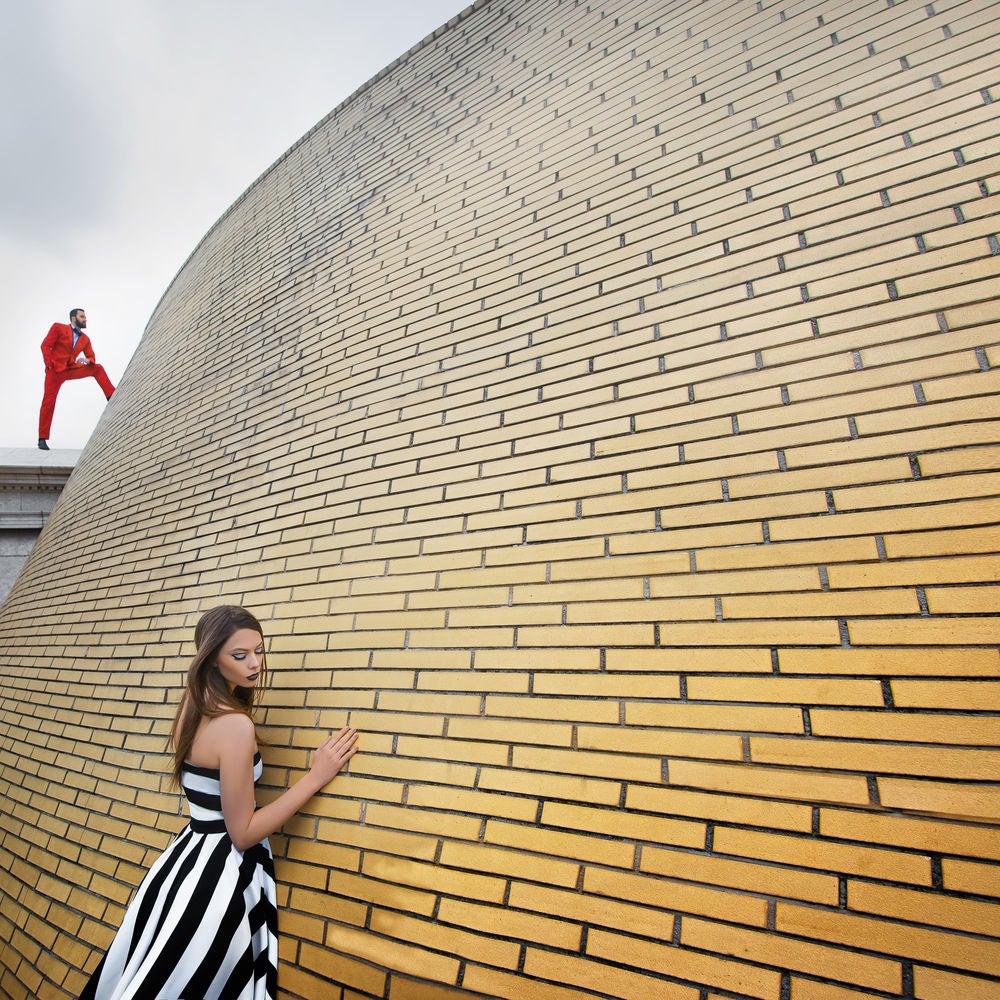 Perspective
Budapest, Hungary. Camera: Canon 1DX.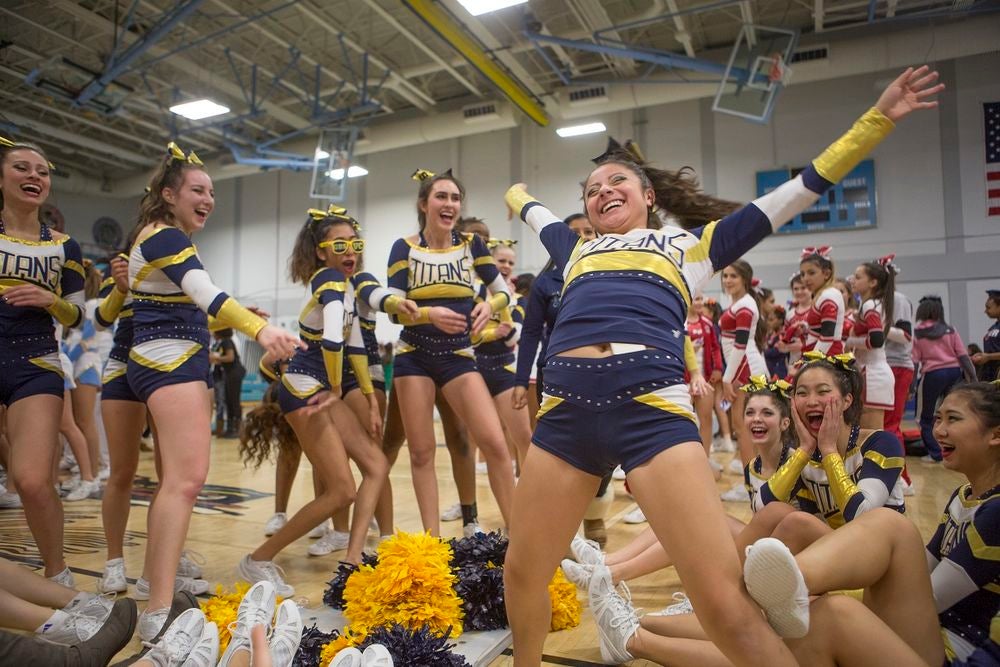 Self-Amusement
For my high school yearbook, I was assigned with shooting my school's varsity cheerleading team's conference competition. During the down-time between performances and receiving their scores, the girls sat in the circle. Suddenly, one broke out into a spasmodic dance, shocking the other girls on her team. I happened to be crouching low, hoping for a shot of them sitting in a circle, when the unexpected happened. It just goes to show the importance of "being there" in photojournalism and how some of the best stories occur when you least expect them. Canon 5D Mk iii, 24-70 f/2.8, 1/160, f/2.8, ISO 1600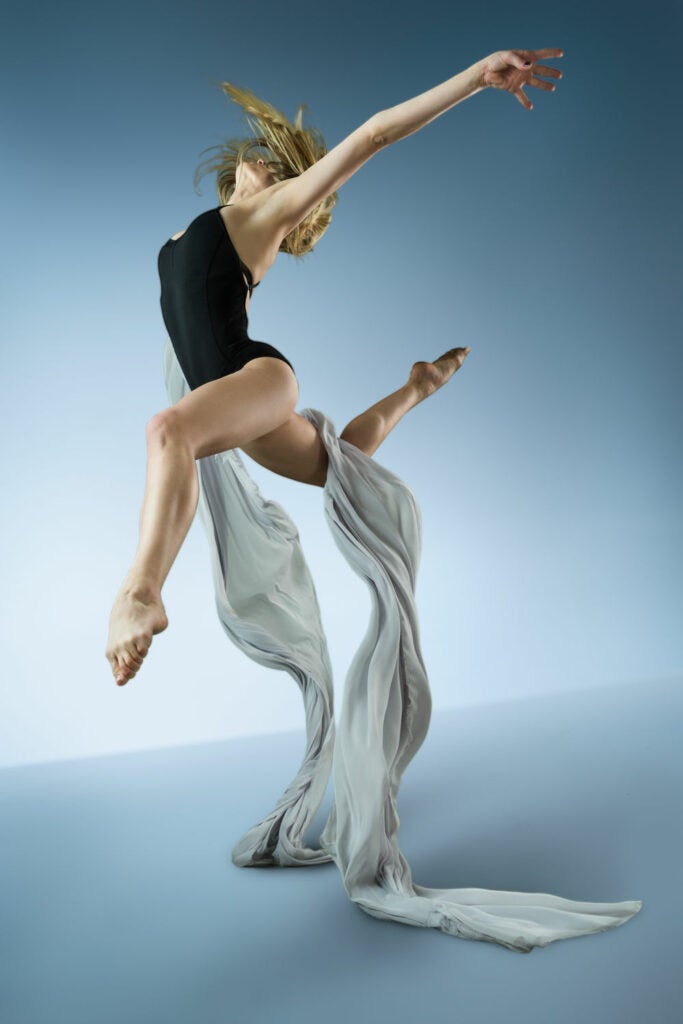 Sonorous
Love is such a profound and ever changing emotion. It has the ability to make you feel extraordinary but it can also break you down. The intention of this photo was to represent the feeling of being in love.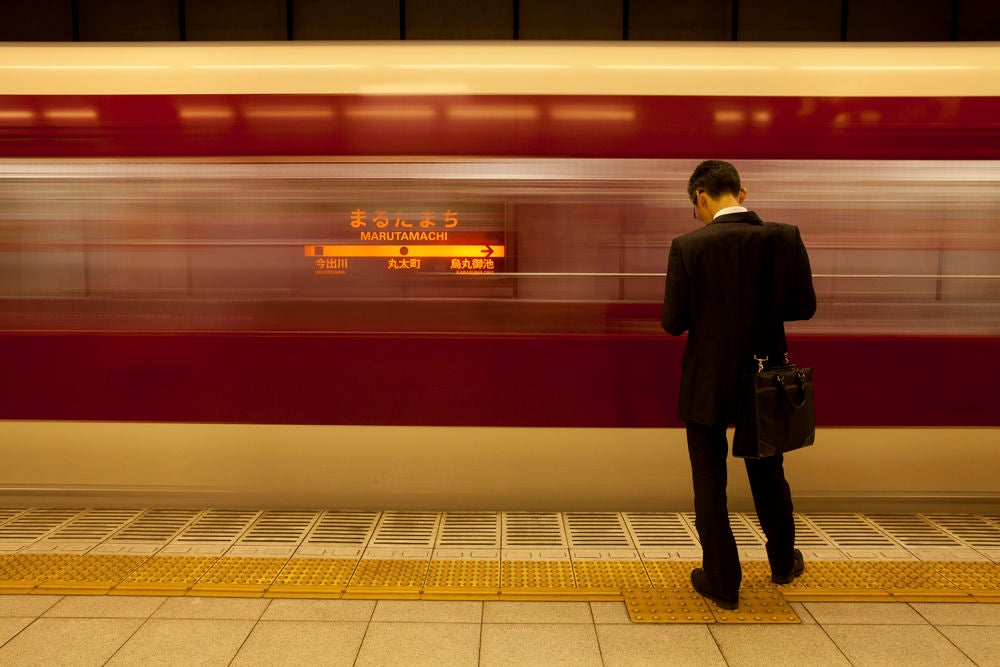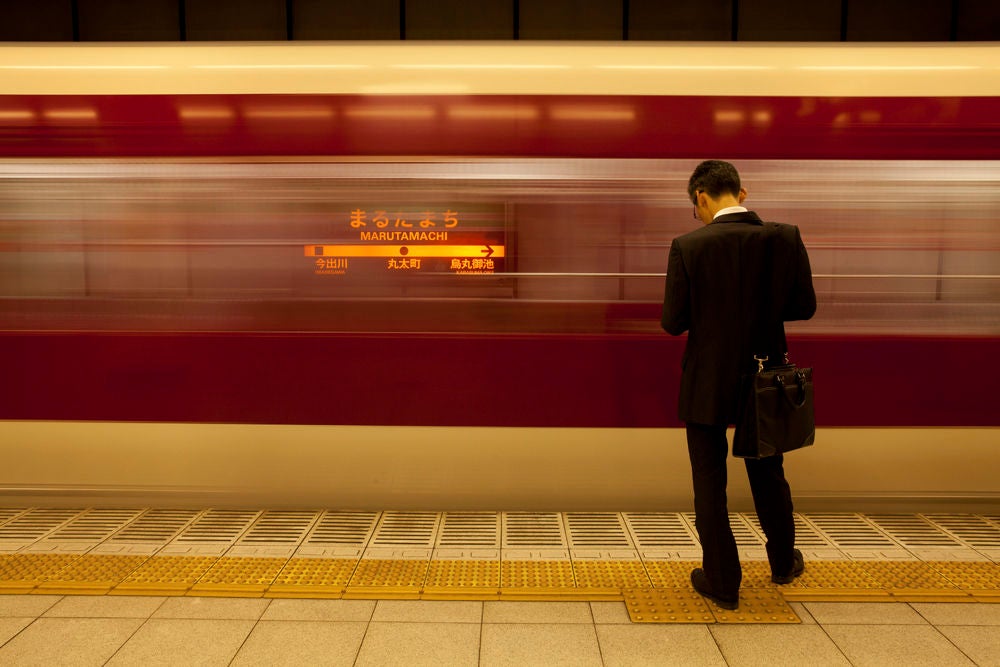 Waiting
A Japanese businessman waits for his train in a Kyoto subway.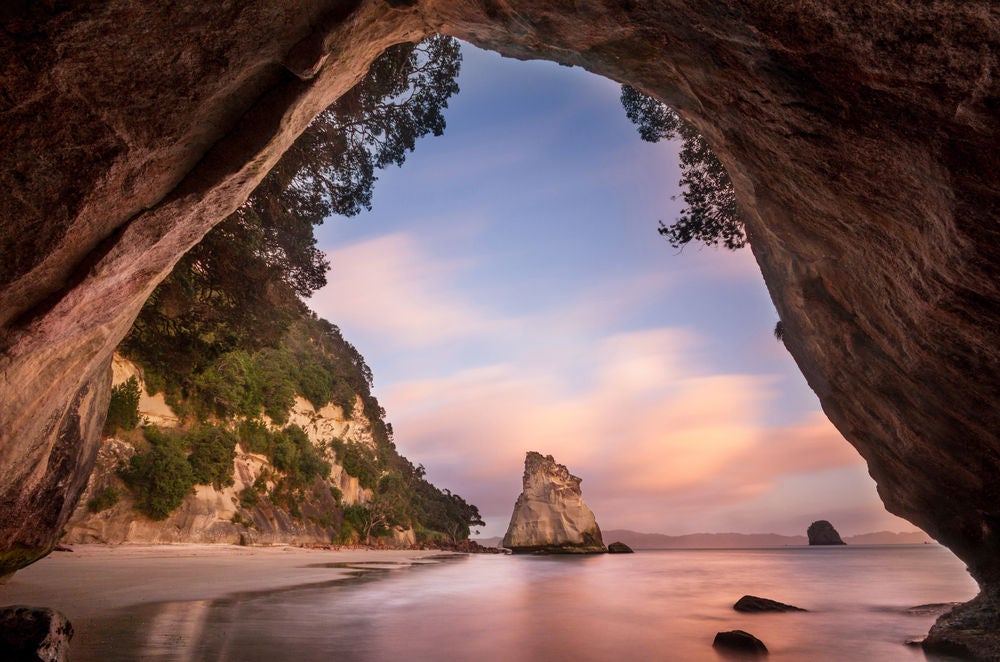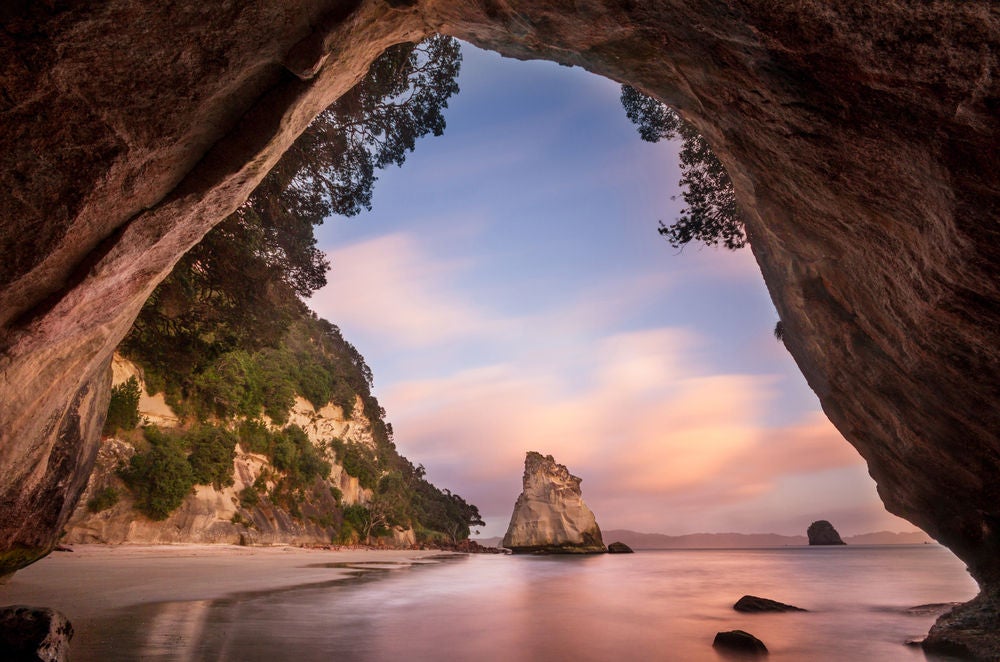 Cathedral Cove
A long exposure during sunrise at Cathedral Cove, New Zealand.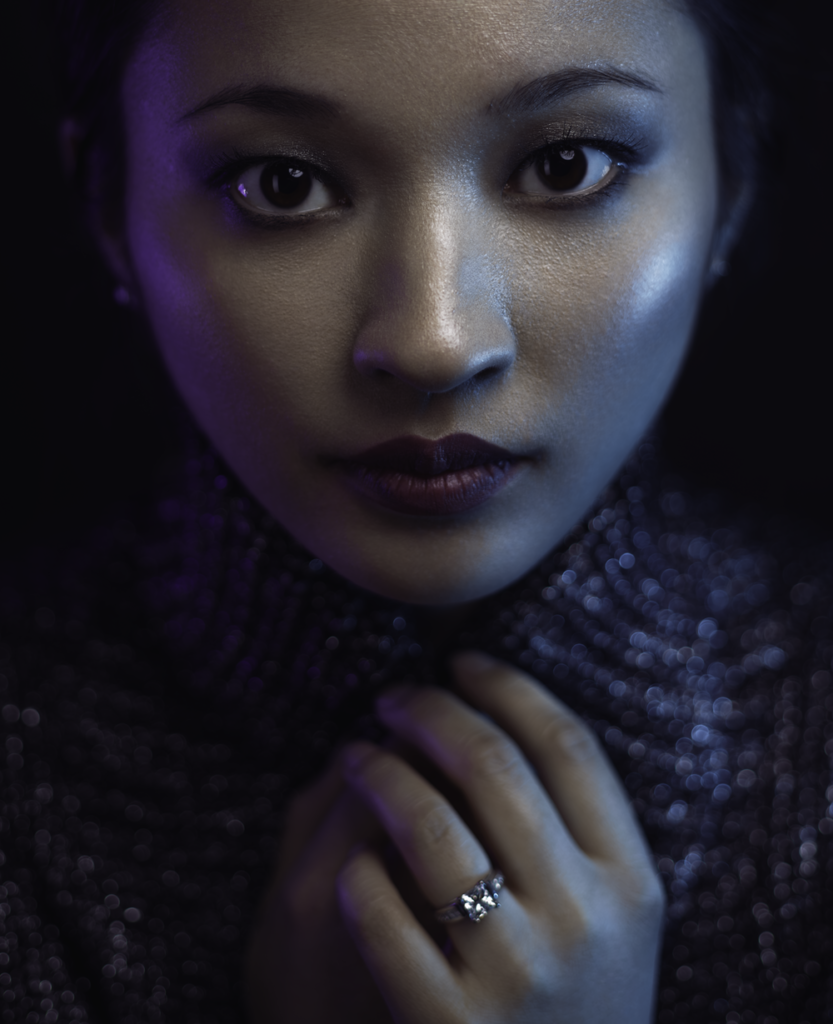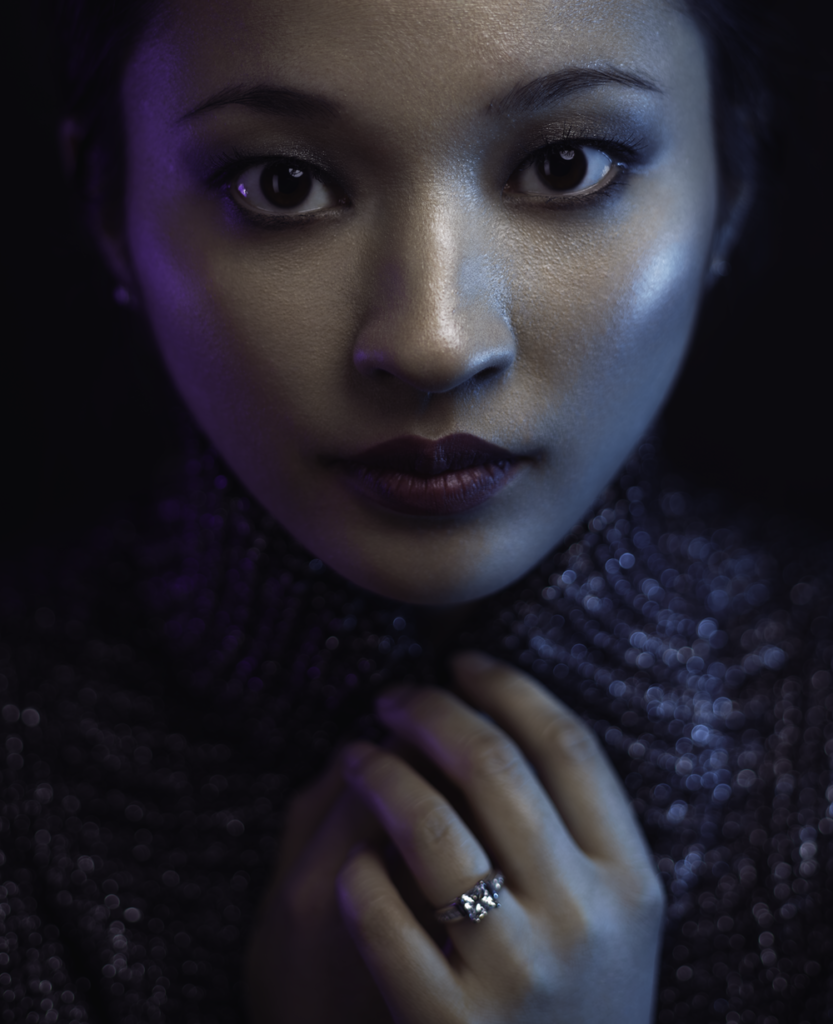 Engagement
This is one of my more intimate works w/ the primary reason being that it is…well, a portrait of my soon-to-be wife. And although I had personally preferred this shot being more candid and less processed…she requested that it had a high-fashion yet avant garde setting. As for interest, the colors purple and blue were selected to convey certain hidden expressions. Purple represents the essence of devotion needed to sustain learning how to love, also mystery to the uncertainties of marriage, and the dark yet beautiful side of the light. Blue emphasizes the lighter side defining faith, trust, and confidence to commitment. There is a double subject matter where the attention travels between her and the engagement ring. Her head is slightly tilted to invoke the suspension of being ready, but at the same time unsure what awaits–or at least the gesture we were after. The bokeh from defocusing the dress allows for a more shimmering effect when the eyes read from the ring into her face or vice versa. Even though she is not a professional model…I felt she did very well and more than happy with the results–her being happy makes me happy. I hope many of you can enjoy this image and let it resonate with you.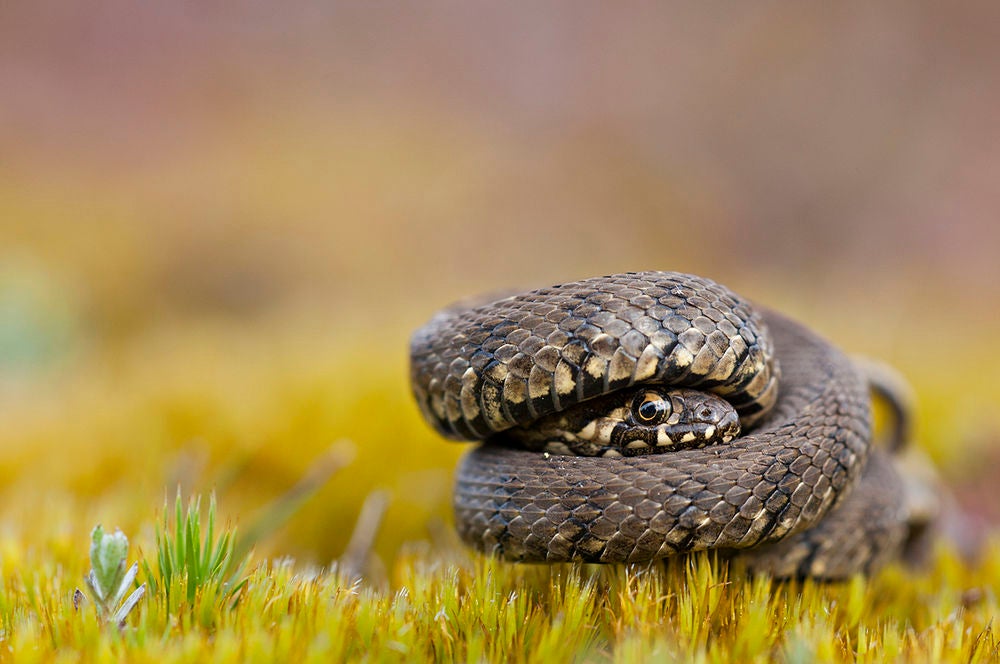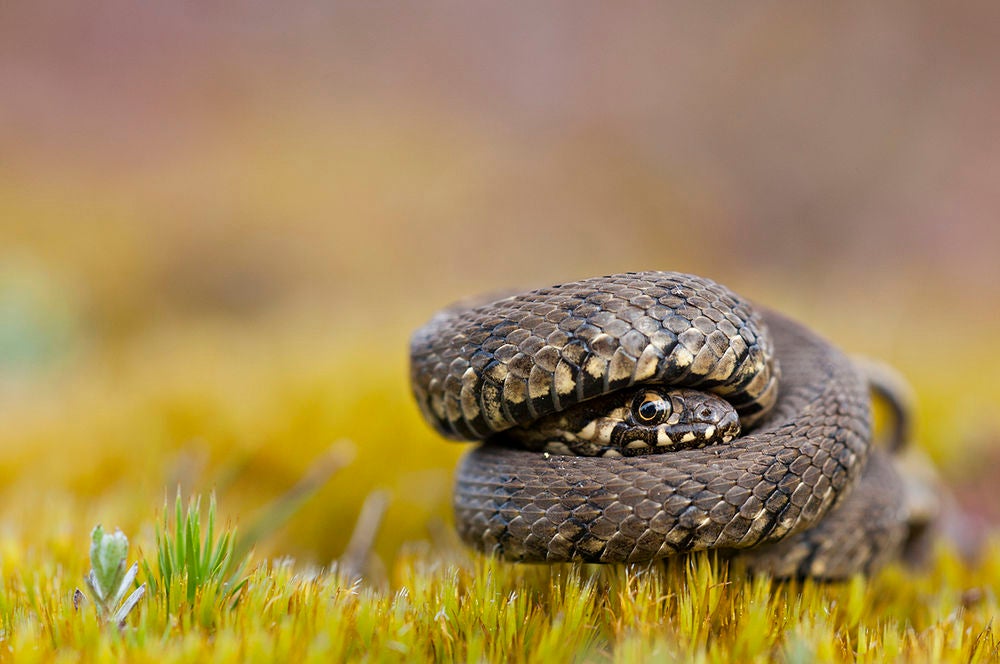 Natrix maura
A juvenile Natrix maura, adopting a defensive pose protecting his head.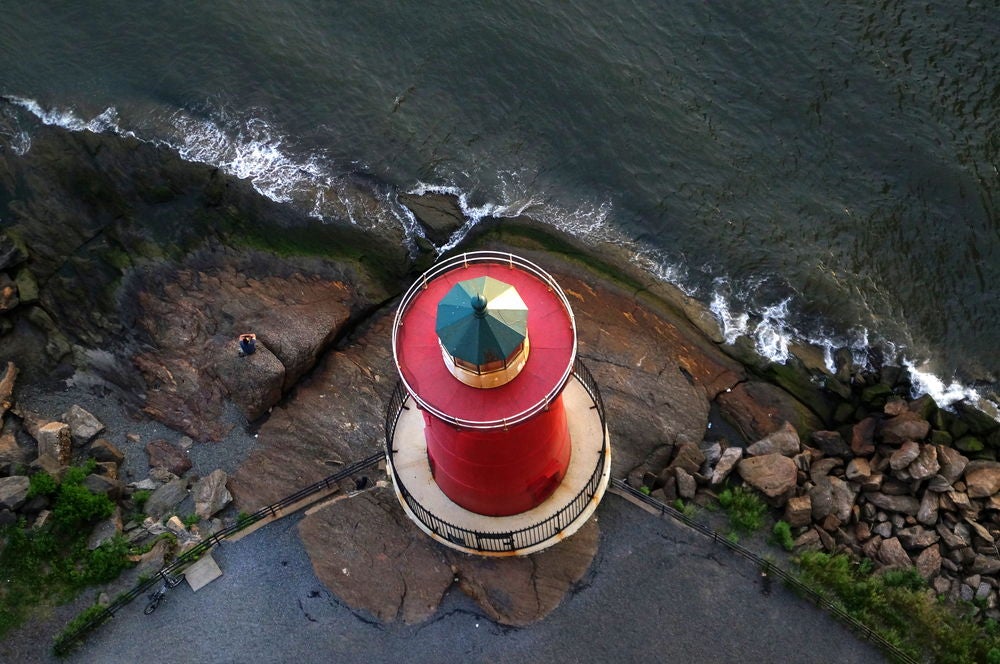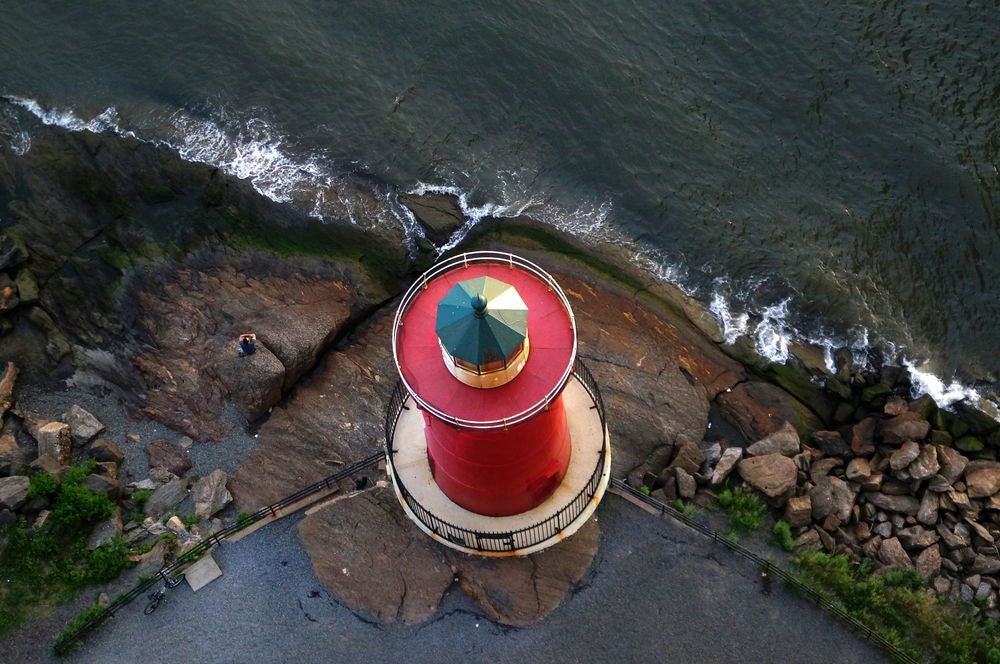 Little Red Lighthouse Under the GW Bridge
Took this photo looking down from the GW bridge. Had no idea it was there until someone asked me how to get there. The sun was setting, the light was just right.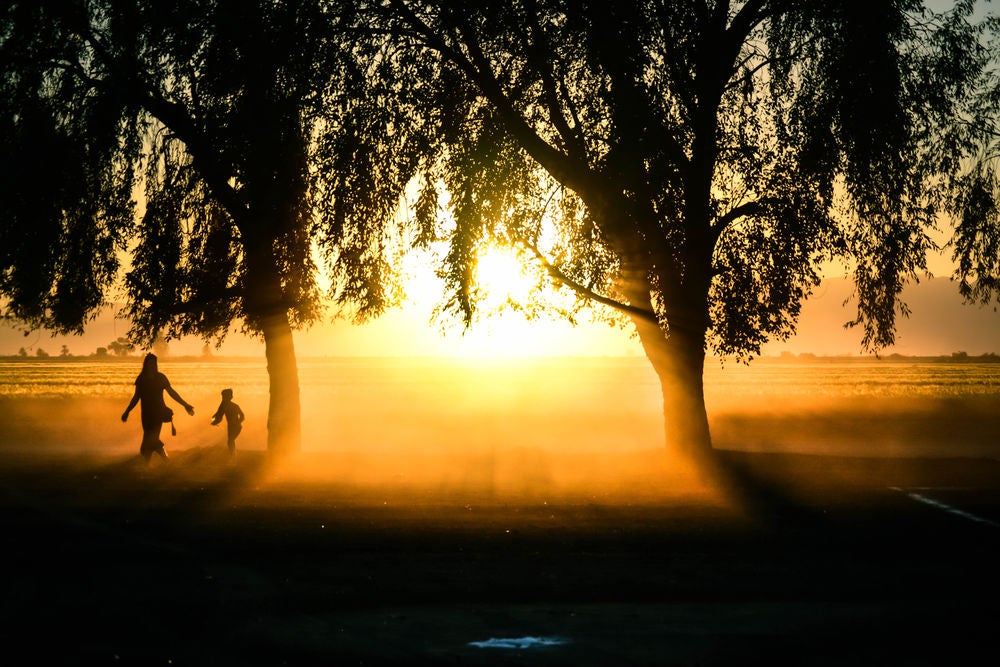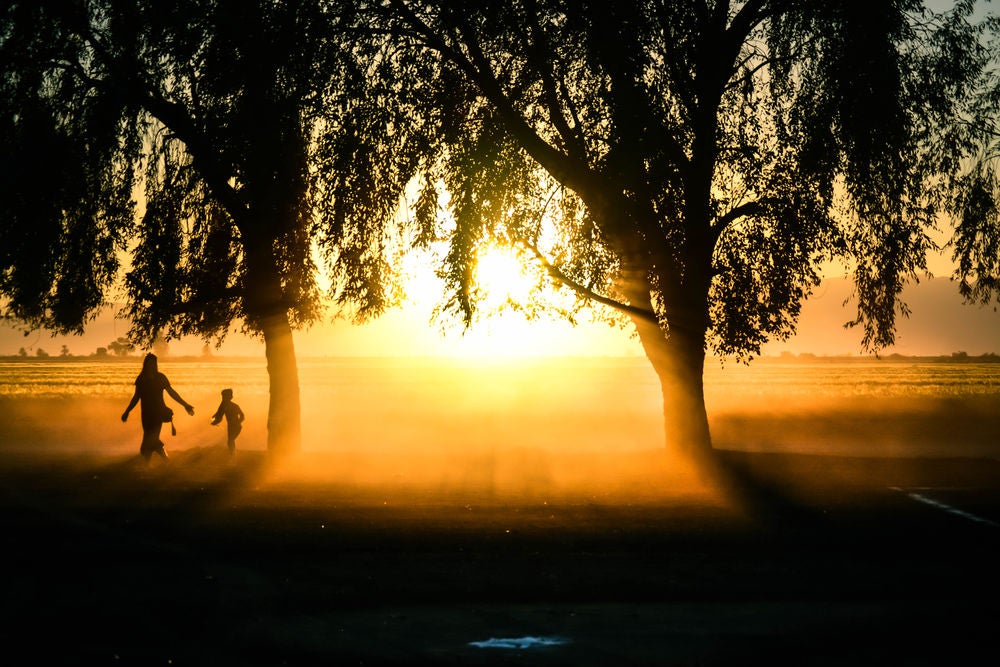 Sandpipers and waves
I had the beach to myself on this gray day with rain forecast. It did not rain and I had a lovely day with nature. Photographically I liked the many bands of color and texture and the drama of the big wave in the background.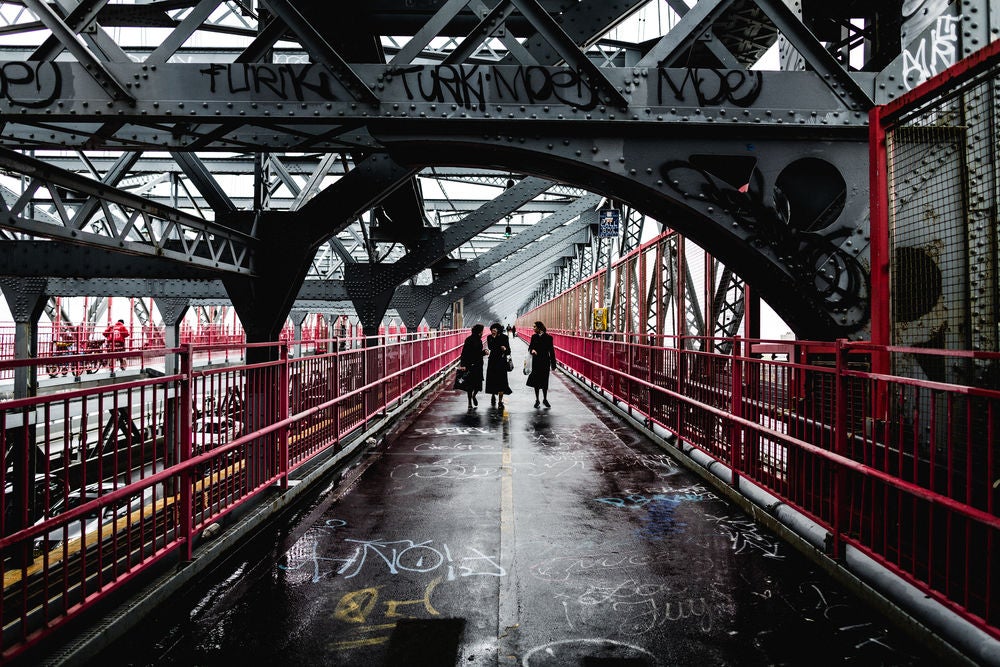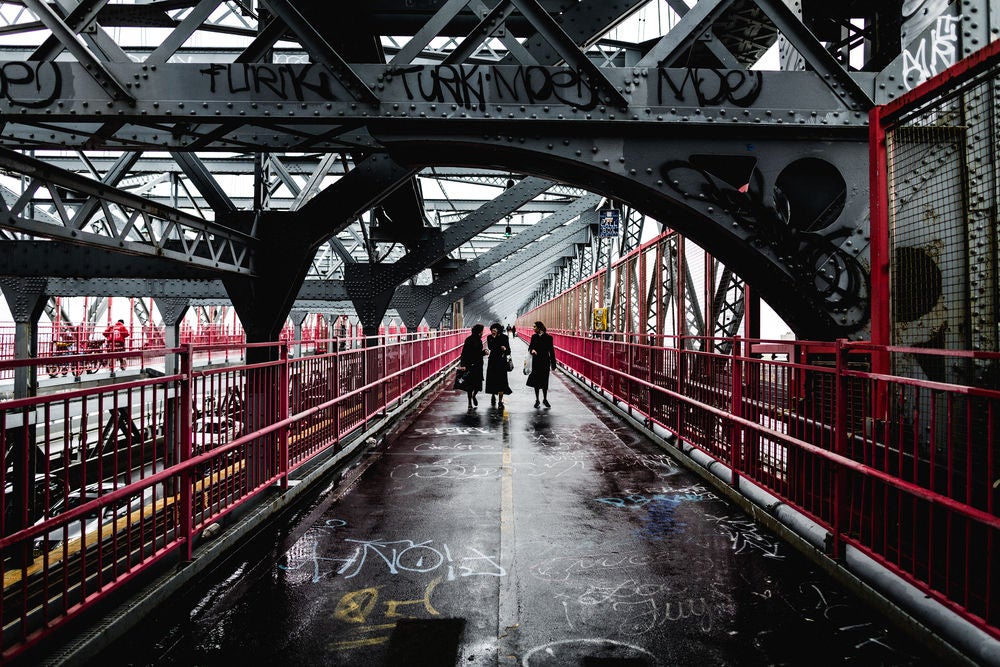 -Mahalak ✡-
Taken on the Williamburg Bridge, Nyc…captured with my Canon 5d mark 3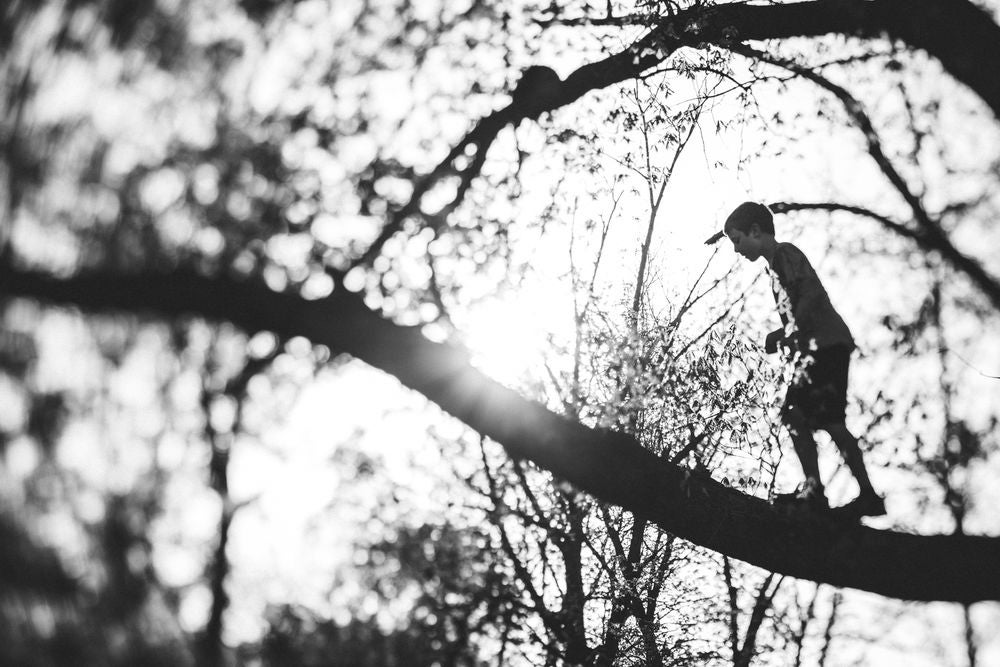 Silhouette
Silhouette of a boy standing on a tree limb.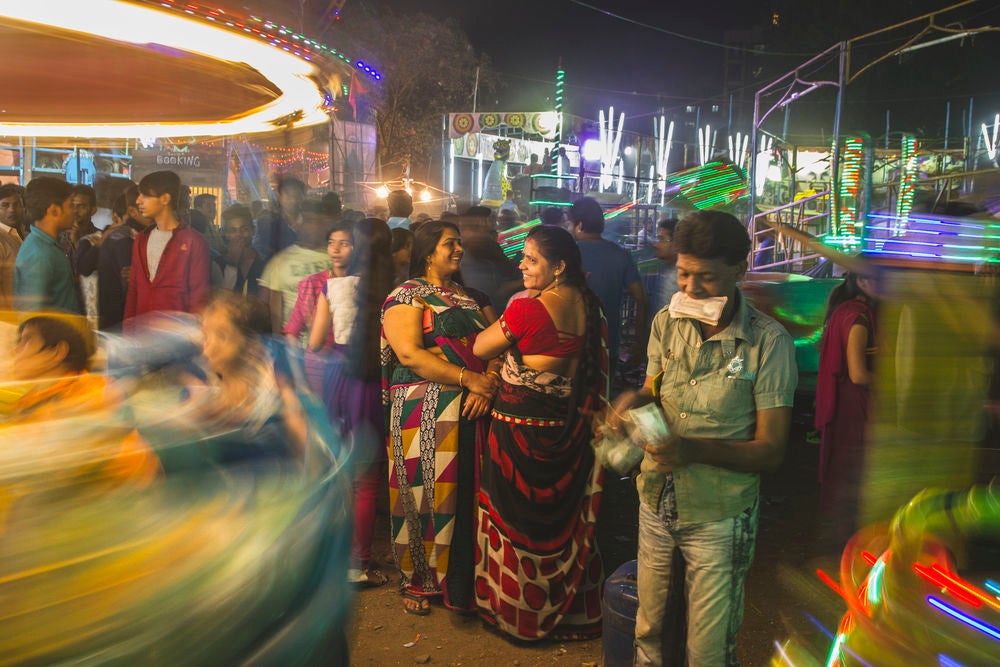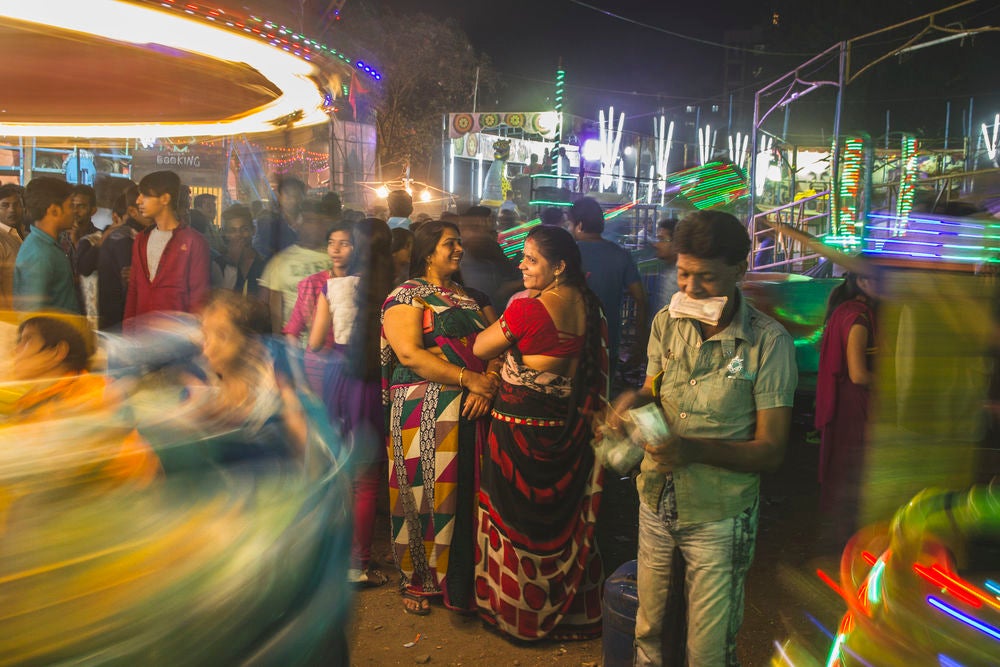 Money of Joy
Joy is very subjective. I made this picture at a local fun fair in Mumbai. The mothers paid the money so that their kids can have their share of joy while the vendor sold his joy to get the money he needs.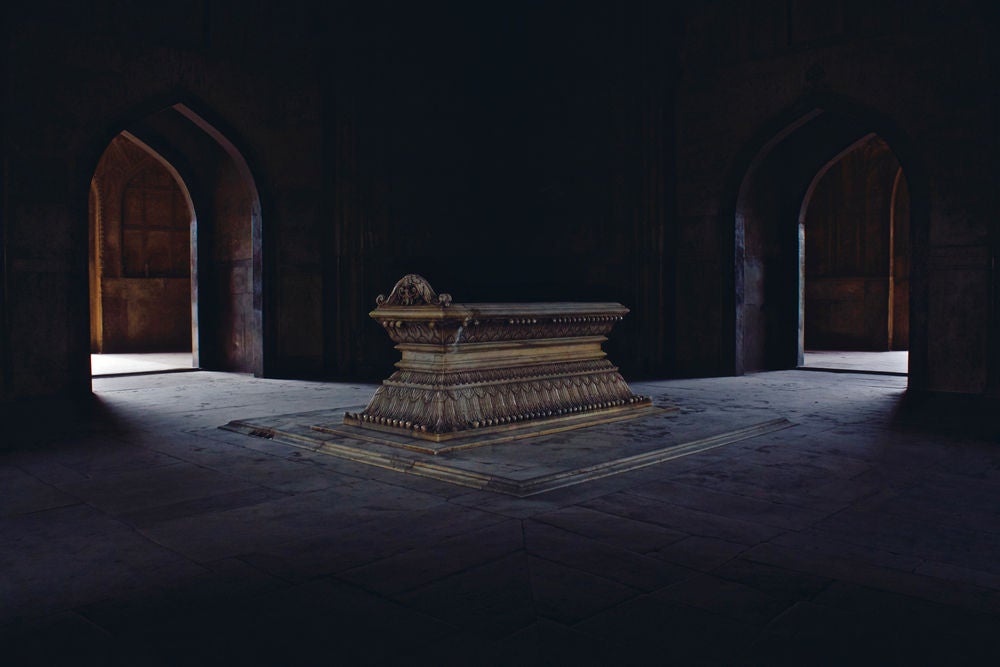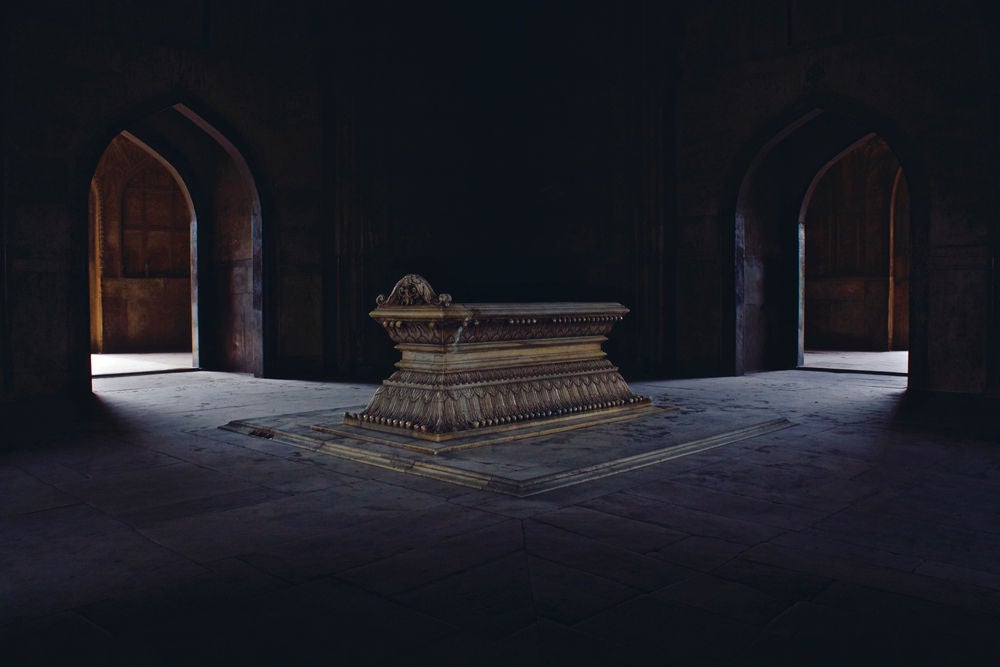 The resting soul
A peek inside the tomb of Safdarjung in Delhi.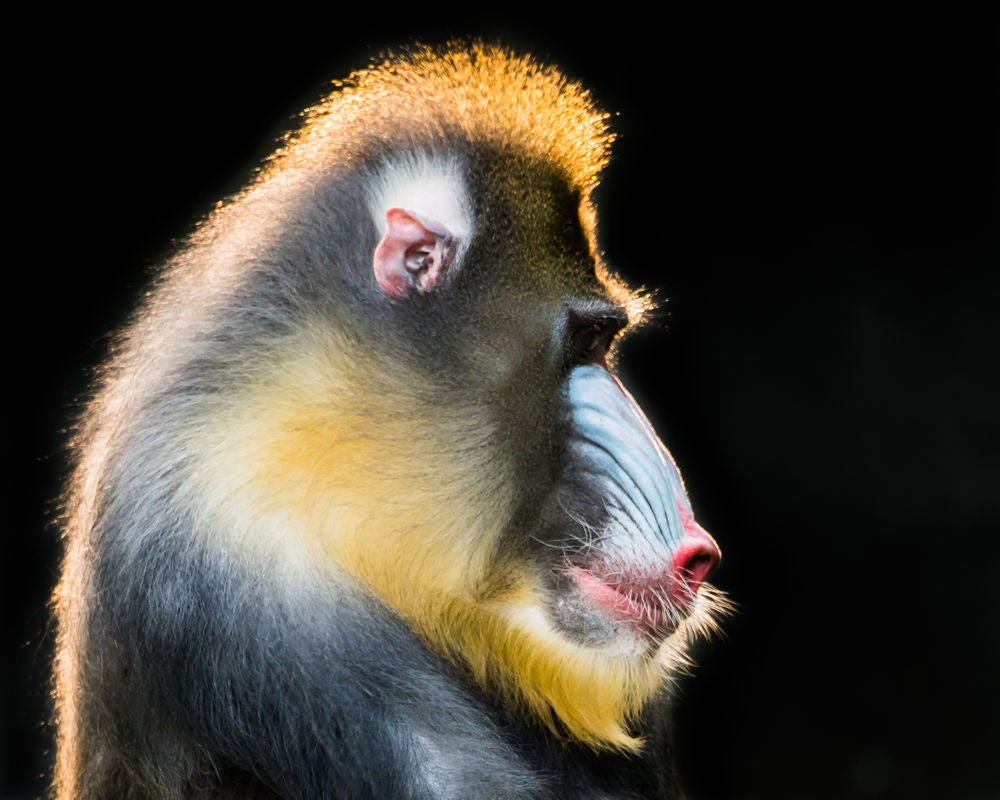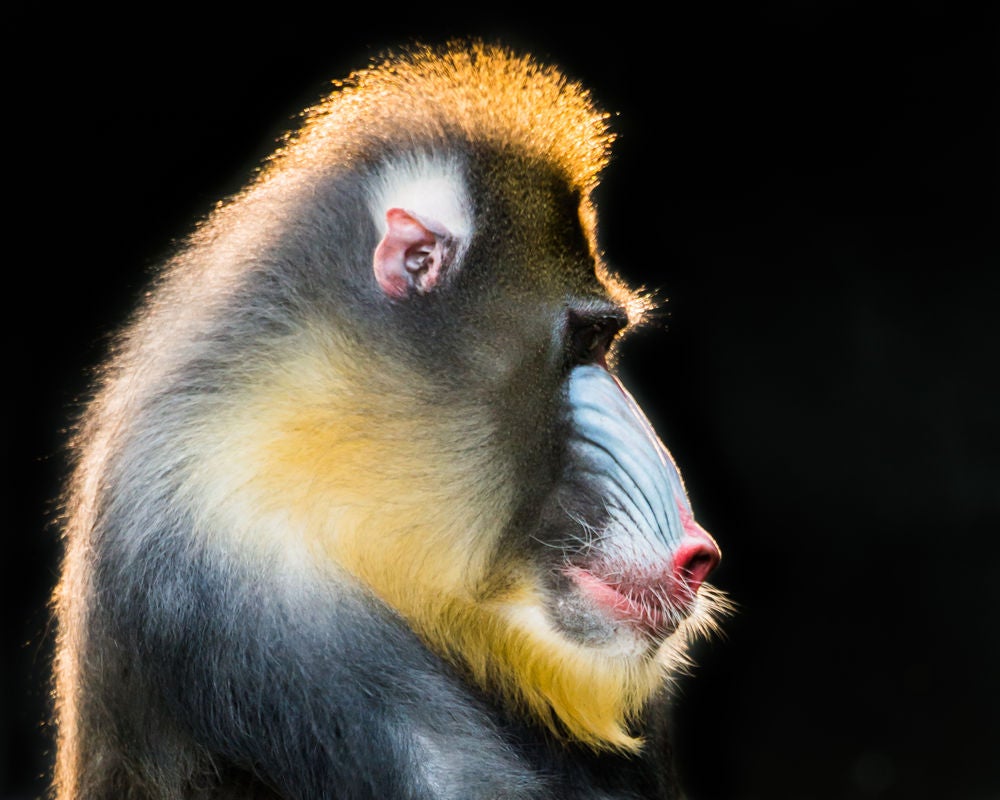 Mandrill
Backlit male Mandrill