Your Best Shot Finalist Photo Gallery: November 2015
Some of this year's final finalists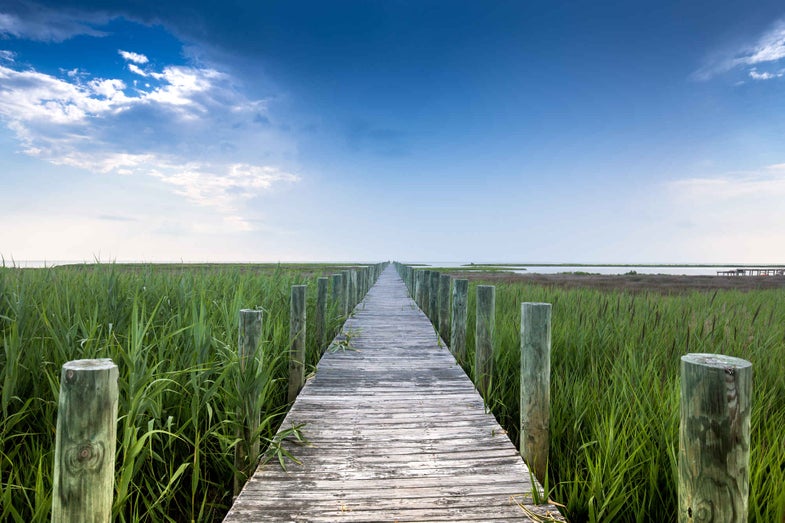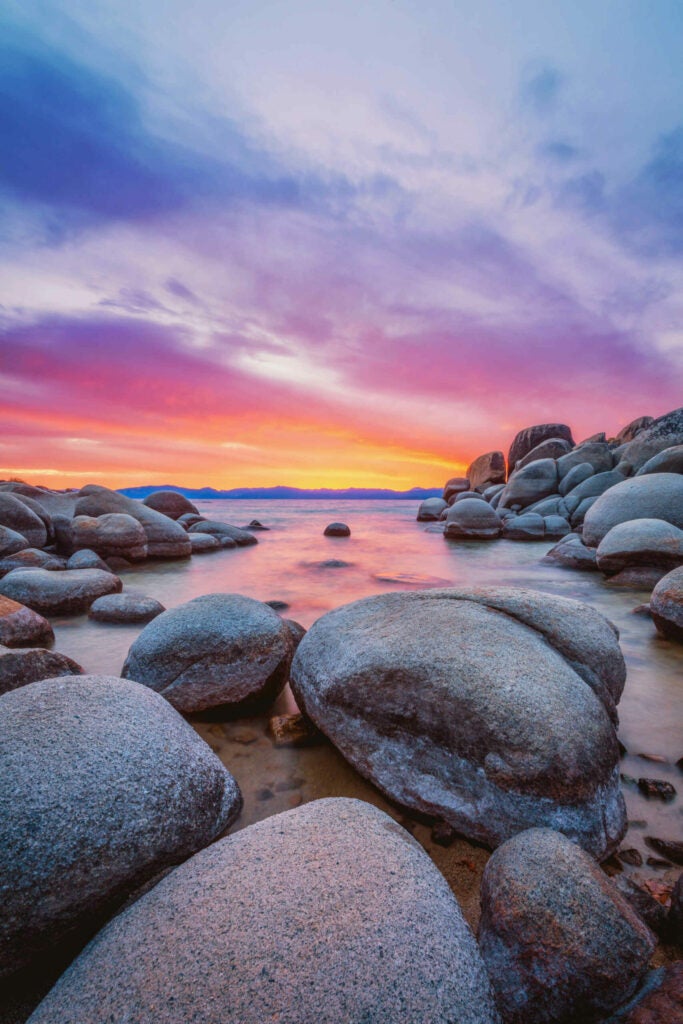 Painted Sky
Sunset over Lake Tahoe on Sand Harbor Beach. One of the most beautiful sunsets I have seen. I just a wide angle lens to capture the size of the rocks. The sky looks like someone painted it with a brush. Shot with a nikon D800 and a NIkkor 16-35mm lens. I used a 3 stop grad ND. Processed in Lightroom, Edited for the final look in Photoshop.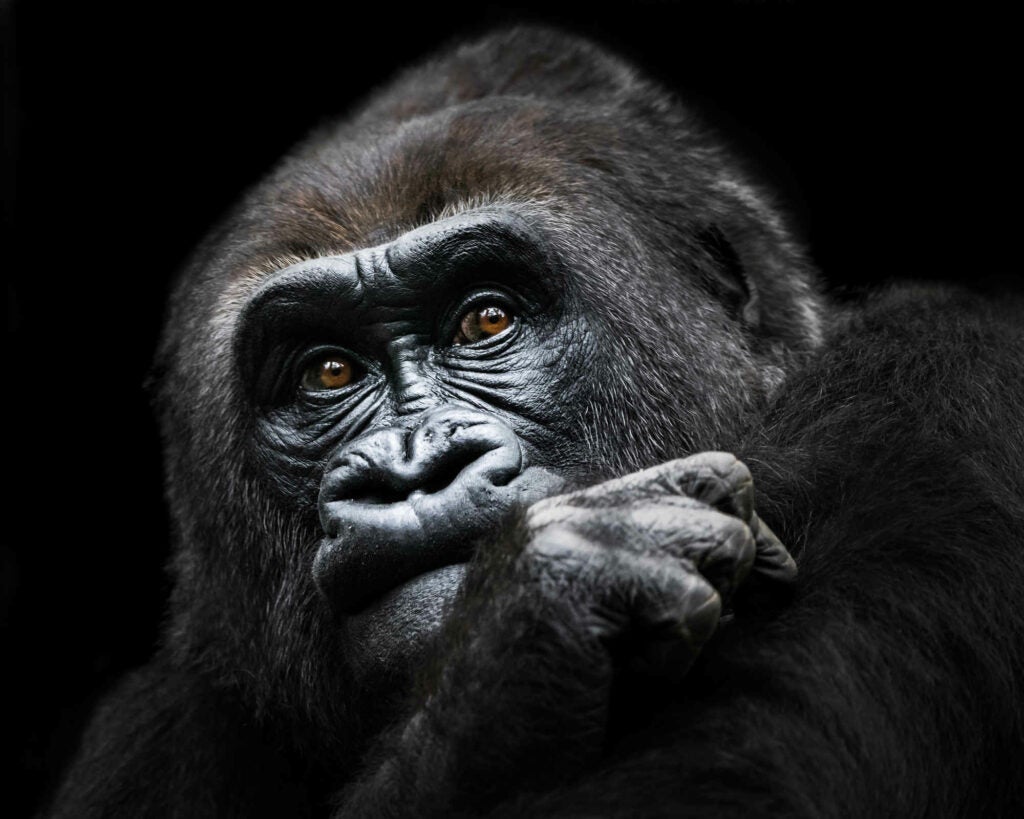 Western Lowland Gorilla
This fascinating gorilla seemed to be deep in thought for quite some time. I was instantly captivated by his pose and dreamy stare.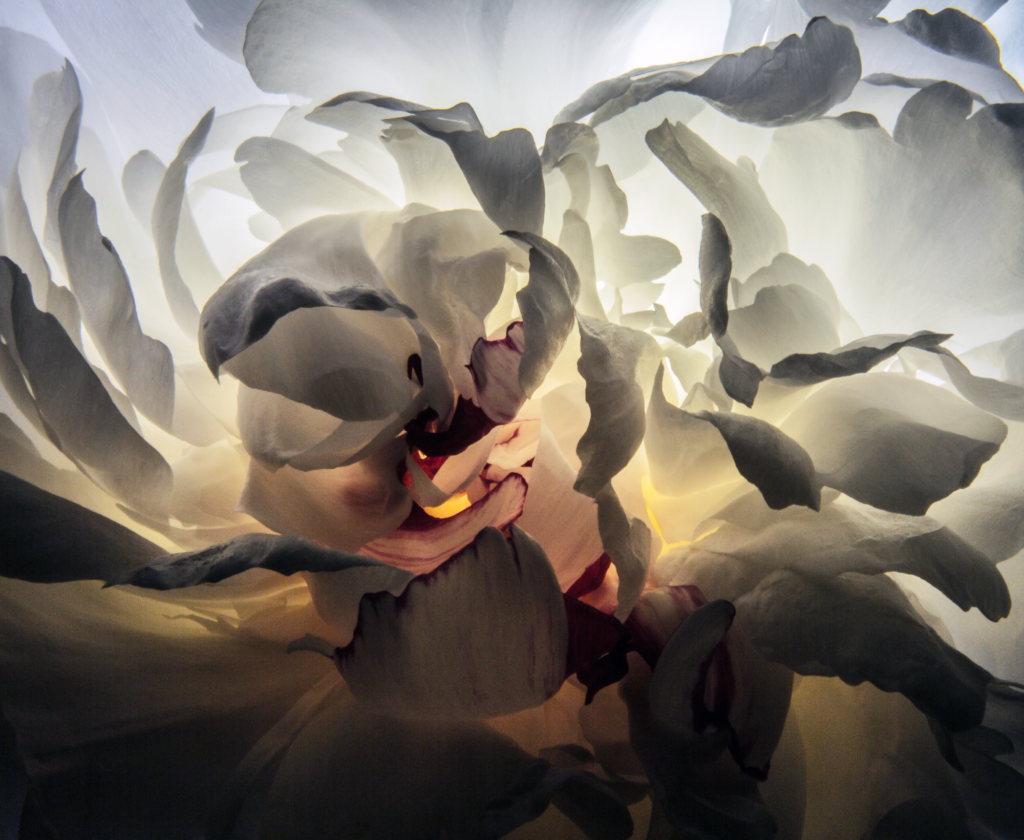 Peony Abstract #2
Painting with light and backlit. Canon EOS 60D; Canon EFS 17-85 lense; ISO 200; Exposure 10 seconds; Shutter speed 10 seconds; f-stop f/32; focal length 85mm.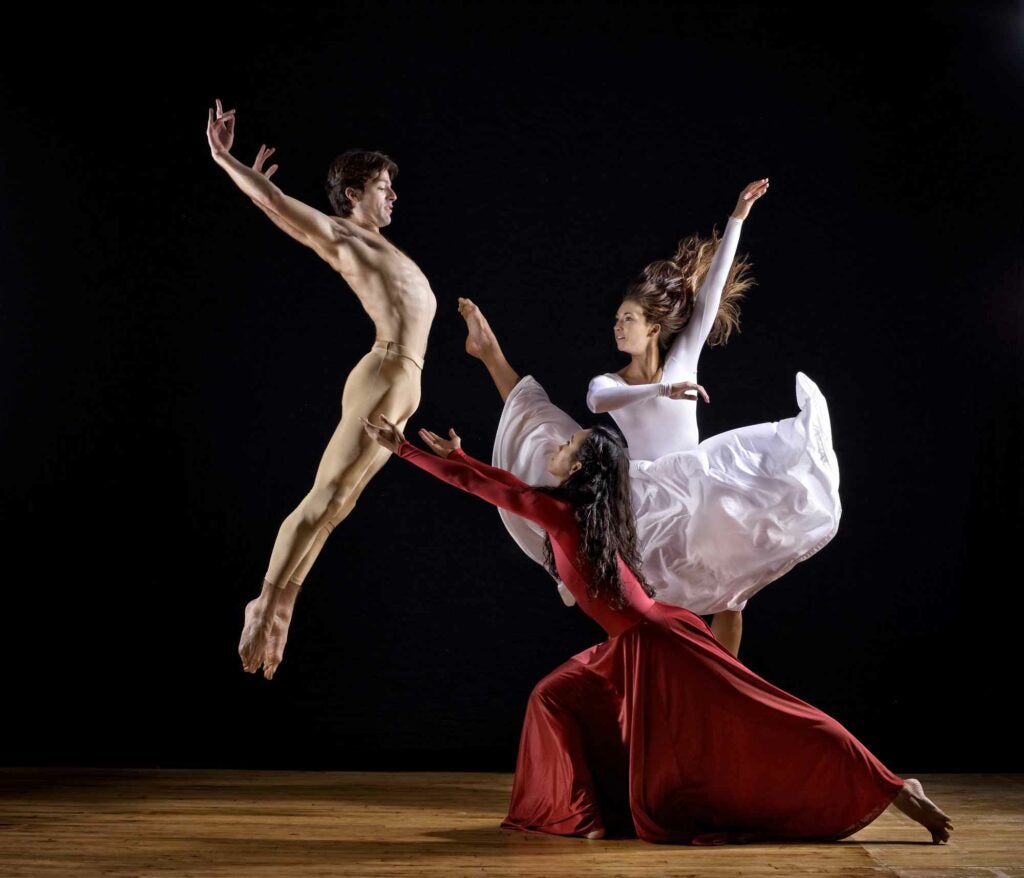 Dance of the Lovers
Dancers photographed at the Lois Greenfield Workshop 2015 in NYC..My theme was Romeo and 2 Juliets and I asked them to give me emotions of love and betrayal in dance moves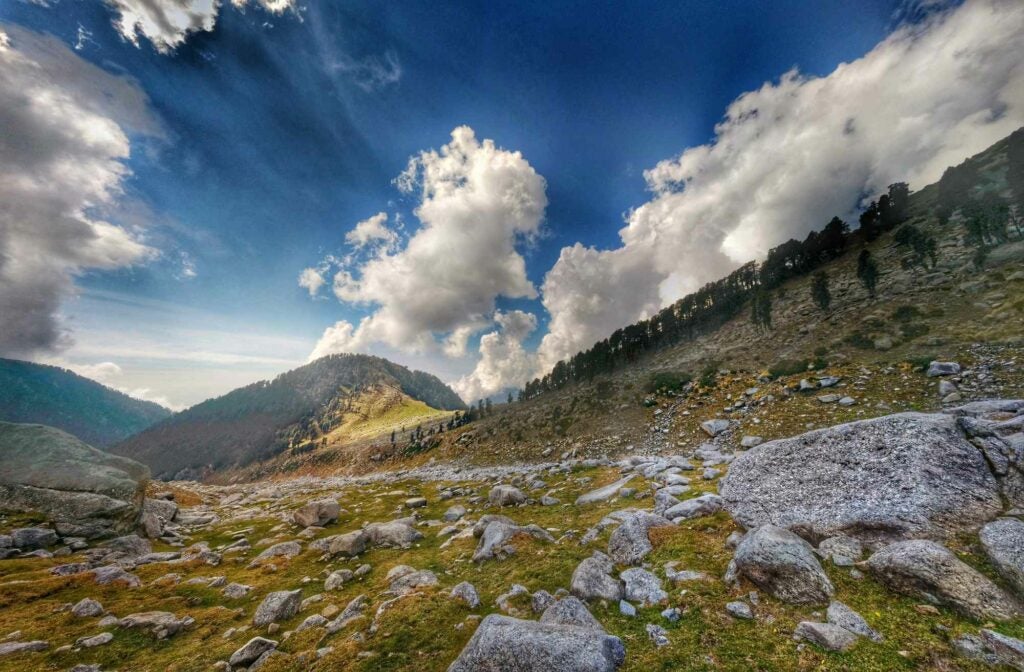 Contrasting Nature
The puffy white clouds contrasted brilliantly with the deep blue sky, and the rocky mountains – this was clicked on a trekking trip to Laka Glacier in India.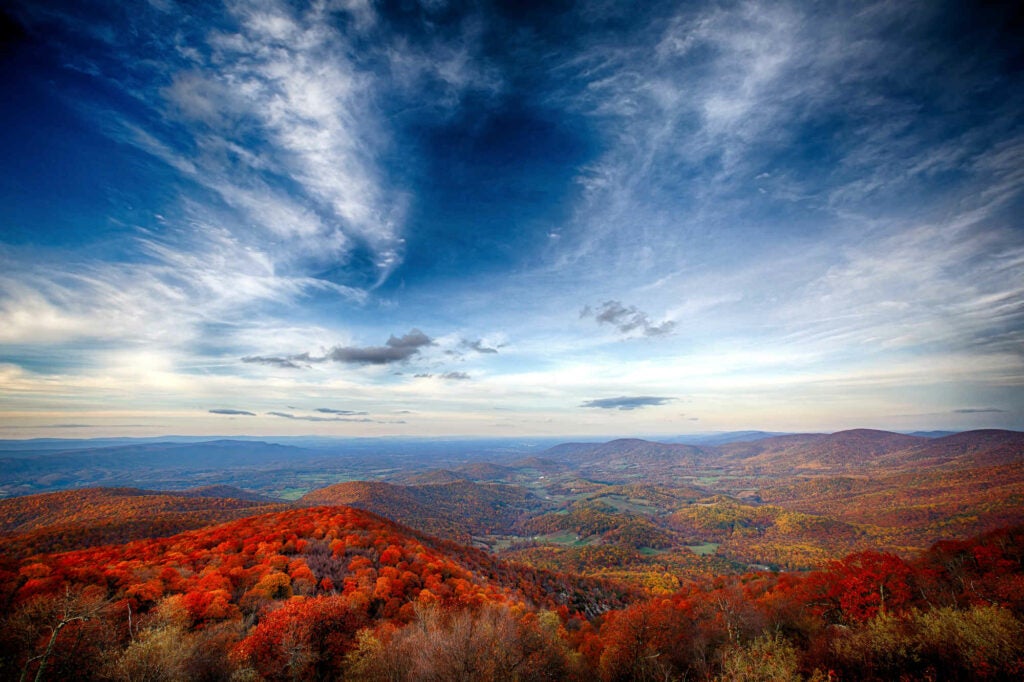 Blue Skies and Rolling Mountains
An autumn drive on Skyline Drive offered beautiful views across Shenandoah National Park.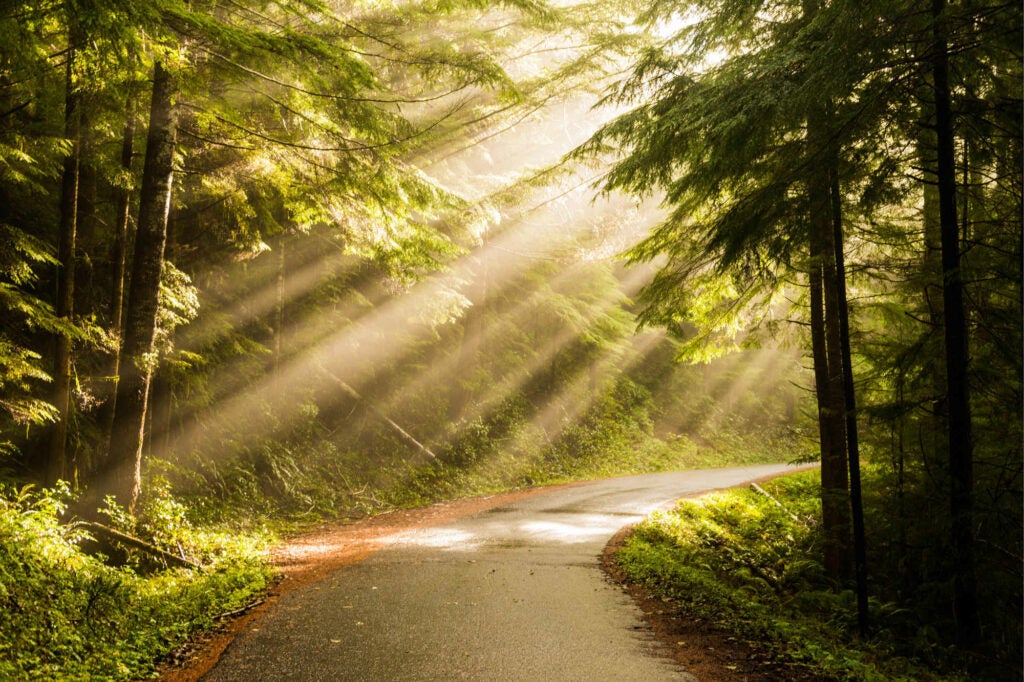 Morning Sun Breaking Through
The redwood forests along the California coast will provide dramatic photos if you'll just wait a little while. That was the case this morning while driving through the forest. Nikon D800, Nikkor 28-300mm lens, ISO 140, 1/30 sec at f4.2, Vanguard tripod and head.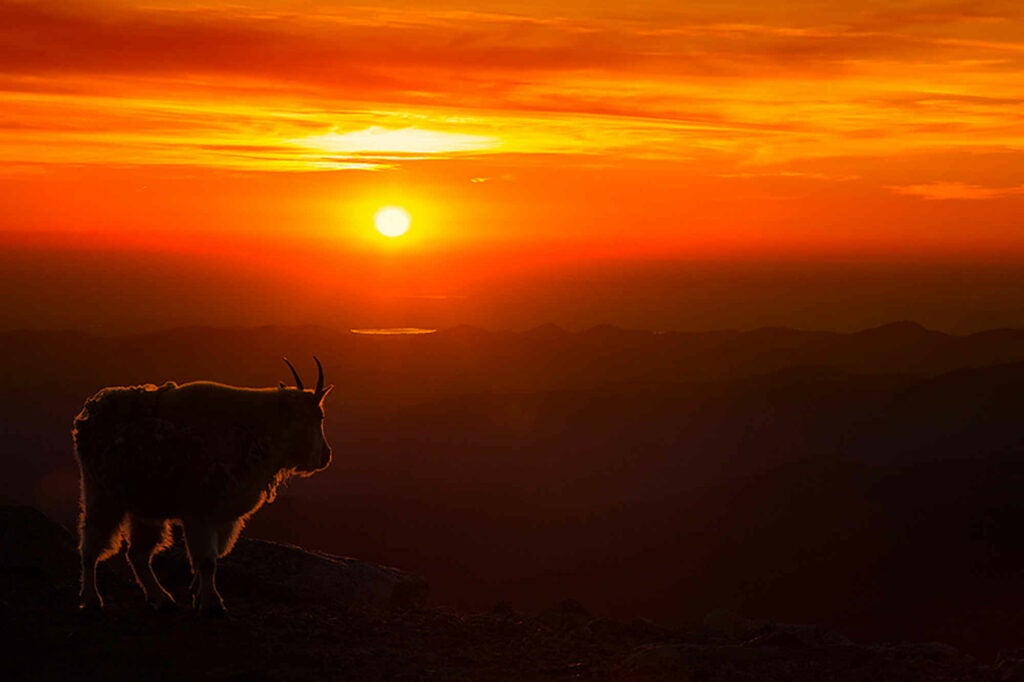 What a View
Mountain goat and sunrise near the top of Mount Evans in Colorado. Canon EOS 5D Mark III with 24-105mm F/4 Canon EF lens; 1/750 sec at f11, ISO 800.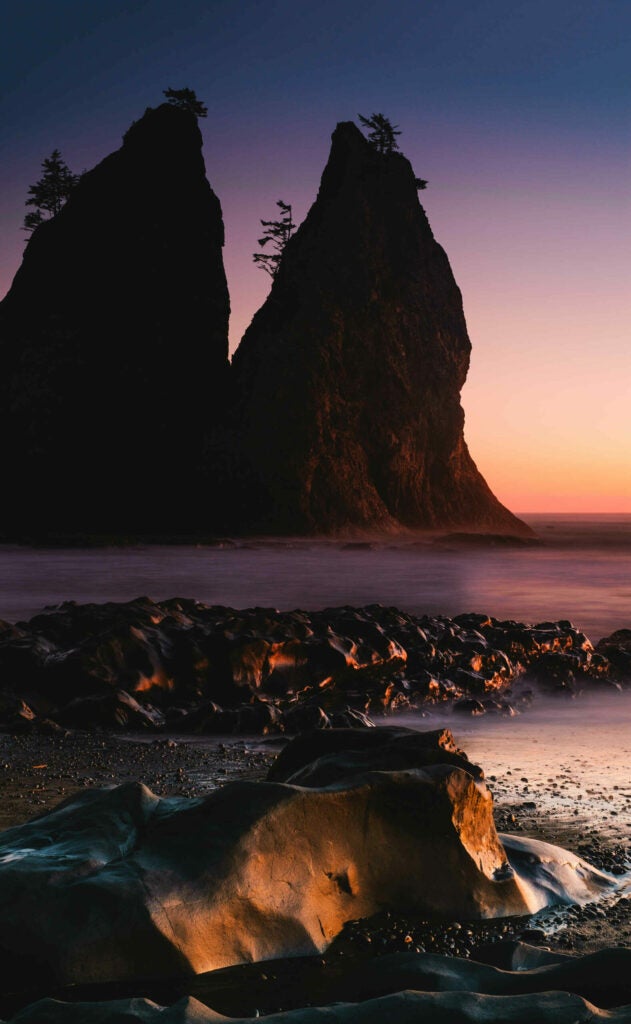 Sundown at Rialto Beach
Seastacks silhouette the colorful sky, while carved rocks catch the last light of the day in the foreground, a bit after sunset on Rialto Beach in the Olympic Peninsula.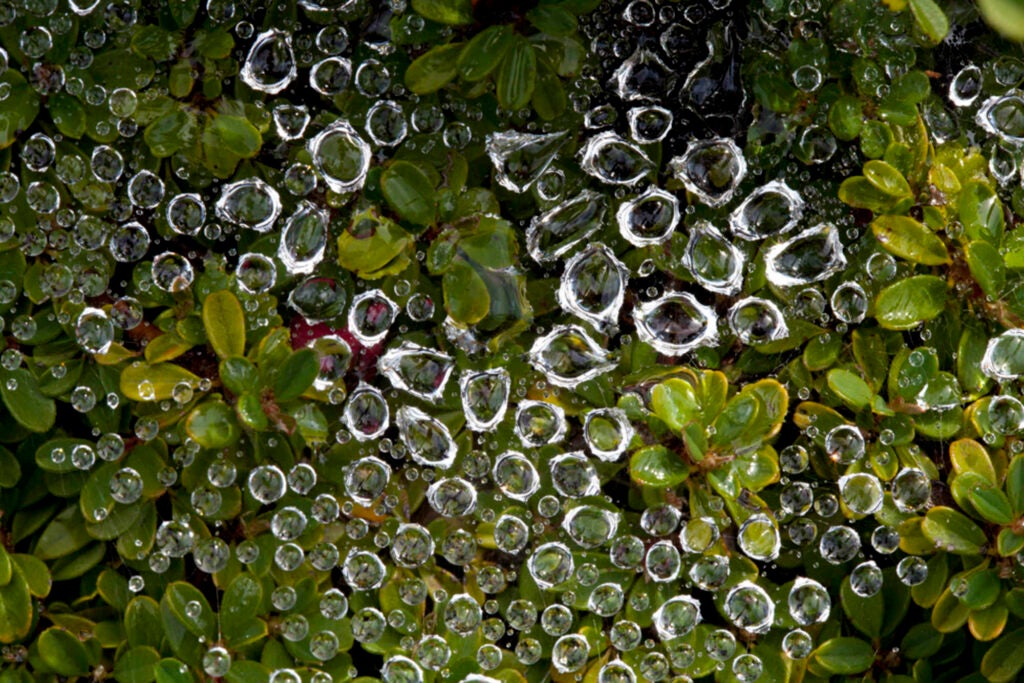 Droplets
I was out looking for dew-covered spider webs to photograph. When I didn't find anything, I looked down and noticed these dew droplets that had collected in webs within the shrubbery.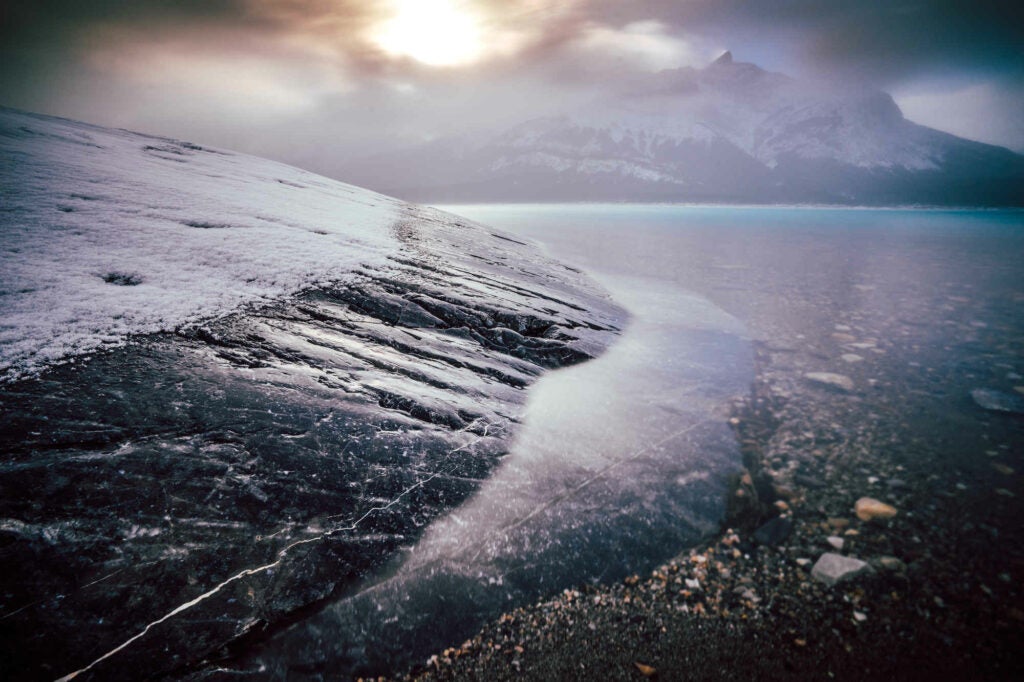 Existence
A dreamy morning at Abraham Lake, Alberta, Canada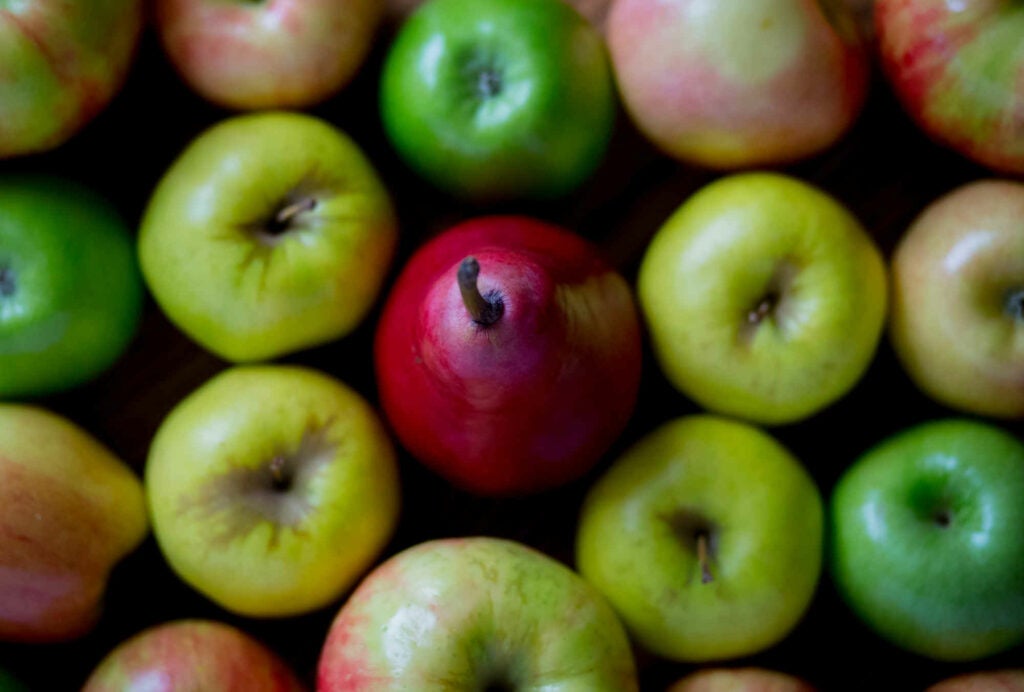 In a world of apples, be a pear
Shot with Canon EOS 5D with 85mm 1.8 lens, iso 3200, f2.0, 1/400 sec Lit with natural light. Processed in Lightroon.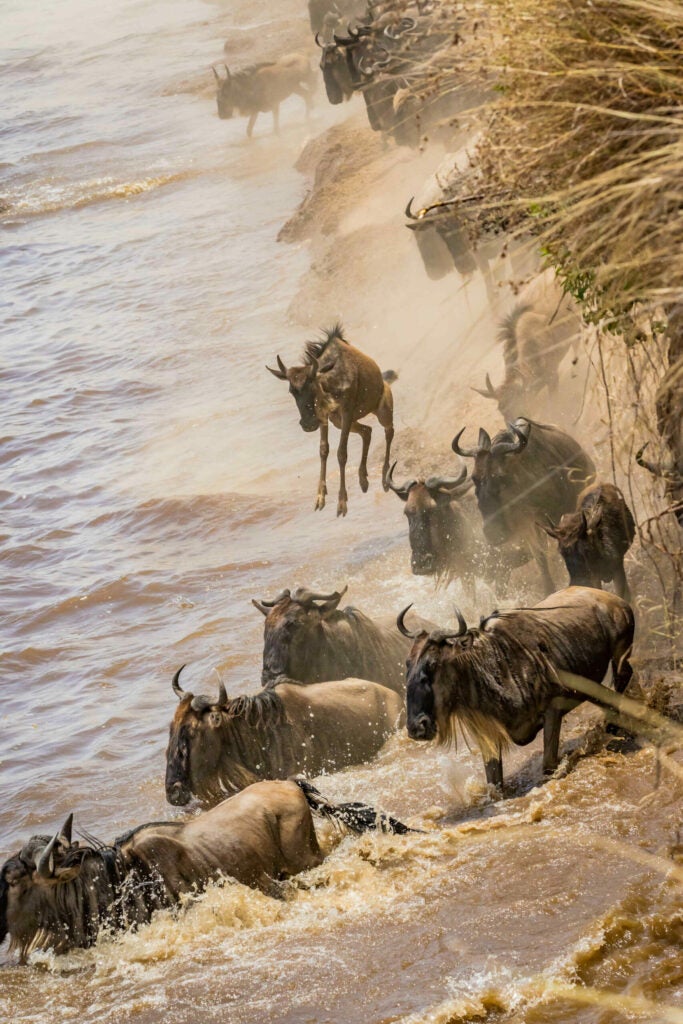 Free Falling
While witnessing a 300,000+ crossing at the Mara River, the wildebeest begin to launch themselves off this 20+ foot embankment. I watched at this youngster anxiously and nervously prepared to join the fray in the croc infested waters. Much to my surprise the little guy simply floated down into the water and I was lucky enough to capture it.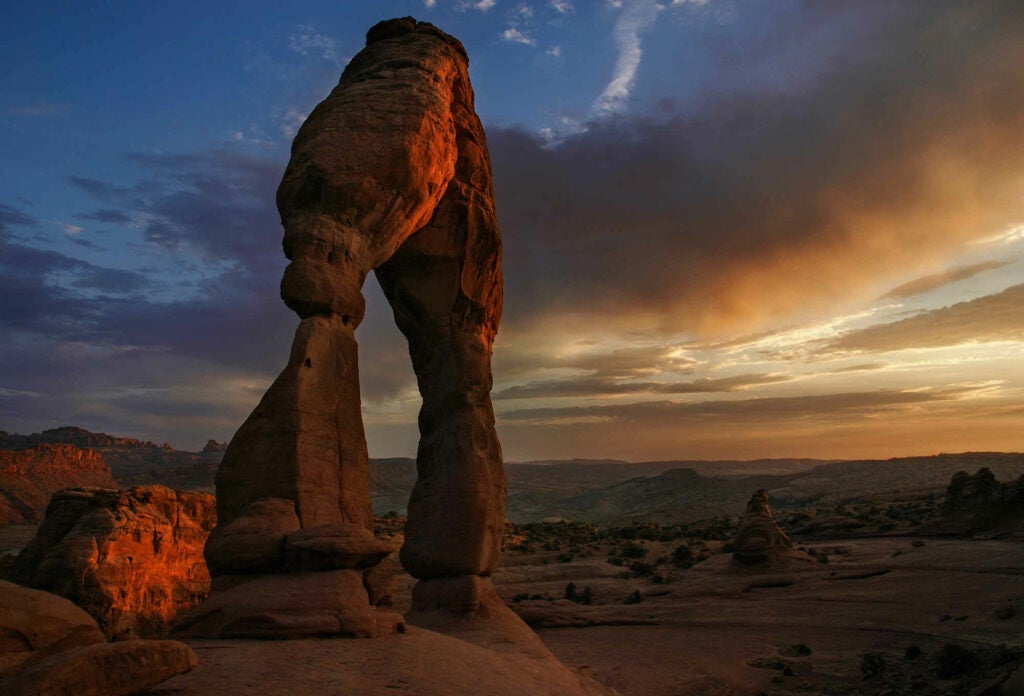 Delicate Arch
Sunset on Delicate Arch, Arches NP, Utah, USA Sony A100, Sony 16-50/2.8 SSM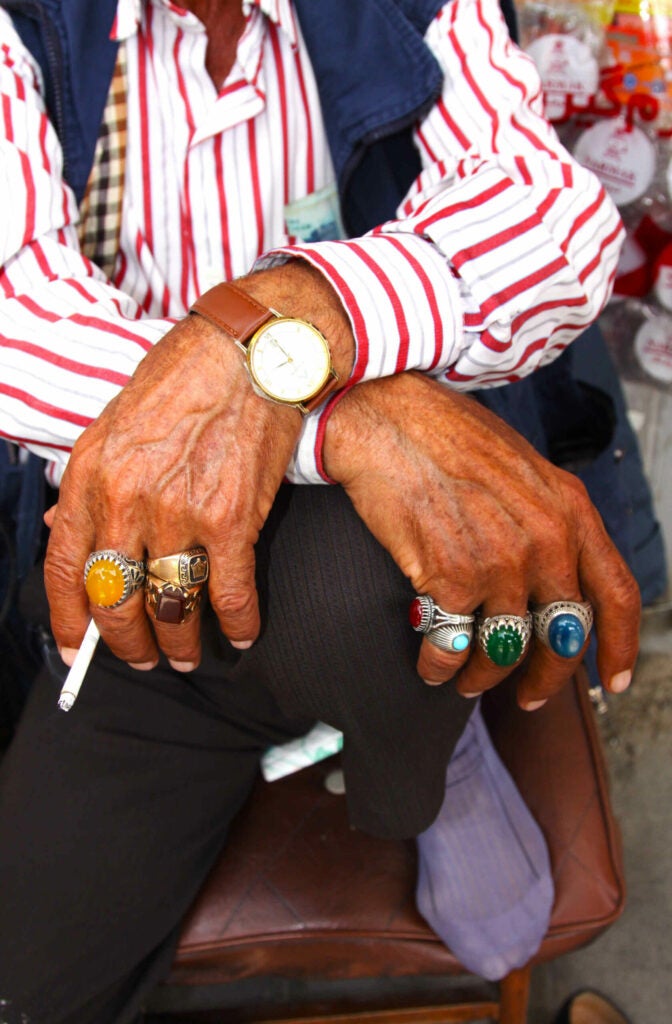 Beauty in the Struggle
I was walking on the streets of Tehran and noticed this man selling locks on the side of the road. What caught my eye is that someone who seemed to have so little could have such extravagant accessories. The uniqueness of his style and hardworking nature of his hands caught my eye.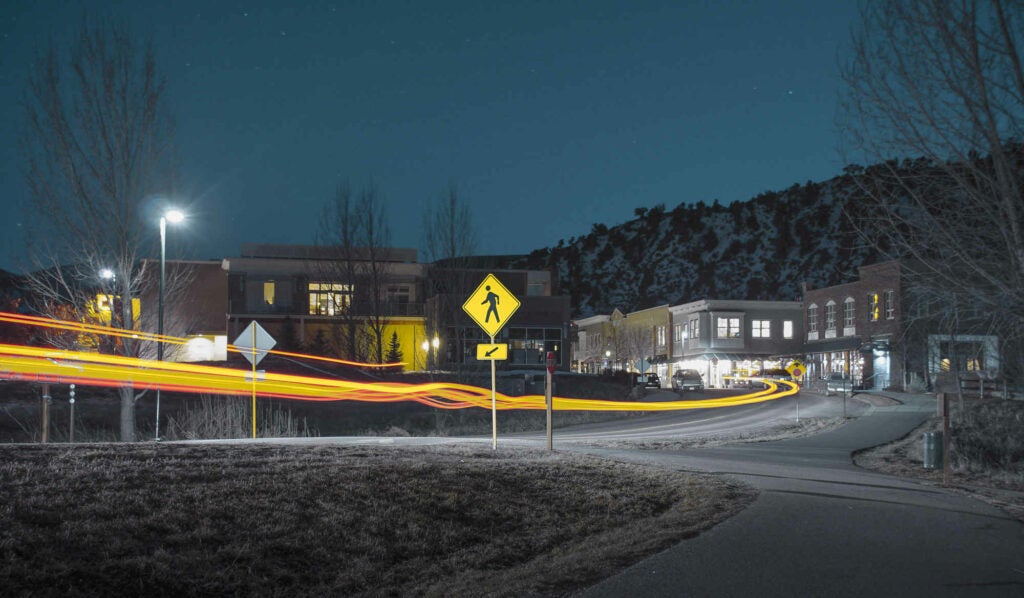 Light trails and blue skies
Eagle, Colorado Shot at ISO 160, f/5.6, 20 second exposure with a Sony A77II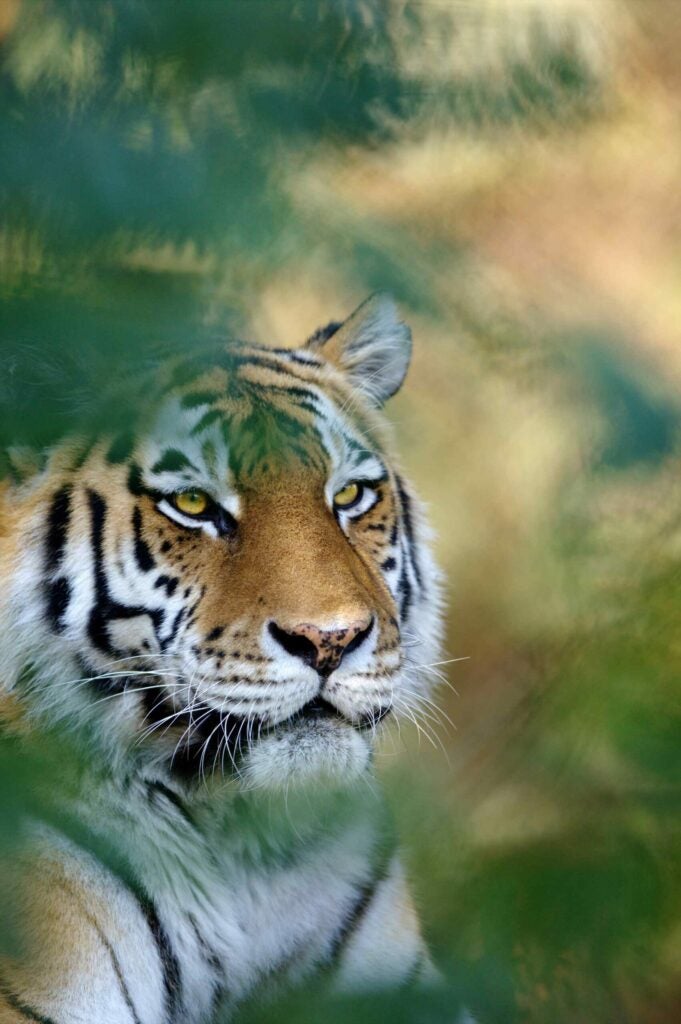 Tiger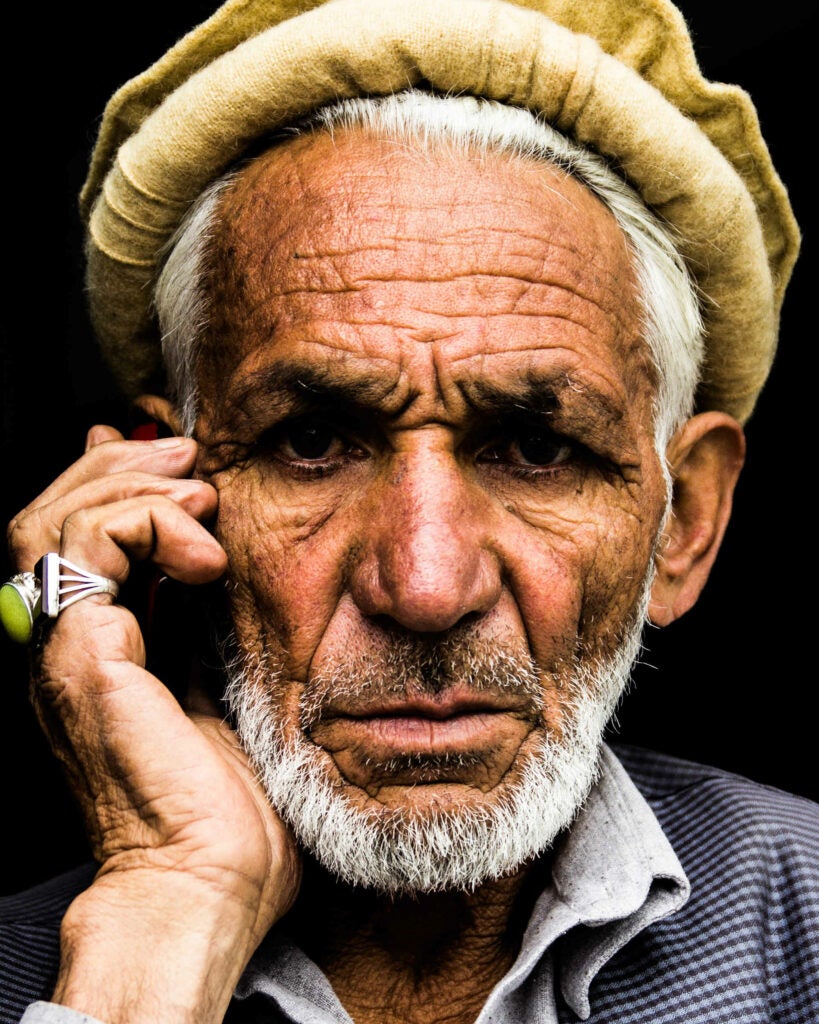 The Wiseman
A veteran tribesman in northern regions of Pakistan. Fully determined that his country will cop up with all the terrorism one day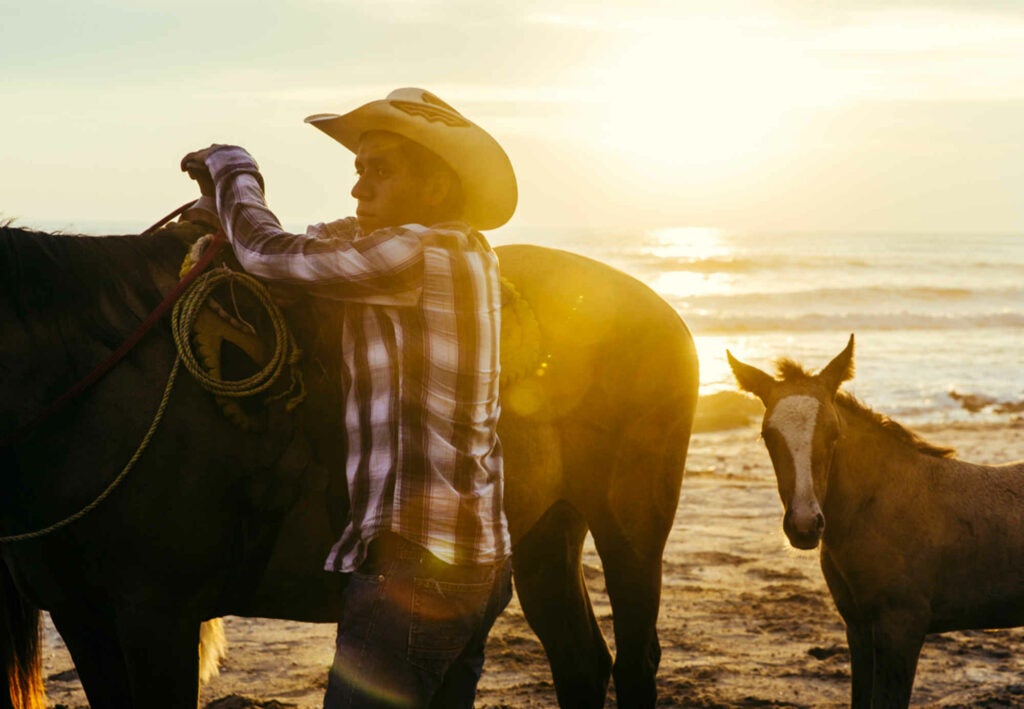 Simply Troncones
Taken in Troncones, Mexico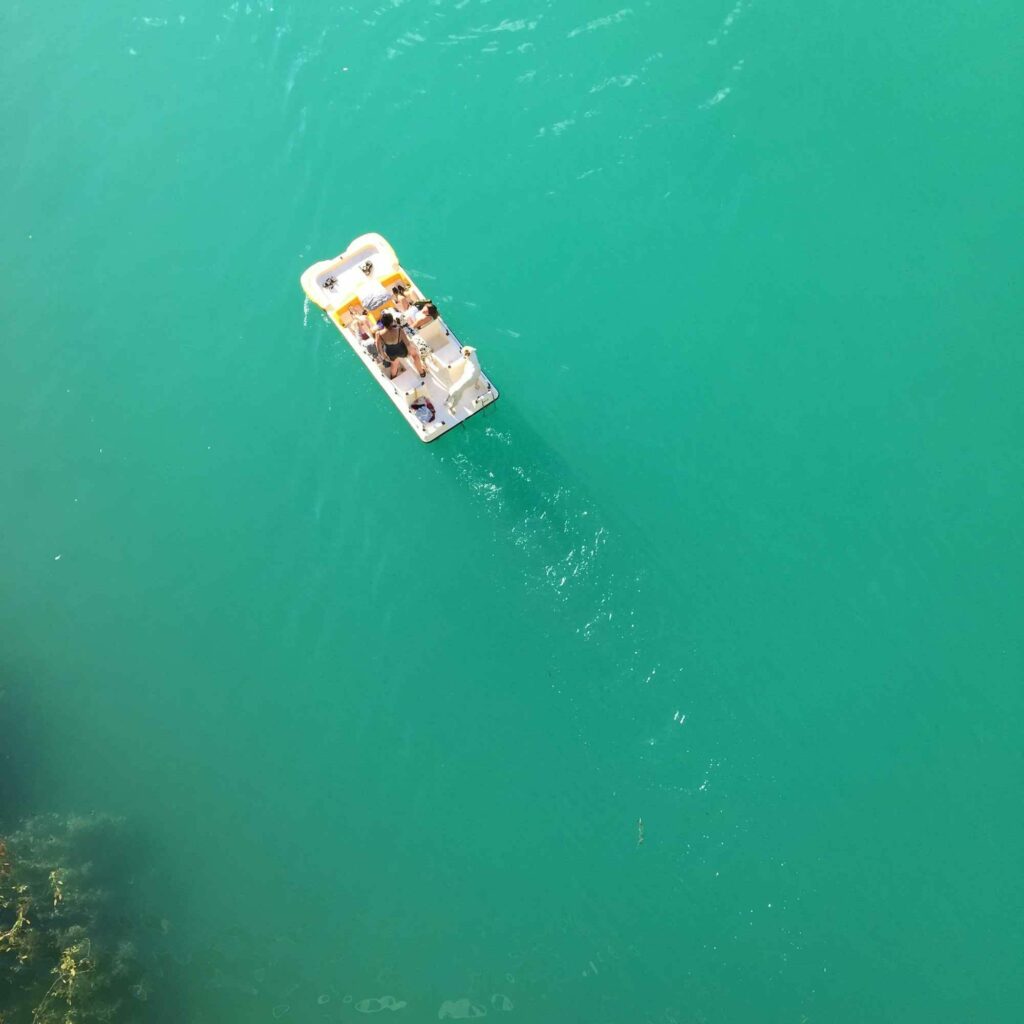 Gorges de verdon
A photo I took on my phone while I was on holiday in the south of France. I used no filter to gain this water colour.. Yes that is the colour of the water naturally! Beautiful.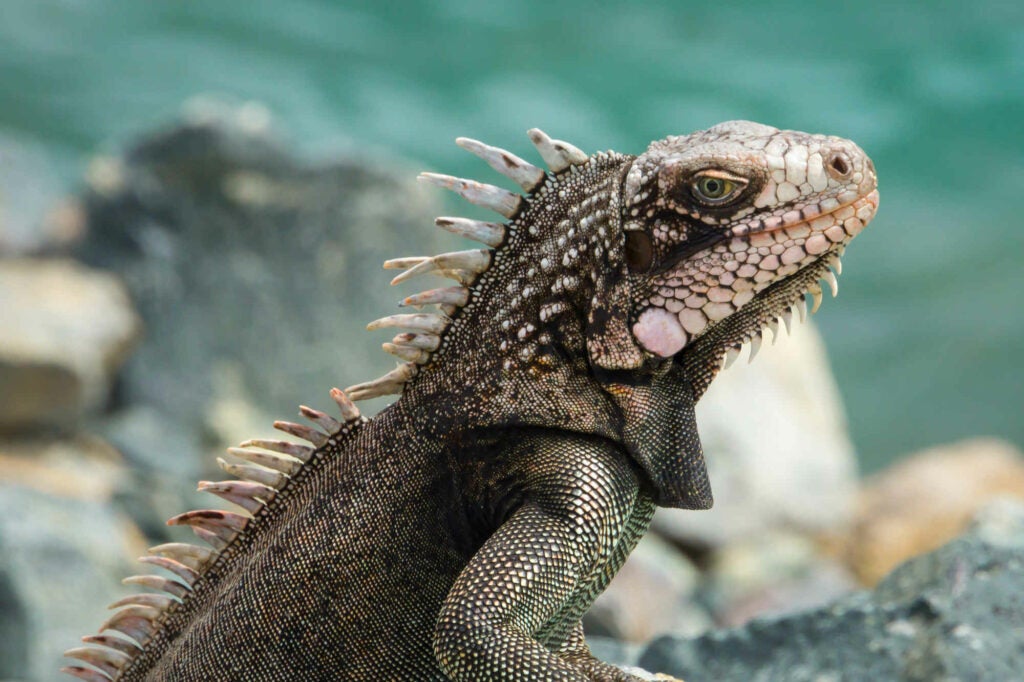 Don't even try!
While on the Dominican Republic Island, I saw a group of Iguanas looking for a handout–as long as you didn't get too close.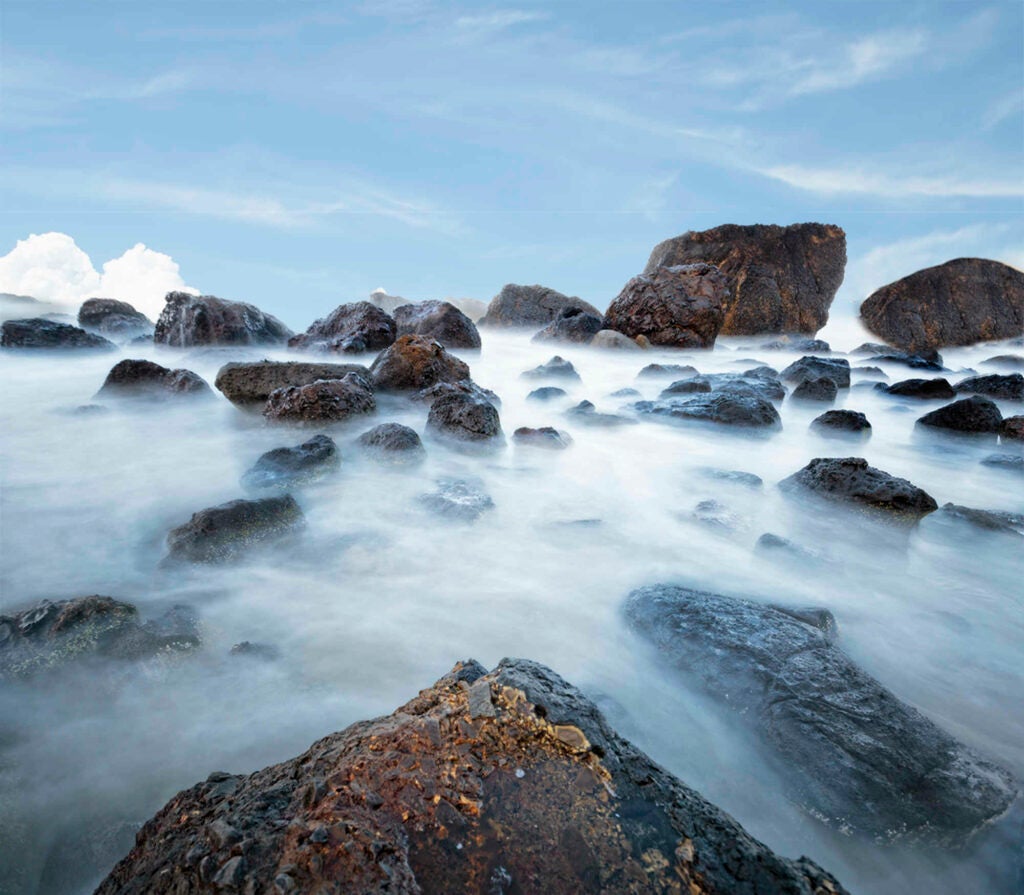 Indian Beach, Ecola State Park, Oregon
Indian Beach is near Cannon Beach in Oregon. It's fabulous for photographers because of the "garden" of boulders at the water's edge—plenty of perches for tripods to catch some long exposures. As long as you're careful that while looking through your viewfinder, you're not about to take a swim with your expensive equipment….I was lucky enough to have a sturdy friend with me that could keep me steady on my perch and at the same time keep an eye on the incoming waves. My equipment was a Canon 5D Mark III, Canon EF 16-35mm f/2.8L II USM Ultra Wide Angle Zoom Lens, a Vu 10-stop ND filter, and Manfrotto Pro 055XPROB Tripod Outfit with 804RC2 Pan Tilt Head. Other than some tweaking in Adobe Camera RAW and Photoshop CS6, there was little editing to the original picture of the water and rocks landscape. However, because of the 'silky' nature of the water after the long exposure, the water and overcast sky seemed to merge – couldn't tell where one ended and the other began. So I imported a different sky, a blue one to give some separation. Is that cheating? Don't know but it sure looked better. Settings were f4.5, ISO 100, for 30 seconds at 16mm.
Vacation Solitude
Last walk down the long pier while on vacation to OBX. Canon 6D with Canon EF16-35mm f/4L. 1/125 sec at f8.0 ISO 100. Adjustments made in lightroom CC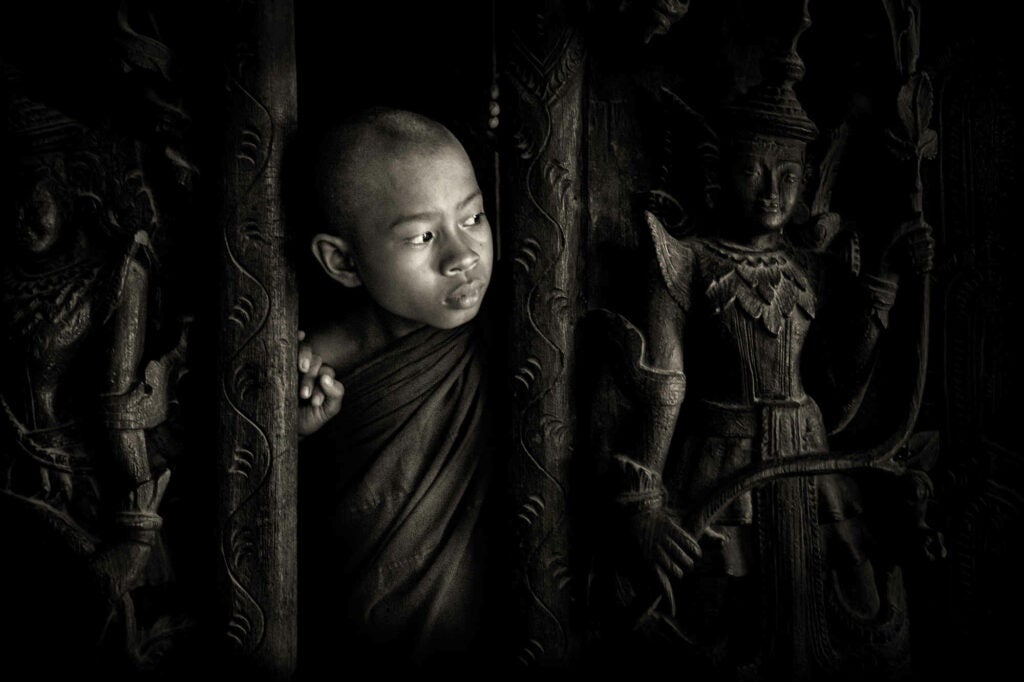 Young Monk
Salay is situated in the middle of Myanmar and famous for ancient wooden monasteries.This picture was taken at the beautifully curved wooden door in one of the monastery.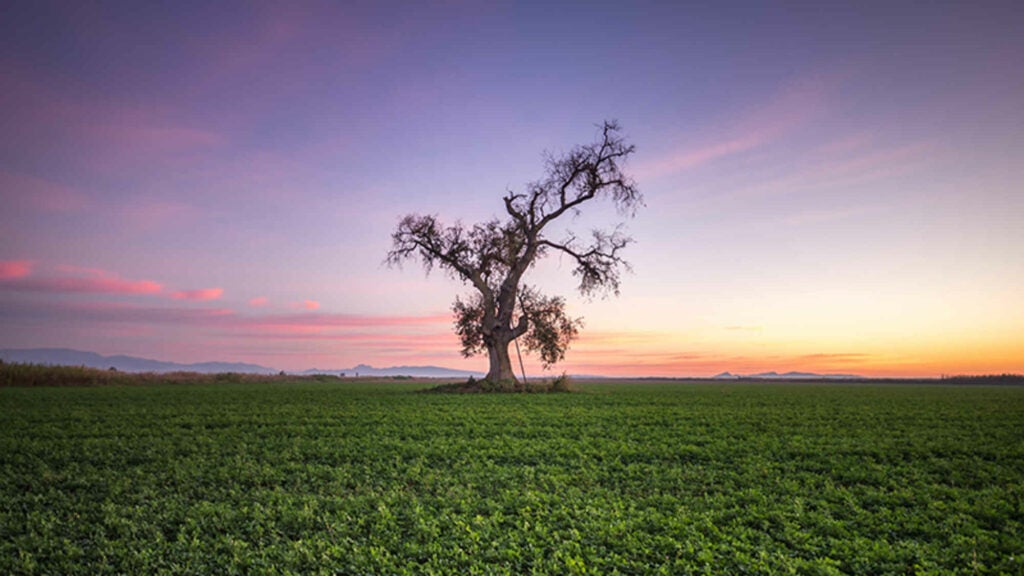 Solitude
A lonely olive tree at the dusk on a green field.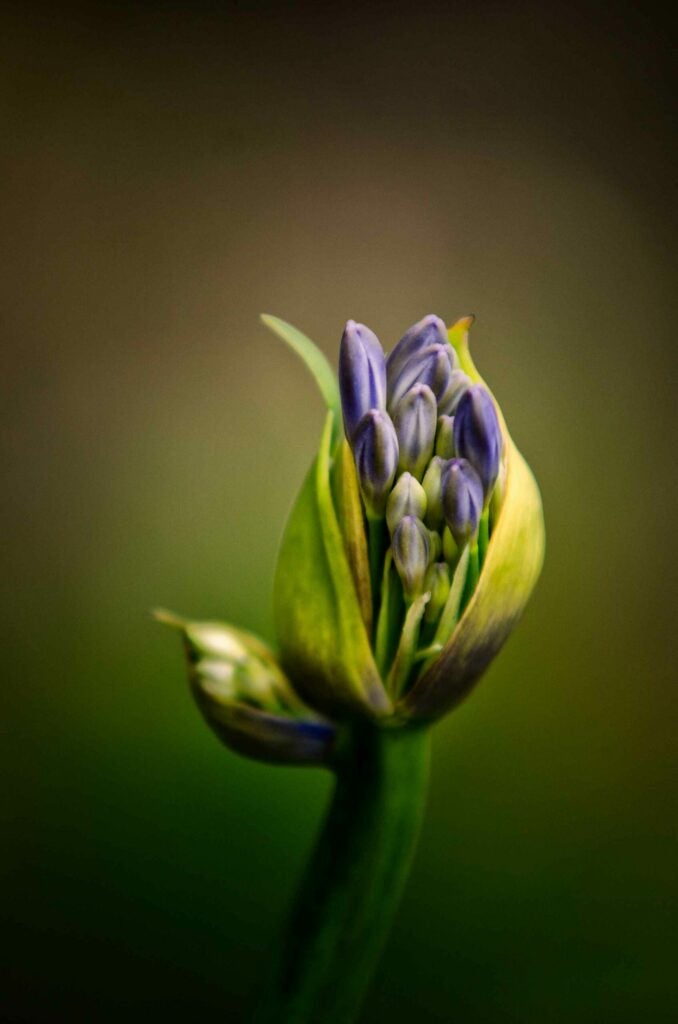 Splash of Blue
One of the mountain flowers of the Cordilleras, often blooms during summer until the cold mornings of December .Taken with a Nikon D7000 and Sigma 70-200mm f2.8
Bay Bridge Glow
This is a long exposure shot of the San Francisco Bay Bridge.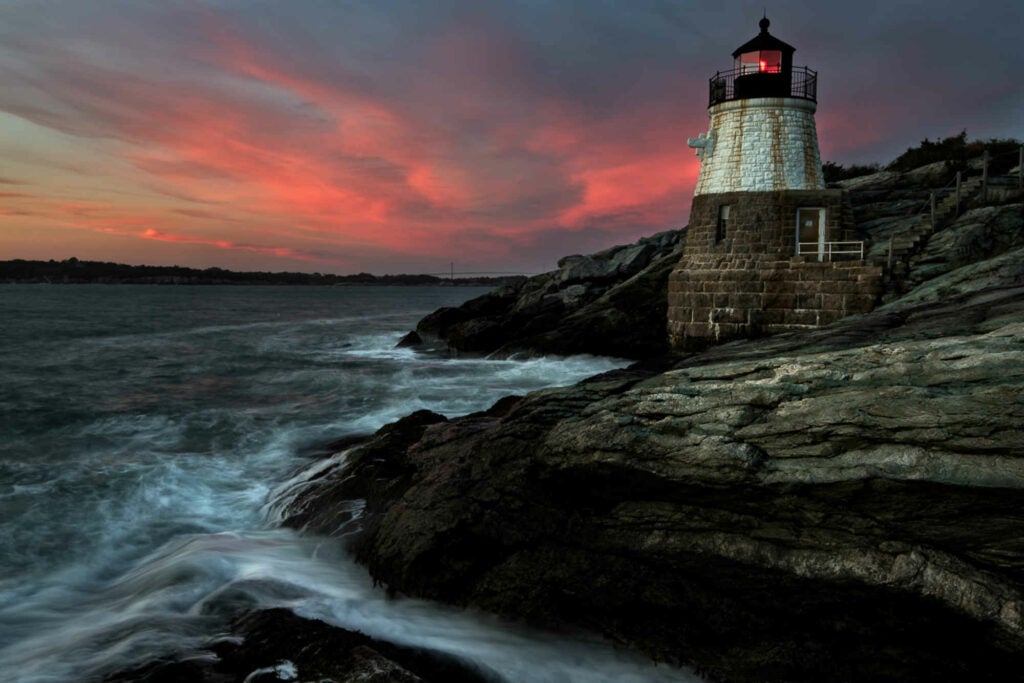 Castle Hill Light
This was taken on a recent trip to Newport Rhode Island. The plan was to be there from sunset through early blue hour evening. For a bout two minutes, the sky lit up into the beautiful tones and hues represented in the photograph. Fortunately my pre scout of the area for preferred compositions paid off when the moment arrived. The image consists of a blend of two RAW files, mostly for water texture effect. Then further processing in lightroom and photoshop.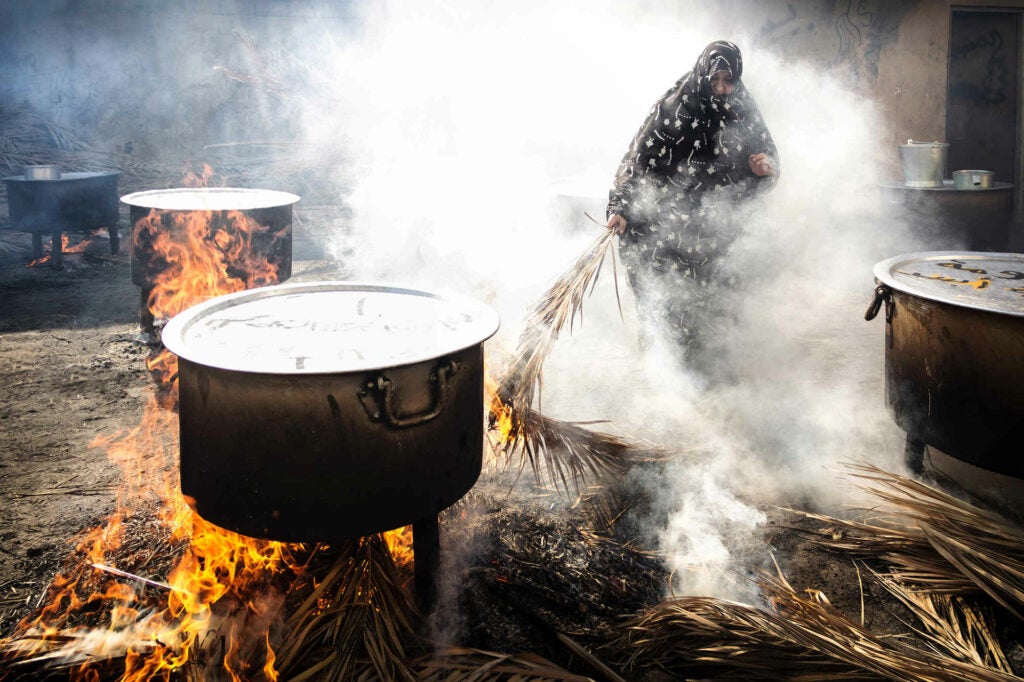 Traditional cooking
Shiite Muslims take part in a ceremony marking Ashura, this act of traditional cooking without gas.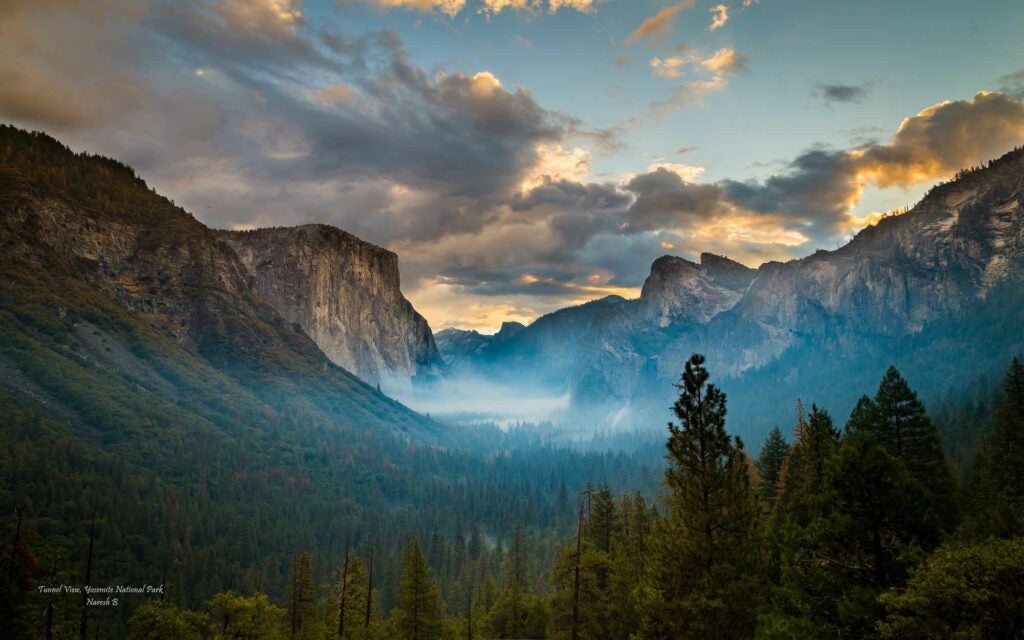 Misty Magic of Yosemite Tunnel View
I planned a trip here based on the weather forecast (70% chance of rain) to get the some interesting perspective of this iconic place. I drove into the park an hour before sunrise and got lost in absolute darkness as this was my first time. Saw prescribed fires on my way (bit scary sight in dark) . Managed to reach there just on time before sunrise. Each time I wanted to pack up from there, I realized that I was not done yet and stood there taking in this view combined with magical weather !!!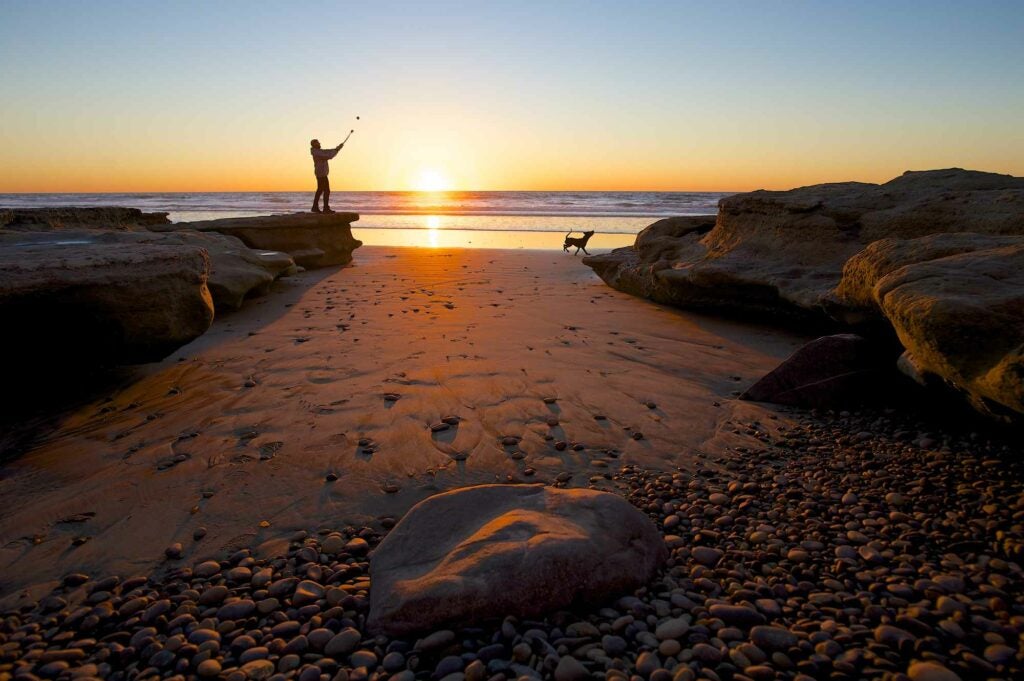 Fetch
I was down at the beach tonight looking for a sunset shot. The tide was out and I found a spot between some exposed rocks that I thought would make a good point of view. But the scene was missing something. Just then a guy showed up playing ball with his dog, and I knew I had the scene I was looking for. The shot was taken hand-held with a Nikon Df equipped with a Nikkor 20mm f/1.8 lens (ISO 200, f/4, shutter speed 1/640 sec.).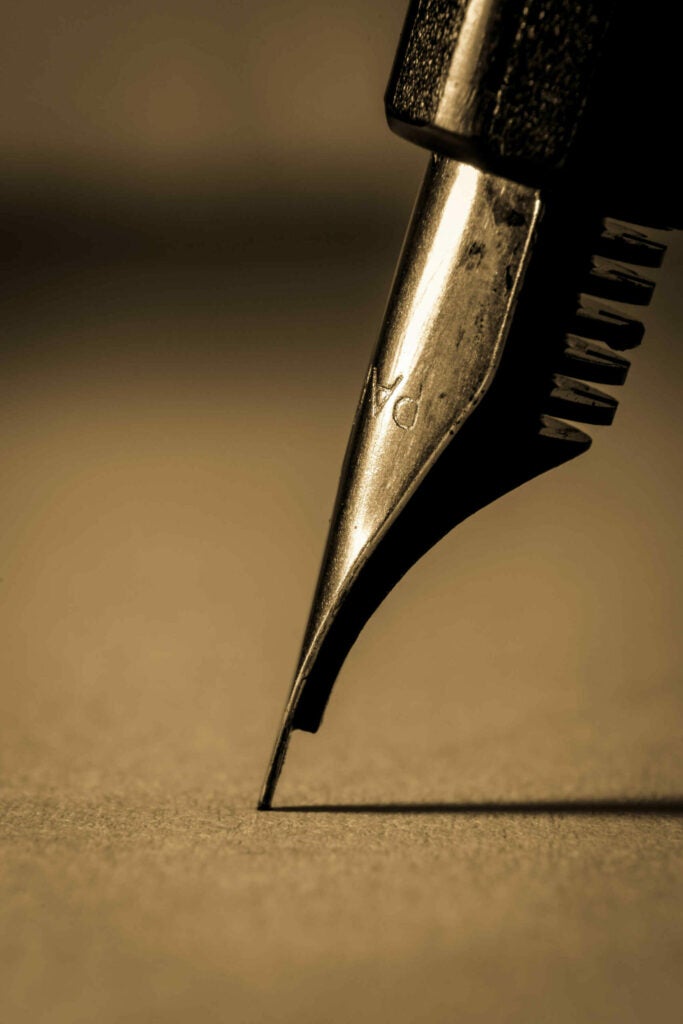 We're all stories in the end …
Memories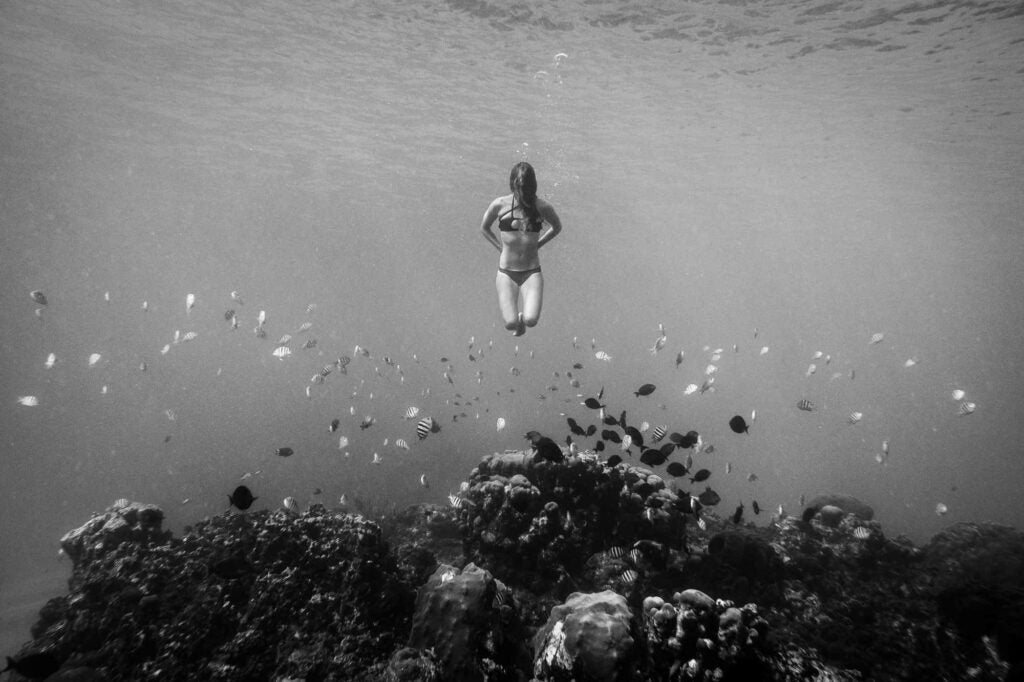 Monochrome Mermaid
Shot in Dominican Republic with Panasonic Lumix GH4 and Olympus M.Zuiko 12-40mm @12mm, 1/200sec at f/7.1, ISO 400 using Aquatech Waterhousing.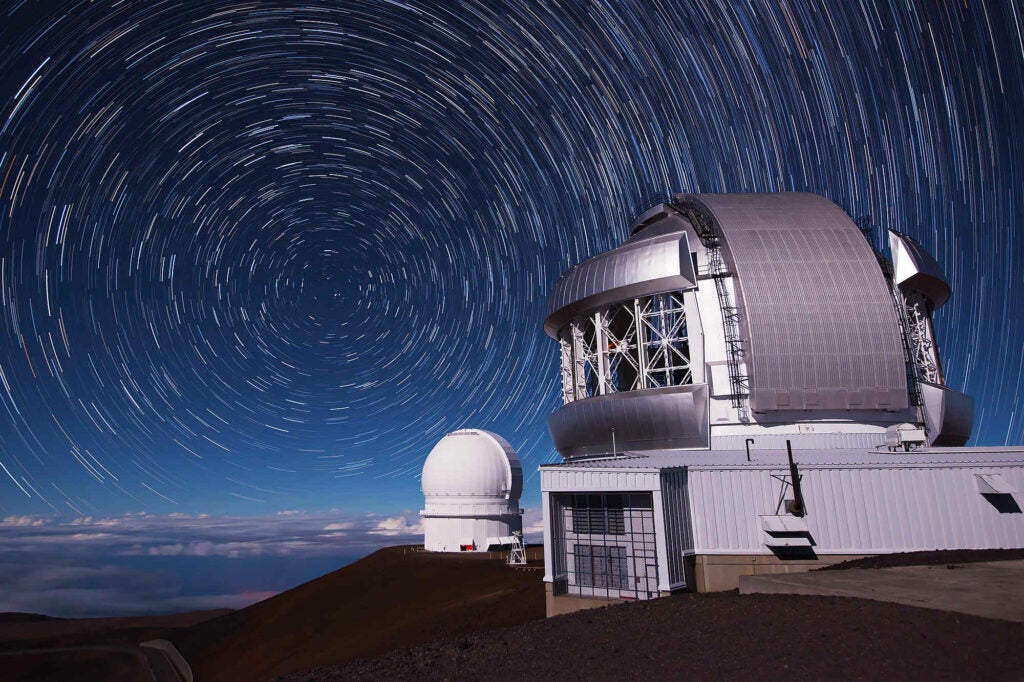 Reaching for the Stars
Telescopes on the summit of Mauna Kea, Hawaii with star trails in the background. The star trail background was created from a 64 individual 30 sec files processed in PS CC. f5.6, 30 seconds, ISO 1600. The foreground was a single exposure shot the same evening and composited into the frame. Also shot at f5.6, 30 seconds, ISO 1600. This scene was shot on a night with a half moon above the horizon illuminating the foreground and clouds. Some minor distracting elements were cloned out. Shot with a Nikon D800 and Nikkor 16-35mm f4. Note this is a copy of the master file. The master image is 7360 x 4912 pixels.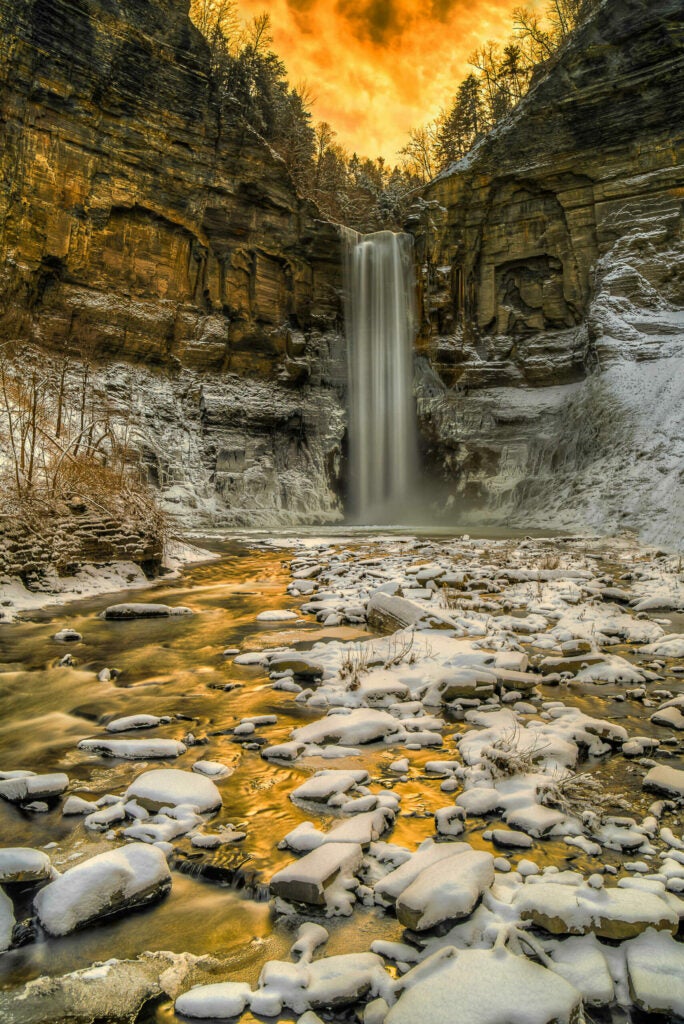 The Basin
Taken last December of Taughanock Falls in Ithaca, NY. I often been there when very little water was falling, but this time was magnificent.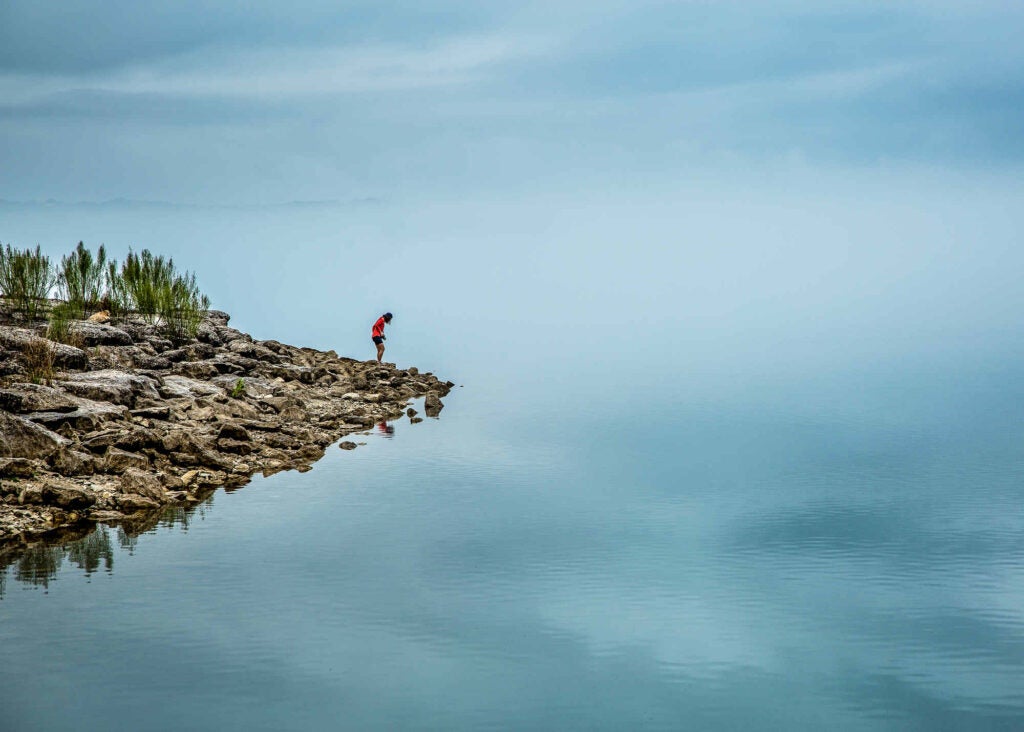 The Edge
A front moving in over a hill country lake brought in some low-laying clouds and created a surreal moment. Canon 5D MIII, Canon L 24-105 I forget the setting and have already transferred raw file to off-site storage. Pulled up red saturation and spot-removed in LR.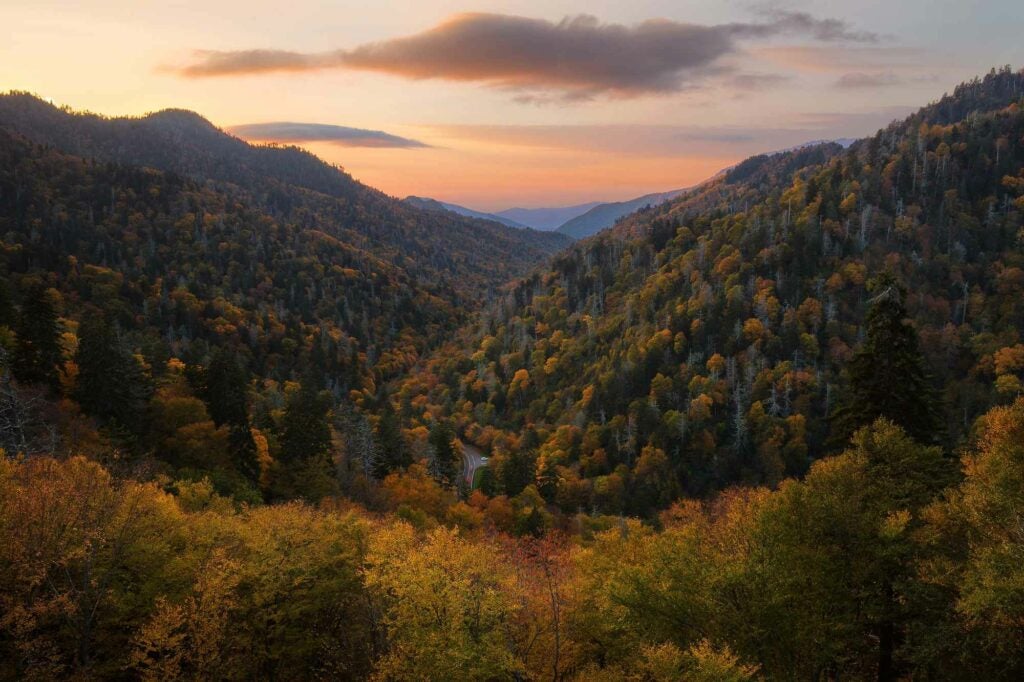 Morton Overlook
Muted sunset color spills over the Great Smoky Mountains, while early fall colors erupt on the high elevation slopes.
Room with a View
I was out shooting winter sunrises when I decided to go into an old abandoned house near the Wildcat Hills in western Nebraska. I like the composition of the sunrise snow scene through the broken window. I set the camera up on the tripod and composed the scene. I exposed for the scene outside and light painted the window frame with my head lamp. Canon 7D, Sigma 10-20 4-5.6, Manfrotto tripod, acratech ballhead, 4 sec, f11, ISO 800, 10mm.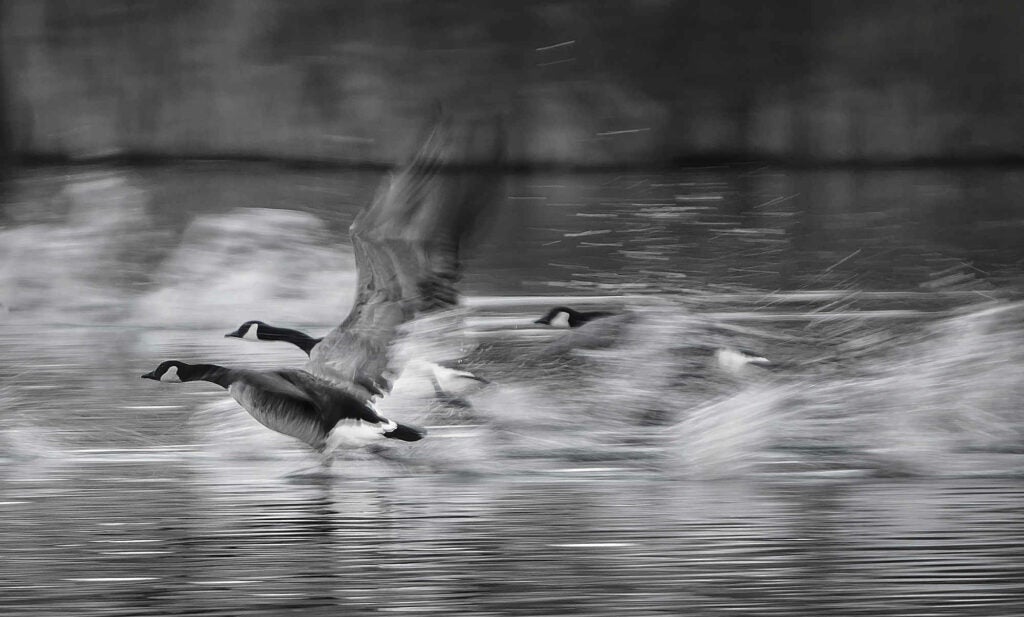 Striving Ahead
Canadian goose captured in Markham,On. Nikon D5000, 70-200mm, f/6.3, 1/40, ISO200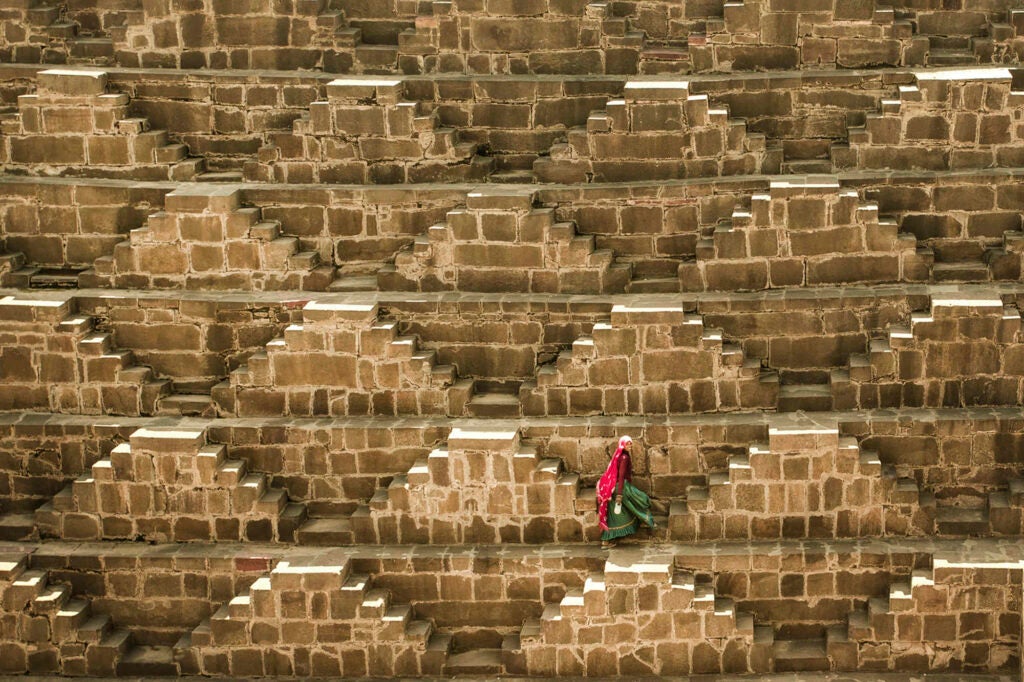 Step
stepwel in Rajastan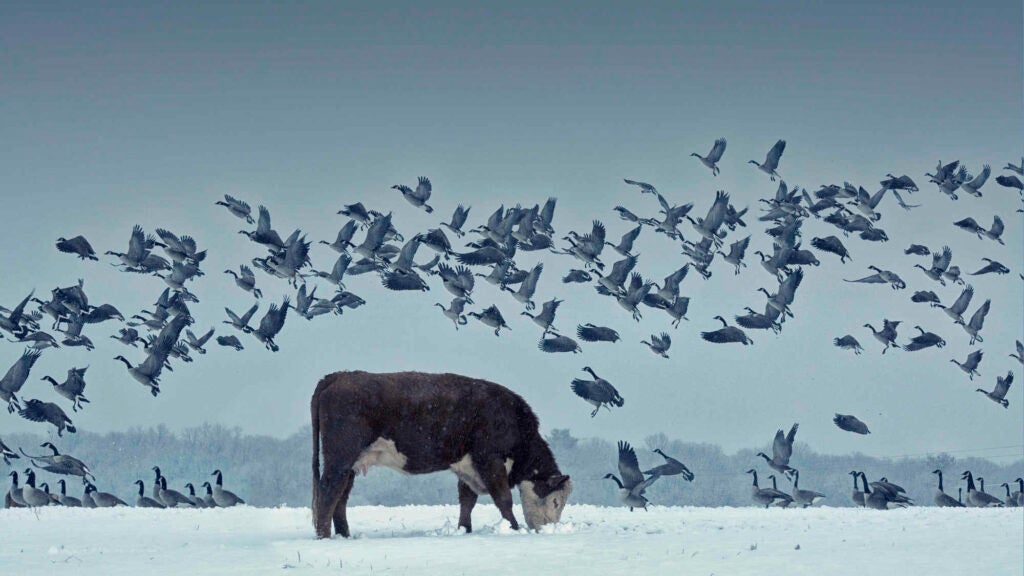 MR
A cow looking for grass under the snow as a flock of geese move out of his way.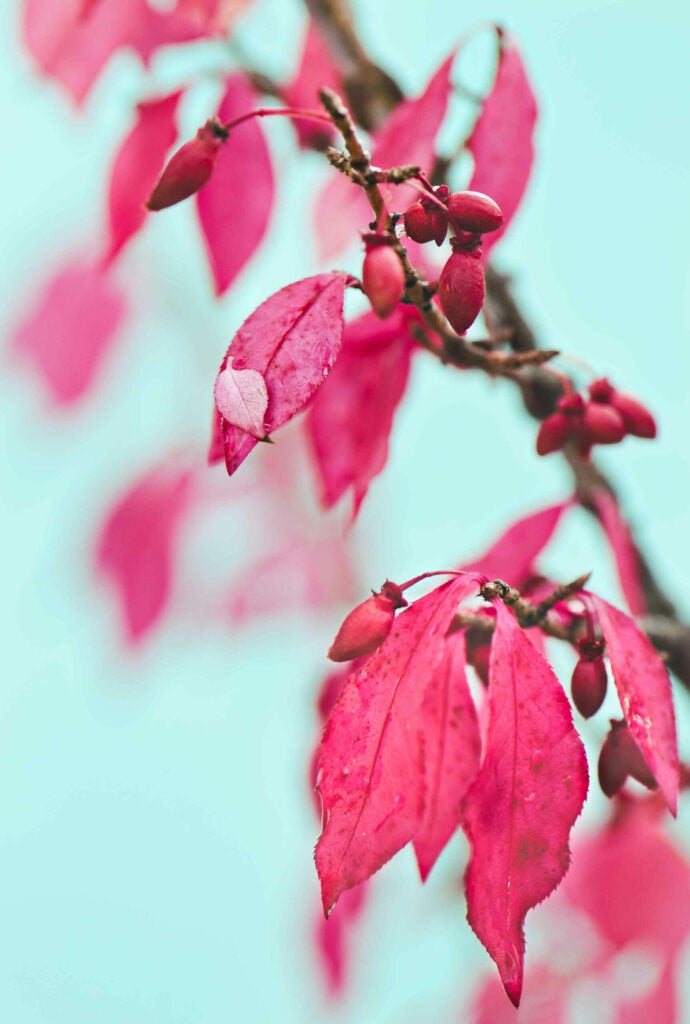 Pink Leaves
This photograph was taken in New Brunswick as fall was coming into play. The leaves on this particular bush turn a bright a pink and then fall to the ground.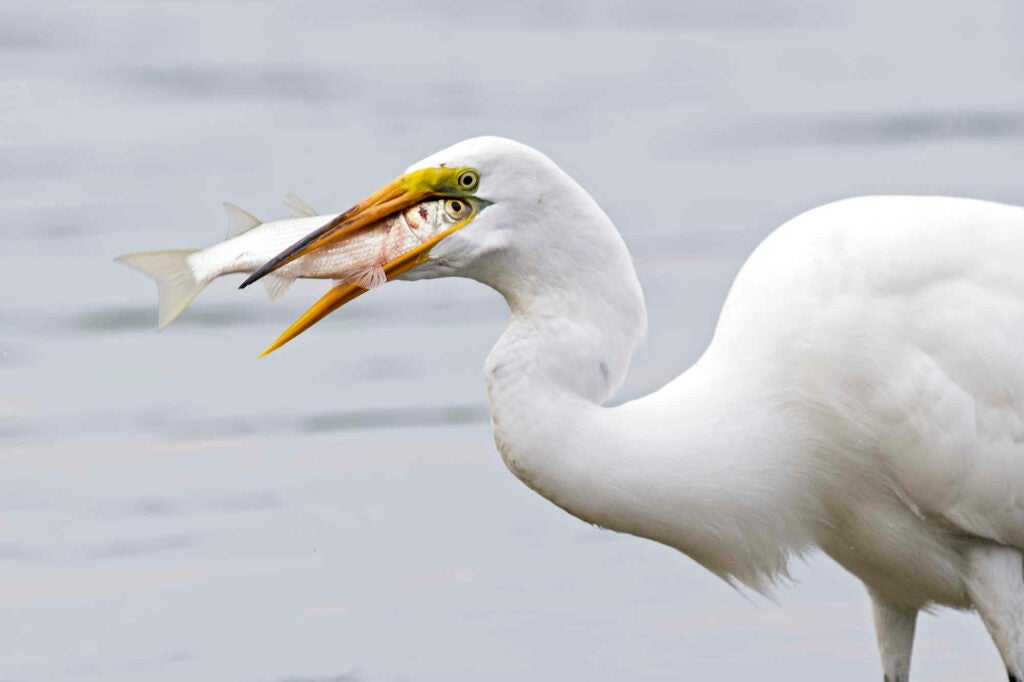 Here's looking at you!
I watched this Great Egret fishing for a while in Little Estero lagoon (Fort Myers Beach, FL). This was by far the biggest fish he caught while I watched, and this was the last shot I grabbed before the fish disappeared.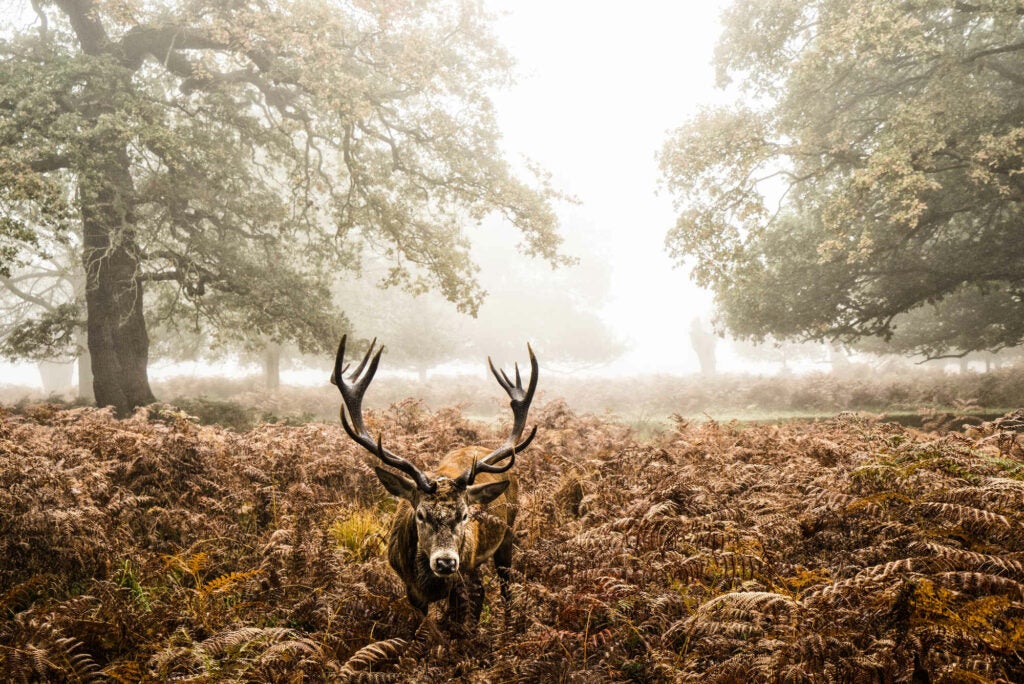 Moody Sunday, Richmond Park
Stag in the mist

Trumpeter Sunrise
As the sun rises over the Comox Valley a flock of Trumpeter Swans make their way to the marshes during their annual winter migration to the B.C coast.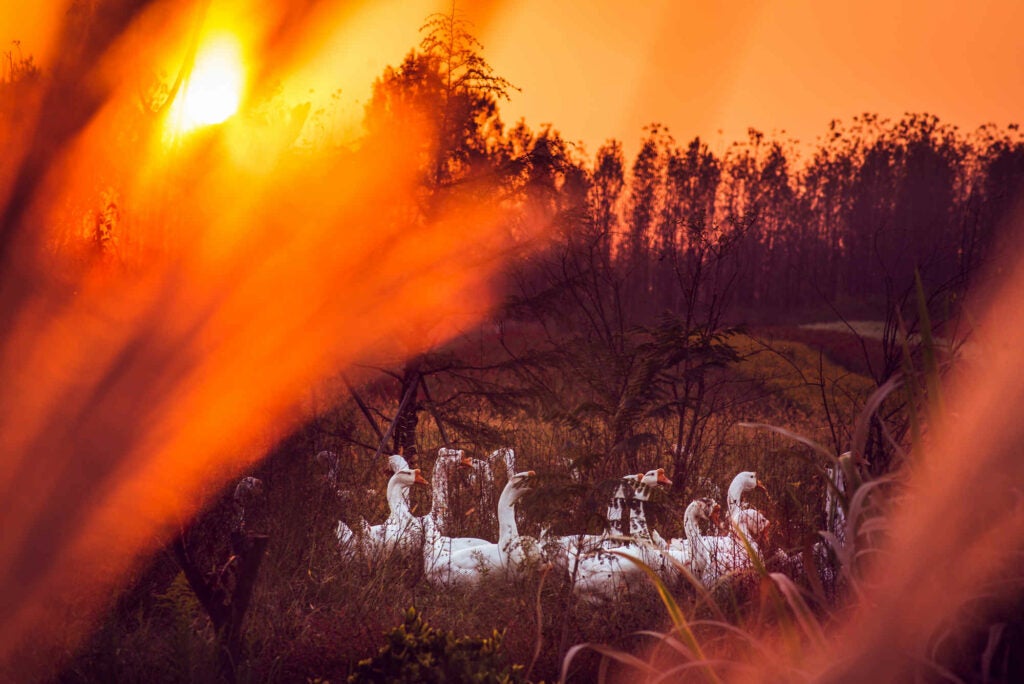 Dusk Homing
Crossing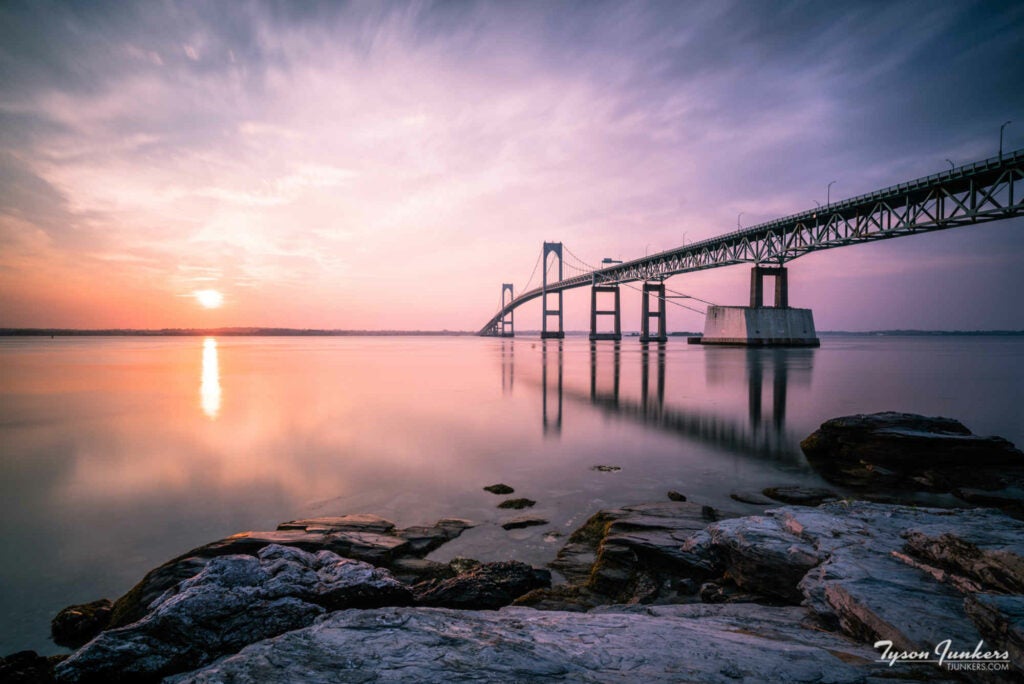 Sunrise over Newport
Newport is an incredible town where everything is asking to be photographed so it was to no surprise that the sunrise was absolutely incredible. I used a sun surveyor app the night before and saw that the sun would be rising right next to the Claiborne Pell Newport Bridge. I had to get up around 4:30 am to get to the right spot on time. It was absolutely beautiful there. Not a single person was up and not a single car was on the road. It was eerily quiet, but once the sun started to rise there could have been a marching band next to me and I probably wouldn't have noticed.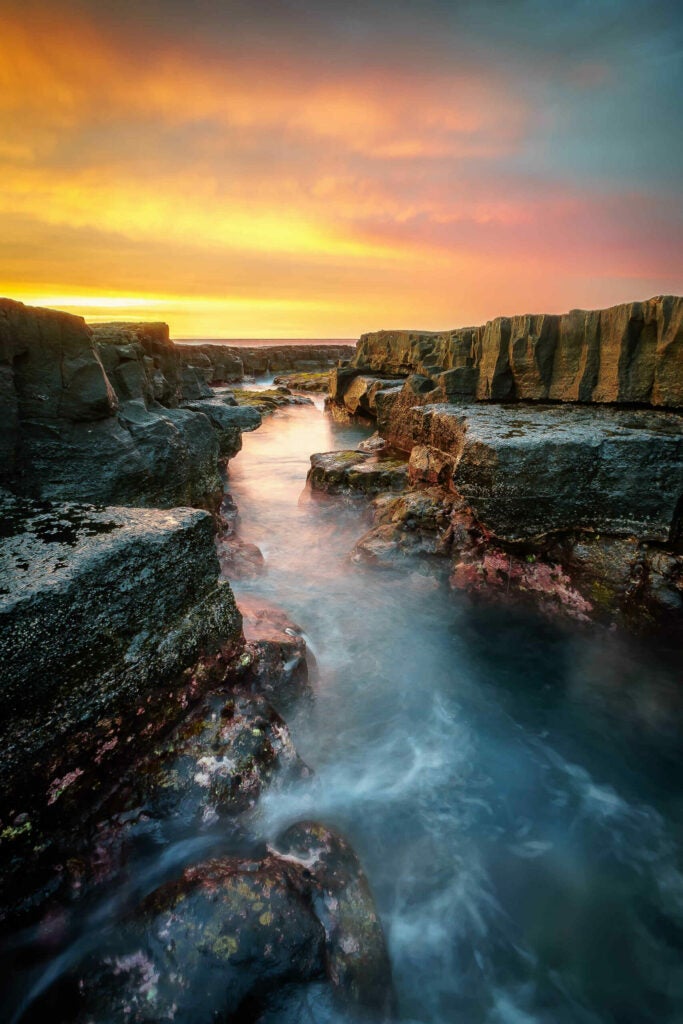 Golden Gorge
I've been trying to nail this shot for a while. On this day the weather was perfect and the clouds lit up. It's such an exhilarating feeling when you have the opportunity to photograph great light. Taken at Pu'uhonua O Honaunau National Historical Park, Hawaii. Sony a7, 16mm, f/22, 3.2 sec, ISO 50. Processed in Lightroom and Nik plugins.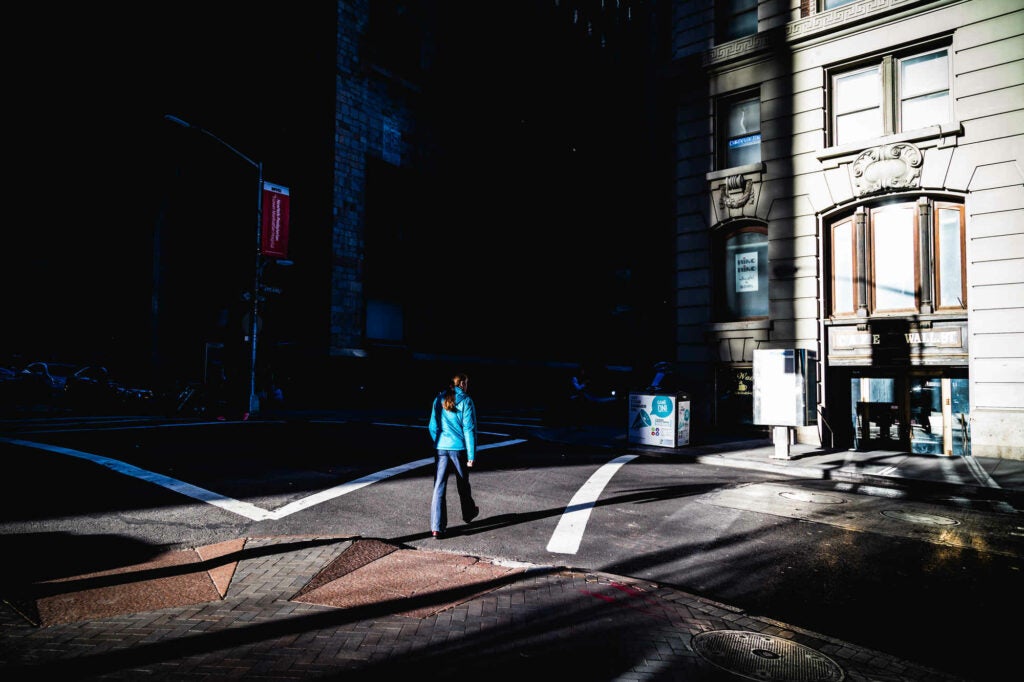 Shadow Chasing
Taken on a canon 6D at 24mm f5.0 1/200 sec
Here at Popular Photography, I think we can safely say that in 2015 we have seen some of the most talent-filled photo contest pools we have ever had. The breadth of the subject matter and the pure talent displayed in the images never ceases to amaze us. As we close out this year, it has been getting tougher and tougher to narrow down these giant pools to groups of finalists. This month's collection includes an abundance of great nature photos, as well as a few portraits and some great abstract work as well.
If you're feeling inspired after seeing all those great images, head on over to our Contests Page for your chance to show off your own work and win great prizes.