Your Best Shot Finalist Gallery: July 2015
The best reader-submitted photos of the month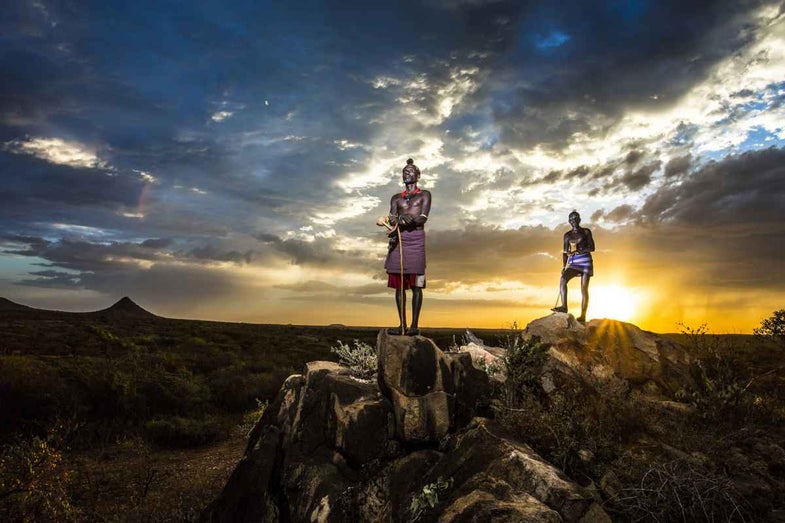 The Crossing
A bison mother and her calf begin crossing the Yellowstone River In Yellowstone National Park.
Contrast
Using a large piece of cardboard as a light modifier, and exposing only for the highlights, this portrait was shot with light from the low afternoon sun to mimic the blinds of a window.
Observer
Two Hamer tribe shepherdes observing the Omo valley.
Soaring
Summer camp at UCYC in Prescott, Arizona. These boys were riding The 'Screamer'.
The Farmer
An environmental portrait of the local farmer captured in Puskhar, India.
Condensation Abstract
I took this photo inside of my house recently. Last winter we covered our windows with plastic sheeting and left some covered this Summer. These bubbles were formed from the cool air inside the home and the hot air outside. the colors came from the sky, trees and grass outside as well as some reflections from items inside the house. I merely had to enhance the colors a little bit, other than that they are original. Thanks for looking, Mike.
Ignite
I captured this image while experimenting with matches. I really enjoy taking a subject and trying out different ways to capture the image I have envisioned. I used the Nikkor 105mm F2.8 Macro Lens with Nikon's 2x Teleconverter. Post processing was done In Adobe Lightroom. ISO 1600 | 210mm | F32 | 1/400sec
Lake Tahoe Sunset
The sun going to sleep on the shores of North Lake Tahoe On The 4th Of July, 2015. Tahoe City, CA.
Surfin' Away
Surfin away. Mar Del Plata Beach, Argentina.
Heimat
Sea is blocking the way to home (the mountains)
Painted Hills Abstract
Painted Hills, located In Wheeler County, OR, is an area named after the colorful layers of its hills corresponding to various geological eras, formed when the area was an ancient river floodplain. The colors can vary depending on time of day, weather and season. I made minor adjustments in Camera RAW And Photoshop.
Blueberry Picking
This was taken during a beautiful July morning while blueberry picking. This was my 4yr old daughters first time going. I captured her final product which was a basket full of proudly picked blueberries. This was taken with a cannon 6D and edited In Lightroom to add a little contrast.
Relaxation
Lounging in the waters of Ho'okipa, Maui
Elvis Depressedly
Taken at Elvis Depressedly's Show At Chain Reaction in Anaheim, CA. The most dramatic image from that night. Likewise, probably my personal favorite from the month overall. -July 1, 15 shot with a Canon 7D W/ An 18-55mm 1/125 F/3.5 Iso 1600
Summer Nights
A well deserved beer after a hard day of hiking.
The Grace of Wild Things
While shooting sunrise at Bowman Lake In Glacier National Park I was fraced with this meandering doe. What a compliment to the scenery! I scrambled frantically to change the settings on my camera to capture the movement and was able to grab a solitary shot before the moment was gone forever. Sony A6000, 18-55, Intelligent Auto Mode
Vegas!
Rented a Nikon D810 and a Zeiss Otus 1.4/55mm and headed to Las Vegas Boulevard at night. Never had so much fun with a camera! These guys were rocking it, pretty badly I must say due to their intoxication level, On a pedestrian overpass. When I showed them the photo, the one on the left said "Wow, I didn't know we looked that good!" LoL
Fire In Ice
Inspired by some hot peppers a co-worker gave me recently. After eating one of those peppers I was badly wanting some ice to cool the burn. That is when I got the idea for this photo.
Tangled Poetry Lost in Ruins
The silhouette of a young woman fills the frame of a door in an abandoned building.
Buzz Buzz Buzz
A busy bee visiting my trumpet flowers
Another World Inches Away
During a 4am photo expedition in Yellowstone, my cousin and I got to explore a small hot spring. This photo was taken by the stream as the spiderwebs and dew bounced off the reeds.
By Mallards
My family spends a week on Manitoulin Island every summer. It's the largest fresh water island in the world, located on Lake Huron. I take about 600-700 pictures each visit. This is my all time Favourite.
Bambi
Taken in early July. I saw it as I was Cchasing an oriole to get Its picture. I didn't get the oriole, but I did get something better.
Backflip
Nikon D4 80-200mm F2.8 AF-S 1/2000 F4 ISO 1600 I Had Been Watching These Two Go At It For Several Minutes, And I Anticipated When The Next Attack Was Going To Occur
Among the Blossoms
This beautiful little chickadee happened to cross my way as I was photographing the newly-blossomed, petite flowers of my cherry tree. It posed just long enough for me to snap a quick picture before darting away. Spring brings many surprises! Taken with a Canon PowerShot SX40 HS.
Camouflage
Ambush is the tigers key to success when it comes to hunting. Patiently and stealthily It can blend its orange and black coat with the high grass surrounding It. Like a ghost It sits camouflaged waiting for the unlucky prey to go Bby… Once close enough, it strikes with no mercy.
Rhubarb
This is another image from a project I am doing on lethal toxins found naturally in plants. Rhubarb is a vegetable that contains high levels of oxalic acid concentrated in it's leaves. It has been suggested that an additional unknown substance is another contributor to it's toxicity.
Stacked
Canoes stacked along a lake.
Touch The Clouds
Sunset over La Jolla's Hospitals Reef while a wave reaches up to touch the clouds.
Mossy Sunrise
I Took This Photo On A Secret Beach In Mathews County, Virginia, Looking Out On The Chesapeake Bay. The Glowing Moss Caught My Eye And I Thought It Would Make A Great Subject As It Extended Out Into The Depths Of The Bay. Location: Mathews County, VA Camera: Sony A6000 Mirrorless Interchangeable-Lens Camera (ILCE-6000) Lens: E PZ 16-50mm F3.5-5.6 OSS E-Mount Power Zoom Lens Focal Length: 28mm Shutter Speed: 1/3 Second Aperture: F/22 ISO: 100
Colors
The Campbell Apartment in Grand Central Terminal, NYC.
Every month we ask our talented readers to submit their best recent work and every month it takes me longer than I think it will to sort through the entries because there are so many great frames. This month's collection has a nice mixture of portraits, landscapes, and lots of nature shots as you might expect from a summer contest.
If you click through the gallery and you're starting to feel inspired, you can throw your own photographic hat into the ring by visiting our Contests Page.
Enjoy the photos and please, by all means, keep making the selection process tougher every month. It's the best problem we could possibly ask for!