I, Photographer: Aerial Shooter
Dave Tunge documents work sites and landscapes from high above
Why aerial photography?
I've been involved in aviation for more than 40 years, from flight instruction to charter to corporate flying. I always carried a camera, mostly a point- and-shoot, and took pictures from the air. When I was 60, I decided to get quality equipment and start working on it more seriously to make it into a paying hobby, and now it's turned into a business.
How did you build your business?
It was difficult at first to get things going, but the first job I got in Sioux City, Iowa, was referred to me by another Professional Aerial Photographers Association member. While I was there, I shot a number of images of colleges and businesses on spec—whatever I thought might sell. I printed some photos and sold almost all of them. It was one of the most profitable trips I've ever made. I've donated some prints to auctions, which helps me get the word out.
What subjects do you shoot?
I do construction progress, going up every month to document the progress of projects. I also do a lot of residential and commercial development work and images of company headquarters, plus some art prints for lobbies of corporate buildings. And I also shoot for educational and government agencies, universities, architects, and legal work for things like boundary disputes.
Tell us about your plane.
I fly a Piper PA-18 Super Cub, which is one of the best platforms for aerial photography, because it's capable of very slow flight and the door is like a clamshell, so it opens the whole side of the airplane up for unobstructed views. I work alone—I fly and shoot at the same time, which is an area of controversy among aerial photographers. But in a rural setting, flying and shooting doesn't present any problem—I have enough experience that flying is second nature, and when I look at the subject and frame it out of the open door, it takes less time and distraction than it does to look at a work chart.
What time of day do you usually fly?
I like to shoot early morning and evening for the prettiest shots. But for construction progress, for example, they're looking at the photos more for information than for aesthetics, and midday and a little overcast works the best to eliminate the shadows so nothing covers up any of the worksite.
What gear do you use?
The Canon EOS-1Ds Mark II is still one of my favorite cameras; I also use an EOS 5D Mark II, which is capable of really nice enlargements. I use two lenses: 24–70mm and 70–200mm f/2.8L.
Any tips for shooting from the air?
Use a fast shutter speed, because the aircraft is moving and there may be turbulence and vibration— you want to shoot a minimum of 1/500 sec. You also don't want any part of your upper torso touching the plane: Your arms make pretty good stabilizers, but if you lean back against the seat, that vibration transfers to the camera. Shoot with a low ISO—the max is about 400—and, if possible, avoid shooting through the window to eliminate reflections or smudges.
What do you like most about what you do?
Sharing shots with people. They would otherwise never get to see things like this—it is a very unique perspective.

Abandoned Dreams
Abandoned farmplace in Eastern South Dakota on a cold winter day.
After the Storm
This is a my hometown of Yankton, SD after a passing storm. The image is a stitched panorama of 4 images.

Antelope
While running the herd buck always brings up the rear. Taken in Western South Dakota.
Arctic Queen
A polar bear Mama with cubs shot on the shore of Hudson Bay near Churchill, MB.
Augie 1st Game
Augustana College's first game in their new Kirkeby-Over Stadium.

Cowmazing
A favorite of mine. Captured this cow wandering haplessly in the mud of a drying lake bed in northern SD.

Crazy Horse
A monument to Chief Crazy Horse carved in a mountainside in the Black Hills of SD.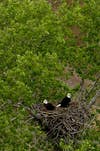 Eagle Nest
Nesting eagles in a cottonwood tree on the banks of the Missouri River.

Flying with Angels
A full circle rainbow ( called a Glory) is only seen in the air. It is a photo of my own shadow. This phenomenon occurs with backlighting from the sun and sufficient moisture in the air to produce the rainbow.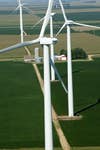 Growing Energy
Close up shot of part of a wind farm in Iowa dwarfing the farmplace in the background.

Mount Rushmore
This gallery wouldn't be complete without this classic image from the Black Hills of SD.

Nature's Picasso
Another favorite. Farming practices on the SD-MT border led to this artistic creation by the farmer.

Quiet Flight
An up close and personal view of my friends morning balloon flight.

Sunset Run
Burlington Northern train catching the last light of the day.

Wheat Harvest
Western SD wheat harvest done quickly with three John Deere's.

Wind Generator
Workers servicing a Nebraska wind turbine 400 ft. in the air.