Try Out This Tool That Automatically Colorizes Black-And-White Photos
An interesting automated tool adds color to monochromatic photos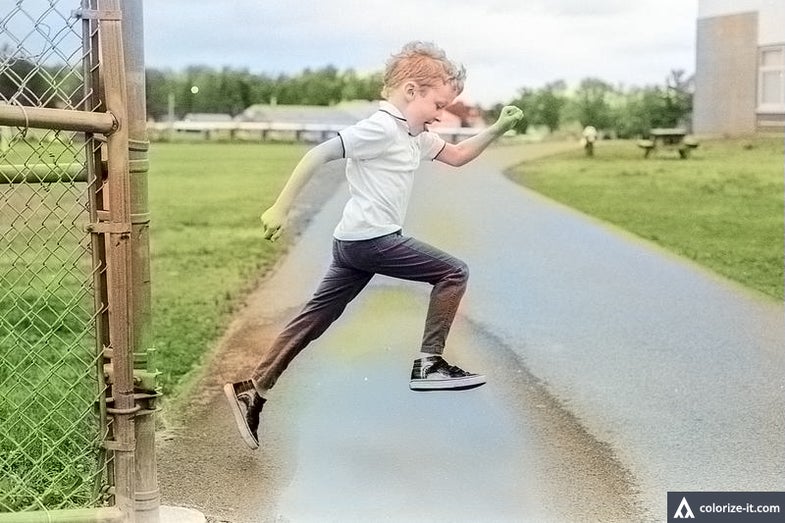 A while back, I wrote about a technology that would try to automatically guess the appropriate colors for black-and-white images using algorithms. Now, there's a demo site online from Algorithmia that lets users try the colorization process on their own photos.
I have spent some time this morning messing around with the technology and it's obviously far from perfect, but is totally capable of putting up some surprising results.


This example was actually shot on Tri-X black-and-white film so there was never color involved with the photo to begin with. The color is applied with rough borders, but it seems to recognize the grass and the skin tone. It left the shirt white, which it was in person. The most impressive part of this image to me is the water, which got a rather subtle tint.
The lead image in the article (at the top of the page) is from a wedding a shot with a tricky white balance situation. The shirt was various shades of tan and the light was coming from a flash bounced off of a yellowish wall. The algorithm was thrown a bit and things look rather wacky, but I expected it to get the color completely wrong.



The final example might actually be the least impressive. It got the trees and the rocks, but seems to have totally missed the person in the bottom right corner.
It will be interesting to see how good tech like this can get going forward. It's also a good way to spend a Friday afternoon at work when everyone else has sort of checked out.