Traveling Photographer: Soulful Sedona
Arizona offers more than one grand canyon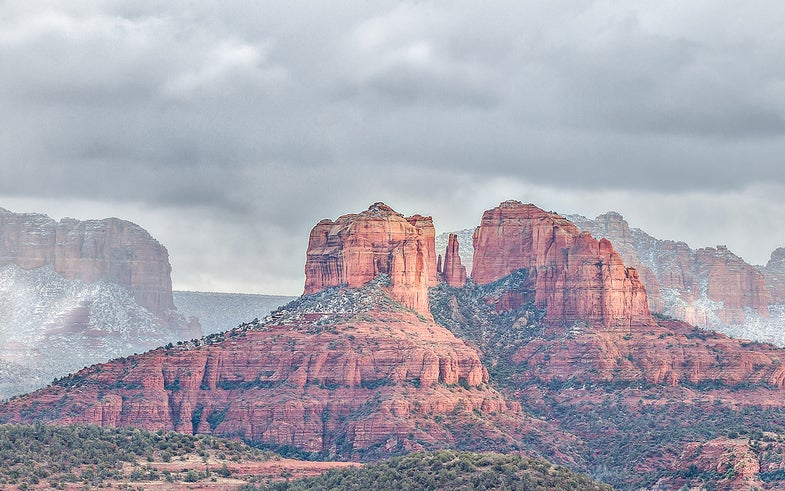 "My first impression of Sedona was that it looked like a movie set," says Arizona-based photographer Valerie Millett. She first visited the area 15 years ago and was so hooked by the landscape's beauty that she decided to move there.
Millett's favorite Sedona hike is the West Fork Trail along the westerly fork of Oak Creek. The maintained section meanders waterside for about 3.2 miles to a narrow slot canyon known locally as the "subway" area. "I like to enter the trail before dawn so that I can catch the first warming rays of sun as they set the sandstone canyon walls aglow," she says. "You'll find lush hanging gardens, weeping walls, and beautiful patterns, colors, and textures in the canyon varnish."
Slide Rock State Park, where Oak Creek glides over the naturally created slick rock chutes, is another of her favorite stops, but it's a popular swimming hole and crowded at times, so again Millett suggests choosing an earlier hike. "The natural slides and rock formations are great to catch when the beautiful morning light bounces off the canyon walls," she says.
Sedona's buttes offer great sunset shooting opportunities. "The best might be the Cathedral Rock from Red Rock Crossing," she says. "Cathedral Rock is incredibly stunning as the sun sets and casts a fiery red glow onto it." Another favorite: Schnebly Hill Vista. This 6,000-foot vantage point, which requires a high-clearance, 4×4 vehicle to access, offers Verde Valley and Sedona views. For a more adventurous hike, try the Wet Beaver Wilderness Area. "Hiking along the Bell Trail has some of the most beautiful red rock formations, large pooled creek areas, and dense forest canopies in the region," says Millett.
More Sedona
Arizona's Verde Valley, home to the city of Sedona and the Coconino National Forest area, is brimming with interesting historical and natural sites. Here are five photogenic favorites, from north to south:
●Pink Jeep Tours 204 North State Route 89A, Sedona. It's hard to swing a bag of crystals in Sedona without hitting a Pink Jeep. They're a great way to explore off-road sites. Eight themed excursions include custom photo tours. (Bring the crystals.)
●Red Rock Balloon Adventures 105 Canyon Diablo Rd. Your Flickr pals will turn green with envy over your views of red rocks shot from a hot air balloon. Flights begin with a predawn inflation and finish with a commemorative picnic. Up, up, and away.
●Jerome, Arizona About 28 miles Southwest of Sedona on SR 89A. Jerome bills itself as the "Largest Ghost Town in America." A mecca for artists of all kinds, this nearly vertical village—"one mile high with a 50-mile view"—will require a lot of memory cards.
●V Bar V Heritage Site 2.8 miles east of the junction of I-17 and SR 179. The largest and best-preserved such site in the Verde Valley, it contains 1,032 photo-worthy petroglyphs.
●Montezuma Castle National Monument SR 179 S and I-17 S to W. Middle Verde Rd. One of America's first national historic sites, it offers a large, photogenic pueblo lodge carved out of a mountain. Open daily.