Traveling Photographer: Bermuda
Find picture-perfect scenery in Bermuda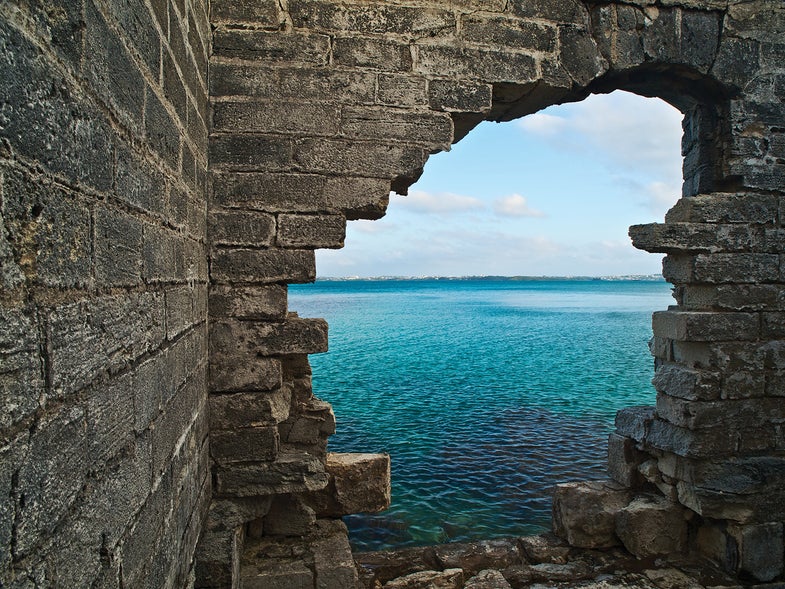 "Bermuda is one of the smallest countries in the world but probably one of the most photographed by area," says photographer and lifelong resident Gavin Howarth. "Beauty is all around." Start your tour by hopping a local bus (no rental cars in Bermuda) and take the #7 that travels along South Road on the South Shore, home to pink-sand beaches. "Get off at Warwick Long Bay and walk along the various coves to Horseshoe Bay, our most famous beach," Howarth says. "You will pass by small, sheltered Jobson's Cove. The next few beaches, Stonehole Bay Beach and Chaplin Bay Beach, are often overlooked and both have beautiful, natural rock formations jutting out into the ocean." Pathways connect all of the beaches.
Another of Howarth's favorite stops? Devonshire Bay in Devonshire Parish. "It reminds me a lot of the Bermuda from the past—a very quiet neighborhood with a small park and lots of character," he says. "The park is on a peninsula that allows you to look for miles in either direction along the coast." It's also home to a small active fishing fleet.
St. George, formerly the capital of the island, is a real treat for architectural shooters and history buffs. Howarth suggests starting at King's Square, where you can visit the historic Town Hall and stroll to nearby Ordinance Island. "Heading along the main street, Water Street, you quickly appreciate the beauty of this small town, now a World Heritage site," he says. Turning up Duke of York Street will lead you to the pretty St. Peter's Church—a Bermuda icon and the oldest Anglican church in continuous use outside the British Isles.
Then you can walk to Cooper's Island, once part of a U.S. military base. "It's a protected sanctuary and often you'll be the only one there."
Beyond the Beach Only 21 miles long and less than 2 miles across at its widest, Bermuda has many pretty places and fun things to do. Here are a handful of options.
•Bermuda Railway Trail National Park Runs 18 miles from end to end. Hike or bike this the path where trains used to run from 1931 to 1948. The footing is a bit rough in places and the trail not unbroken (you'll cross some busy roads), but you'll find views of Bermuda that tourists rarely see. The trail is divided into nine 1- to 4-mile sections. Pick up a trail map at the Visitors' Service Bureau in either Hamilton or St. George.
•Crystal and Fantasy Caves Wilkinson Avenue in Hamilton Parish; bus #1, 3, 10, or 11 Two of Bermuda's most spectacular and accessible limestone caves. Walk a boardwalk over a 55-foot deep crystal-clear lake. Open 9 a.m. to 5 p.m., guided tours run every 20 minutes (last tour at 4:30 p.m.). Phone: (441) 293-0640
•Hartley's Undersea Walk Heritage Wharf, in Dockyard These helmet dives are held in 8–10 feet of water less than 2 miles from shore. Trips last 3–4 hours with 30–40 minutes submerged. Bring a waterproof camera or housing, and a towel; wetsuits are provided. Boats depart at 9 a.m. and 1:30 p.m. Phone: (866) 836-3989
•Heydon Trust Bermuda Park and Chapel 16 Heydon Drive, off Somerset Road, Sandys; bus #7 or 8 Bermuda has many lovely churches, but this is the smallest and one of the oldest, from the early 1600s. The chapel (and other historic buildings) is set on 43 acres of gardens and orchards with views of Heydon's Bay. The chapel is open 8 a.m. to 4 p.m.; grounds, dawn to dusk. Phone: (441) 234-1831
•Gibbs Hill Lighthouse Bus #7 or 8 from Hamilton This 117-foot tower (the light perches 362 feet above the sea) was first lit in 1846; ships can see its beam from 40 miles away. Climb the 185 steps to an open-air platform with panoramic views. Monday to Saturday, 9:30 a.m. to 4:30 p.m.; Sundays and holidays, 10:00 a.m. to 4:30 p.m. Phone: (441) 238-8069