Traveling Photographer: Atlanta
In Spring, Atlanta opens up and comes alive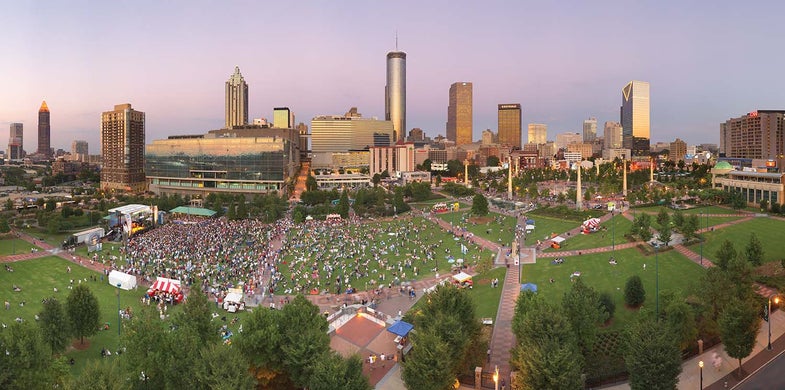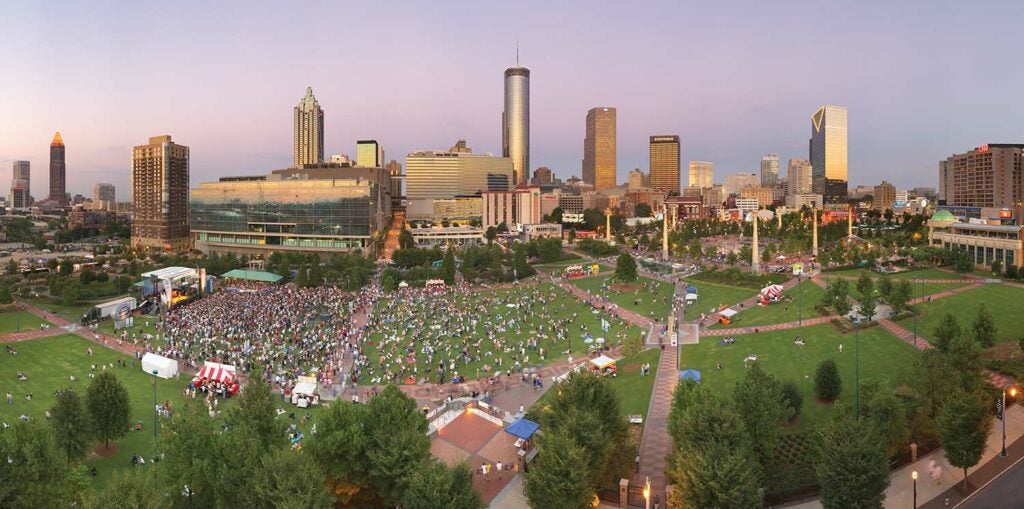 PARK PANO
Scott Robertson took this shot of Centennial Park with a Nikon D1X and a Nikon AF-S 17–35mm f/2.8D IF-ED Nikkor at 35mm. He made the panorama by merging three rows of 13 images, each image bracketed at –1, 0 and +1 stops for a total of 117 images.
"One thing that I really like about Atlanta is how green and verdant it is," says photographer and lifelong resident Scott Robertson (slrobertson.com). "Atlanta has flowering trees that are beautiful in the spring, including dogwoods, crepe myrtles, tulip poplars, and cherry and Bradford pear trees."
Robertson's favorite place to shoot the spring display is the Atlanta Botanical Garden (atlantabg.org). "It's located in a corner of Piedmont Park in the Midtown Atlanta area and it's a great place to relax, wander, and shoot landscapes, botanical and floral macro shots, water features, and more," he says. A favorite stop: the Levy Parterre formal boxwood garden and its Dale Chihuly glass sculpture atop a fountain.
Centennial Olympic Park in downtown Atlanta, created as a gathering spot for visitors to the 1996 Olympic Games, is a good bet for interesting city views. "The park offers the downtown skyline, including the new Atlanta SkyView Ferris wheel at the south end of the park," he says. The north end is home to several museums, including the Georgia Aquarium, the World of Coca- Cola, and the new Center for Civil and Human Rights Museum. The Fountain of Rings show, synched to music and colorful lighting, runs four times a day, 365 days a year (12:30, 3:30, 6:30, and 9 p.m.).
Lake Clara Meer at the heart of Piedmont Park in Midtown Atlanta offers great views of the skyline. "My favorite vantage point is standing on the eastern shore of the lake looking west toward the Dockside visitor center," says Robertson. "Shoot at dawn on a still morning and you'll be rewarded with beautiful reflections."
Midtown is also a good neighborhood for architectural shots. Among Robertson's favorites: the High Museum of Art, the Fox Theater, and the neon-lit Majestic Diner. "My favorite time to shoot there is in the evening golden hour and on into the night," he says.
FLOWER POWER…PLUS ATLANTA IS A SPRAWLING CITY WITH LOTS OF FUN PLACES AND EVENTS TO EXPLORE:
•ATLANTA HISTORY CENTER, 130 WEST PACES FERRY ROAD NW, BUCKHEAD A one-stop collection of museums, it's set on 33 acres with highlights including the 1928 Swan House mansion and the 1860s Smith Family Farm—a working farm peopled by costumed characters— and the 22-acre Goizueta Gardens (azaleas should be stunning this month). Open daily. INFO: (404) 814–4000; atlantahistorycenter.com
•GEORGIA AQUARIUM, 225 BAKER STREET NW The largest aquarium in the hemisphere offers marine habitats like Ocean Voyager: with a 100-foot, glass-walled, walk-through tunnel and 6.3 million-gallon tank with whale sharks. Open 365 days a year. INFO: (404) 581–4000; georgiaaquarium.org
•OAKLAND CEMETERY, 248 OAKLAND AVE SE "A magnificent sculpture garden, botanical garden, flourishing wildlife habitat, and public park," this 88-acre cemetery is too enticing to resist—at least on a temporary basis. Open 365 days a year; free. INFO: (404) 688–2107
•SOUTHEASTERN RAILWAY MUSEUM, 3595 BUFORD HWY, DULUTH Exploring this 35-acre indoor/outdoor museum in Duluth will get your photo engine steaming. Explore a restored 1871 passenger depot and more than 90 items of historic rolling stock, including the 1911 Pullman private car Superb used by President Warren G. Harding. Hours: 10 a.m. to 5 p.m., Wednesday to Saturday. INFO: (770) 476–2013; srmduluth.org
•ATLANTA DOGWOOD FESTIVAL, PIEDMONT PARK, APRIL 8–10 Celebrate spring at a three-day art festival featuring more than 250 artists and craftspeople showing their wares. The glorious dogwoods will keep you (and your camera) busy for hours. INFO: (404) 817–6642; dogwood.org