Tamron SP 90mm f/2.8 Di Macro VC USD AF Lens Review
The perfect 90mm for Macro & Portrait shooting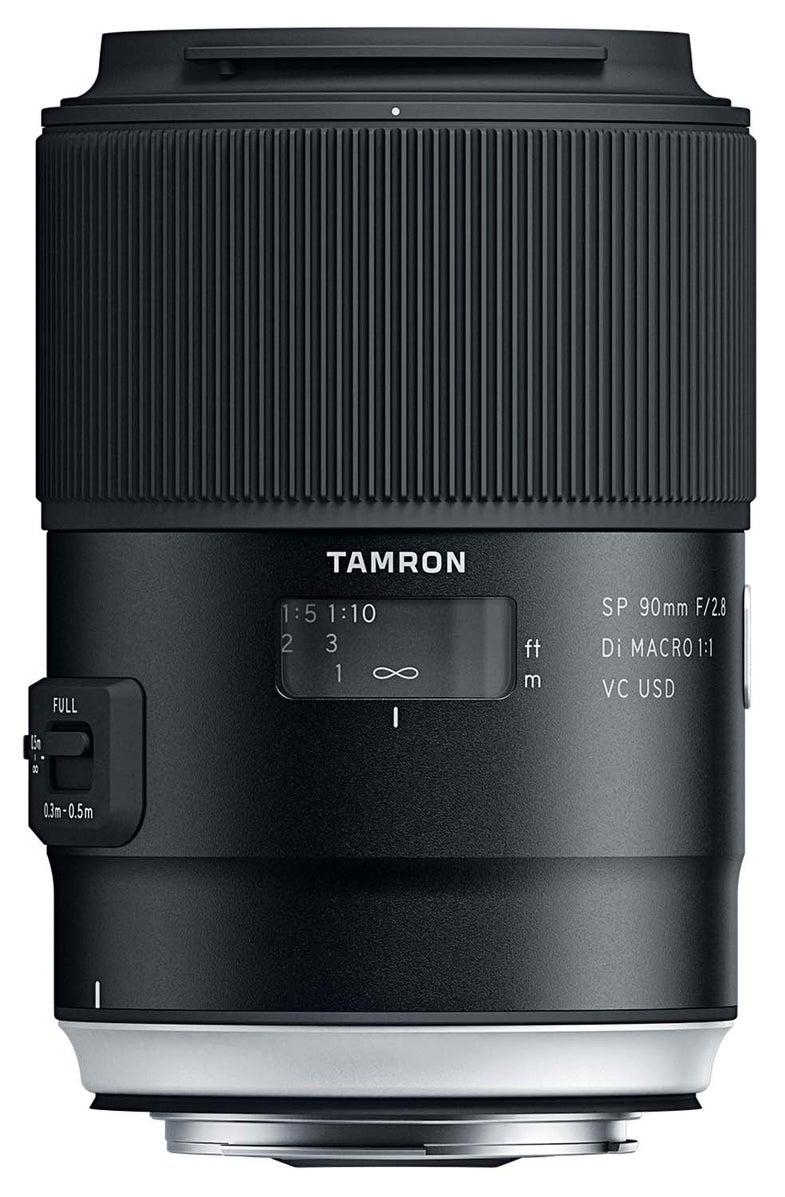 Tamron has a long history with 90mm macro lenses, starting in 1979 with its manual-focus f/2.5. After autofocus took off, macros grew in popularity, and in 2012 Tamron built in Vibration Compensation, making macro even more user-friendly.
This new full-frame SP 90mm f/2.8 Di Macro VC ($649, street) offers updates both inside and out. It has a modern look; gone are the old Tamron gold band and checkerboard focus grip, replaced by a wide rubber ring with refined ribbing that we found easy to hold onto. One change we were sorry to see: the adoption of dull white scale-focus markings, once a bright yellow that we found easier to read.
The new lens is 4.55 inches long, a tad shorter than its predecessor and the macro lenses we've tested in similar focal lengths from Canon, Nikon, Rokinon, Sigma, and Tokina. It's also a fair bit lighter, at 1.41 pounds, than most of the others but about equal to the Canon. The Tokina, a 100mm f/2.8, weighs slightly less (1.11 lbs) but lacks image stabilization.
Inside are 14 elements in 11 groups, including one low dispersion (LD) and two extra low dispersion (XLD) optics to combat color fringing and spherical distortion. Its floating element system adjusts the distance between groupings to ensure sharpness throughout the image plane. Other upgrades include revised firmware to improve focusing speed and accuracy of its internal USD (ultrasonic silent drive) AF mechanism. A manual override can assist in close-ups, and weather sealing adds stronger protection against dirt, dust, and moisture.
In the Popular Photography Test Lab, the 90mm earned Excellent SQF results on our optical bench; f/5.6 is the optimal aperture for sharpness, with an A grade at our benchmark 11×14-inch print size. Our DxO Analyzer 6.1 tests found virtually no distortion, coming in at a 0.01%, an Imperceptible rating for barrel distortion in both the normal and macro focusing modes—nearly a perfect score. The older lenses we tested the new Tamron against also rated in the Imperceptible range, except for Tokina's 100mm, which was in the visible range at 0.34%.
Testing for vignetting, we noticed no light falloff by f/4 in standard and no vignetting in macro settings, good results indeed. The lens can focus down to 11.75 inches, and its maximum magnification ratio of 1:0.92 qualifies it as a true macro, similar to its competitors.
Our image stabilization tests revealed a 3.5-stop gain in handheld sharpness in the normal mode and a 2.5-stop gain in the macro setting. These results are better by about 1 stop (for each mode) than the Canon and Sigma lenses we tested the 90mm against, and about a half-stop better then the Nikon lens.
With all the improvements, Tamron somehow managed to cut the price by $100 from the $750 the first VC model fetched at its debut. It's also less expensive than comparable glass from Canon and Nikon. We are quite pleased with this latest Tamron, which is not only optically competent but also handsome and well-priced. Canon, Nikon, and Sony DSLR shooters should take note.
SPECIFICATIONS
90mm (92.16mm tested), f/2.8 (f/3.03 tested), 14 elements in 11 groups. Focus ring turns 140 degrees. Diagonal view angle: 27 degrees Weight: 1.41 lbs Filter size: 62mm Mounts: Canon AF, Nikon AF, Sony AF Included: Lenshood, Silkypix developer studio software Street price: $649 Website: tamron-usa.com
TEST RESULTS
Distortion: 0.01% (Imperceptible) barrel. Macro Distortion: 0.01% (Imperceptible) barrel. Light falloff: Gone by f/4 Macro light falloff: None Close-focusing distance: 11.75 inches Max. magnification ratio: 1: 0.92 Image Stabilization: 3.5 stops Macro Image Stabilization: 2.5 stops