A Suicide Girl's Smart, Charitable Response to Richard Prince's #Art
A $90 alternative to controversial $90,000 "art" pieces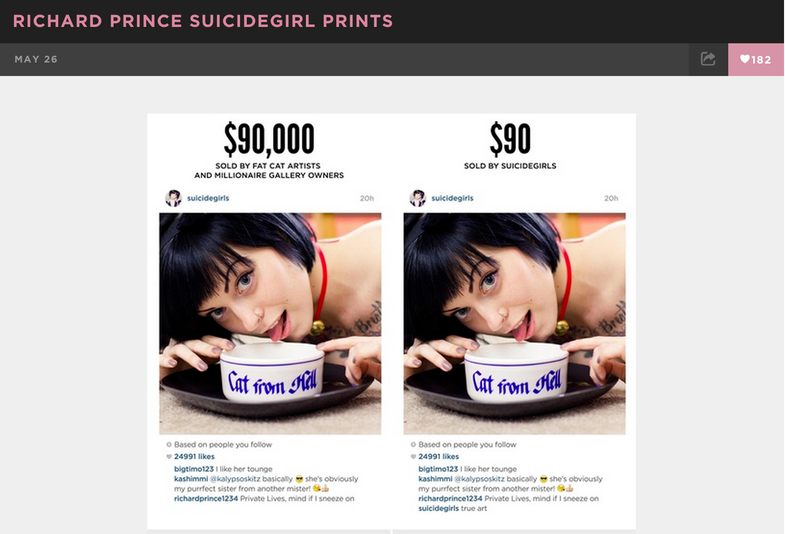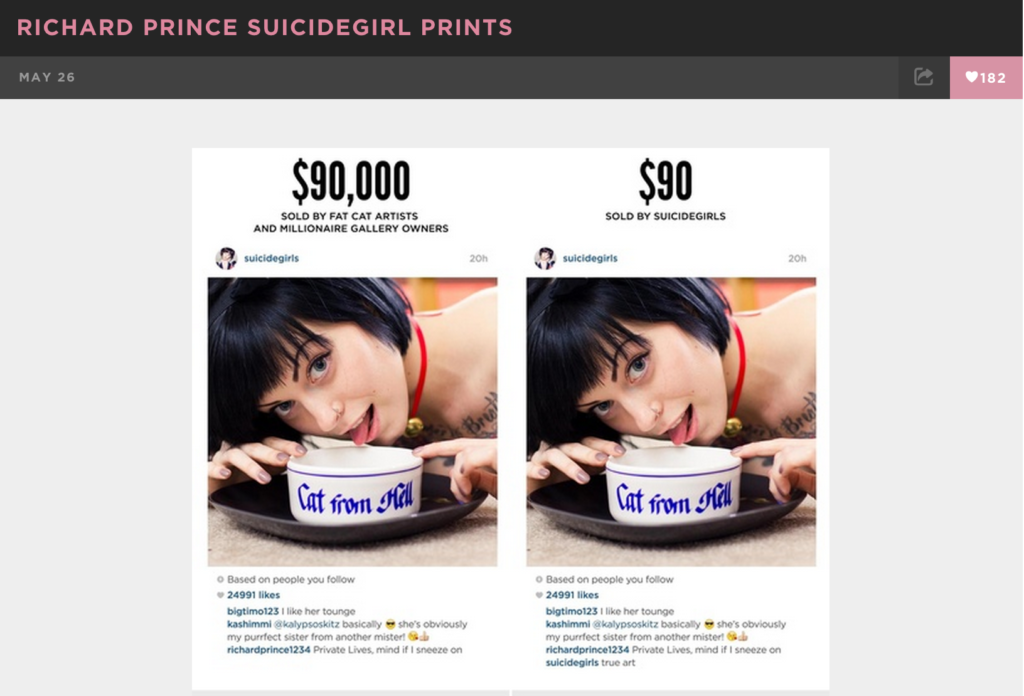 If you follow the art or photography world, especially lately, you probably recognize the name Richard Prince. He's the guy who took a bunch of Instagram screenshots from other people's accounts (as well as his own), blew them up on giant canvases and sold them for $90,000. Appropriation is his thing and he's been doing it in the sometimes-perplexing art world literally for decades. Now and again he floats up into general public consciousness, sometimes when he's being sued.
The latest Prince-related outrage comes from his show "New Portraits," which includes a blown up Instagram posts by various models on the site Suicide Girls. For the unfamiliar, SG is a site that deals in nude photos of models who are often tattooed or "non-traditional" in the context of typical nude models. So, in response to the whole ordeal, Suicide Girls founder Selena Mooney has begun a campaign ](https://suicidegirls.com/members/missy/blog/2837632/tuesday/)selling copies of the Richard Prince prints for $90 (site obviously NSFW), which is a steep discount from the $90,000 price tag affixed to the gallery versions.
The proceeds from the Suicide Girls prints have been promised to the Electronic Frontier Foundation, which is dedicated to protecting the digital rights of content creators.
Outrage about Richard Prince's intellectual property antics are almost always good for blog traffic, if only because posts about it tend to inspire angry internet comments on a grand scale.
It's good to see the Suicide Girls trying to spin the whole thing into a positive, while getting some PR at the same time.
As far as Prince goes, he has to be excited about all of this. He has reportedly sold quite a few of the very pricy prints, his name is all over the news, and his #art is causing all sorts of commotion across just about every kind of media you can imagine.
For us, it continues to raise complex and often flummoxing issues about what can and can't be done with our intellectual property. This clearly seems wrong, but what if he was charging people to come into a gallery space that simply displayed other people's publicly available work on large screens?
One thing that we can be sure of is that the intellectual property battles in photography will continue to rage for some time to come.
More over at the New York Times