| | | | | | |
| --- | --- | --- | --- | --- | --- |
| Best for astrophotography | | Celestron NexStar 8SE Telescope | | SEE IT | It guides you toward the good stuff. |
| Best value | | Coleman Astrowatch Reflector Telescope | | SEE IT | Look deep into the sky on a small budget. |
| Best for kids | | Celestron PowerSeeker 70EQ Telescope | | SEE IT | This beginner-friendly scope leaves room to grow. |
Updated Jul 17, 2023 6:46 PM
We may earn revenue from the products available on this page and participate in affiliate programs. Learn more ›
Telescopes really resonate with photographers. After all, they're big tubes full of glass made for looking at objects in a truly unique way. That's absolutely our jam. Despite their lens-like appearance, telescopes don't work quite the same as the glass attached to our camera. There's a learning curve when it comes to gazing into the heavens. Luckily, there are plenty of options out there and many of them don't require a NASA-sized budget to get you up and running. Here's a list of the best telescopes for star gazing.
The best telescopes: Reviews & Recommendations
Why it made the cut: This robotic telescope is an investment, but its automated mount can move with celestial bodies across the sky automatically. Plus, the large objective lets in tons of light. That's also crucial if you're going to be photographing the night sky.
Specs
Type: Catadioptric
Mount: Altazimuth
Objective lens diameter: 8 inches
Focal length: 2,032mm
Pros
Automated star tracker
Extremely bright from ample light capturing
Compact for its reach
Cons
Pricy
Has a learning curve
Stars move across the night sky—or at least they appear to. That can make astrophotography tricky. Celestron's automated star tracking system can help you immediately locate specific areas of the sky and then move with them as they appear to travel. Celestron's Sky Portal software provides a handy guide to the sky and helps you choose which area you want to observe.
The telescope itself is no slouch, either. It's a Catadioptric design with a massive 8-inch objective, which lets in ample light for viewing dim and distant objects. Celestron offers a wide range of accessories, so it's relatively simple to mount your camera or even a smartphone camera for capturing epic shots.
Its 2,032mm focal length allows for deep looks into the cosmos depending on which eye piece you select.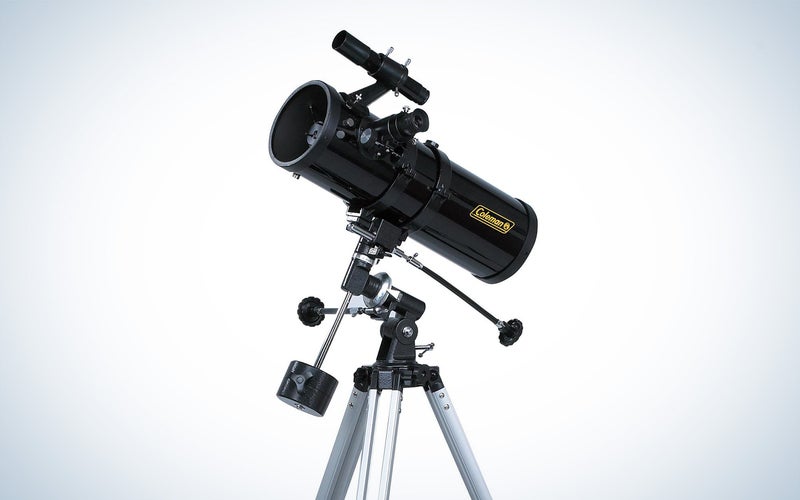 Why it made the cut: Basic reflectors offer a great mix of value and reach and this Coleman model is extremely affordable.
Specs
Type: Reflector
Mount: Equatorial
Objective lens diameter: 4.5 inches
Focal length: 1,000mm
Pros
Very affordable
Lightweight
Two included eyepieces
Cons
Basic reflectors provide a budget-friendly way to get into star gazing. This tube offers a 1,000mm focal length that pairs with either a 10mm or 20mm eyepiece for up to 100x magnification. The tube is bulky, but it's also very light weight so it's easy to lug around and adjust when it's sitting on the equatorial mount. You won't find a ton of bells and whistles here, so be prepared to locate and track objects across the sky on your own.
Once you find what you're looking for, the paraboloidal mirrors provide a sharp image that cuts down on aberration, which manifests as ugly fringes around the outside of high-contrast objects.
Why it made the cut: This refracting telescope is simple to set up, but offers enough options and high-quality optics to allow young astro-nerds to grow into it.
Specs
Type: Reflector
Mount: Equatorial
Objective lens diameter: 70mm
Focal length: 700mm
Pros
Easy to setup
Sturdy mount and tripod
Two included eyepieces, plus a multiplier for lots of viewing options
Cons
Can't look as deep into space as reflectors
Relatively large
Refractors are a great place to start for kids getting into stargazing. They set up easily and caring for them is simpler than something with a massive mirror inside. This scope has a 700mm focal length and comes with both a 4mm and a 20mm eyepiece, as well as a 3x magnifier. In total, that gives this package a very flexible range from 105x all the way up to 525x. The equatorial mount has a slow motion altitude rod to make fine adjustments simpler without the need for super accurate touch.
It weighs in around 14 pounds, which makes it easy enough to throw in the car and move around if you're looking for a better vantage point. Plus, it's built sturdy so it has a chance to survive the rigors of kid usage.
Why we picked it: An included smartphone mount, bright aperture, and relatively wide field of view makes capturing epic astro shots relatively simple.
Specs
Type: Refractor
Mount: Alt Azimuth
Objective lens diameter: 3.1 inches
Focal length: 400mm
Pros
Included smartphone mount for easy astrophotography
Wide aperture to let in lots of light
Compact
Wide field of view
Cons
Can't look super deep
Not great for planet viewing
Capturing images of the night sky can be as complicated as you want it to be. This 400mm refractor comes with its own smartphone mount, so aspiring astronomers can easily capture photos and videos of what they're observing. It comes with a pair of eye pieces, as well as a magnifier, which makes the maximum useful magnification roughly 189x. That's a relatively wide view of the night sky, which is useful for creating epic starscapes. It's not, however, great for trying to look into deeper space for planet closeups.
If you do want to expand its capabilities, it's compatible with a wide range of aftermarket eyepieces thanks to its standard mount. So, even if you use this as a starting point, it can grow with you in the future.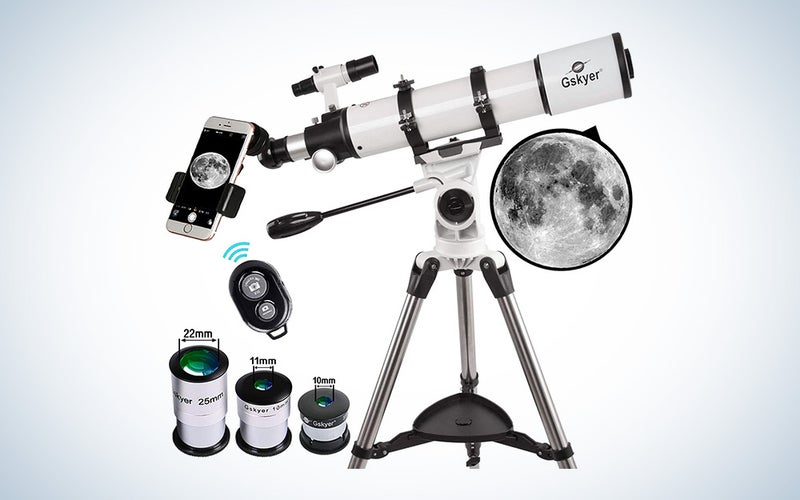 Before we get into what to look for in the best refractor telescope, it's important to understand what that is. Essentially, there are two major types of telescopes: Refractor and reflector. The main difference between refractors and reflectors is that the former uses optical lenses, and the latter uses mirrors. The refractor telescopes have lenses inside long tubes that bend (or "refract") light to a single point of focus. This is how the earliest models were designed, such as the ones Galileo used (they basically work the same way a simple magnifying glass does). Most modern scientific telescopes are reflectors because their size doesn't allow them to use the smaller aperture of the refractor, and they're more capable of handling the large mirrors required to "bounce" the image to the eyepiece.
There are pros and cons to each, of course, with some debate as to which version reproduces the best image. Refractor telescopes often suffer from what is known as "chromatic aberration," which is essentially a rainbow-like halo around the image. It was Isaac Newton who found that using mirrors reduced the rainbow effect and produced a cleaner image; however, the mirrors do reduce the amount of light coming through, which can result in slightly less detail. Not to mention the mirrors need to be cleaned and maintained frequently.
The German-designed Gskyer features multi-coated anti-reflection lenses that decrease image distortion and its 90mm aperture provides excellent brightness levels. The stainless steel tripod feels stable and strong, but the body itself is made of lightweight and portable aluminum. It's easy to assemble and built to last.
Things to consider when shopping for the best telescopes
All telescopes serve the same global purpose: Give us a closer look at an object that's extremely far away. There are several ways to accomplish that task, however, so you'll have to navigate a few different kinds of telescopes during the shopping process.
What type of scope do you want?
When shopping for the best telescopes, you're going to encounter a few common types from the major manufacturers. Here's a quick overview of the different types.
Refractors: These are the closest you'll find to a typical camera lens. They funnel light through the optical tube assembly to the eyepiece just like a camera lens would guide light to the sensor. They're often some of the smallest and best telescopes. You'll find some very cheap models that use this configuration. Like with camera lenses, though, they span a wide variety of different quality levels.
Reflectors: As the name suggests, these telescopes rely on mirrors to reflect light through the optical tube assembly and create the magnification. They include a large primary mirror that handles most of the reflection. This type typically provides a solid performance to cost ratio since they're more affordable to manufacture. You might see the phrase "dobsian" as a reference to a type of reflector that uses a different mount than a typical reflector.
Catadioptrics: These are similar to reflectors, only they're typically considerably shorter. Light enters through a narrow correcting plate before bouncing off a number of mirrors up to the eye piece.
How far into space do you want to look?
Like typical camera lenses, telescopes have a focal length that can give you a general idea of how far they can see. The eyepieces, however, add a bit of complication to the equation. To get the true magnification of a telescope, you have to divide the focal length of the optical tube by the focal length of the eyepiece itself. So, if you're working with a 1,500mm tube and a 25mm eyepiece, you'll get a 60x magnification.
Despite what you might think, more power isn't always better. It really depends on what you want to look at. If you're trying to get the best possible look at far away objects, then lots of magnification is great. If you're trying to get a broader picture of the sky for astrophotography purposes, then you'd rather have a faster aperture and less reach to get a more complete picture.
How much light does it let in?
In photography, we typically refer to a lens aperture by its f-number, but the best telescopes typically offer a specific measurement. The same basic idea applies, however: The bigger the aperture, the more light you can let in when you're looking up into space.
FAQs
Q: What size telescope do I need to see the rings of Saturn?
The rings of Saturn cannot be seen by binoculars but should be apparent in the right conditions (when the air is still) by even the smallest telescopes at 25x (magnification of 25 times). We recommend at least a 3-inch aperture (76 mm) to gain a pleasing view. The larger the telescope and the more magnification available, the more details it will be possible to see. Just note: The larger you go, the more cumbersome and expensive things will get.
Q: Do I need an expensive telescope to enjoy astronomy?
You do not need to worry about making a major financial investment in your telescope in order to enjoy stargazing. The use of mirrors inside a telescope (i.e. reflector-style) gives a lot of viewing power without breaking the bank.
Q: Is buying a telescope worth it?
Yes! Deciding to own a telescope is an investment in your advanced interest in astronomy (or even just your casual enthusiasm). Being able to see beyond our world is a pretty amazing thrill, one that often puts many of our earthly problems in perspective. While there are simpler ways to begin exploring the night sky, once you've mastered the basics, owning your own is a pretty cool tool to advance your understanding of our universe.
Time to go out and find your best telescopes
There is a surprisingly broad range of functionality and purpose behind the seemingly simple telescope, and you can find options that appeal to the casual observer and the serious scientist alike. Deciding which one suits your needs means taking into account things like user-friendliness, portability, image quality, and overall price. From classic refractor lenses to more sophisticated reflector-lens systems and astrophotography capabilities, there is an option that will get you stargazing for years to come.
Why trust us
PopPhoto has a long history of delivering the opinions of some of the sharpest and most prolific camera dorks the world has to offer. Since 1937, we've been reviewing cameras, providing wisdom from well-known photographers, and generally just nerding out about all that goes into making great pictures. Our current crop of writers and editors have decades of professional photography and camera writing experience among them. Collectively, we've probably shot with just about every camera and lens combo you can imagine—as well as some obscure stuff you may not even know about. Remember the Casio Tryx folding camera? PopPhoto does.
We also get that buying a camera is a big decision, which is why we're dedicated to helping folks choose the right one (or, in our case "ones") for their needs. Case in point: Handing over top dollar for an expensive rig may leave you unsatisfied if it doesn't fit your preferred shooting style. Sure, a $6,000 sports-oriented DSLR can capture landscapes, but do you really need to do it at 30 frames-per-second? No, you don't.
Related: The largest digital camera ever made for stargazing