The best laptop cameras of 2023
When your days are filled with Skype meetings and Zoom happy hours, finding the best laptop camera is a game-changer. Whether you're looking for a wireless webcam or the best webcam for streaming, here are a few top picks.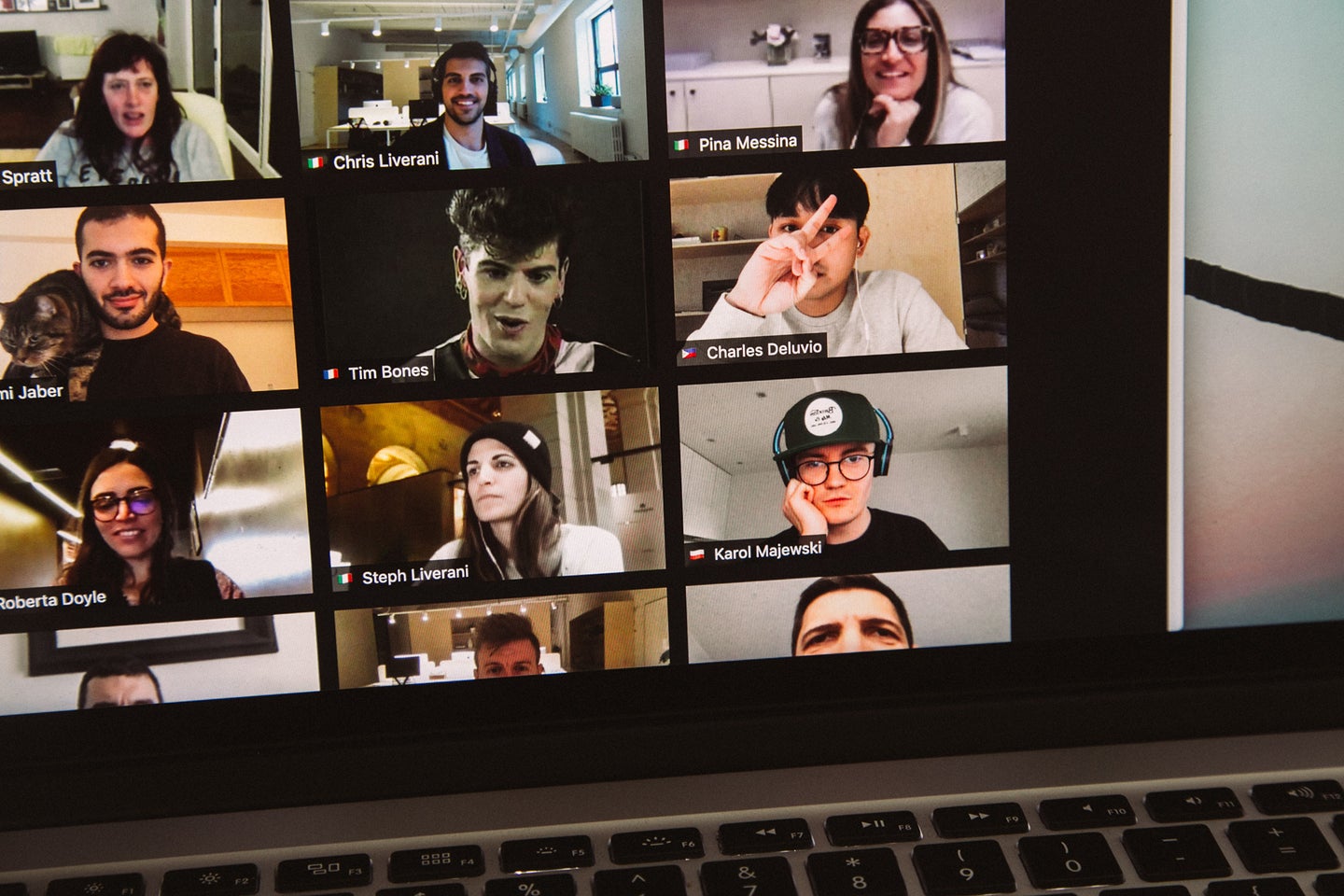 We may earn revenue from the products available on this page and participate in affiliate programs. Learn more ›
Even before world events made Zoom a household name, video conferencing and live streaming were on the rise. Now it's a rare day that you don't spend at least some time in front of your laptop's camera, chatting with colleagues on Microsoft Teams, or catching up with friends on Hangouts. However you choose to spend your time on-camera, if you want to make a good impression, it's important that you invest in the best laptop cameras.
Almost any external camera will look better than your laptop's built-in webcam, especially if that camera is located below your computer screen. The best laptop cameras will offer plenty of resolution, snappy autofocus, a great microphone, convenient software for dialing in your camera settings, and a design that's not an eye-sore. It might seem like an unnecessary investment at first, and there is a confusing array of options to choose from, but if you're going to spend half of your day staring into a camera, it's worth finding one that will make you look good.
The best laptop cameras: Reviews & Recommendations
The Logitech C920S HD Pro webcam delivers all of the core features most people are looking for in a laptop camera at a price that's easy to swallow. This Full HD webcam captures 1080p video at 30fps, with quick autofocus, automatic light correction, and dual microphones to keep your voice crystal clear. In addition, the included Logitech Capture Software helps you customize your camera settings, automatic background removal takes care of the clutter so you don't have to, and a built-in privacy shield keeps the camera covered when you're not using it.
The Logitech Brio is a great option for capturing 4K or high frame-rate (60fps) 1080p video, and it's one of the best-looking webcams to boot. Additional features include RightLight 3 with HDR support, 5x HD zoom, Logitech's easy-to-use software for dialing in your settings, and Windows Hello support so you can unlock your computer using secure facial recognition whenever the camera is connected.
The Razer Kiyo is a great streaming webcam with a few useful tricks up its sleeve. In addition to the option to record in either 1080p/30fps or buttery smooth 720p/60fps, the Kiyo also features a plethora of camera customization options inside Razer's Synapse 3 software, and a built-in ring light with adjustable brightness so you don't have to invest in off-camera lighting when you're just getting started.
A slightly more expensive webcam designed primarily for content creators, the Logitech StreamCam features dual front-facing microphones that can record in either stereo or mono, promising "authentic and vibrant" audio. It's also one of the most versatile and well-designed webcams around, offering a variety of mounting options, USB-C connectivity, and Full HD 1080p recording at up to 60fps for crisp footage with minimal motion blur. Grab this Logitech webcam with microphone for yourself!
The Logitech HD Webcam C615 features a "fold-and-go" design that makes it more portable than almost any other Full HD webcam on the market. This no-frills laptop camera delivers 1080p video at 30fps, a 360-degree swiveling design for maximum versatility, and a built-in microphone with noise cancellation to cut down on echoes and din. It also comes with easy-to-use software so you can customize the camera settings to your taste, and while you won't find fancy features like built-in lighting or 60fps recording, you will sometimes find this webcam on sale for under $50.
At just under $30, the Microsoft LifeCam HD-3000 is one of the most affordable webcams on the market, especially if you want to stick with a big-name brand. While it maxes out at just 720p, you still get a noise-reducing microphone, TrueColor technology for automatic white balance and lighting adjustments, and Microsoft's LifeCam software to dial in your settings. The one major caveat is that the camera doesn't play nice with Apple, so Mac users need not apply.
Things to consider when shopping for the best laptop cameras
There are a few key features to consider when picking out the best laptop camera. Resolution and image quality come first, but there are a few other questions you should ask yourself. Will you be using the camera for business calls or Twitch streaming? How important is audio quality from the built-in microphone? Do you want something pocket-sized that you can carry around with you? And how much are you willing to spend? These are the questions we'll dive into below.
Find the right balance of quality, convenience, and features
The best laptop cameras have at least 1080p resolution, auto white balance and brightness adjustment, a great built-in microphone, fast autofocus, and easy setup. Other convenient features like automatic background removal, software for dialing in your camera settings, and a built-in camera cover make for an even better experience.
Some models go above and beyond the basics, offering features like full 4K resolution, 60fps video capture, and built-in lighting. These upgrades are nice, but it's worth considering your needs. For some users, they're definitely worth it, but for many of us, nice-to-have features aren't the same as must-haves, and they'll just jack up the price without adding significant value.
A 4K webcam takes image quality to the next level
For image-quality fiends who want to take advantage of every last pixel, making the jump from 1080p up to a 4K webcam is a worthwhile investment. Most webcams max out at Full HD resolution, so 4K comes with a premium price tag, but that usually gets you some other nice-to-have features as well, like Windows Hello compatibility, high-quality lighting control, and a sleek and stylish design.
The higher resolution also means that you can zoom in digitally without dropping below Full HD quality, allowing you to crop out any unwanted clutter and create more pleasing portrait framing with improved background compression—a nice touch that will make your video look that much more professional.
Are you using your webcam to stream on Twitch?
The best webcam for streaming prioritizes different features than the ones designed for business meetings, for example: the ability to record at high frame rates to cut down on motion blur, complete control over camera settings, and focus, and built-in lighting. Most streamers, especially gamers, broadcast from low-light environments where boosting the signal to compensate can make footage look grainy and unprofessional. The solution is a camera for laptop that's up to the task.
In this category, you'll also find that additional emphasis is placed on the "look" of the camera, and some options offer extra features like portrait orientation recording in case you're streaming to smartphone apps like TikTok.
Audio quality makes a big difference
Whether you're streaming guitar lessons on YouTube or just hopping into a lot of Zoom meetings, a good microphone can make all the difference. High-fidelity audio isn't what webcams are known for—you're always better off pairing your laptop camera with a dedicated USB mic—but many webcams include multiple microphones and automatic noise cancellation to try and deliver high-quality audio experience alongside its core video features.
Even the most affordable webcams boast some sort of noise-canceling mic, but look for terms like "stereo microphones", "omnidirectional microphones," and "dual microphones" to make sure the manufacturer is placing a premium on sound quality while keeping the background noise at bay.
Go portable with a pocket-sized webcam
Since we're talking about the best webcam for laptops, portability is a major consideration. Many webcams are designed to sit on top of full-sized computer monitors, but the best laptop cameras should be small and portable enough and possibly a wireless webcam to go anywhere your laptop does. Ideally, it should fit comfortably in a pocket so you can take it from place to place without making extra room in your backpack or messenger bag.
The challenge is that most portable webcams are also typically the lowest quality. They usually max out at 720p resolution and lack many of the features of the best laptop cameras. Fortunately, there is at least one surprisingly capable webcam that folds away flat without sacrificing image quality.
Best laptop cameras on a budget: What you can get for under $35
Most of the best laptop camera models will cost you at least $60, with the high-end 4K options starting around the $200 mark and going up from there. But if all you're looking for is an external camera that'll get the job done better than your laptop's built-in webcam, you can get away with spending less than 35 bucks.
FAQs
Q: What should I look for in a laptop camera?
The best laptop camera for you will depend on what you'll primarily use it for and where you'll be using it most. If your budget allows, we recommend going with a 1080p or 4K webcam, with dual microphones for better audio quality, and strong autofocus and auto lighting features. If you'll primarily be streaming from a dimly lit room, it may be worth spending extra on a webcam with built-in lighting, like the Razer Kiyo.
Q: How much should I spend on a laptop camera?
For typical everyday use, spending more than $100 will put you in the "premium" range and may add features you won't really use. If you're a serious streamer or content creator, it's worth spending closer to $200 on a 4K webcam or a laptop camera that's designed for high-quality live streaming. Think of it as an investment that will pay dividends at your next Zoom happy hour.
Q: Which laptop camera is best for business calls?
Our pick for best laptop camera overall, the Logitech C920S HD Pro webcam, offers all the features you need to seriously improve the quality of your business calls. With sharp, high-definition output, fast autofocus, good-quality microphones, and excellent automatic white balance and brightness adjustment, the C920S HD Pro checks all the boxes. And thanks to the built-in camera cover, you can keep the camera mounted on your computer between calls without worrying about privacy.
A final word on shopping for the best laptop cameras
Laptops have come a long way over the past few years, but one thing that hasn't changed is the crappy 720p laptop camera you'll still find standard on most computers. That's why it's so important to find the best laptop webcam to upgrade your setup. Whether you're interested in content creation, live streaming, or just want to up your Zoom game, switching to any of the 1080p or 4K webcams mentioned above will give the quality of your videos and video chats a huge boost.
Why trust us
PopPhoto has a long history of delivering the opinions of some of the sharpest and most prolific camera dorks the world has to offer. Since 1937, we've been reviewing cameras, providing wisdom from well-known photographers, and generally just nerding out about all that goes into making great pictures. Our current crop of writers and editors have decades of professional photography and camera writing experience among them. Collectively, we've probably shot with just about every camera and lens combo you can imagine—as well as some obscure stuff you may not even know about. Remember the Casio Tryx folding camera? PopPhoto does.
We also get that buying a camera is a big decision, which is why we're dedicated to helping folks choose the right one (or, in our case "ones") for their needs. Case in point: Handing over top dollar for an expensive rig may leave you unsatisfied if it doesn't fit your preferred shooting style. Sure, a $6,000 sports-oriented DSLR can capture landscapes, but do you really need to do it at 30 frames-per-second? No, you don't.
Related: Look better on video calls using pro photography techniques