The best camera straps in 2023
Camera straps are more than an accessory; they're a necessity. Here's how to choose the best camera straps.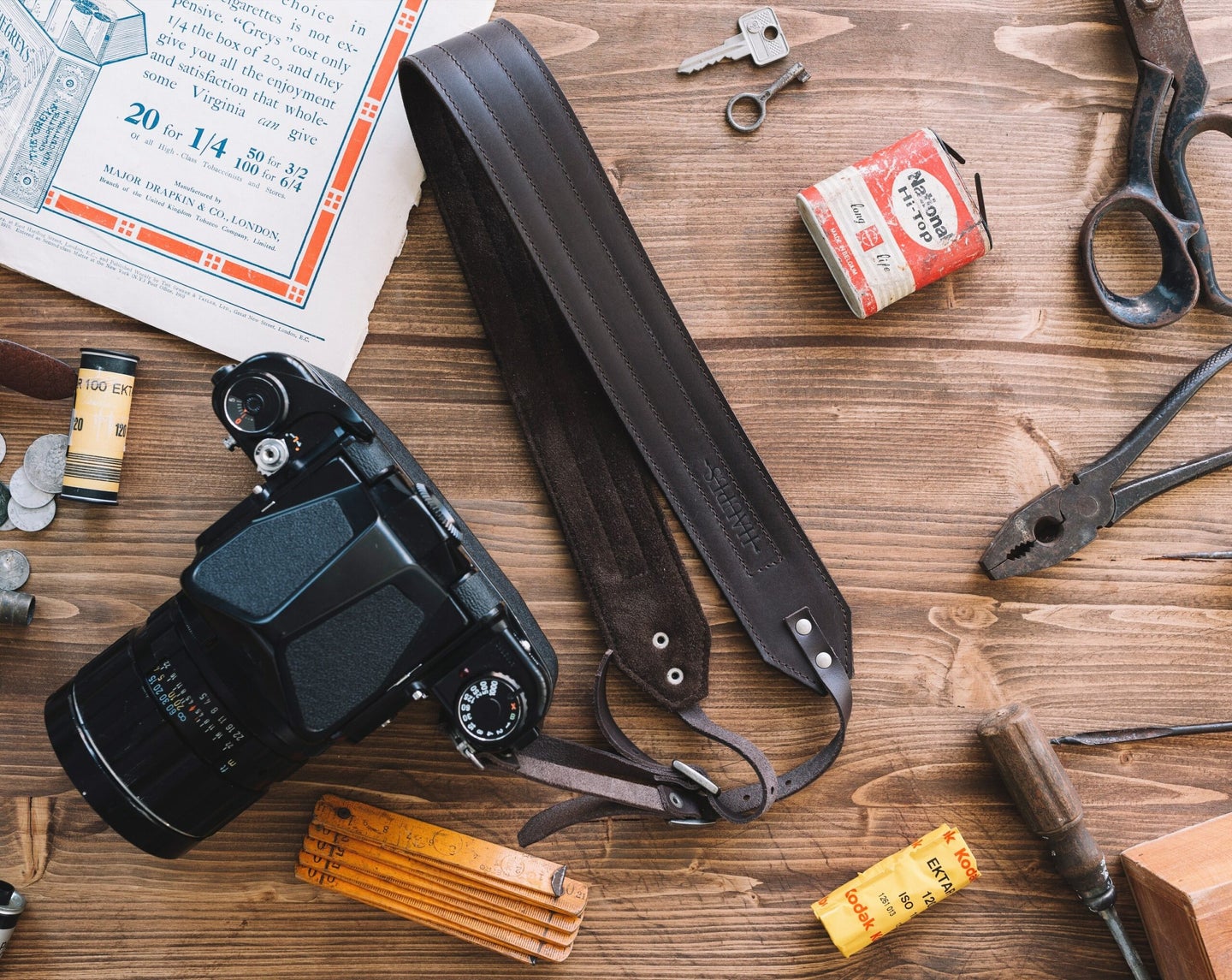 We may earn revenue from the products available on this page and participate in affiliate programs. Learn more ›
Let's face it: The best camera straps don't necessarily include the one that came with your camera. Sure, it's functional, but it's not much else—so maybe it's time to ditch the stock, second-rate options, especially if you end up with neck or back pain (or both) after a long day's shoot. The bottom line is that while all straps are designed as photography equipment support, how they accomplish their intended purpose differs from one to the other. 
Consider, for example, how a wedding or photojournalist who regularly shoots with two DSLRs is best served by different camera support than a casual photographer with a compact mirrorless model and lightweight lens. The former may prefer a camera harness to support the extra weight, while the latter may opt for a more minimalist crossbody strap. Whatever the choice, the recommended camera straps should work for the individual person and the type (and amount) of gear they're carrying. With that in mind, we'll guide you through some of the most important variables to help you select the perfect camera strap—or two.
The best camera straps: Reviews & Recommendations
The BlackRapid Curve Breathe strap combines a sling design and shoulder pad with quick and easy access to a DSLR or mirrorless camera. An underarm strap keeps the shoulder pad in place and special cam-locks secure the camera to the strap. This model is for right handed-shooters but the similarly designed BlackRapid Breathe is designed for southpaws. If you want to forego the shoulder pad and want the versatility of wearing a sling strap crossbody as a neck strap or a shoulder strap, take a look at the Peak Design Slide for heavier cameras, such as full-frame and DSLR cameras, or the Peak Design Slide Lite for mirrorless cameras.
Constructed of real full-grain leathers with a buffed back for a suede-like feel, HoldFast Gear's MoneyMaker bridle camera harness is clearly a quality product designed to stand up to years of use. Stainless steel hardware adds to the longevity of this harness that comes with all the components you need to safely attach and carry two cameras, as well as D-rings for clipping on miscellaneous camera accessories. Optional components are available to add a third camera, too. The leather harness is available in small, medium, and large sizes to accommodate all physiques. It's a little pricey but well worth the extra dollars to keep you comfortable and your cameras secure.
If plain camera straps are too aesthetically boring for you, check out Capturing Couture's DSLR neck and shoulder straps. The company offers a variety of patterns like this attractive and gender-neutral Navajo Red design to jazz things up. The strap is two inches wide but comes with a plush velvet-backed neck pad to make it comfortable around your neck or on your shoulder. It's adjustable, of course, and promises durability thanks to its nylon webbing construction. Decorated with functional metal rivets, the strap is adjustable and waterproof, too.
Available for most DSLRs with a ¼"-20 tripod socket, this hand strap grip is adjustable to fit hands of all sizes. A padded cushion helps keep your hand comfortable and circulation from air holes keeps the padding breathable. A thinner, secondary strap wraps around the wrist and snaps onto the grip for extra security if the camera slips from your hand. And the camera can be attached/detached to a tripod thanks to the included quick-release plate. The same style strap is available for mirrorless models as well. Check the specifications for the several grips styles to make sure it's the right one for your camera.
This specially designed waist belt is an excellent camera system for photographers who prefer to wear their camera close to their body rather than dangling from their shoulder or neck. Adjustable to accommodate a wide range of waist sizes (and extensions are available, which is helpful if you want to wear the belt over winter weather clothing), Available for one or two camera setups, the SpiderPro Holster system utilizes a pair of metal plates (one on the camera; one on the belt) to lock the camera into place. Plenty of accessories—including lens pouches—complete the system. If you'd rather use your own belt or want to wear your camera on a backpack strap (or switch between the two), check out the Peak Design Capture Camera Clip.
This inexpensive camera strap features stretchy, padded neoprene that helps distribute the weight of your gear for extra neck protection. Built-in pouches provide an on-the-go home for accessories like media cards. If you'd rather have a handgrip, also consider the padded Movo Wrist and Grip Camera Strap.
Features to consider when shopping for the best camera straps
Wading through an ocean of camera straps to find the best one can be overwhelming. Luckily, we're here to help you navigate the long list of recommended camera straps. Narrowing down some criteria from the start makes the process of selecting camera accessories a little easier. For one, how much gear will you be carrying? If you're a dedicated long-lens, DSLR shooter, for example, you should be sure the camera strap can hold all that weight. At the same time, take into consideration the comfort level provided by different styles of camera supports. It's one thing to wander the city streets for a couple of hours with a camera hanging around your neck or from your shoulder. But if you plan a rugged adventure that requires a full day of hiking and picture taking, comfort is key (and so is a support system that keeps your camera protected from bouncing off those steep, rocky inclines).
Camera neck straps and crossbody straps often come in various widths and the widest straps may dig into your neck or be uncomfortable when worn across the body. A narrower strap may work better especially for women choosing a crossbody strap. Take a look at the camera support's design and imagine under what conditions you'll be wearing it before making a decision. Other smaller considerations include the material it's constructed from—do you like the look and feel of leather, or are man-made fabrics and webbing a preferred option? As you look through our selections for the best camera straps, keep your photography habits and style in mind.  
Related: With the best film accessories, the only thing negative will be in your camera
It pays to accessorize
If you've ever felt neck or shoulder pain after a long day's shooting, you quickly realize how important it is to find a camera strap that's not only strong enough to hold your camera, but also offers a level of comfort that's often missing from camera strap designs. A crossbody sling strap takes most of the camera/lens weight off the neck and shoulder by angling the strap across the chest. Equally important is the addition of shoulder padding to avoid excess pressure from the weight of the camera. Sling straps are generally adjustable to fit various heights (and widths) of photographers for a perfect fit.
It takes two to make a thing go right, it takes two to make it outta sight
The ultimate in multicamera support, the camera harness is designed to accommodate two (or sometimes three) cameras at the same time. While not everyone needs or wants access to more than one camera in lieu of taking the time to switch lenses, there are certain photographic shoots where it's critical. Wedding photographers, photojournalists, and sports photographers are most likely to take advantage of this style of camera support.
Sure, you can carry two or three cameras without a harness, but if you've tried that then you know that it's uncomfortable, unbalanced, and easy for individual camera straps to get tangled together, making it almost impossible to shoot with either camera. With a harness, the cameras sit at either side of your body within easy reach and the harness itself is designed to provide stability to distribute the weight of the cameras to avoid neck/shoulder/back strain. Just be sure to select a size to fit your physical measurements.
Don't just dream it, be it
With few exceptions, camera gear is pretty basic. Cameras are clad in all black or black and silver. And that works for the most part, but if you want to add a little snap to your camera accessories, the easiest—and most affordable—way to do that is via a decorative and colorful camera strap. You may be able to find a weaver who makes custom camera straps or stumble across a vintage strap in the attic if there's a photographer in your family. But it's more likely that you'll find a commercially made neck or shoulder strap with an attractive design. Even if you're not a fashionista, it's always fun to add a splash of color to your gear and there's a huge range of patterns so everyone should be able to find a match for their personality and taste.
Best camera strap for gripping results
There are times when a standard camera strap may actually work against you when shooting. One such scenario is when the camera is mounted on a tripod since a traditional strap will likely get tangled and become an annoyance. The strap becomes even more troublesome when you need or want to dismount the camera from the tripod to shoot handheld, especially for those unexpected run-and-gun opportunities. 
The best alternative is a hand strap grip. This device attaches to the camera's tripod socket and wraps around your hand, essentially securing the camera to your hand and eliminating the need for a neck or shoulder strap. Better yet, most hand straps come with a quick-release plate providing even greater flexibility when moving from tripod to handheld. If your hands are especially large (or very small), check specifications to make sure there's a good fit. A too loose or too tight hand strap can interfere with your ability to shoot comfortably.
Less stress doesn't have to mean more cost
Prices for camera straps and supports vary widely and while we all want to stay within budget, it's important to consider how much money you've invested in your gear before skimping too much on an accessory that keeps your camera safe from an accidental drop. Make sure that whatever you choose provides a secure attachment and is designed to hold the weight of your heaviest camera/lens combination. Generally speaking, because of their relatively small size and lightweight, compact and mirrorless cameras are more safely supported by less hefty straps. And, in the end, you may opt to use the camera strap that came with your camera since you know it's designed to support that gear.
Wear it out so it doesn't wear you out
Perhaps one of the most comfortable ways of carrying a camera is to clip it onto a belt or a backpack strap. This type of system distributes the weight of your gear to areas that are less likely to feel the strain of direct pressure like you would on the shoulder or neck. And you'll generally feel less back pain as well. Most of these wearable type devices function much like a quick release plate. The camera locks on for security but can be removed in a split second when it's time to grab a shot. And, better yet, you're less encumbered during activities like hiking or biking with no dangling straps to get tangled.
FAQ
Q: Do professional photographers use camera straps?
The quick answer is, yes, professional photographers generally use camera straps when they're working in the field or on assignment. Some pro shooters prefer using a handgrip for more mobility, especially when they're switching from tripod to handheld during a photo session. However, other than the handgrip, you'll not find a camera strap when their camera is mounted on a tripod.
Q: How long should a camera strap be?
How long a camera strap should be depends on how tall you are and where you want the camera to rest. For example, a camera neck strap should be long enough to give you enough leeway to lift the camera to your eye or, if you're shooting in Live View using the monitor, plenty of room to hold the camera away from your body to effectively compose a shot. Most photographers keep the camera neck strap long enough for the camera body to rest just below their breastbone; others prefer having the camera rest on the upper part of their stomach. For harnesses and shoulder straps, the straps are usually long enough to rest the camera at around hip length.
Q: Which camera strap is best for DSLRs?
There's no single camera strap that's best for DSLRs. But there are criteria that need to be met. Unless you're shooting with one of the smaller and lighter DSLRs and a lightweight lens, be sure to choose the sturdiest camera strap you can find. Check the maximum weight the strap will support and, from there, find one that offers a padded strap or look at one of the supports that clip the camera onto your body to avoid strain and sore muscles. You want to take care of your photography equipment and your body, too. 

Also, a quick release—where the camera can be detached from the strap with a single motion—is useful when you need the flexibility of hand-holding the camera. You may be kneeling down to grab a macro shot where the strap would interfere with you getting the right angle or may want to position the camera in a way that would be impossible while it's attached to the strap.

Related: Keep the mood light with these accessories for great portraits
A final word on shopping for the best camera straps
When searching for the recommended camera straps for your needs, keep in mind that these camera accessories need to be strong enough to safely support your photography equipment, while at the same time keeping you comfortable when shooting for long periods of time. Given that one style of camera strap may be perfect for one type of shooting, while others may be better for others, you may want to consider adding one or more styles to your collection to cover all bases if (when) your bank account is flush. The best camera strap will be one you can wear with purpose and pride.