In the Moment
A look at the fast-moving world of action sports photography.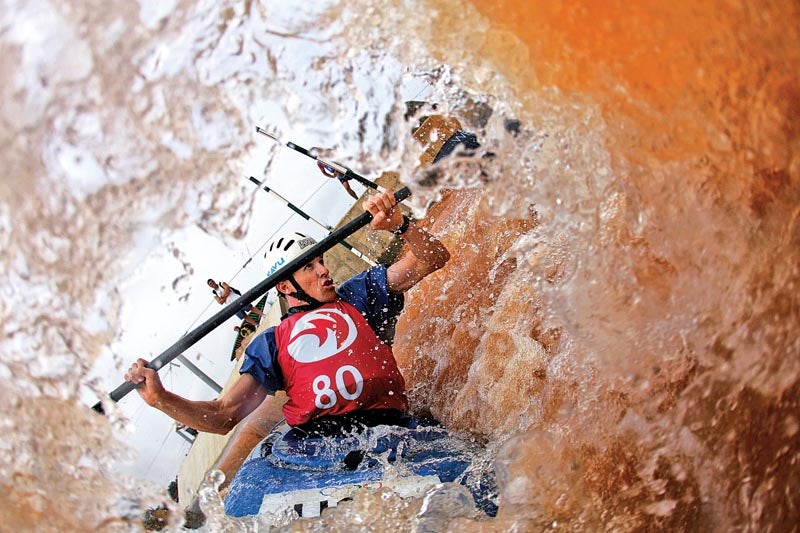 ©Donald Miralle/Getty Images
Donald Miralle's 2006 shot of Olympian kayaker Scott Shipley training in Charlotte, North Carolina, was triggered by a Pocket Wizard transmitter attached to Shipley's chest. "This was a photo I spent much time conceptualizing and preparing for," Miralle recalls. "But sometimes it's better to be lucky than good." He used a Canon EOS-1DS Mark II with a 15mm lens in an underwater housing.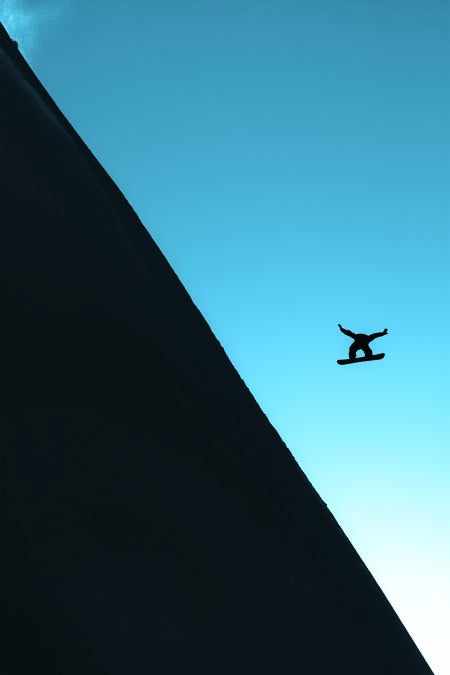 ©Scott Serfas
Scott Serfas's 2010 silhouette of snowboarder Mikkel Bang near Vancouver, Canada. "We headed into the backcountry on snowmobiles," Serfas recalls. "About 30 miles deep, we built two jumps and then shot them in the afternoon light. I just had to add a bit of snow on the take-off and as the sun was dropping I shot this silhouette of Mikkel." Serfas shot with a Canon EOS-1D Mark III and Canon 200mm f/2.8 lens.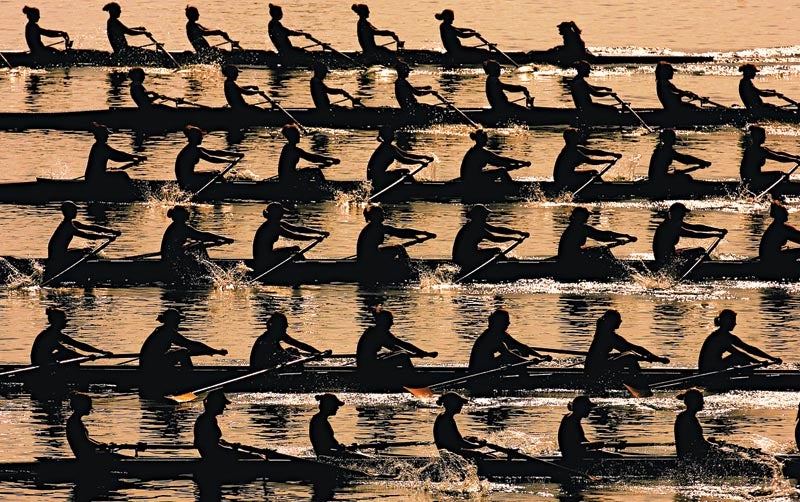 ©Donald Miralle/Getty Images
Donald Miralle's view of women rowers at the San Diego Crew Classic 2006. "These paddlers are mid-stroke," Miralle says, "backlit and underexposed with a 500mm lens. Using the telephoto helped in compressing the scene and filling the frame with all the repeated shapes."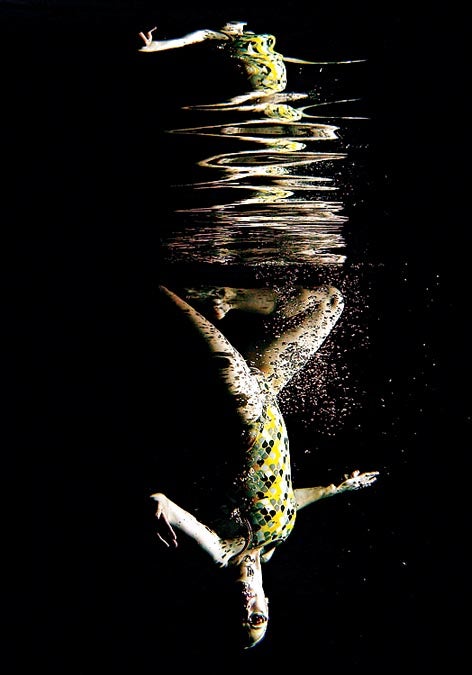 ©Quinn Rooney/Getty Images
Quinn Rooney's 2009 underwater portrait of Australian swimmer Tarren Otte in Melbourne, Australia. "The conditions were relatively dark," says Rooney, "so I decided a strong side light underwater could create some dramatic images. I used a break in training to set up a flash and Pocket Wizard in a waterproof case just under the water line. This break enabled the water to settle and create a nice reflection." He shot with a Canon 1D Mark III and a 16-35mm lens in an underwater housing.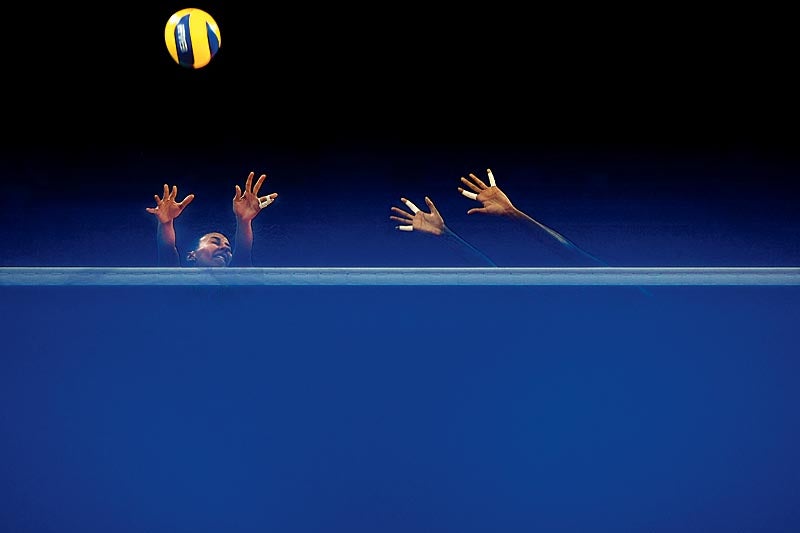 ©Chris McGrath/Getty Images
Chris McGrath's image of a volleyball match at the 2008 Olympics in Beijing, China. "The blue is the edging board at the end of the court that photographers are seated behind," McGrath says. "I sat down on the floor behind them and pointed the camera straight at them, with my lens only a few inches from touching them. I shot at f/2.8, which created the misty effect. I'm sure there were a lot of people looking at me asking themselves, 'Why is that guy shooting a blue board with a 70-200, two inches away from it?'" He shot with a Canon EOS-1D Mark III.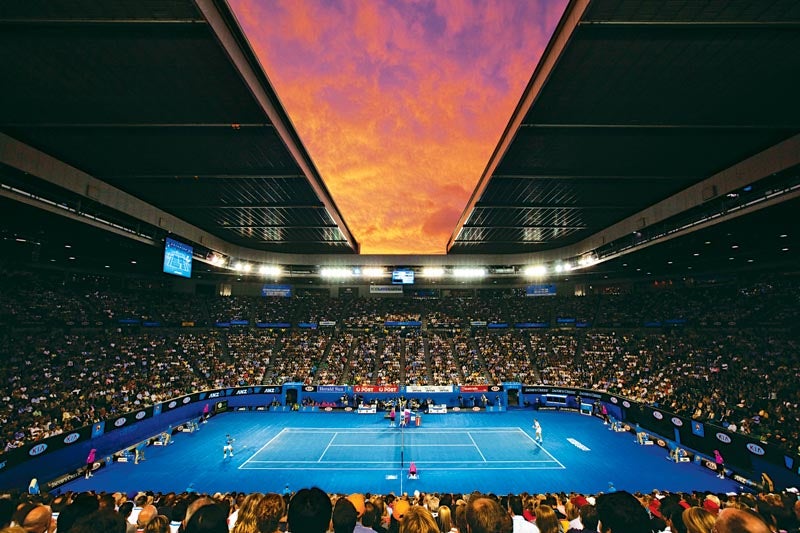 ©Mike Powell
Mike Powell's sunset shot during Roger Federer's victory over Andy Murray in the 2010 Australian Open Men's Tennis Finals in Melbourne. "For two weeks of tennis we hadn't had a really good sunset to shoot until the men's final," he recalls. "It added a great element to the big event. I was shooting courtside and saw the sky turning so in between change overs I ran upstairs to get this scene setter." He shot with a Canon EOS-5D Mark II with a 16-35mm f/2.8 lens.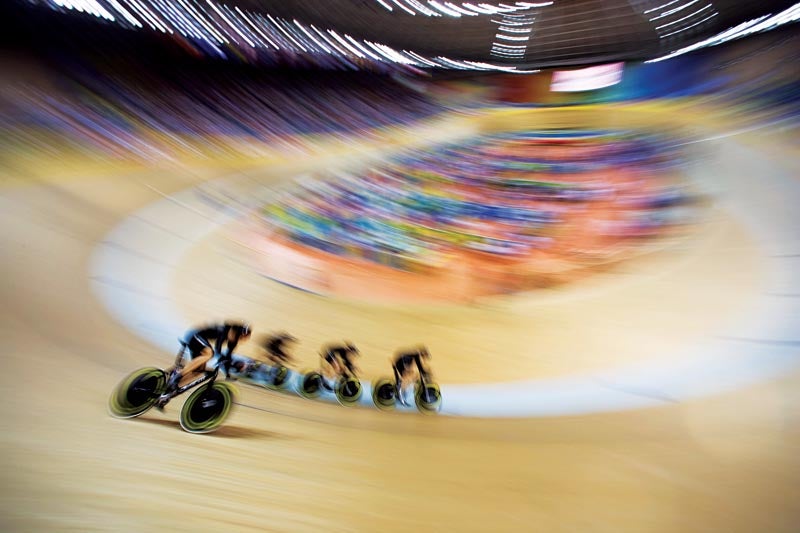 ©Mike Powell
Mike Powell's shot New Zealand bicycle racers at the 2008 Olympics in Beijing, China. "I love velodromes," Powell says. "The graphic nature of the places always appeals to me. Great lines, curves, steep banks and color. For this shot, with all the teams set up on the infield and the interesting overhead lighting, I felt a slow shutter speed would blend everything and still keep the form of the curve." Powell shot with a Canon EOS-5D Mark II and a 14mm f/2.8 lens.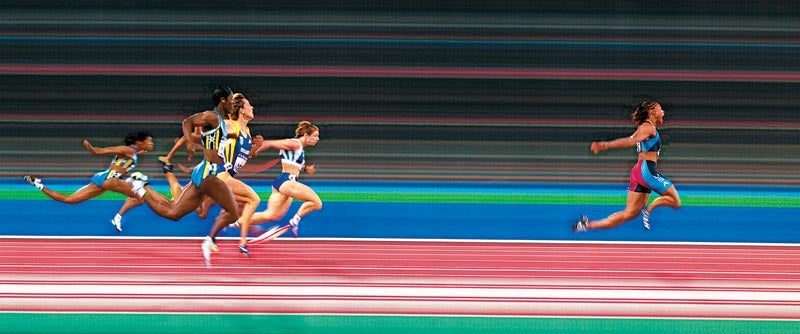 ©Bill Frakes and David Callow/Sports Illustrated 2000
Bill Frakes captured Marion Jones winning the 2000 Olympic 100-meter finals in Sydney, Australia, with a slit camera. "There is no actual shutter," Frakes says. "The film is moved with an external mechanism to match the speed of the subjects. For this race my assistant, David Callow, and I positioned not only the slit camera that made the image, but an additional slit camera and about 27 other SLR remote cameras in the area of the finish line."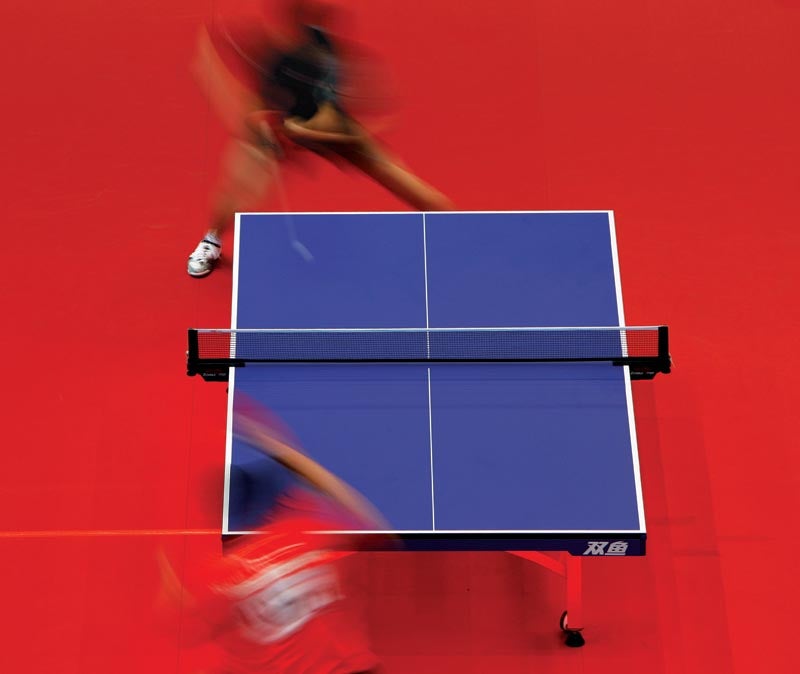 ©Tyrone Siu/Reuters
Tyrone Siu's study of East Asian Games table-tennis qualifiers in Hong Kong. "This venue had a chaotic background and a bad photography area," Siu says. "I sneaked into a VIP area with empty seats which allowed me to find a simple background." He shot with a Canon EOS-5D Mark II at a slow shutter speed, he says, "hoping to take an interesting picture."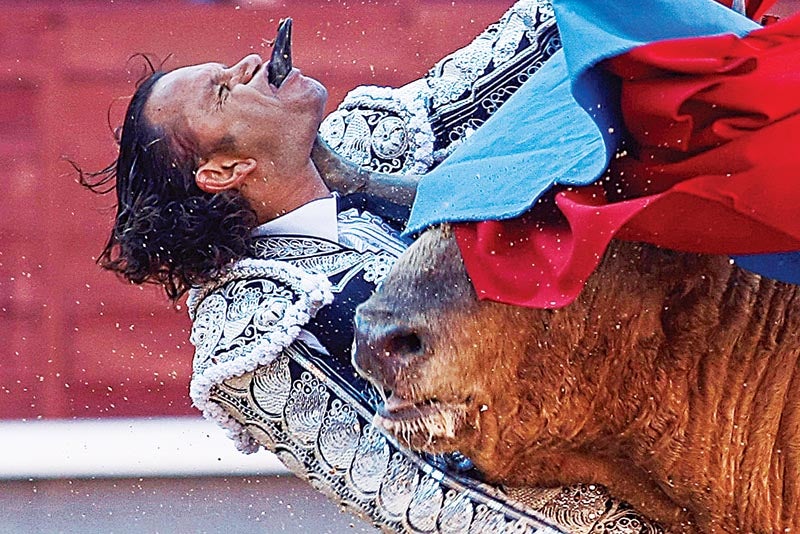 ©Alberto Simon/AFP/Getty Images
Alberto Simon shot Spanish bullfighter Julio Aparicio getting gored by a bull in Madrid in 2010. "Aparicio has been a matador for 20 years," says Simon. "When he collided with the bull and fell to the ground, he made an attempt to divert the bull with his muleta but the bull disregarded the challenge and picked him up. At that point we all expected him to be tossed up in the air so we shot a quick sequence without really seeing precisely what was going on. It's only when we took a look at our LCD screens that we saw a horn was coming out of the matador's mouth. We were shocked — almost paralyzed — but we had the picture." Simon shot with a Canon EOS-40D and a 70-200mm lens.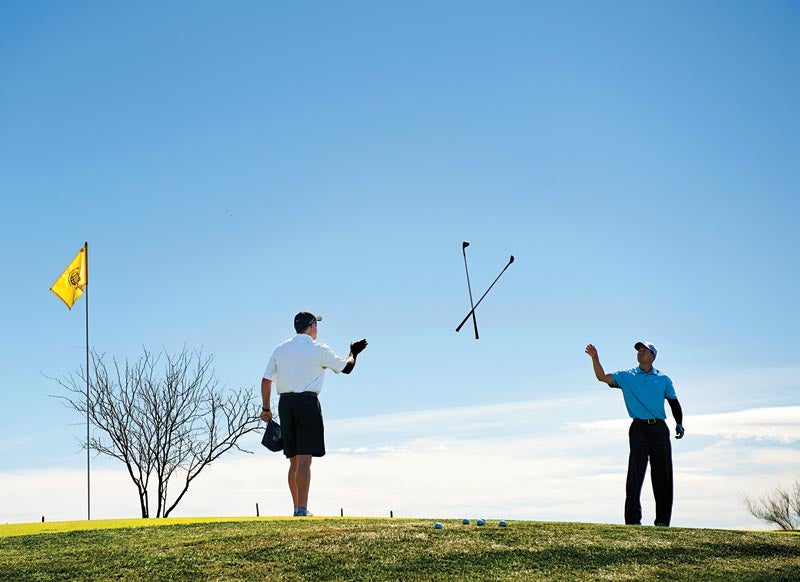 ©Robert Beck/Sports Illustrated
Robert Beck caught an exchange of clubs between Tiger Woods and caddy Steve Williams in 2009. "Woods was preparing to play at the Accenture tournament, his first since knee surgery," Beck says. "I wandered over to the practice green, figuring Tiger would stop by for a few practice putts. He did … and practiced with his wedge a bit too. When he wanted to switch clubs he and caddy Steve Williams tossed them to each other. The resulting composition was pure luck." He shot with a Nikon D3 and a 70-200mm lens.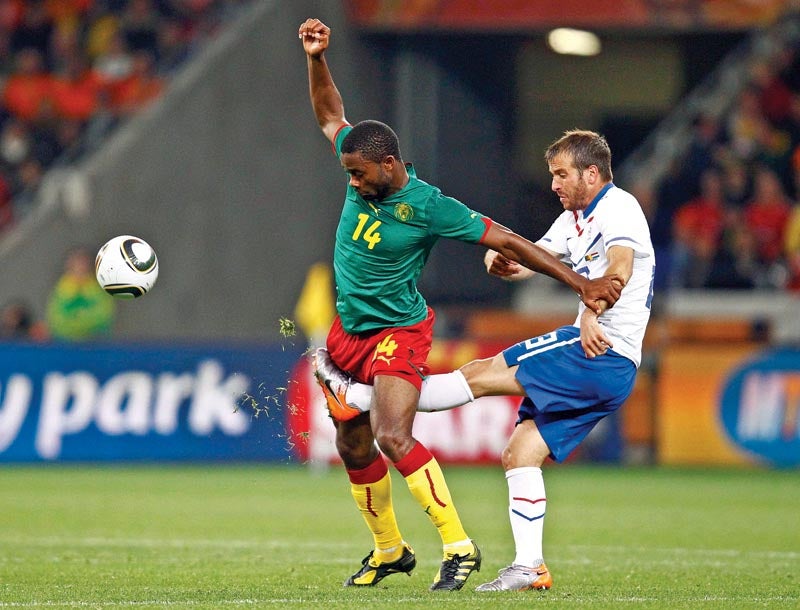 ©Jerry Lampen/Reuters
Jerry Lampen shot the Netherlands' Rafael van der Vaart kicking between the legs of Cameroon's Aurelien Chedjou during a 2010 World Cup soccer match in South Africa. "This was an unusual moment in one of the matches during the Group Stages at the World Cup," Lampen says. He used a Canon EOS-1D Mark IV and a 400mm lens.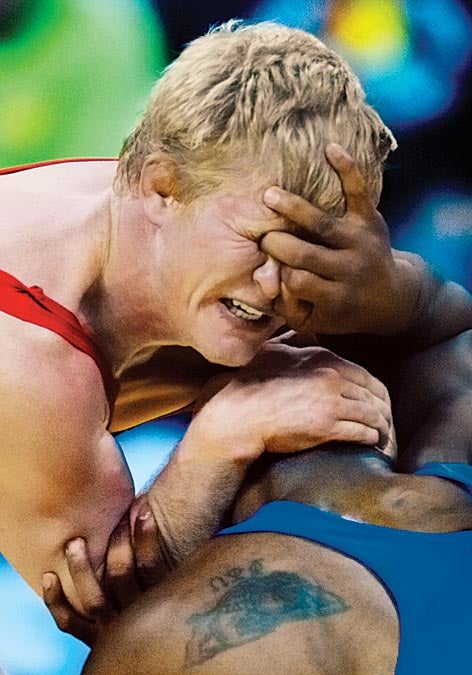 ©Rick Rickman
Rick Rickman captured wrestler Ceney Haight "getting an eyeful" during the team trials for the 2008 Summer Olympic Games in Beijing. Rickman shot with a Nikon D2X and a 400mm lens.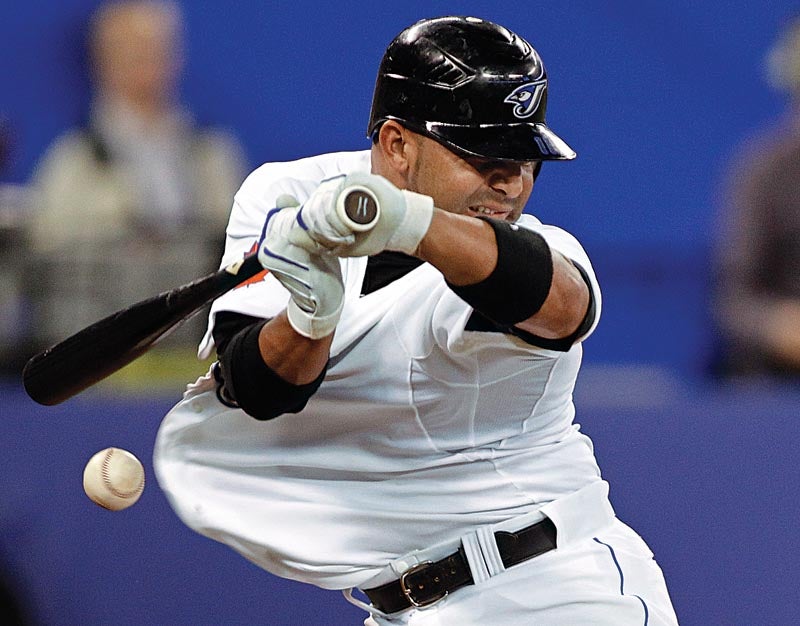 ©Mike Cassase/Reuters
Mike Cassese shot then–Toronto Bluejays batter Alex Gonzalez as a ball went in and out of his jersey. "I reacted to Gonzalez pulling his elbows into his body when the ball was coming at him," Cassese says. "The ball tangled in his jersey and I actually saw the ball go in and pop back out, which meant I didn't have the frame with the ball inside the fabric." He shot with a Nikon D2X and a 400mm lens.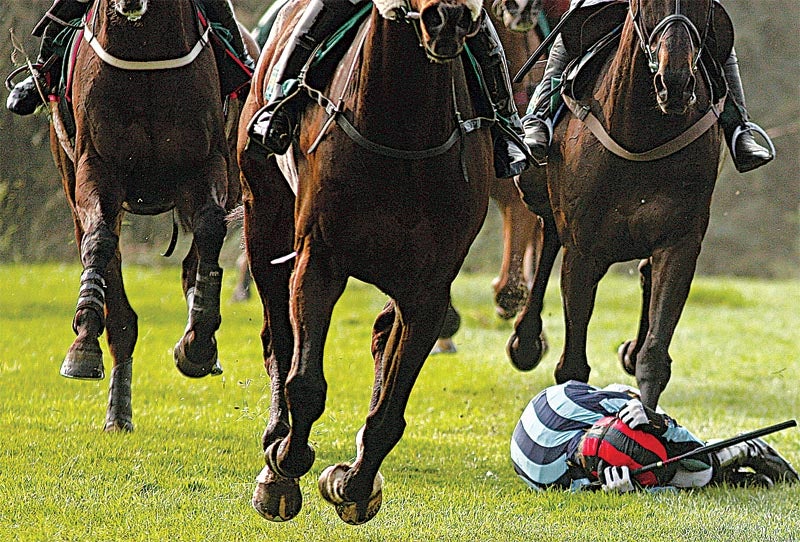 ©Warren Little/Getty Images
Warren Little captured Jockey Marcus Foley escaping injury after falling at a steeple chase in Liverpool, England. "With most of the other horses where behind him, he was very lucky to escape any real injury," Little says. "I remember him getting up as though nothing happened and he was really cross that he managed to fall at the jump, so the idea of personal safety went out the window." Little shot with a Canon EOS-1D Mark III and a 70-200mm lens.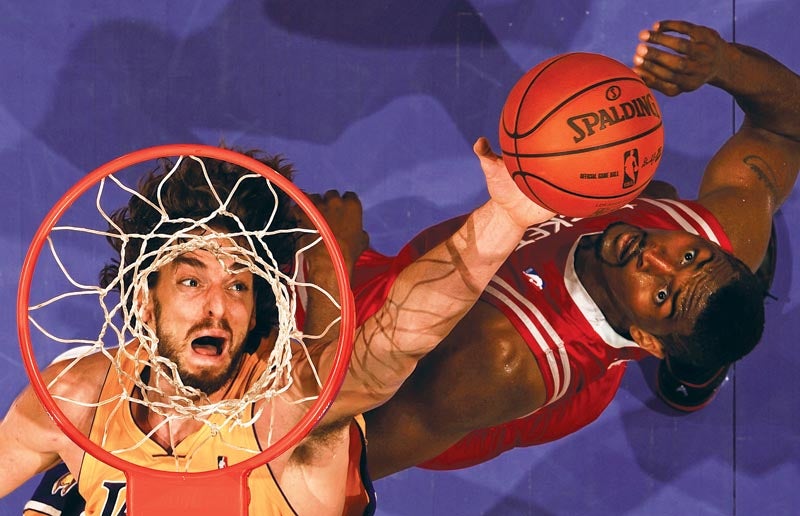 ©John W. McDonough/Sports Illustrated
John McDonough used a pre-mounted camera and remote to capture an ariel view of the Los Angeles Lakers' Pau Gasol and the Houston Rockets' Ron Artest in Round 2 of the 2009 NBA Playoffs in Los Angeles. "I triggered the remote overhead via Flash Wizard, with a button attached to a Nikon D3 camera body and a 500mm lens while I was on the court floor near the basket," McDonough says. "Having Pau's face framed by the basket and net is fortunate, of course, but luck favors the prepared."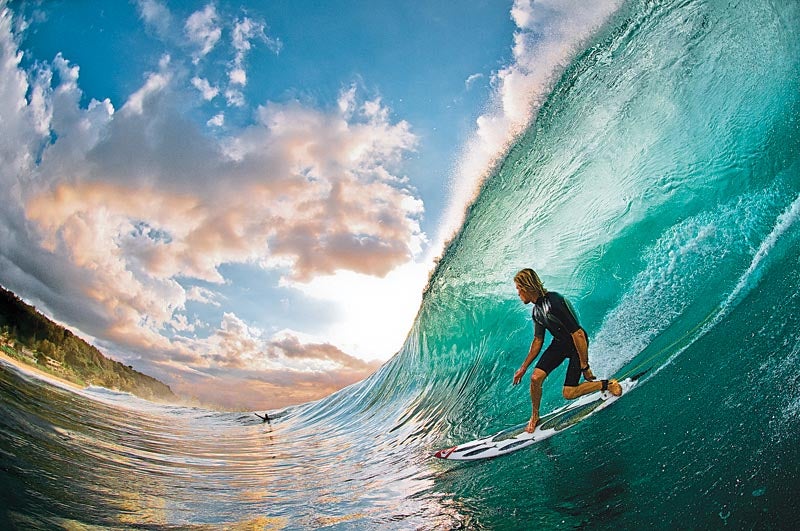 ©Patrick Stacy
Patrick Stacy photographed a surfer in the Backdoor Pipeline at the North Shore of Oahu, Hawaii, in 2008. "I happened to be swimming in a place I where would never intentionally hang out," Stacy recalls. "The guy with his arm in the air on the shoulder of the wave is Joel Parkinson and I was trying to connect with him on the wave before it — but this wave was bigger. At first I thought I was going to get mowed, but then I realized I was in a perfect spot." He shot with a Nikon D300 and 10mm Nikon fisheye lens in an underwater housing.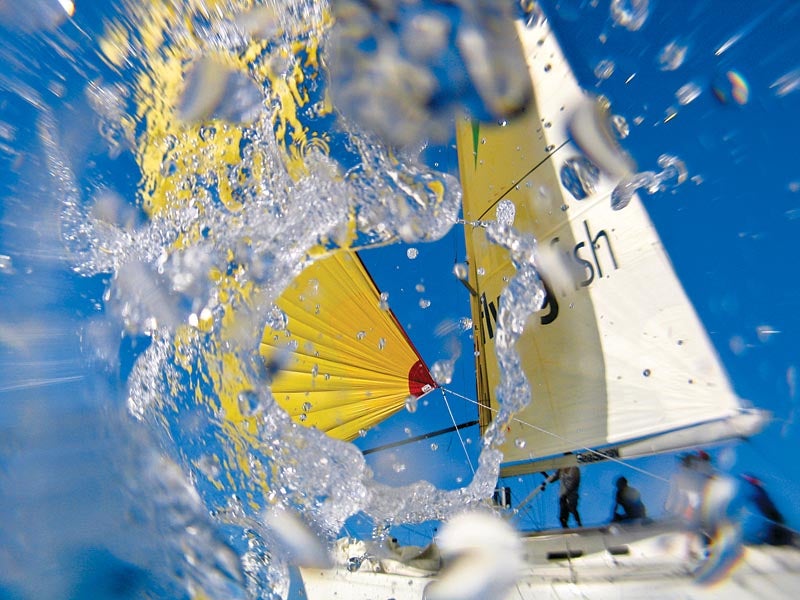 ©Christophe Launay/Aurora Photos
Christophe Launay caught an unusual wave-swirled view of a craft in the FlyingFish sailing school in Sydney, Australia, in 2006. "The light was stunning," he recalls, "as usual in Syndey during summertime." He used a Canon EOS-20D and a 16-35mm lens in an underwater housing.
©Heinz Kluemeier with Jeff Kavanough/Sports Illustrated
Heinz Kluetmeier, with his assistant's help, had a Nikon D3 set up underwater to capture Michael Phelps's victory over Serbia's Milarad Cavic in the 100-meter butterfly by .01 seconds at the 2008 Olympics in Beijing. "I knew Michael would be in one of these two lanes, and I also knew this was an event in which he might be vulnerable, so I positioned the camera right at the finish," Kluetmeier recalls. "Of a sequence of images, this turned out to be the key picture. Afterward, I thanked Michael for making it so exciting."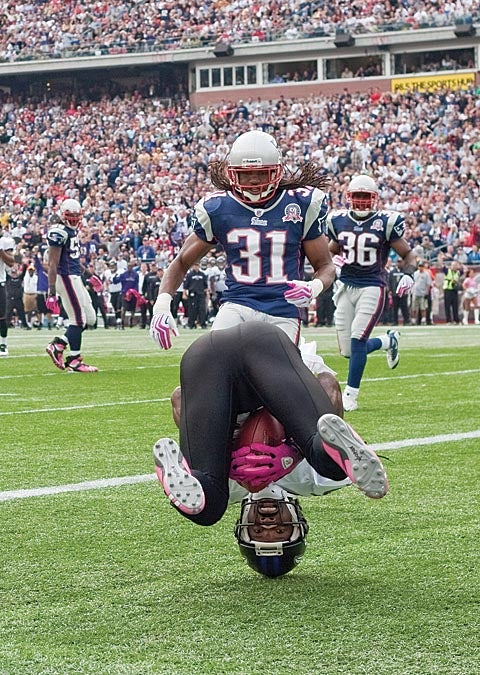 ©Damian Strohmeyer/Sports Illustrated
Damian Strohmeyer shot Baltimore Raven Derrick Mason landing on his head after catching a touchdown pass against the New England Patriots in Foxboro, Massachusetts, in 2010. "Mason jumped into the air to make the catch, was hit, spun in the air 360 degrees, and then did a quarter turn to land on his head," Strohmeyer recalls. "It was more like a diving maneuver than a play." Mason left the game with a strained neck but returned to play later in the game, which New England won, 27-24. Strohmeyer used a Canon EOS-1D Mark III and a 50mm lens.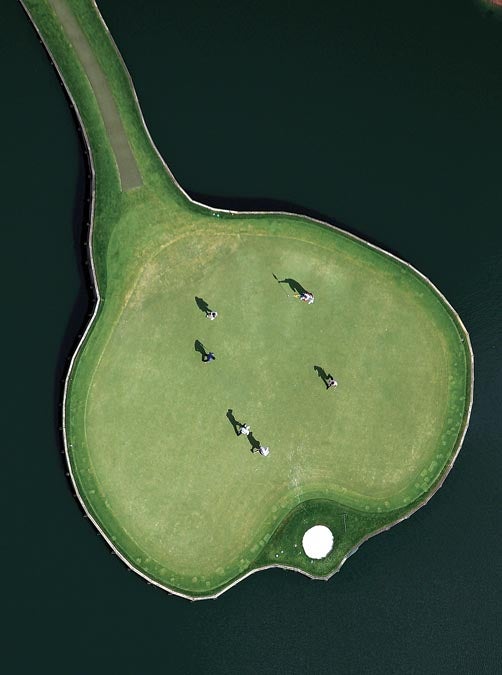 ©Jamie Squire/Getty Images for MetLife Blimp
Jamie Squire shot an aerial from the MetLife blimp during the second round of The 2010 Players Championship in Ponte Vedra Beach, Florida. "The 17th hole of the course is a very famous signature hole with an island green," Squire says. "The Tour organized a spot on the MetLife blimp for coverage of the event from the air, which provided a unique view of the famous hole." Squire shot with a Canon EOS-1D Mark IV and a 70-200mm lens.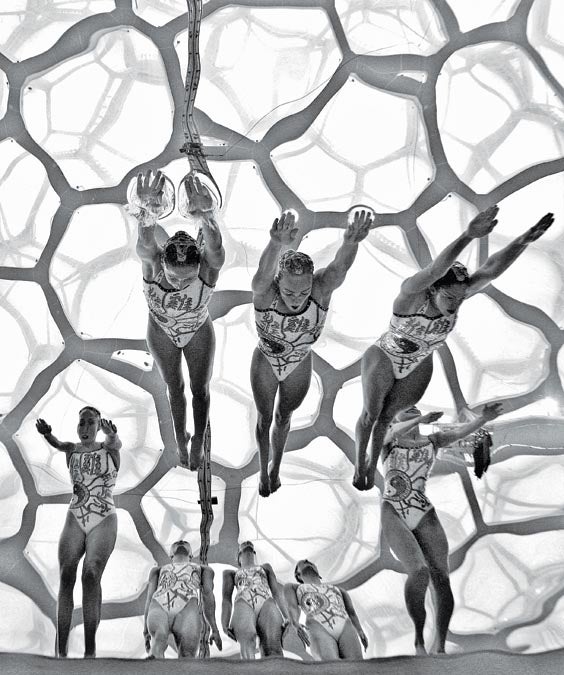 ©Donald Miralle/Newsweek
Donald Miralle captured an underwater view of Team Canada entering the water during the synchronized swimming final at the 2008 Beijing Olympics. "This photo had to be set up fours prior to competition with scuba gear," Miralle says. "It's one of my favorites not only because of the interesting angle capturing the famous ceiling of the Water Cube, but also because of the distortion of the water, making the entire scene look like a dreamscape." He used a Canon EOS-1DS Mark III with a 14mm lens in an Aquatech DV4 underwater housing.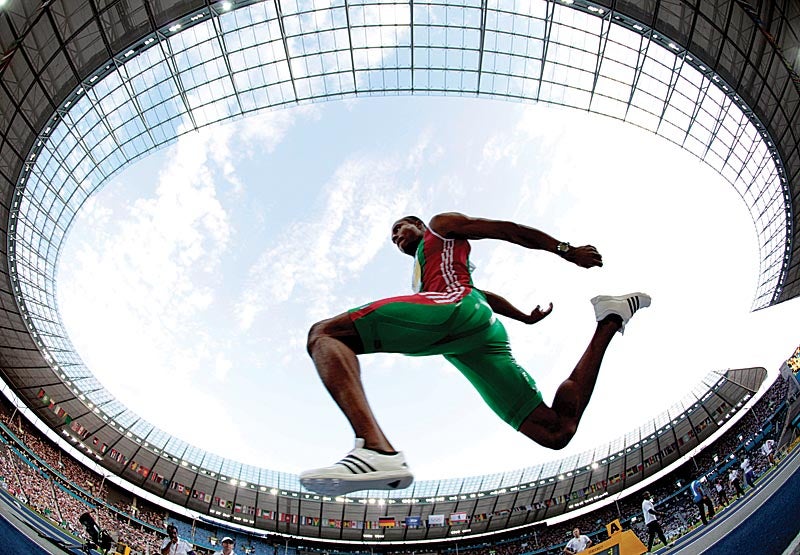 ©David Phillip/Associated Press
David Phillip used a remote to shoot Portugal's Nelson Evora during the Men's Triple Jump at the 2009 World Athletics Championships in Berlin. "Remotes are a huge part of covering track and field," Phillip says. "They allow us to capture interesting angles of the human body performing at the highest levels of competition. Here I used a lens trigger to fire the remote as I sat at the end of the pit to shoot jumpers head on. The camera was positioned looking almost straight up so you can see the entire stadium ring." Phillip shot with a Canon EOS-5D Mark II and a 15mm lens.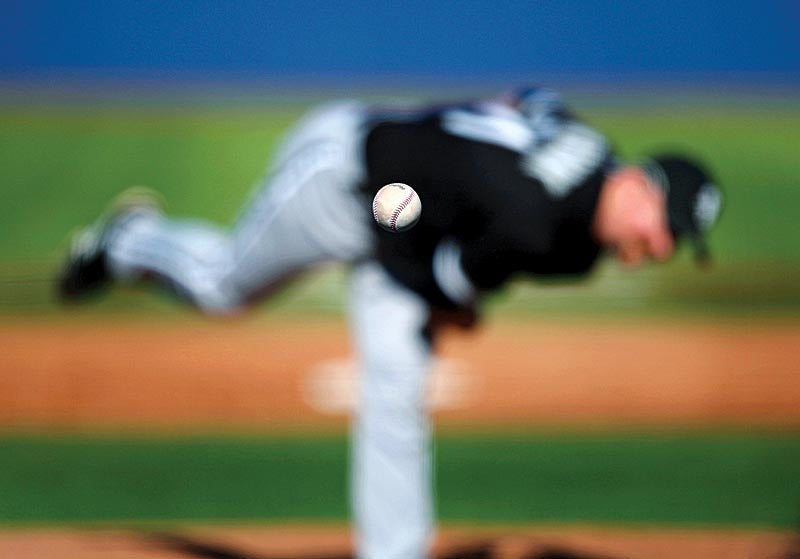 ©Isaac Brekken/ Associated Press
Isaac Brekken shot at 1/2700 second to freeze the ball as Chicago White Sox pitcher Scott Linebrink fires a pitch against the Chicago Cubs during a 2009 spring training game in Las Vegas, Nevada. "I focused between the mound an the plate," Brekken says, "and tried to time where the ball would hit the pre-set focal plane. I guess I shot about 30 pitches, and this was the one that was sharp." He used a Canon EOS-1D Mark III and a 400mm lens.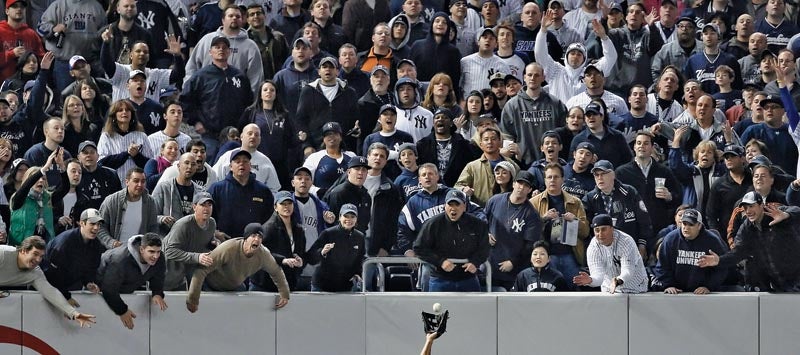 ©Robert Gauthier/Los Angeles Times
In the 2009 American League Championship Series between the New York Yankees and Los Angeles Angels, Robert Gauthier focused on the crowd as an Angel outfielder snagged a long fly ball. "Hopeful fans were expecting a home run, but showed a wide range of emotions as the Angels player reached up to grab the ball for an out," Gauthier says. "As I looked closer at the frame, I saw dozens of interesting stories unfolding in the faces of the Yankees faithful." He shot with a Canon EOS-1D Mark III and a 400mm lens.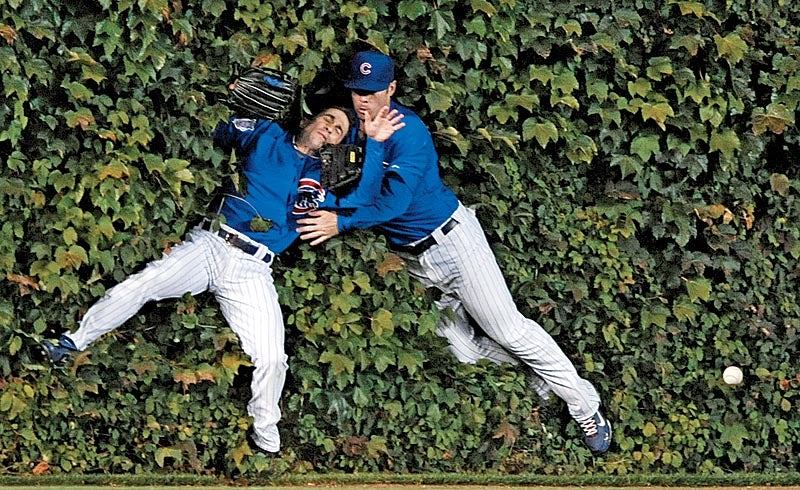 ©Paul Beaty/Associated Press
Paul Beaty caught Chicago Cubs outfielders Sam Fuld and Micah Hoffpauir colliding in pursuit of a fly ball. "The ball was hit by the Pittsburgh Pirates' Andrew McCutchen," Beaty says. "It was the first at bat during the game, which was played in September of 2009." Beaty used a Nikon D3 with a 400mm lens.