Mentor Series: Montana
The BEST OF photo gallery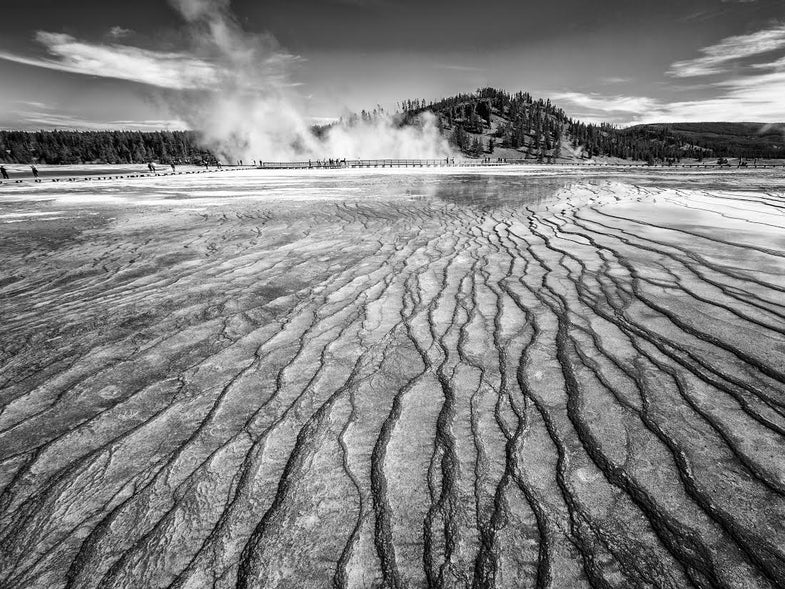 We traveled to Montana all the way from the East Coast and landed in Bozeman, then traveled to our final destination: The Three Bear Lodge in West Yellowstone. We headed down to the conference room to officially begin our trek. Michelle, Donnie and Vanessa were all happy to get everyone settled in before introducing us to our fabulous mentors Bob Smith, Michael Clark and Mark Alberhasky. We started with a sunset shoot along the banks of the Madison River, to our surprise there was a champion fly fisherman elegantly flicking his rod up and down the riverbank just for our group.
One of the most fun things about treks is stepping onto the bus each day. Whether you are a new trekker or an old veteran, every trekker is so happy and ready to share tips and experienc-es on treks from all over the world. Our first shoot of the day took place at Mammoth Hot Springs. The landscape was an incredible mix of barren trees, colorful bacteria pools, and wa-terfalls. That night we went over to Parade Rest Ranch to do some light painting. Each mentor had their own station set up that included cowboys, horses & a authentic stagecoach.
On the second day after an early morning breakfast we departed to shoot geysers and the larg-est hot spring in the United States, Grand Prismatic Spring. Grand Prismatic was beautiful up close, but the best vantage point could be found above, after a grueling hike up a steep path. We finished off our day in the park by shooting Old Faithful before some of us headed over to the Wolf & Grizzly discovery center back in West Yellowstone.
The final day of the trek Bob took our group out to shoot the upper and lower falls of the Grand Canyon of Yellowstone. The sharp sunlight on the falls provided a great opportunity to learn about exposure. We used both wide and telephoto lenses to get a mix of compositions in the diverse landscape. After returning from the morning shoot, we had our group dinner. It was a great chance to talk to people from the other groups that we hadn't had a chance to meet. We spent most of dinner discussing our favorite locations before heading to our final review session that night. The review was a great opportunity to learn from others, and to see how each pho-tographer saw completely different images in all of the same locations. Overall it was an amazing experience, the organization, location, and people were all top notch.
Chris Kerouac