Leica's new $8,300 M10-R still feels like a camera from the '50s
The 40-megapixel camera still accepts lenses dating back almost 70 years.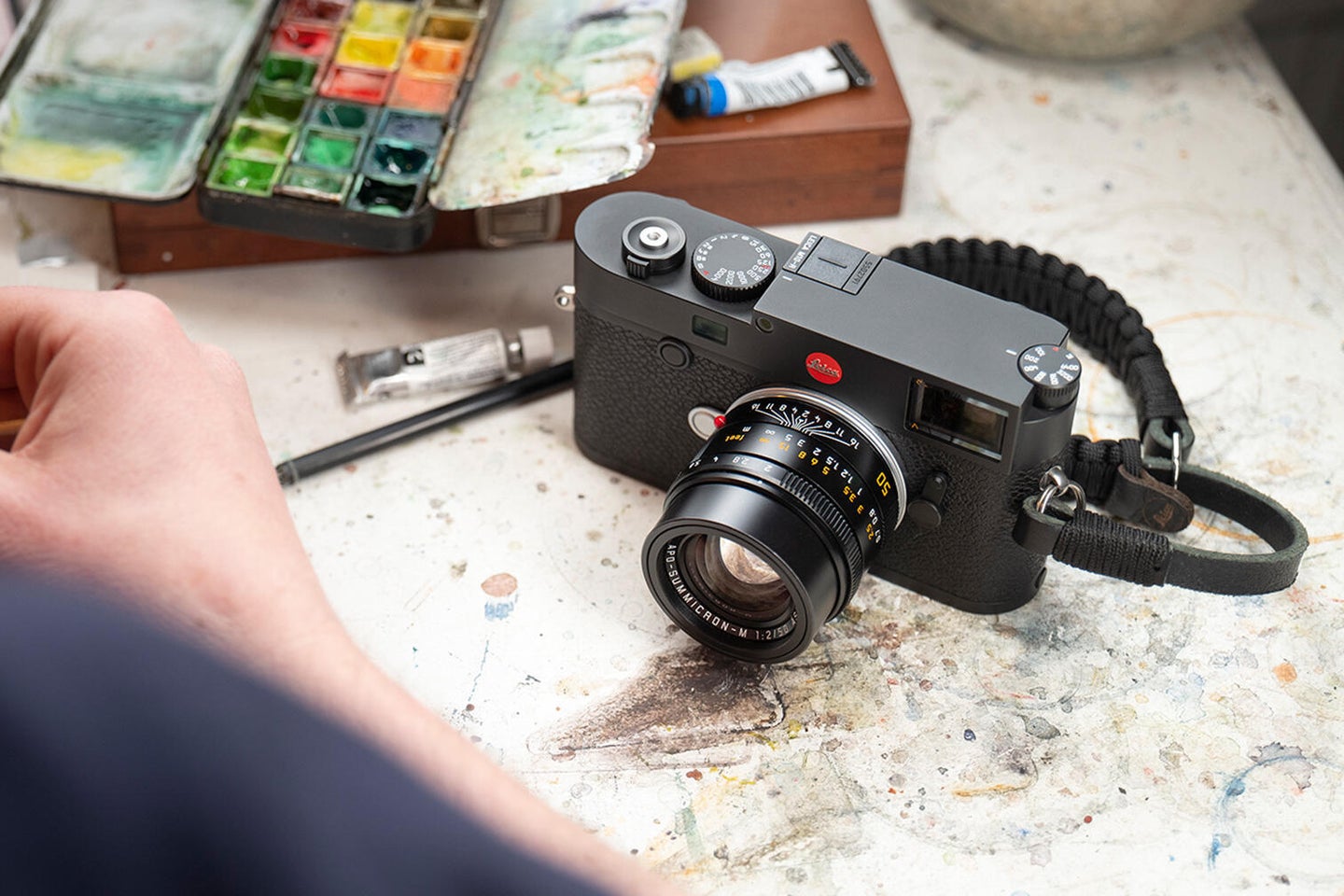 We may earn revenue from the products available on this page and participate in affiliate programs. Learn more ›
There are a few topics in the camera nerd community that guarantee controversy. Do megapixels actually matter? Are prime lenses better than zooms? But few prompts can really rile up a comment section like a new Leica. The company's 40-megapixel camera is no exception.
The M10-R will cost $8,295 when it's available later this month. That's a hefty price tag that towers over even modern professional cameras like Canon's beastly EOS R5, which will shoot 8K video and check in under $4,000 when it hits shelves later this month. The Leica, on the other hand, doesn't shoot video at all. The 40.89-megapixel sensor—up from just 24 megapixels in the previous model—is just for still photography. For die-hard fans of the brand, it's addition by subtraction. No video mode means no video record button. The M10-R also lacks autofocusing lenses and any kind of shake reduction to compensate for motion blur.
To the unfamiliar—or the non-believers—it sounds outrageous. But, this is the fifth iteration of Leica's digital M10 since 2017 and the company has had no problem selling them. Compared to some of the other models, like the M Monochrom, which only shoots black and white digital pictures for a similar price point, it seems almost reasonable.
Part of that price tag comes from the camera's pedigree. The M10-R's spiritual genesis debuted way back in 1954 with the M3, which was very novel for its time. It used bayonet mount lenses that click into place, rather than screwing onto the body, which made the swapping process much quicker. A convenient thumb lever advanced the film rather than a knob (though early M3s required you to push the lever twice to advance the film fully every time you took a shot).
Those M-mount lenses—and just about every M-mount lens manufactured since then—will still work on every camera in the M line, including the new M10-R. There are still plenty of M3s out there in the world right now and the company still readily services them at their stores. You can still get parts for legacy Leica M cameras, which isn't the case for other manufacturers that have folded or stopped supporting their old bodies.
I don't have a ton of experience shooting Leica M cameras. I was never particularly good with a rangefinder—SLRs fit my style better. But, I have had the chance to use many of them. They all have a very similar feeling when you're shooting. Pick up a Canon camera from the '90s and it'll feel vaguely familiar when compared to a modern DSLR. Pick up a Leica M, though, and it's eerily similar. The shutter is still super quiet. The body still feels like you could drop kick it into a brick wall and it might keep working.
So, are Leica's overpriced hype bait or field-proven photographic workhorses that last generations and earn their high cost? The truth, frustratingly, is almost certainly somewhere in the middle. While it's unlikely the major manufacturers will ever make anything quite like the M, camera weirdness has been creeping back into the world. Fujfilm's X-Pro3 employs the Rangefinder-style design and even encourages shooters to keep the LCD flipped backwards to reduce reliance on checking the screen all the time. That's a total Leica move. In fact, the M-D, which it introduced back in 2016, doesn't have a back screen at all.
If you're going to compare the Leica M to something extravagant for no reason, then I believe you're wrong. This week, the new Ford Bronco debuted and enthusiasts were thrilled that it comes standard with a manual 7-speed transmission. Enthusiasts get enthusiastic about stuff that doesn't necessarily make any real logical sense when convenience and practicality are the only concerns.
If you want an M10-R, you should probably try to pre-order one soon. New models typically sell out quickly with dealers as the company doesn't make tons of units. While you're at it, maybe throw a 50mm f/0.95 ASPH Noctilux-M lens on your order for just $12,495 more. It still won't shoot video.