DJI's new FPV drone allows operators to capture footage from a first-person view
A VR headset shows a real-time feed of what the craft sees from the air.
We may earn revenue from the products available on this page and participate in affiliate programs. Learn more ›
One day, maybe drones will be large and powerful enough to tote humans into the sky. For now, though, first-person-view drones are about as close as we're going to get. Crafts like DJI's new FPV beam a live feed from their cameras directly to a head-mounted display to put the ground-based pilot in a virtual cockpit.
DJI's new FPV looks different from its modular siblings in the Mavic family. The new craft is designed with first-person flying in mind and it has gotten some technical upgrades to make the process seamless and less likely to make you queasy.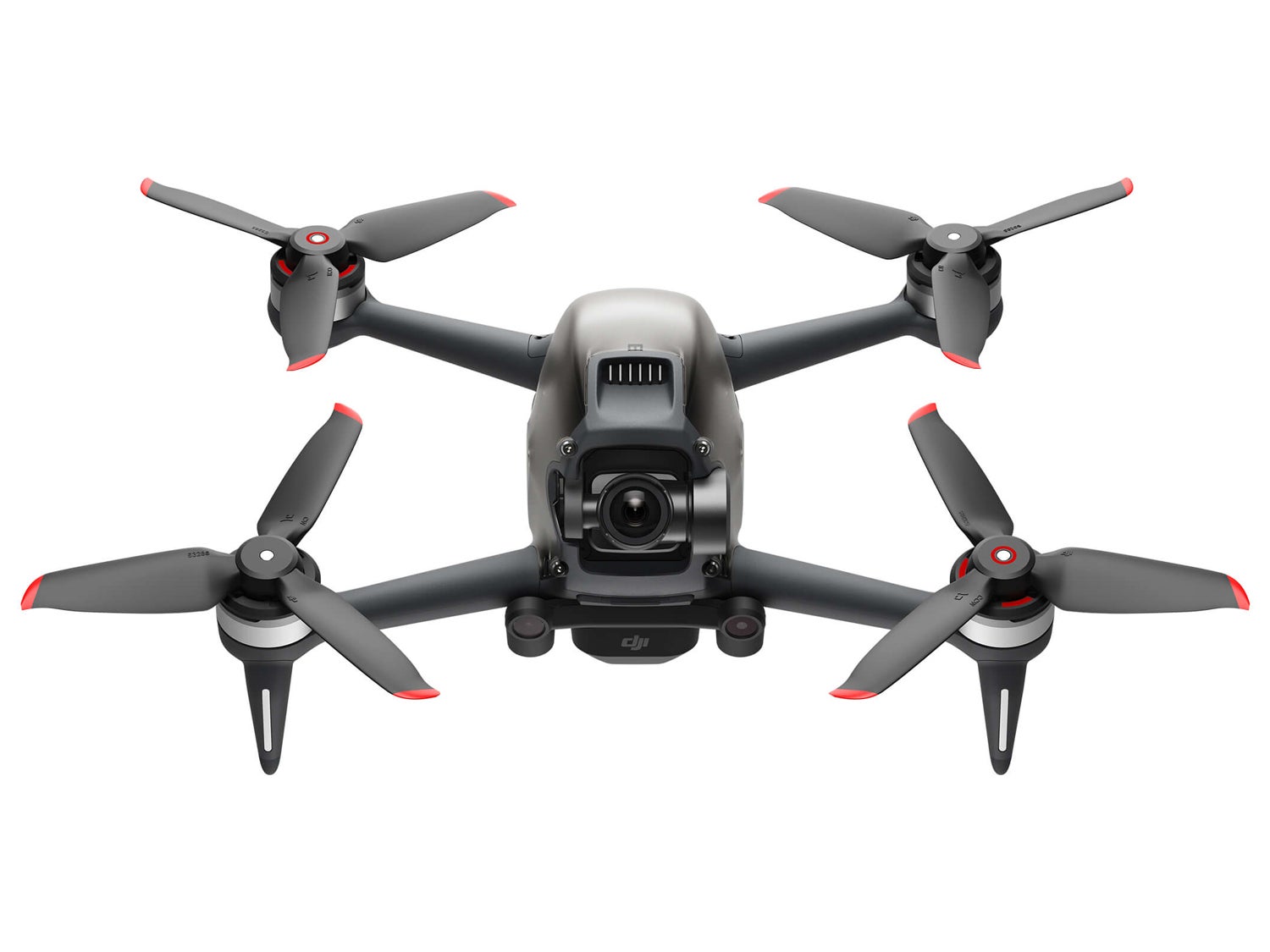 The drone connects to the new FPV 2.0 headset and pumps a 810p video feed directly into the displays. The connection promises a smooth refresh rate, which your brain prefers over choppy footage. DJI has also cut down the latency between the headset, the controller, and the craft. The disparity between the controls, the FPV's movements, and what your eyes see can cause dissonance in your senses, which can be very disorienting and even make pilots sick. The feed from the craft makes its way back to the display in less than 28 milliseconds for a range of more than six miles.
[Related: This surprisingly common flight issue contributed to Kobe Bryant's helicopter crash]
Flying a drone from the first-person view takes some getting used to even when everything is working perfectly. To ease the transition, DJI has introduced a new one-handed, motion-sensitive controller. The device has a trigger on the front and a small array of buttons on the back that make it look vaguely like an infrared thermometer. Tilting the controller side-to-side actually causes the craft to bank in different directions.
The FPV can take commands from a traditional controller as well. In fact, the typical two-handed pad offers more selections when it comes to flying modes. N Mode offers a typical DJI flying experience, which enables object recognition and avoidance safety features, which are particularly useful when you're just learning to fly. S mode is more of a hybrid setting that eases the controls by toning down the turning radius and acceleration of the craft for more cinematic movements rather than abrupt changes in speed or direction.

If you're a seasoned pilot, however, the FPV offers M Mode, which allows for super-quick turns, and acceleration that will take it from 0-62 mph in two seconds. That's on-par with the fancy new Tesla. This is the kind of control that professional drone filmers and racers want.
Every mode offers some safety features, including an emergency stop-and-hover button that causes the craft to freeze in place. It also has the familiar button that calls the drone home to land in the spot from which it took off.
The FPV is built for filming, so it has a high-quality camera built into the front. It shoots 4K footage at 60 fps with a bitrate of 120 Mbps, which means each individual frame contains ample image information to stand up to demanding production requirements. The camera also employs DJI's RockSteady image stabilization system, which keeps cuts down on distracting camera shake while maintaining the feel of fast motion.
The FPV is available now and costs $1,299 with the standard controller and head-mounted display. The one-handed Motion Controller costs $199. Each Intelligent Flight Battery costs $159, but you can also get the Fly More Kit for $299, which includes a pair of batteries and a hub for charging them both simultaneously.