Sony G Master Series Lenses: Hands-On Impressions and Sample Image Gallery
Spend some quality time with Sony's new pro-grade lenses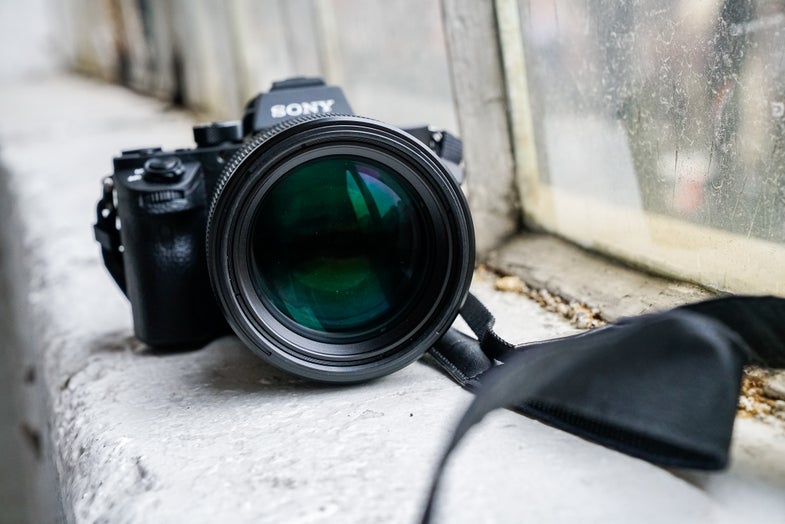 We may earn revenue from the products available on this page and participate in affiliate programs. Learn more ›
[To see the EXIF data and full-resolution images, check out this gallery on Flickr (warning: full-res images from the Sony A7R II are 20 MB+). Photos by Stan Horaczek, Miriam Leuchter, and Philip Ryan.]
Sony just made a huge advance in their full-frame lens game with the announcement of the G Master series glass. We had some quality hands-on time with the new 85mm F/1.4 and the 24-70mm F/2.8 lenses at the Sony press event in NYC. While the full reviews will be coming down the road, we can share some early impressions and some sample images to give you an idea of what they're working with.
The 24-70mm F/2.8 (which will retail for $2,200 when it hits the shelves in a few months) feels extremely solid, but also smaller and lighter than many of the DSLR-specific 24-70mm F/2.8 lenses I have used. Technical editor Phil Ryan points out how balanced the lenses feel when attached to the relatively compact A7 bodies (we were shooting with the A7R II) despite the abundance of glass inside.
The AF drive is seems silent (even though we were in a room that was rather loud) and precise. The zoom ring is firm, but not stiff, which is a subtle, but important distinction. From an ergonomics standpoint, I (Stan Horaczek) found that my big fingers caused the edge of the lens to rub against my knuckle during use. No one else seemed to have that problem at the event, but it's worth considering if you have giant hands like mine.
The 85mm F/1.4 is the other lens we were able to checkout today as the 70-200mm F/2.8 isn't quite ready yet (it will be available in May for an yet-to-be-announced price). Again, it feels hefty, but it's not quite the beast that is the Canon 85mm F/1.2 (a lens I personally like very much) or even the Nikon 85mm F/1.4.
One of the big selling points about the new lenses is how much attention they have put into making the bokeh more attractive. It will be easier to evaluate that type of performance in the "wild." After all, it's the ability to make blurry trees look good behind a happy couple that will make or break a high-end lens for many wedding and portrait photographers.
I did notice some interesting flare on some of the photos that behaved a little unexpectedly. This is something that I'll have to check out a lot more once we have a lens to try out, but the shape and occurrence of the flare was slightly different than what I'm used to. I would guess this has to do with the unique shape of the aspherical lens elements inside, but that will take some more investigating. To be clear, I don't think it's a flaw in the lens, just something I'm interested to check out.
At first glance, both lenses appear very sharp, even when wide open, which has become increasingly important as bokeh is at a premium. They very much feel like professional-grade lenses, which inspires confidence.