Software Review: Mylio
Manage images from anywhere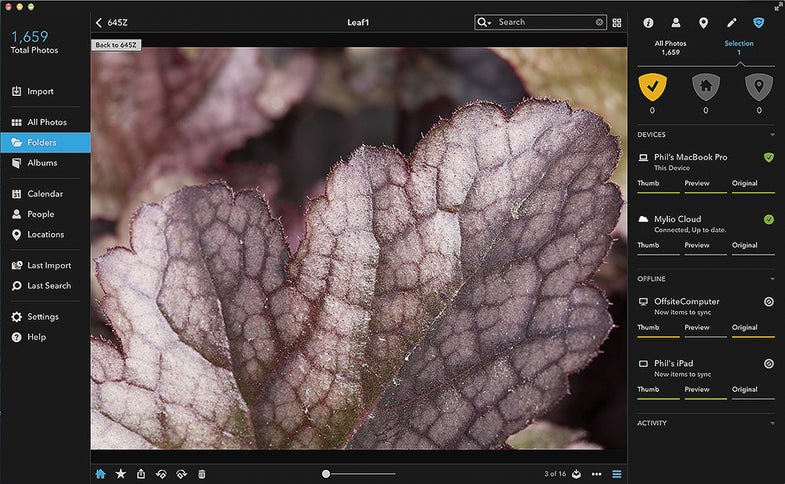 We may earn revenue from the products available on this page and participate in affiliate programs. Learn more ›
Where are your digital images? Are they on your computer's hard drive? Are they on USB drives that you sometimes connect to your computer but tuck away when guests come over? Are they on a bunch of thumb drives in your desk or camera bag? If you're like most people, you'll answer yes more than once—and then realize you also have photos on your cell phone, tablet, and uploaded to Facebook and other sites.
The subscription software service Mylio, which stands for My Life is Organized, hopes to offer an easy way for you to keep track of all of your images, while letting you keep scaled-down versions with you wherever you are. This way, when I ask you, "Where's that great picture of Molly you showed me at my birthday party last year?" you can find it again, send me a copy, or make a print.
Sure, other programs will back up your images, or organize and edit them, but Mylio brings with it a very smooth interface and helpful automation that we think will appeal to a lot of shooters. It comes in three different levels of service, depending on the number of photos you have and the number of devices you want access to.
The Interface
Your first experience with Mylio will likely be on its website as you download the software, or, if you start on a mobile device, the sign-up process through the app. But once you get going on your primary computer, you'll mostly use Mylio's main interface. It has an elegant look that evokes Adobe Photoshop Lightroom, especially if you use the dark color theme.
Control panels, which can be hidden, occupy the left and right sides, with a center window that can be populated by thumbnails of your images, folders, albums, people or locations that you have tagged, or a calendar view. You can adjust the preview size via the slider at the bottom of the screen. The left control panel allows you to move among these different views or to access settings, help, or the import tool to add images.
The right-hand panel has five icons depicting ways to use it: See info about a folder or image; tag people in your images; or set location tags, for instance. You do the latter by zooming in and clicking on points on an actual map—in this case using OpenMaps.
For editing, click the pencil. You can make basic adjustments, crop, and remove red eye; there's even a handy before/after toggle. All editing is nondestructive, using sidecar files to apply adjustments without permanently changing the original image. Any changes you make, though, will be populated out to all of the other devices you use with Mylio.
Marked with a shield, the Sync option gives you control over how all of your images move between your devices. Click on the icon for the type of device to rename, change general settings, or remove from Mylio. Click on the device name to vary its sync settings (more on this later).
Mylio recognizes and preserves your file structure on each device unless you tell it to make changes. But since you're likely to want to make albums with images from various folders, it includes a feature called Lightbox: Drag an image down from the preview area and the Lightbox, a small horizontal strip, will open up to let you drop the image there. This doesn't actually move your image file—it's just a visual reminder that you're working with the image, or group of images. If you create an album, again your images won't move, but you'll be able to navigate through it, viewing images that actually reside in various folders.
Once you have a vast number of images in Mylio, you'll likely get to the point where you mostly look at albums curated from various folders, though you'll always have access to all the images that didn't make the cut, just in case you second-guess your selections.
Setting It Up
The initial set-up is quite simple. There are three price levels for Mylio, though you can also tinker with the free trial that lets you import up to 1,000 JPEGs across three devices. The Basic subscription costs $50 per year and lets you import up to 50,000 JPEGs and view them on up to three devices. For $100 you get the Standard subscription that adds RAW file support, boosts the device limit to five, and allows 100,000 images. The Advanced level costs $250 per year, permits computers in multiple locations, has integration with Lightroom, and can handle 500,000 images.
If you don't use Lightroom and won't need to sync Mylio on devices that are never on the same local network, then you probably don't need an Advanced subscription. If you don't shoot RAW yet, try starting at the Basic level and moving up when you hit the 50,000-image limit or want to add more than three devices. Note: External storage, such as USB hard drives, doesn't count towards the device limit of your subscription—think of a device as something you use to view your images, such as a smartphone, tablet, or notebook computer.
After choosing your subscription level, the first question you must ask yourself is whether you want to copy all of your original images into one location or if you want Mylio to watch the folders in which they already reside. It's obviously nice to have all of your images in one drive, as long as it's always properly backed up, but you don't have to do this to use Mylio. If you tell the program to watch folders, they will remain wherever you originally had them; after your initial import, Mylio will notice if images have been added or removed, and duly adjust the catalog. Likewise, if any changes have been made to a file, the program will notice and update. This also means that if you delete a file via Mylio, it will be deleted from its original location.
You can also choose between Copy or Move in importing. If you choose Copy, it will leave the original files where they were and create new versions for use with Mylio. If you choose Move, it will create copies in the Mylio directory but delete them from their original location. So if you use Lightroom or another image organizer that remembers where your original files are, that program won't find them if you choose Move when importing them after this; if you choose Copy, your other program will see the images, but any changes made won't be reflected automatically in Mylio.
Once you get your image library set up, you'll want to download the Mylio app to your iPhone and/or iPad if you haven't already. There is still no Android app, though the main program is available for both Mac OS X and Windows. You just have to log in using the credentials you established when activating the main program, and Mylio will add that device.
Since current smartphones and tablets have limited storage space, you won't want to copy all of your full-sized original images to those devices. This is where Mylio's automation shines. The system creates thumbnail versions of your images that it uses when you navigate through the various ways you can view them, as well as preview versions tailored to the screen resolution of the device. This way, you can tell Mylio to keep the original files at home and put only previews and thumbnails on your phone. Once you choose which versions of your images go on which devices, Mylio will generate them and push them out appropriately.
It also makes backing up your images a snap—and reminds you to back up regularly. If the bars below the versions of your images in the Sync panel are green, you know that they are up-to-date. If not, you'll need to turn on that device and start up Mylio so that everything will sync. If you back up to a removable hard drive, the Sync panel reminds you to attach that drive and update your backup.
If you want to, and you're good with networked drives, you can use a Network Attached Storage (NAS) drive with Mylio. It's a handy option for backup, though a large, mirrored, removable USB drive may be an easier one. With an NAS drive, you'll have to contend with all of the pitfalls of networking. Depending on how you access your NAS drive, the settings on your router, any wireless protocols you use, and other networking wackiness that may arise, don't be surprised if you run into trouble. It's not fair to blame Mylio for the computer industry's lack of simplified networking standards, but don't say we didn't warn you.
The Bottom Line
For the hyper-organized, type-A people among us, Mylio may not be necessary. We will admit, though, that few of our photos ever made it from our computer to our tablet prior to Mylio—just the process of deciding which ones to bring over proved too bothersome, let alone resizing the images so that the tablet wouldn't fill up. With Mylio doing all the tedious tasks, we can now bring tons of our photos with us everywhere, and create and refine photo albums wherever we are. We've ended up showing off much more of our photography than we had before.
As some early reviews noted, Mylio's integration with Lightroom isn't always perfect: At times, we found it would interpret and display edits made to RAW files in Lightroom differently than Lightroom would. We expect this issue to be resolved, but with all the different RAW formats cameras produce, it may be an ongoing challenge. Check the list of supported RAW formats on the Mylio website before expecting it to handle the files made by your camera—it supports a healthy list, but if you have an older or unusual model, it may not have made the cut.
That said, we wouldn't be surprised if Mylio were to add a camera if you email them a request. We sent a few emails to the company's customer service reps during our review period and found that they respond quickly (typically within 30 minutes) and are quite knowledgeable and helpful.
This is just the beginning for Mylio. The software is still in a very active stage of development and new features will continue to appear as customer feedback grows. Even though the software has been available for only a few months, there's already an Experimental Features tab in the Settings menu. One Mylio promises to add that we look forward to most? Facial recognition. You currently have to tag people individually, although Facebook images tagged with people's names will import with tags intact and the names will be automatically added to your people list in Mylio.
If your family constantly complains that they never see your pictures, Mylio can be revolutionary—you can view and search them all from any connected device. And the system reminds you to back them up, a feature that alone will keep us hooked. Most importantly, Mylio has added even more depth to our appreciation of imagery. The calendar view lets you step back through your life, or even further, and can be mind-blowing if you import enough family photos to stretch back generations. Now to import more images.
Specifications:
OS Requirements
Mac: OSX 10.8 (Mountain Lion) and later; iOS 7 or higher
Windows: Windows 7 or Windows 8
Hardware Requirements
Mac: Core i5 processor or better; 64GB hard drive
Windows: DirectX 11 capable GPU; 512mb GPU RAM; 64GB hard drive
iOS: iPhone 4S, 5, 5s, 6, and 6+; iPad 2 and later; iPad mini; iPod touch (5th generation)
Price: Basic, $50 per year; Standard, $100 per year; Advanced, $250 per year; free trial available
Info: mylio.com