Blackmagic Pocket 6K Pro review: Pro-grade performance on an indie budget
The Blackmagic Pocket 6K Pro improves on the company's earlier Cinema Cameras with pro features and video quality.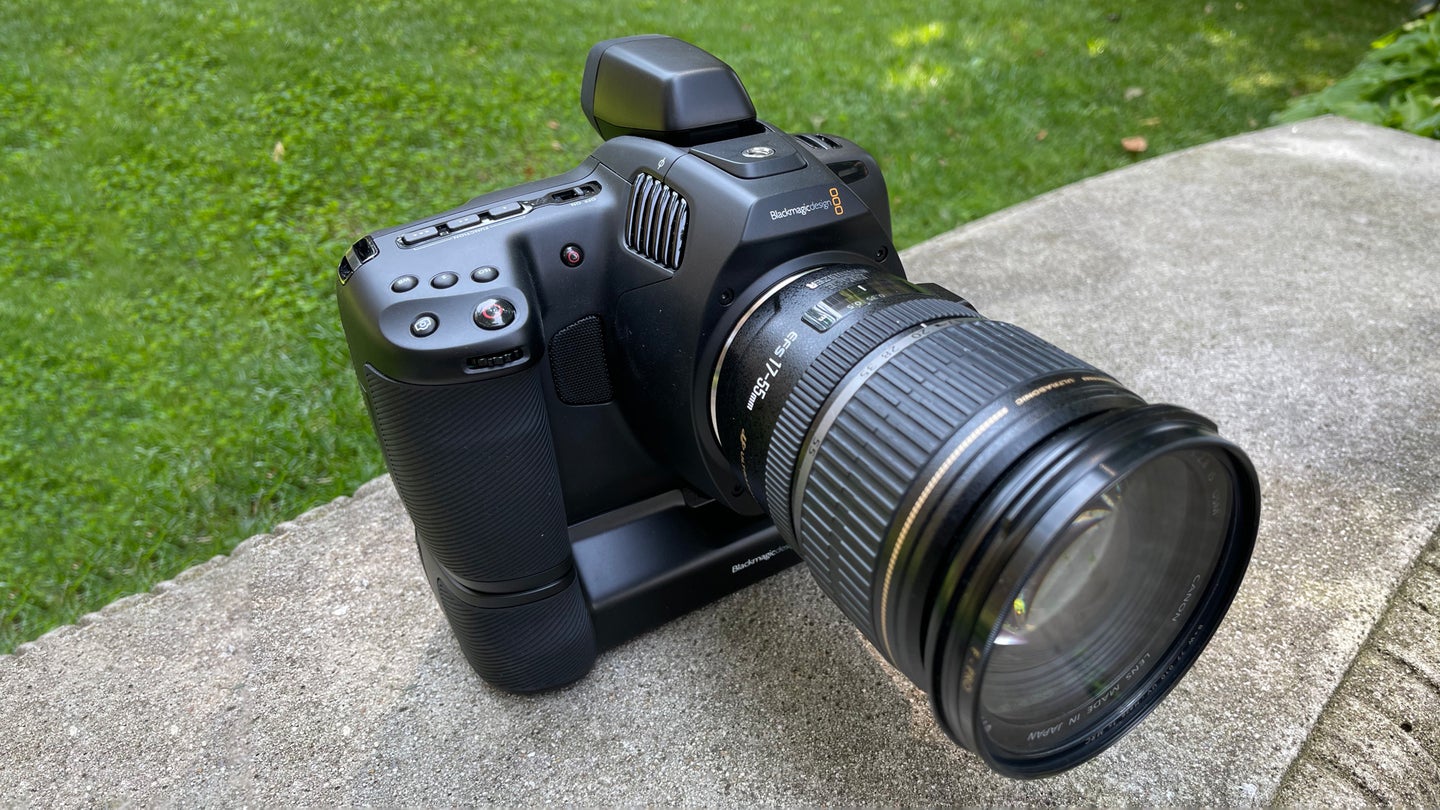 We may earn revenue from the products available on this page and participate in affiliate programs. Learn more ›
I'm an indie documentary maker who has worked on programs for Netflix and History Channel, as well as feature-length films. The "indie" means that, more often than not, I'm traveling solo with two cameras, lights, microphones, stands, and whatever else I deem necessary for the shoot. It's not easy. So when I started making two movies just before the pandemic, I chose to work with Blackmagic Design's line of Pocket Cinema Cameras. They can capture beautiful footage, and they're relatively small, lightweight, and remarkably inexpensive packages. It's easy to stick two of them in my camera bag with matched lenses and other accessories. At the time, I decided on their 4K and 6K models, which pack high-quality, professional features and fit my indie budget. They worked well, but weren't perfect for documentary work due to their shorter battery life, immobile screen, and, most frustratingly, lack of onboard neutral density filters to help control exposure. A little more than a year later, with the release of the Blackmagic Pocket 6K Pro, the company fixed those issues, and more. 
With high-end imaging technology, a tiny footprint, and loads of professional features, the Blackmagic Pocket Cinema Camera 6K Pro (BMPCC 6K Pro) looks, on paper, like a filmmaker's dream. And with a basic package costing $2,495, it's a fraction of the price of other 4K and 6K cameras. But is it really possible to make a small, budget-friendly cinema camera that delivers Oscar-winning performance? Or is Blackmagic's act all smoke and mirrors? I put the camera through its paces on real-world documentaries and corporate shoots to find out.
The Blackmagic Pocket 6K Pro's design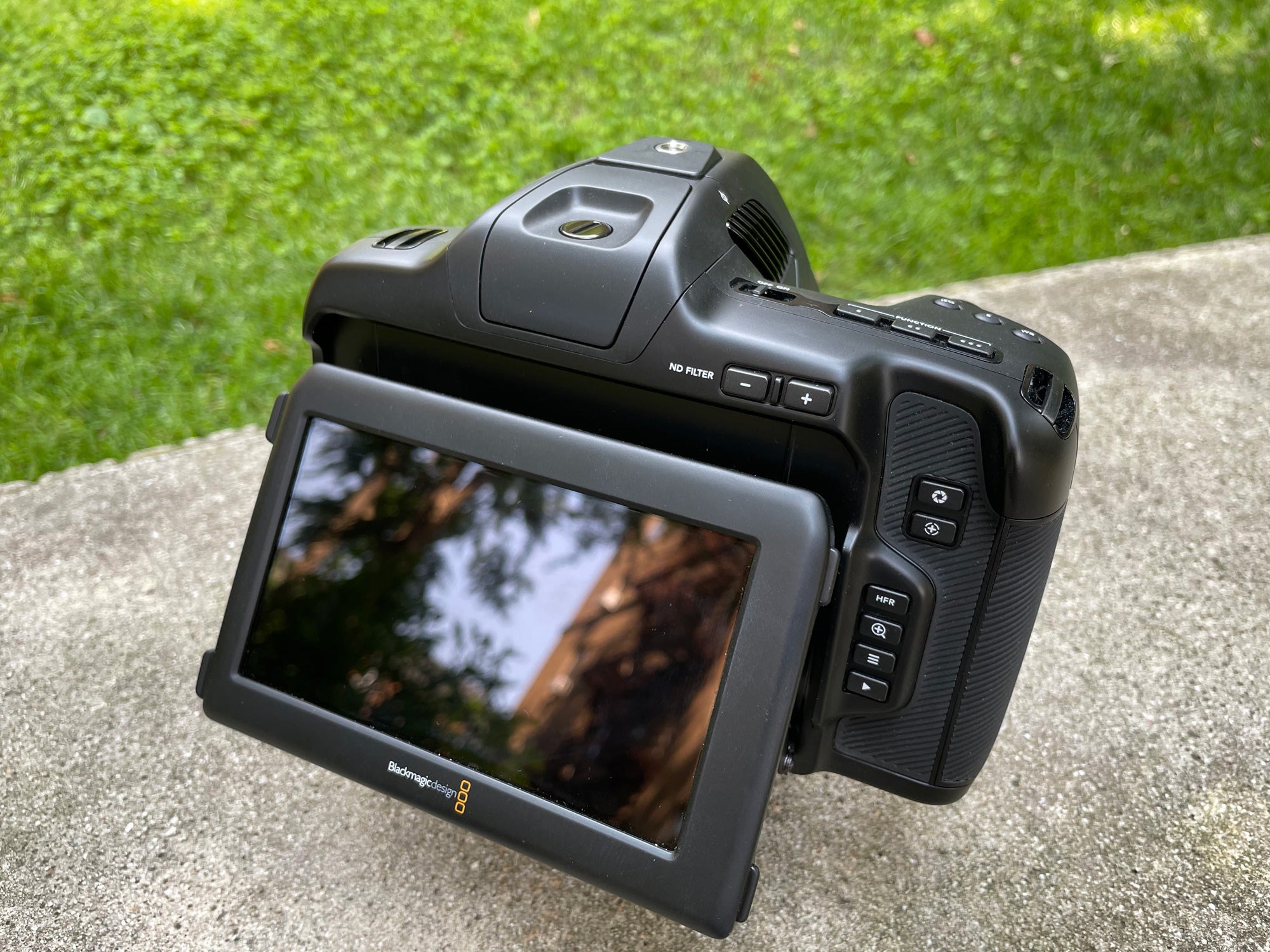 The BMPCC 6K Pro's form-factor resembles that of a DSLR, continuing a trend that started with Blackmagic Design's original version way back in 2013. Name notwithstanding, don't expect to fit this beast in your pocket unless you're a kangaroo. It's 7 inches wide by 5 inches tall, and 5 inches deep from the lens mount back to the screen. Blackmagic keeps the weight down to 2.75 pounds by making the body out of carbon fiber. It's not a featherweight, but it's much lighter than some of its cinema-specific competition. And, counterintuitively, I like that the BMPCC 6K Pro has a little heft—it makes them much easier to hold steady and avoid "shaky cam" when shooting hand-held.
The Blackmagic Pocket 6K Pro features an active Canon EF lens mount that's compatible with photography and cinema lenses from a variety of manufacturers. I like to shoot handheld with an image-stabilized Canon 17-55 f/2.8 zoom and, for interviews, I often rely on Sigma's ART series of fast primes—all of which mount beautifully to the Blackmagic.
The camera's physical controls are intuitive and easy to access. It has a bright, 5-inch, tilting LCD touchscreen on its back. Three customizable buttons—along with ISO, shutter speed, and white balance—are all located within quick reach of your index finger. There's also a handy dedicated button for capturing stills. While the camera isn't really designed for photography, it's a handy way to grab a pic to show clients, producers, or directors who might want to see your framing.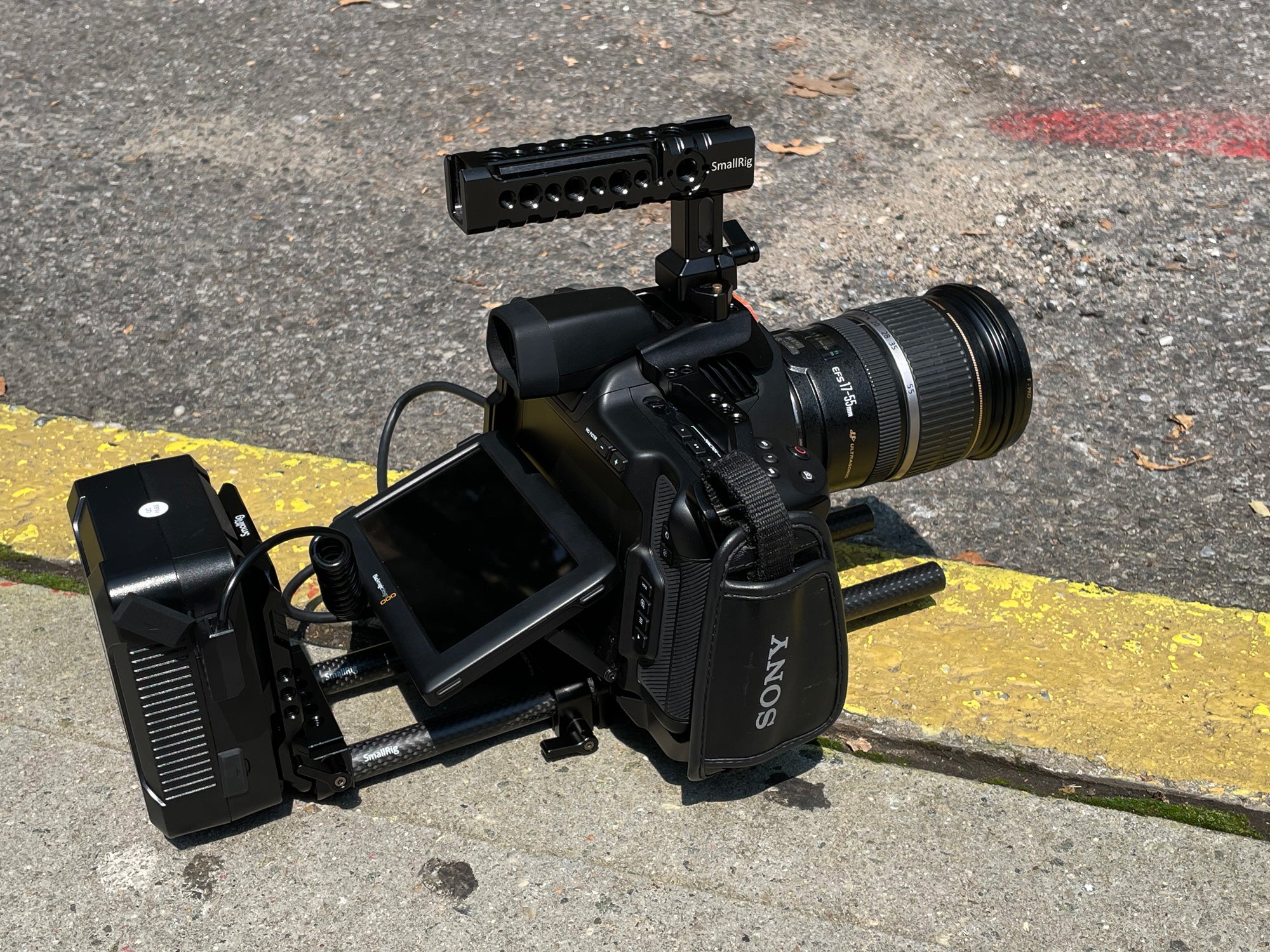 Located on the back of the camera are buttons to select the ND filters, as well as ones for High Frame Rate (for slow-motion shooting), focus-assist tools, menu access, and clip playback. A large, tactile start/stop record button perches on the camera's integrated right-side handle, and a smaller one pokes out next to the top-right corner of the lens mount. An aperture wheel is set into the side handle as well. 
My only complaint about the overall layout, and it's the same complaint I've had since the release of the 4K version, is that Blackmagic Pocket 6K Pro doesn't put the second record button on the camera's left side. I often hold it in my right hand by a top handle, and it's awkward to reach across with my left to start shooting. This is a small concern, but fixing it would drastically improve handling.
On the camera's right, behind a small door, are slots for CFast media cards and SD cards, as well as a battery compartment on the underside. Finally, the camera includes standard 1/4-20 threaded holes on the bottom and top to attach accessories or a tripod plate.
Audio connections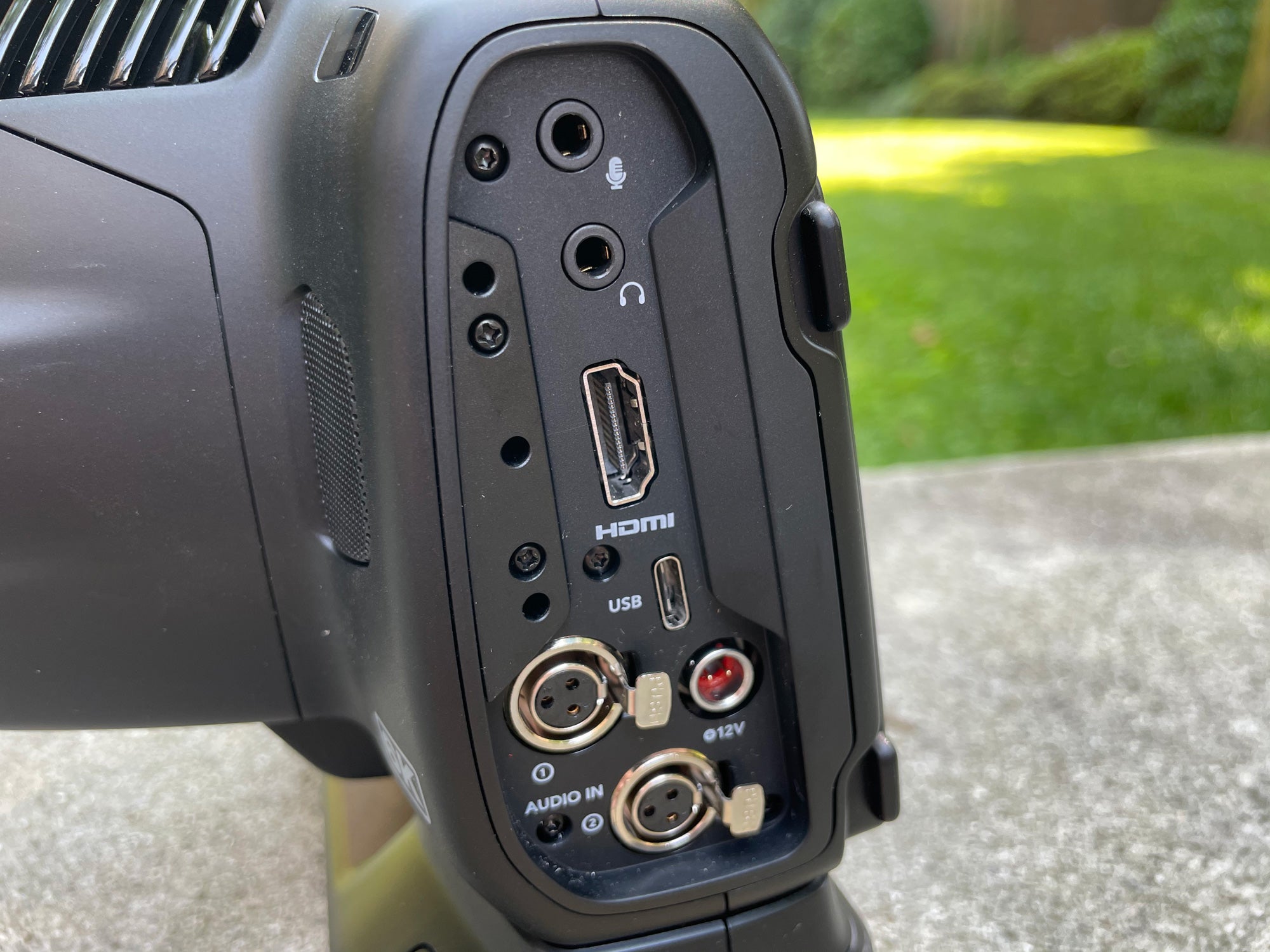 Blackmagic Design positions two locking mini-XLR balanced microphone inputs, a 1/8-inch TRS audio input, headphone out, a USB-C jack, an HDMI output, and the locking AC power input on the left side of the camera. On one hand, I like having everything together to avoid a tangled knot of cables crisscrossing the camera. On the other hand, fitting so many lines into such a small area makes it hard to remove them unless you've got tiny fingers. At the very least, I'd prefer to put the headphone output elsewhere.
A pair of front-facing, on-camera microphones bulge slightly from either side of the lens mount. They're great for capturing ambient sound, but, as is the case with all built-in mics from any manufacturer's camera, you'll want an external microphone if you're rolling on critical audio. This is just best practice.
Caging the camera
As much as I enjoy the compact design of the BMPCC 6K Pro, it needs a third-party cage. Cages are metal housings covered in threaded holes of various sizes, plus other attachment points, that provide added protection. They also allow shooters to rig out our cameras with a top or side handle; rails for accessories like follow-focus knobs or matte boxes; battery plates; an extra monitor; cable locks; and any number of other useful tools.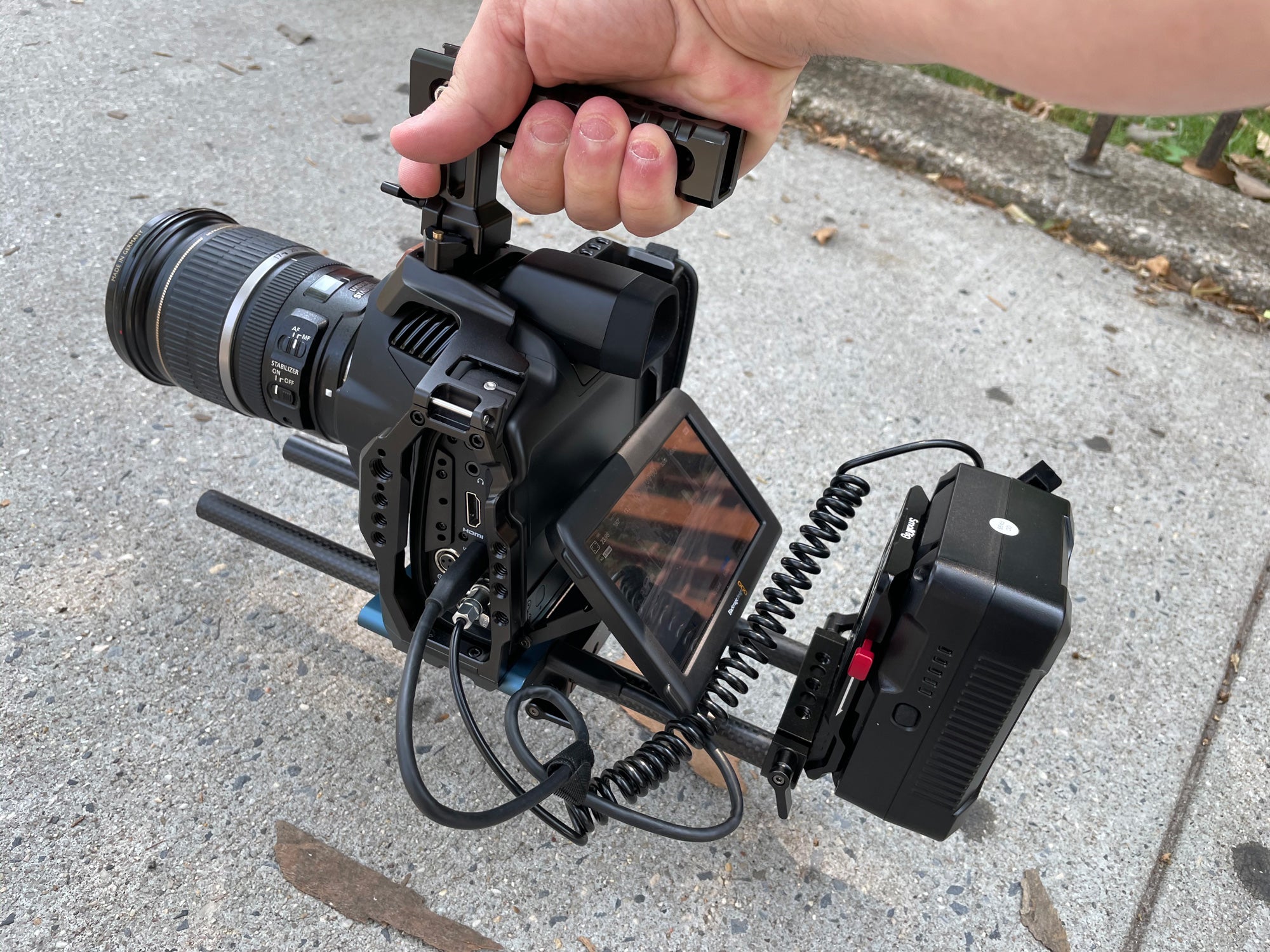 Needing a cage isn't a drawback, it allows cameramen to customize the camera. However, they can add some weight and cost to the Blackmagic Pocket 6K Pro, and anyone considering the camera should bear that in mind. Also, I recommend spending a little time shooting with the camera before choosing accessories in order to figure out which ones suit your shooting style. You can always add pieces as your filmmaking develops—I have a box full of them.
Features of the Blackmagic Pocket 6K Pro
Like the original Pocket 6K, the BMPCC 6K Pro uses an active EF lens mount and features a Super35 CMOS sensor. It shoots 6K raw at all standard frame rates up to 60 frames per second; 4K raw up to 30 fps; and HD or 4K, ProRes 422 (HQ, LT, or Proxy) up to 60 fps. All those formats and frame rates provide a lot of flexibility, though most of my own project specs ask for either 6K raw or 4K ProRes 422HQ at 23.98 fps.
The camera boasts an impressive 13 stops of dynamic range, with dual ISOs of 400 and 3200. The camera performs well across a wide range of lighting situations, from a room full of table lamps to my professional LED panels. I've been in situations with very low light, and I was surprised at how little noise cropped up in the footage even with the ISO cranked to about 8,000.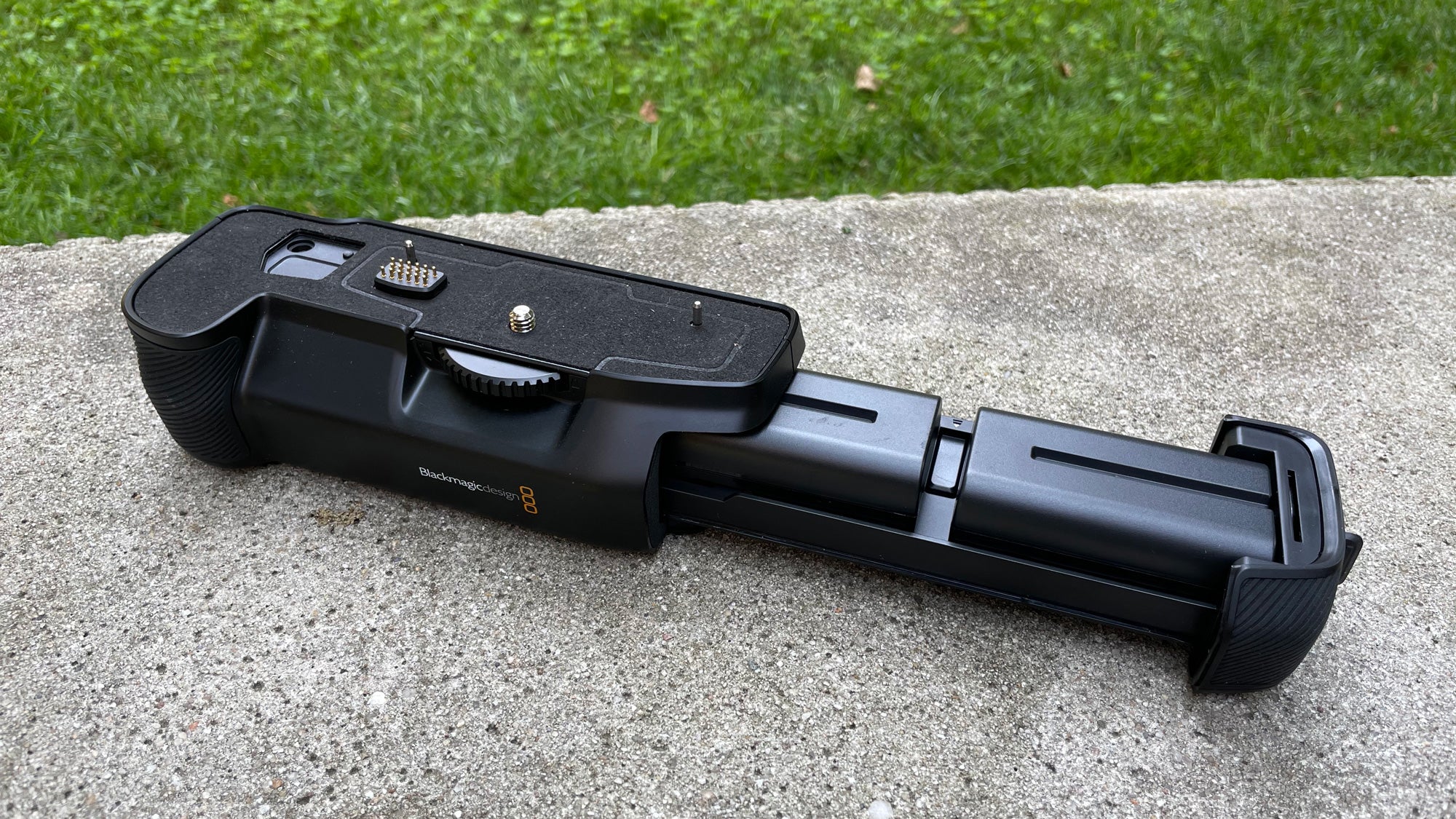 Of course, the camera only delivers the full 13 stops of dynamic range when shooting at its native ISOs, but that doesn't do me any good if I can't see my subject in the first place. The ISO goes all the way up to 25,600, but, at that point, you can expect a near-ruinous amount of noise; I don't recommend it unless it's a last-gasp act of desperate shooting.
The BMPCC 6K Pro improves on its predecessor in a number of important ways. I was most excited to see the addition of internal neutral density (ND) filters for added control over the exposure. With the push of a button, pieces of tinted optical glass drop in front of the sensor to cut light by two, four, or six stops. When I'm shooting interviews, I keep my lens' aperture open to about f/2 in order to create a blurred-out background that makes my subjects pop. 
Thanks to the NDs, I don't have to stop down on the lens, losing the background blur, in order to prevent overexposure. And when I'm shooting run-and-gun style, the ND filters help me keep rolling even when moving from shadows to bright daylight.   
The Blackmagic Pocket 6K Pro's LCD touchscreen now tilts up and down, which is great since I love shooting from a worm's-eye view but don't feel as enthusiastic about lying in the mud when framing a shot. I'm also short, so being able to hold the camera up over my head and still see what I'm shooting is nice. However, the monitor doesn't flip out to the side or rotate 180 degrees, which means vloggers and YouTubers might have trouble using this camera without attaching an external monitor to the HDMI output.
Happily, Blackmagic Design also added a port for an attachable electronic viewfinder (sold separately), which is handy for pulling critical focus in bright sunlight. My review camera included one and I highly recommend it. Third-party manufacturers make extender cables, so you can rig the EVF wherever it's most comfortable (I like mine just off to the left of the camera). Audio also gets a much-needed boost with another mini-XLR jack to attach a second balanced microphone.   
The battery
I've always disliked Blackmagic Design's original use of Canon LP-E6 batteries, which last about half an hour in the original 6K camera. Thankfully, the company has adopted Sony's L-series batteries with the BMPCC 6K Pro, which has a slot for one of the smaller NP-F570s. The company claims it can power the camera for about 45 minutes, and while this bears out in my own experience, it's shorter than I'd prefer. Blackmagic addresses this concern by selling a separate battery pack that holds two NP-F570s and cleverly mounts to the underside of the camera's body. It's a compact, efficient, and elegant all-in-one solution that even allows shooters to hot-swap their batteries in the field on long shoot days.
But it also makes the camera taller and it doesn't fit comfortably with how I like to balance my camera when I shoot hand-held. Instead, I chose to forgo the pack and plugged a professional 98-watt-hour V-mount camera battery—which I attach to rods using a battery plate—into the Blackmagic Pocket 6K Pro's AC input for literally hours of shooting. It's definitely heavier than Blackmagic's battery pack and it makes the camera larger overall, but the weight distribution and balance, the overall ergonomics, suit me better. It's a personal choice, though, and if you're looking to keep your camera lean and mean and looking clean, I think Blackmagic's battery pack is an excellent option.
Setting up the Blackmagic Pocket 6K Pro
The camera's menu is accessed via the large, rear touchscreen, and it's by far the easiest menu to navigate of any camera I've ever owned. From here, you can set the recording format, as well as configure your audio set up. Other important settings include the camera's frame rate, its off-speed recording rate, what sort of information you'd like to send out of the HDMI to a director's monitor or external recording device, and a host of other controls. All settings are retained even when the batteries run out, and you can use an SD card to quickly transfer settings from one camera to another so they match perfectly on multi-camera shoots.
Recording media
The Blackmagic Pocket 6K Pro can record full 6K raw internally to CFast media cards. These have high-bit rates and large capacities for the most stable recording of extremely large files. However, because CFast cards are essentially tiny SSDs, they're also very expensive. A more affordable option is to use small (but not as small) external SSDs like Samsung's T5 line, which attach to the camera via the USB-C input. These work exceptionally well for all but the highest-quality 6K raw recording, and their relatively low price point means you can buy many of them for your kit bag. I like shooting on them (and always carry eight), but it's important to use cable locks so that the USB cable doesn't pop out of the camera in the middle of a shoot—obviously, that's a disaster. One nice thing about the camera, though, is that if this does happen, the BMPCC 6K Pro will save almost all of the footage up to the point of cable failure. It's a nice safety net, though not one you want to test if you can avoid it.
So, who should buy this camera?
The Blackmagic Pocket Cinema Camera 6K Pro is a professional-quality creative tool for filmmakers—especially independent filmmakers on tight budgets—that delivers gorgeous footage. It's small and portable, easily adaptable to many shooting situations, and, frankly, it's fun to use. I'm running a pair of them in each of my two documentaries and I regularly employ them when shooting videos for my commercial projects. The results easily stack up to anything I've shot using cameras that cost three times the price.
Because of its sweet $2,495 price tag, this is also an excellent camera for anyone looking to graduate to a professional cinema camera from something like a DSLR or an all-in-one camcorder. That said, I wouldn't suggest the Blackmagic Pocket 6K Pro for absolute beginners; they might find themselves frustrated by its lack of auto, well, anything. An understanding of recording formats, lenses, color correction, and audio levels—or the time to put in the work to really learn these fundamentals of both technology and technique—is essential to getting the most out of the camera. Of course, those who make the effort will be delighted with the results.