| | | | | | |
| --- | --- | --- | --- | --- | --- |
| The best used Sony mirrorless | | Sony A6000 | | SEE IT | This venerable camera is still in Sony's current lineup. |
| The best used Fujifilm compact | | Fujifilm X-100T | | SEE IT | It's still easily pocketable and very capable. |
| The best used Canon DSLR | | Canon 5D Mark III | | SEE IT | The camera of the year 2012 still holds its own. |
We may earn revenue from the products available on this page and participate in affiliate programs. Learn more ›
Updated Apr 24, 2023 9:43 AM
New cameras are exciting. With every new generation, manufacturers add more pixels, faster autofocus systems, and heaps of other features designed to tempt you into plunking down your credit card. While we love to nerd out about the most recent releases, the truth is that there are tons of wonderful older cameras on the secondary market that will handle all of your photographic needs for a fraction of the price. 
You can't just go blindly into the used market, however. This guide outlines some of the best used values for various camera brands. So, whether you're looking for an affordable way to upgrade your current camera or you want to secure a backup to your main body without obliterating your budget, these options are worth a look. 
The best used cameras to buy: Reviews & recommendations
With the basics out of the way, we'll dive into some extremely capable camera models that are currently available on the secondary market. It's broken down by brand. 
Why we picked it: Canon's rugged DSLR is built like a tank and still works as a great backup for wedding and event shooters. 
Specs
Sensor size: Full-frame
Resolution: 22.3-megapixels
Shutter life rating: 150,000
Pros
Strong weatherproofing
Decent video capture
Familiar Canon controls
Advanced AF options
Cons
Underwhelming megapixel count
Mismatched CF and SD card slots
The original Canon 5D was the first commercial DSLR to offer a full-frame sensor. That body (and the follow up 5D Mark II) feel old by now, but the 5D Mark III still has lots to offer, especially when you consider how cheaply you can find them online. 
The 5D Mark III offers a respectable 22.3-megapixel resolution and very solid low-light performance for its time. It also includes a wide selection of autofocus customizations, so you can tweak its performance much like you can with the newer 5D Mark IV or 1D X models. 
This camera was a staple for photojournalists and other working photographers for half a decade before the 5D Mark IV debuted. The Mark III's super-rugged construction, fast AF, and excellent image quality still hold up, especially when you consider that its secondary market price makes it cheaper than many current APS-C models with fewer features and more plastic in their construction. It's also a lot cheaper than the Mark IV on the current market.
The best used Canon APS-C mirrorless camera: Canon EOS M100
Why we picked it: It feels like a true compact camera in your hands and has a flip-forward screen that's great for blogging. 
Specs
Sensor size: APS-C
Resolution: 24.2 megapixels
Shutter life rating: 100,000
Pros
Weighs less than a pound with a lens
Flip-forward screen for video
Very affordable
Cons
Canon M lenses have limited options
No eye-level viewfinder
To look at Canon's EOS M100, you might think it's a typical compact camera with fixed optics. It's actually a system camera, however, that employs Canon's interchangeable lenses. While native M lenses are somewhat limited, Canon sells a simple adapter that makes it compatible with its enormous back catalog of EF DSLR lenses. 
The camera itself is tiny (4.3 x 2.6 x 1.4 inches), but the 3-inch, 1.04-million dot LCD flips all the way up to the front of the camera so vloggers can see themselves as they set up shots or walk-and-talk. It doesn't shoot 4K, but it will pull down 1080p video up to 60 fps, which makes for smooth, clear shots. 
Plus, the 24-megapixel sensor is equipped with Canon's Dual Pixel AF, which makes focusing quick and accurate during both still and video shooting. 
It won't compete with Canon's full-frame EOS R mirrorless cameras, but it's not meant to. 
Why we picked it: Compare the specs on Canon's 1DX Mark II to the updated Mark III and you'll find that the older model is really similar in many ways. 
Specs
Sensor size: Full-frame
Resolution: 20.2 megapixels
Shutter life rating: 400,000
Pros
Super-fast 14 fps burst rate with AE and AF
Tank-like durability
Super-high battery capacity
Built-in vertical grip
Cons
Heavy
Still relatively pricy
Mismatched card slots
Flagship DSLRs are built to withstand heavy punishment and the 1D X Mark II is no exception. It's meticulously weather-sealed and the shutter is rated for roughly 400,000 actuations. That's a good thing because the camera can pump out 14 fps at full resolution with auto exposure and autofocus with the fastest shooting mode selected. 
The autofocus system is extremely fast thanks to its dual cross-type AF points and pages upon pages of autofocus customization options to match your specific shooting scenarios. 
This machine will still cost you a pretty penny on the secondary market, but it will also likely last a long time. And even if you're thinking about moving to a fancy Canon mirrorless camera like the R5, the 1D X Mark II's AF system will outperform it in some instances. This thing is still a beast and will stay that way for a long time. 
The best used Nikon full-frame DSLR: Nikon D750
Why we picked it: Despite its age, the D750 feels surprisingly current, even when you compare its specs on paper. Because it's a DSLR, it also supports Nikon's full range of F-mount lenses. 
Specs
Sensor size: Full-frame
Resolution: 24.3-megapixels
Shutter life rating: 150,000
Pros
Great all-around performance
Full-frame sensor
Vari-angle screen
Pro-grade build
1080p video at 60 fps
Cons
Unexpanded ISO range only goes to 12,800
6.5 fps burst rate was fast, but seems slow now
Check the camera bags belonging to working Nikon photographers and there's a decent chance you'll find one of these in service as a second camera or backup. The body is littered with handy controls and dials, which make for quick navigation. The 24.3-megapixel sensor couldn't match the pure resolution of the D800 series, but it made the camera quick and nimble while recording to a pair of SD card slots. 
The full-frame sensor makes it compatible with pretty much all of Nikon's F-mount lenses, many of which you can pick up on the secondary market for relatively low prices. 
Despite its relative age, the D750 even shoots 1080p video at 60 fps, which is more than high-enough quality for most applications, especially if your computer isn't speedy enough to handle huge 4K files. 
It's really just a fantastic all-around camera that has proven itself with pros for years now. 
The best used Nikon APS-C DSLR: Nikon D7200
Why we picked it: The upscale series in Nikon's APS-C offerings bring solid image quality and tons of features, as well as better build quality compared to true consumer bodies. 
Specs
Sensor size: APS-C
Resolution: 24.3 megapixels
Shutter life rating: 150,000
Pros
24.3-megapixel count matches big siblings
Durable 150,000 actuation shutter
1080p video at 60 fps
Up to 25,600 ISO without expansion
Built-in Wifi and NFC
Cons
Smaller sensor makes wide-angle coverage tough
Nikon squeezed a ton of image quality out of this 24.3-megapixel APS-C sensor. The D7200 has a natural ISO range that goes all the way up to 25,600 before you start hitting the expansion modes. Of course, things will look pretty noisy if you push it to the limits, but the results are impressive considering the sensor size and pixel count. 
It offers a large, 3.2-inch LCD display, as well as a pair of SD card slots so it can create backups of each image on the fly in case one card crashes. 
Because it's a prosumer model, Nikon included emphasized a variety of shooting modes, including auto-bracketing for up to nine shots, and in-camera HDR. 
While the smaller-than-full-frame APS-C sensor can seem like a bit of a detractor, it opens up your glass options to include a slew of DX lenses. Because they don't need to create as large of an image circle, those lenses can be smaller and lighter, while still offering excellent image quality. They're also typically cheaper than their full-frame counterparts.
The best used Fujifilm mirrorless camera: Fujifilm X-T2
Why we picked it: Despite costing a small fraction of the newer models, this body offers familiar Fujifilm colors and extremely durable construction.
Specs
Sensor size: APS-C
Resolution: 24.3 megapixels
Shutter life rating: 100,000
Pros
24.3-megapixel resolution
Fantastic tactile controls
Small and compact, but easy to grip
Cons
AF isn't as fast as current models
No built-in image stabilization
The Fujifilm X-T3 employs a small DSLR-style form factor, but it provides the advantages that come with shooting mirrorless. The APS-C sensor inside uses the X-Trans tech, which gives the Fujfiilm mirrorless cameras their well-regarded color reproduction chops. 
Tactile controls around the camera make it easy to navigate. The newer X-T3, X-T4, and even X-T5 models offer some tangible upgrades, but the X-T2 is one of the most affordable mirrorless bodies on the market, at least at this level. Compared to a newer, more consumer-oriented option, the X-T2 provides better weather-sealing and more customization options when it comes to controls. 
This is a great backup for a working Fuji pro or an entry point for someone trying to build up a full-on Fujifilm kit. 
The best used Fujifilm compact camera: Fujifilm X100T (updated)
Why we picked it: Fujifilm improved the autofocus from the earlier versions of its already excellent fixed-lens rangefinder camera.
Specs
Sensor size: APS-C
Resolution: 16 megapixels
Shutter life rating: 100,000 (unofficially)
Pros
Clever hybrid optical/digital viewfinder
Sharp, bright, and fast fixed lens
Super-quiet shutter
Cons
AF still just OK
Not quite pocket friendly
4/21/2023 update: While this camera is still fantastic, we don't recommend that you buy one right now unless you actually get a good deal on it. Fujifilm has been woefully unable to keep up with demand for new X-100 cameras, which has made the second-hand market on just about every model absurdly expensive. We're leaving this on the list for now in hopes that the price will come back down, but for right now, your best bet is to wait.
Fujifilm's quirky X100-series cameras have been some of the best compacts on the market since their debut way back in 2008. The camera has a fixed lens with the same basic field of view as a 35mm f/2 lens would on a full-frame camera. That makes it great for street photography. The lens has a built-in leaf shutter, which makes it exceptionally quiet and inconspicuous for street photography. 
Despite its small size, the X100T captures 16-megapixel images, which seems a little paltry by modern standards, but you do get access to Fujifilm's film simulation color and black-and-white modes, which crank out impressive results even without editing. 
The hybrid viewfinder provides a battery eye-level shooting experience than just about any other compact around. You can move up to one of the new updates in the line, but expect to pay considerably more. Having one of these to toss in a bag or even larger pockets can be a ton of fun.
The best used full-frame Sony: Sony A7 II
Why we picked it: Several new versions have hit the market in recent years, but this camera still offers lots to get excited about.
Specs
Sensor size: Full-frame
Resolution: 24.3 megapixels
Shutter life rating: 200,000
Pros
Great all-around specs for any shooting situation
Excellent image quality and dynamic range
Compact, but maintains tactile controls.
Powerful in-body stabilization
Cons
24.3-megapixel sensor feels a little dated
The A7 II uses Sony's familiar full-frame 24.3-megpaixel sensor, which it refined over time. While there are several newer generations on the market at the moment, this one has a lot of life left, especially if you don't need the video upgrades that have debuted in recent models.
The in-body, 5-axis image stabilization promises up to 4.5 stops of shake reduction with certain lenses. 
Its base ISO range goes all the way up to 25,600 and it provides excellent low-light images. 
The A7 is Sony's do-all, prosumer full-frame mirrorless and this body really lives up to that ambition. It's a solid mix of specs and build quality that help it tackle just about any shooting situation with relative ease. 
The best used Sony compact camera: Sony RX100 V
Why we picked it: Sony has been refining its advanced compact over multiple iterations and even the older models are still good.
Specs
Sensor size: One-inch
Resolution: 20.2 megapixels
Shutter life rating: Undisclosed
Pros
1-inch sensor is large compared to other compacts
Fast lens with a useful zoom range
Truly pocket-friendly
Cons
A little slow to start up
Small body leaves little room for tactile controls
Sony tried to pack just about every feature anyone could want into a body about the size of a bar of soap. The RX100 V has a 20.2-megapixel, 1-inch sensor behind a surprisingly fast zoom lens. It opens to f/1.8 at the wide end and f/2.8 at its longest focal length. That's enough to provide real shallow depth of field effects. 
The optical viewfinder sinks down into the camera body itself for when you're transporting it or just shooting while using the surprisingly room 3-inch display. 
Right now, the Mark V seems like the sweet spot when you compare prices on the secondary market to the features you're giving up by paying extra cash for the Mark VII. 
The best used Sony APS-C mirrorless camera: Sony A6000
Why we picked it: There have been multiple versions since the A6000 release, but this is still a sturdy, extremely cheap option for getting into Sony mirrorless. 
Specs
Sensor size: APS-C
Resolution: 24.3 megapixels
Shutter life rating: 100,000
Pros
Extremely cheap
Still in the Sony lineup so it's repairable
Compact, but still has a good grip
Cons
Check the used prices on Sony's A6000 and you'll find some fantastic deals. No, it won't get you all the modern bells and whistles that come with Sony's most recent mirrorless offerings, but it's also no slouch. When the A6000 debuted, Sony claimed it had the world's fastest autofocus. While that claim is tough to quantify, our full review did find it very snappy. 
Even though it's cheap and relatively old, you still get 24.3 megapixels of resolution, a tilting display, and an ISO range that goes up to 25,600. 
Sony still keeps the A6000 in its current offerings, which means your chances of getting it serviced if something goes wrong are high. 
If you're looking for a fun camera or something that's awesome for adapting old lenses, this is a super cheap possibility.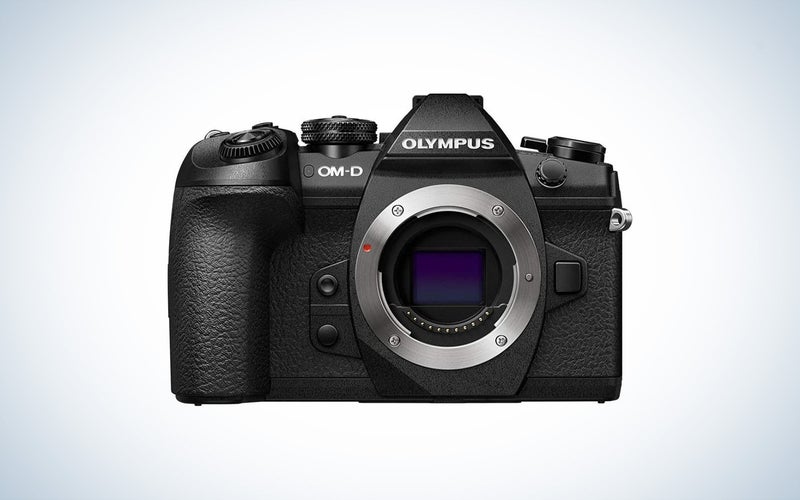 Why we picked it: The Micro Four Thirds sensor may be small, but this camera packs seriously advanced features and capture speed inside of a tiny body.
Specs
Sensor size: Micro Four Thirds
Resolution: 20.2 megapixels
Shutter life rating: 200,000
Pros
Super-fast shooting up to 60 fps with electronic shutter
Built-in 5-axis stabilization
Very compact
Cons
Olympus doesn't skimp when it comes to features on its flagship mirrorless cameras. The OM-D E-M1 II employs a 20.2-megapixel Micro Four Thirds sensor that's surrounded by impressive electronics. 
With the mechanical shutter engaged, it can shoot up to 15 fps, which is already fast. Switch to the mechanical shutter and it can go to 18 fps with focus tracking. If you don't need AF, it can go all the way up to an absurd 60 fps. 
The speed isn't the only impressive part. It has an extremely burly 5-axis image stabilization system built-in. Plus, it shoots 4K UHD video. Because the camera is still in Olympus's lineup and shares many parts with the latest version of the EM-1, it's likely you'll be able to get it serviced for some time to come.
The best used Panasonic mirrorless camera: Panasonic GH5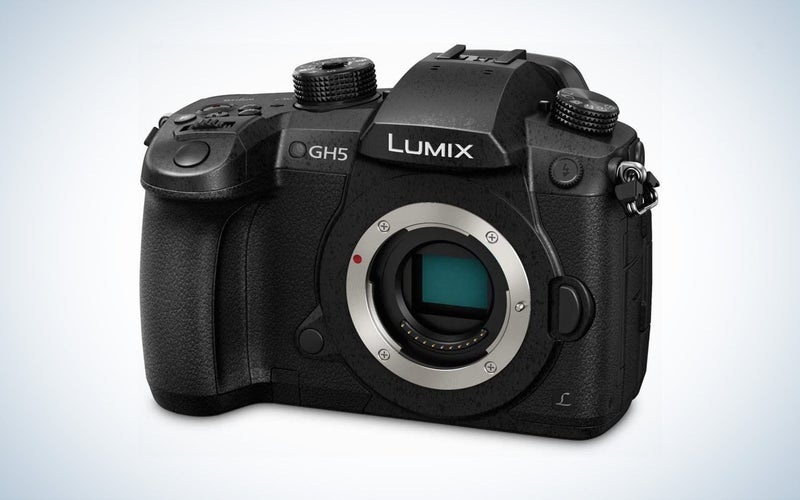 Why we picked it: While Olympus piled on the photography features for its Micro Four Thirds flagship, Panasonic emphasized video and made the GH line a great place to start shooting high-level motion. 
Specs
Sensor size: Micro Four Thirds
Resolution: 20.3 megapixels
Shutter life rating: 200,000
Pros
4K video capture with no cropping
High bitrate video modes
1080p video up to 120 fps for slow motion
Built-in 5-axis stabilization
Cons
If you're looking for an extremely capable used body to shoot video, you'd be hard-pressed to find one better than this. It shoots 4K footage at a high bitrate with no cropping of its sensor. Some larger-sensor cameras have to use a small portion of the chip to capture 4K footage, which annoyingly crops the lens's field of view. That doesn't happen here. 
The GH5 offers a selection of pro-grade video formats like Cinelike to get files that are more suitable for professional color grading. And despite its diminutive size, the GH5 even has a full-sized HDMI port onboard for output. 
It's not all about video, of course. It can shoot 20.2-megapixel images at up to 12 fps or even pull high-res photos directly out of videos while you're shooting them. 
Things to consider when buying a used camera
Regardless of what camera brand you're buying into, there are some universal variables to consider before you click that order button. Here are some essential aspects to dig into when shopping on the secondary market.
Shutter count
A camera's mechanical shutter works hard during shooting. Even in mirrorless models, it opens and closes to let light come through the lens onto the exposed sensor. And because it's a moving component, it tends to break down more quickly than other parts. 
Dig deep enough into a camera's spec sheet, and you'll find that many manufacturers actually give an expected lifespan for camera shutters. They typically range from around 100,000 for more consumer-oriented cameras and older DSLRs up to half a million in pro models like the Canon 1D X Mark III or the Canon R5. 
These numbers aren't set in stone. I've personally had cameras rated for 150,000 shots go more than double that without failure. I've also had a shutter fail at less than 50,000, so while this is a good guideline, it's by no means a guarantee. 
Previous use
You can always ask the seller what kind of shutter count the camera has, though some manufacturers make it harder than others to find out. Even if they can't give you a hard number, consider what the camera was used for before it went up for sale. If it was a primary camera for a wedding photographer, the shutter has likely gotten a severe workout. If it was a backup body that sat in a bag for most of its life, the count may be low. 
Lens compatibility
While buying a used camera can save you some cash, you also need to make sure it works with your current lenses or those you plan to buy along with it. If you're moving from a DSLR to a mirrorless camera from the same manufacturer, it's typically pretty easy to use an adapter to get all your old lenses working. If you're using a mirrorless camera with dedicated mirrorless lenses, however, there's typically no way to make those lenses work with a DSLR. 
This is also worth noting if you're moving up to a full-frame camera for the first time. Some lenses are specifically designed for cameras with smaller sensors that don't produce a big enough image to cover a full-frame sensor. Sometimes this is easy to figure out. Nikon calls labels its lenses for smaller sensors as DX instead of FX. Canon labels its smaller sensor lenses with an EF-S instead of the typical EF. 
Before you pull the trigger on a new body, just make sure you're going to get the kind of compatibility you expect from your lenses. 
Repairability
Even used cameras can cost serious coin, so you may want to have them repaired or serviced at some point in the future. Unfortunately, first-party repair and service programs from the manufacturer don't last forever. You may not be able to send your camera body to the company that made it if it's too old. Of course, there are still third parties out there that can work on older digital cameras, but it's good to have the option to send it back to the mothership for service if possible. Check the company's service website for lists of supported gear.
FAQs
Where should you buy a used camera?
Unlike new cameras, buying on the secondary market introduces some extra variables into the equation. eBay is a great resource to get a used body, but you want to make sure you know what you're getting into. Make sure to ask questions before purchasing if you have any. And keep tabs on the seller's return policy. Other places like KEH, Adorama, and B&H also sell used cameras, but it can be tough to keep up with what's in stock. 

What cameras do YouTubers use?
If you're an aspiring influencer, you'll want to consider the video features that come with the camera. In-body image stabilization comes in handy, as does a flip-around screen that can face forward during vlogging. The Panasonic GH5 has all of that. 
A final word on buying a used camera
If you're out to find the best used camera for you, consider what you really need instead of what you want. Landscape photographers should focus on resolution and image quality. If you're looking for a backup camera body for your wedding or event photography, look for something rugged and versatile. There are tons of older cameras out there on the market that can handle everything you throw at them and leave you with cash left over for lenses. 
Why trust us
PopPhoto has a long history of delivering the opinions of some of the sharpest and most prolific camera dorks the world has to offer. Since 1937, we've been reviewing cameras, providing wisdom from well-known photographers, and generally just nerding out about all that goes into making great pictures. Our current crop of writers and editors have decades of professional photography and camera writing experience among them. Collectively, we've probably shot with just about every camera and lens combo you can imagine—as well as some obscure stuff you may not even know about. Remember the Casio Tryx folding camera? PopPhoto does.
We also get that buying a camera is a big decision, which is why we're dedicated to helping folks choose the right one (or, in our case "ones") for their needs. Case in point: Handing over top dollar for an expensive rig may leave you unsatisfied if it doesn't fit your preferred shooting style. Sure, a $6,000 sports-oriented DSLR can capture landscapes, but do you really need to do it at 30 frames-per-second? No, you don't.