| | | | | | |
| --- | --- | --- | --- | --- | --- |
| Best untethered | | PowerVision Power Ray Explorer | | SEE IT | Explore oceans with this premium model that comes with a full 4K camera. |
| Best for kids | | RoboSea Biki | | SEE IT | Get your kids started with this pick that captures 4K video and comes with camera stabilization. |
| Best budget | | Chasing Dory | | SEE IT | This affordable pick provides 1080p hi-res video from up to 50 feet below the surface. |
We may earn revenue from the products available on this page and participate in affiliate programs. Learn more ›
Updated Jul 17, 2023 6:12 PM
When most people think of drone photography, odds are they immediately picture swooping aerial shots over mountains and cities. While the bird's eye view from the best drones is always a show-stopper, more than half of this planet is covered in water, and technology has made the "fish eye's view" more accessible and exciting. 
Whether you call them simply "underwater drones" or prefer some of the (admittedly much cooler) names like Underwater Unmanned Vehicles (UUVs), Remotely Operated Vehicles (ROVs), or Robotic Submarines, the use of drones in undersea photography has grown steadily alongside the evolution of the tech itself. Drones have also made the entire practice easier and more attainable for the curious or novice. Just a few years ago, underwater photographers not only had to invest in tons of specialized photography equipment, they had to do so on top of outfitting themselves head-to-toe in SCUBA gear. It was so expensive and made it so unwieldy to travel that the activity remained pretty much exclusive to the hardcore. 
But underwater drone technology has advanced to make things lighter, faster, and more user-friendly. Just like aerial photography no longer requires you to either have your helicopter license or know a close friend who does, you no longer need to be an experienced diver and photographer to capture amazing aquatic images. It should be noted, though, that an underwater camera drone is still not cheap, costing anywhere from $1,000 to $3,000 and high end instruments well into the $30,000 range. But here's how you can get started.
The best underwater drones: Reviews & Recommendations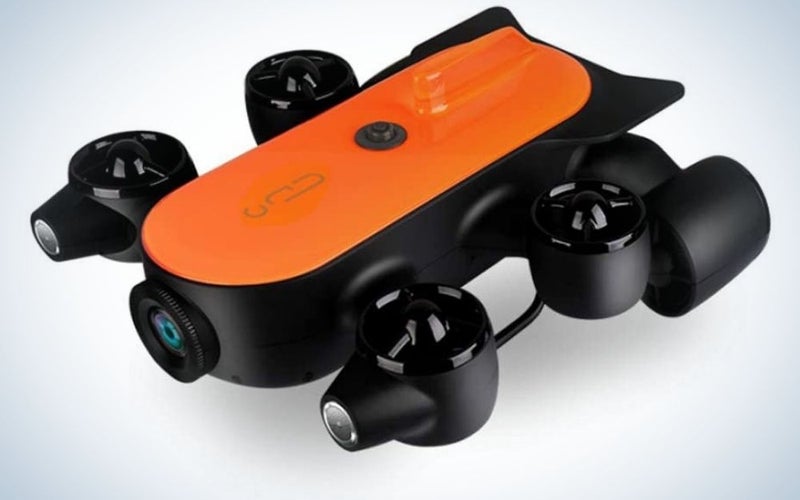 The Geneinno Titan Underwater Drone is one of the pricier consumer underwater drones at just under $3,000, but it is a powerhouse. Featuring a 492-foot cable tether, its full 4K camera and 3,000-lumen lighting capabilities ensure that when it returns from the depths it has treasures to show you.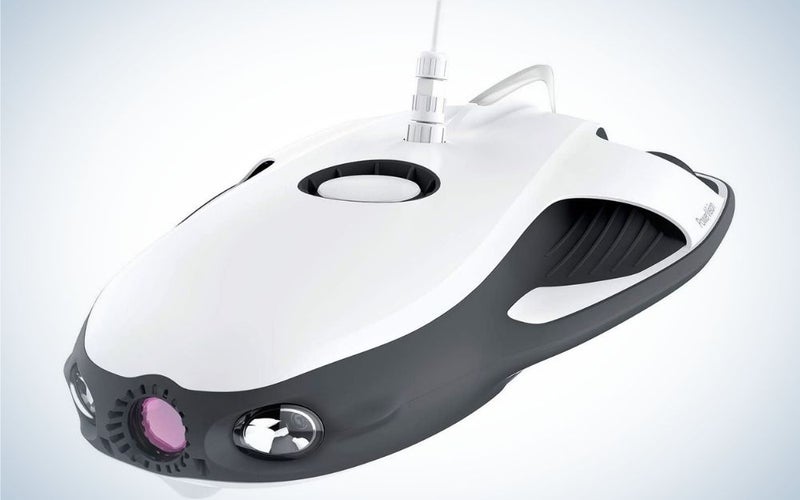 The PowerVision PowerRay Explorer is not only one of the most stylish underwater drones on the market (it looks like something Q would give to James Bond), but it's also one of the most fun. Its remote system (which syncs with smartphone or VR headset) resembles a PlayStation controller, and the emphasis here is clearly on the joy of exploration. It can deliver full 4K video up to 98 feet.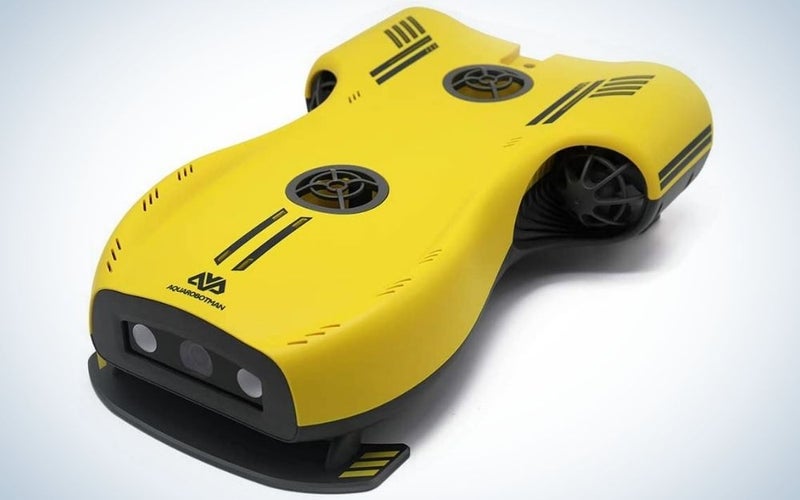 The Aquarobotman Nemo features 4K UHD video, in addition to full HD 16MP megapixel still images bolstered by 1000lm LED fill lights. It has a substantial 328 feet of tether, and can send stunning images to your smartphone or tablet in real time.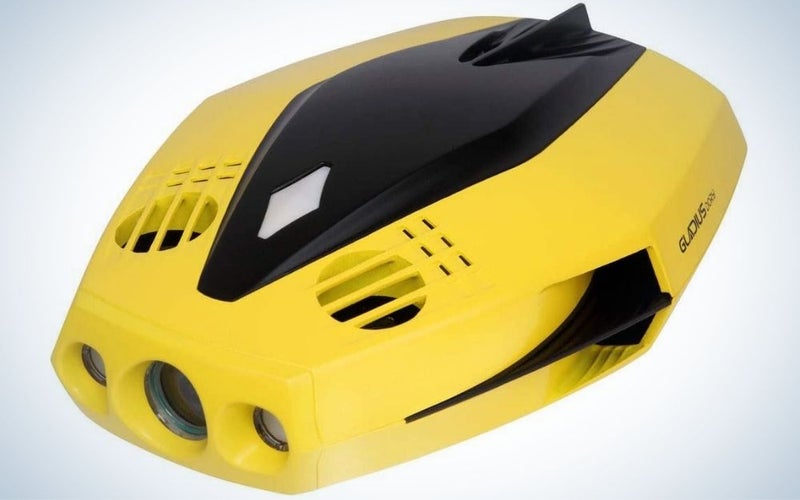 A great entry-level underwater drone that delivers at a reasonable price. With most quality drones beginning at around $1,500, the $500 Chasing Dory is extremely well-priced for a beginner and designed to be very user-friendly. The name may sound like a Disney movie, but It's effective at depths of about 50 feet and delivers solid 1080p hi-res video and imagery. It's also compact and easy to transport around. Inexpensive, without feeling cheap or disposable.
How do the best underwater drones work?
Although the popularity of drones in general has skyrocketed in the last few years, the history of the underwater drone actually dates all the way back to the 1950s. Perhaps not surprisingly, the first Unmanned Underwater Vehicle (UUV) or Remote-Operated Underwater Vehicles (ROV)—the two basic types of drones—were created with scientific research in mind. 
In 1957, the University of Washington's Applied Physics Laboratory developed the Special Purpose Underwater Research Vehicle or SPURV. One of the first UUVs, the SPURV was funded by the Office of Naval Research and it could dive up to 10,000 feet and operate for four hours. That program lasted until the late 1970s, and spurred others to create similar UUVs and ROVs. In 1985, the Massachusetts-based Woods Hole Oceanographic Institution (WHOI) developed an ROV called the Argo, which became famous when it was used to discover the wreckage of The Titanic and the, four years later, the infamous World War II battleship, The Bismarck. By the 1990s, the U.S. military began investing in underwater drone research as a way of detecting and avoiding mines after several naval vessels were damaged by Iraqi sea mines in the Persian Gulf during Operation Desert Storm. 
As camera technology evolved and hi-res and 4K imagery became just another smartphone perk, consumer drones for recreational use began to take off. Aerial drones got the most attention, but undersea photographers were now able to capture detailed video and imagery from depths that were previously impossible. 

Related: Read how the U.S Navy is using underwater drones to study oceans.
Is tethered or untethered better for underwater drones?
As mentioned above, there are essentially two types of underwater drones: UUVs and ROVs. UUVs are not tethered and are designed to operate largely independent of a human operator or via radio signal. They're most effective in shallower water (because radio waves don't travel well in deep water). ROVS are a tethered vehicle that is piloted by crew members aboard a nearby vessel, and the "tether" can be a physical cable or some kind of virtual attachment to a smartphone or even VR headset. Choosing which one will work best for you depends on a few specific factors. 
The first is where you intend to use your drone. It may seem obvious, but a tethered drone generally makes the most sense if you own or have access to some kind of seafaring vessel and can take it where it'll be most effective. It's also worth considering that underwater drones tend to be a bit heavier and bulkier than their airborne counterparts, so you may need more than an inflatable tube. 
An untethered drone, again, is best in shallow water, and might be a better option if you're going to be standing on a beach or a rocky outcropping rather than way out in the depths.
Looking for stills over video?
Most people tend to associate drone photography with movement—after all, if you can get that high up or that deep, you want to share the experience of soaring or diving as best you can. And while drone-shot videos are always exciting, underwater drones do allow for spectacular still imagery which may be what some in the market may be looking for above all else. 
When looking for the best drone specifically for still photography, you can ignore things like speed, which won't really come into play in this specific case. What you want to look for is the ability (naturally) to take hi-res photos, but you'll also want a drone that can make digital file transfers easily, and can help you even edit or adjust photos on the fly to hone in on those precise moments rather than just recording everything to be sorted out later. 
What's the best underwater drone for curious kids?
The price point and functionality of most underwater drones makes them a bit exclusionary, but that doesn't necessarily mean you can't find options that will enrapture children without risking thousands of dollars in the process. 
Children can adapt to new technology quickly, so when you combine that with their natural curiosity (especially around all things aquatic), underwater drones for kids can be both fun and an incredible learning device. In addition to price, you'll want to seek out a drone that isn't overly complicated or cumbersome, and is more adaptable to small hands. But you don't necessarily want to go too far in the other direction either, and wind up with something that is little more than a disposable toy. 
The right underwater drone for kids will have enough functionality to keep them engaged, but won't be so sophisticated as to frustrate and annoy. It will allow for play as well as education, and won't break Mom and Dad's budget.
What's the best affordable, entry-level underwater drone?
As we've mentioned, underwater drones tend to be much pricier than their aerial counterparts, with fewer options available for those looking to dip a toe in without taking a giant cannonball leap. With even consumer-friendly drones into the multi-thousand dollar price range, it takes some maneuvering to find that narrow middle ground between high-end aquatic device and cheap, disposable toy. But it is possible. 
When looking for an affordable option, understand that you may have to sacrifice some features for others, so it's all about knowing what you want out of your drone experience. Speed is the easiest corner to cut, with newcomers not necessarily needing to buzz around the ocean depths at top speeds. Another is image resolution. Sure, you don't want blurry or dark images, but if it means opting for 1080p over 4K saves you some cash, it's worth it in the end and won't make a dramatic difference. One final thing to consider is customization. You won't have the option of swapping out lenses or adding after-market modifications, but that's not really a concern if you're just starting out. 
FAQs
Q:
How much does an underwater drone cost?
A rule of thumb is that anything you find that is less than $400 is pretty much a toy. It'll be fun, but it won't deliver the kind of hi-res, professional looking photography you're probably looking for. Most quality consumer underwater drones cost between roughly $1,000 and $4,000, with professional-level drones well into the $30,000 range.
Q:
How deep can an underwater drone go?
It really depends on the type of drone, as both tethered and untethered devices have built in limitations. An untethered drone can only go as far as its wireless connection can hold out (some can go close to 60 meters) while tethered drones are limited to their cable length, which can vary. Depending on the manufacturer, these cables generally allow the drone to reach depths of 50 to 200 meters.
Q: How to choose an underwater drone?
The best way to answer that is to consider how you plan to use an underwater drone—a casual user will likely not need to be as stringent with features as a professional. That said, it's important to consider cable length (as that will determine how deep you can go), autonomy (how long the drone can operate "on its own" without needing to recharge), and, of course, overall price. 
The final word on the best underwater drones
A quality underwater drone can be a lot of fun, and can help fuel your aquatic creativity in new and exciting ways. All you need to consider is how frequently you intend to use it (which will determine how much you need to invest), and what you hope to get out of it – do you want some nice still photos? Or a hefty hi-res video? Once you know how deep (no pun intended) you want to go with it, finding the right drone can be easy and affordable for the newcomer and the experienced veteran alike.
Why trust us
PopPhoto has a long history of delivering the opinions of some of the sharpest and most prolific camera dorks the world has to offer. Since 1937, we've been reviewing cameras, providing wisdom from well-known photographers, and generally just nerding out about all that goes into making great pictures. Our current crop of writers and editors have decades of professional photography and camera writing experience among them. Collectively, we've probably shot with just about every camera and lens combo you can imagine—as well as some obscure stuff you may not even know about. Remember the Casio Tryx folding camera? PopPhoto does.
We also get that buying a camera is a big decision, which is why we're dedicated to helping folks choose the right one (or, in our case "ones") for their needs. Case in point: Handing over top dollar for an expensive rig may leave you unsatisfied if it doesn't fit your preferred shooting style. Sure, a $6,000 sports-oriented DSLR can capture landscapes, but do you really need to do it at 30 frames-per-second? No, you don't.