Best pet cameras of 2023
See Spot run, sleep and chew up the furniture with the best pet cameras designed to entertain you and your beloved fur ball.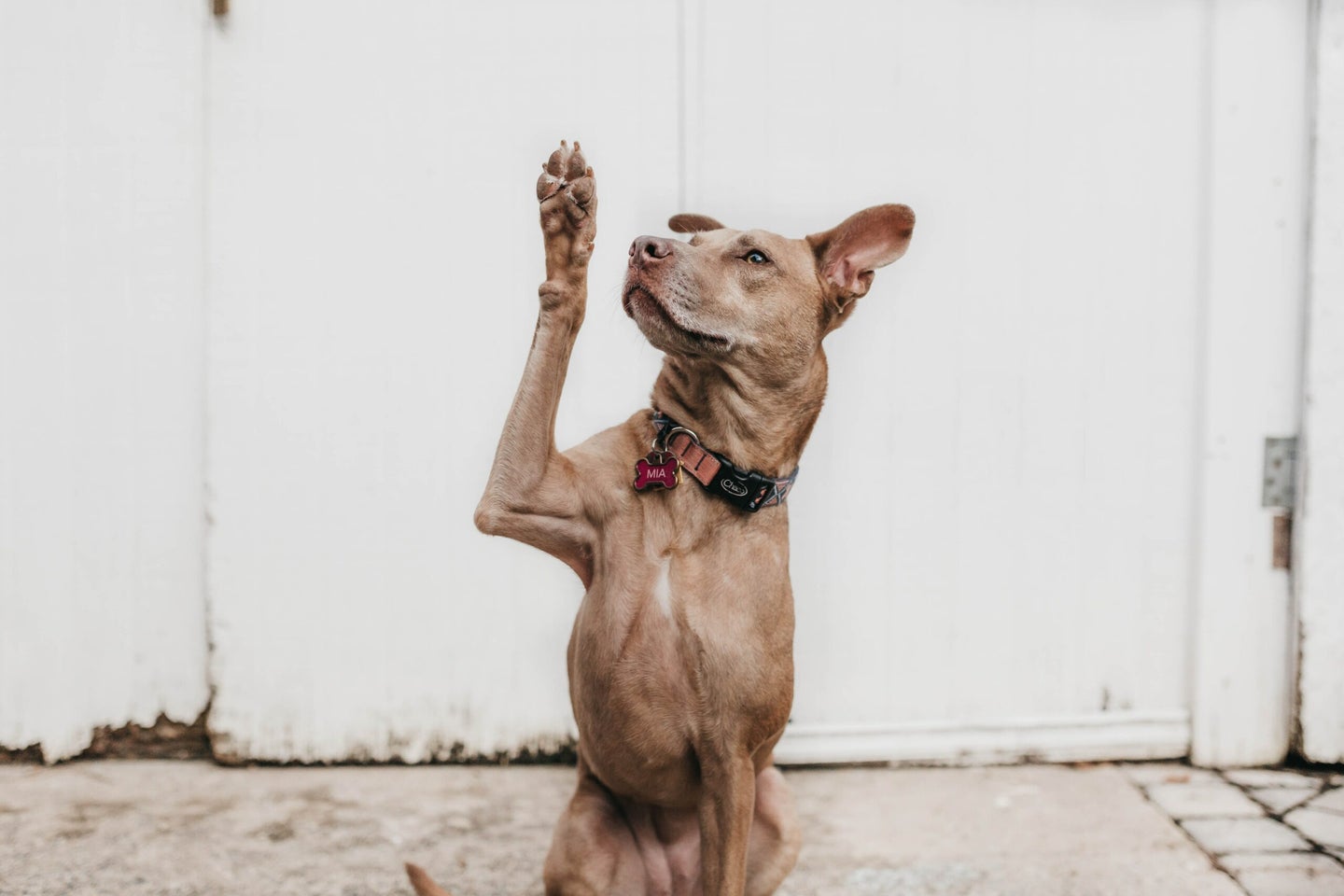 We may earn revenue from the products available on this page and participate in affiliate programs. Learn more ›
The best pet cameras provide a sense of security, but they can also be fun. No more just a simple security webcam, today's puppy cameras and kitten cams are innovative and interactive. Keep your pet company with 2-way voice communication. Get alerts when your dog barks. Even play and feed your pet from anywhere with a few taps on a smartphone. These HD cameras become your own robot pet sitter. But not all pet cameras are the same, because not all pets are the same. It's important to look at the features of each camera to find one that works for you and fits seamlessly into your lifestyle. Consider the following when shopping for the best pet camera to spy on your furbaby. 
Five things to consider when shopping for the best pet camera 
Leaving a dog or cat home alone is a painful part of being a pet owner, but the right pet camera lets you keep tabs on the most adorable member of the family. These specialized cameras have more features than standard security cameras, with bark alerts and treat dispensers. And some also double as a virtual assistant, capable of helping with more than dog watching. 
Before browsing the cat or dog products, ask yourself what you want in a dog camera or cat camera. Do you want something easy and straightforward, like a standard webcam? Do you want a pet camera that keeps your fuzzy friends company? Are you looking for a multi-camera household assistant that does it all? 
There will be a mild learning curve no matter which camera you choose. From finding just the right camera angle, to finding just the right treat tossing angle, give yourself some time to get acquainted with the pet camera. And to get the most out of the camera, you may need to teach new tricks to your old dog. Carefully introduce the pet to any interactive features like laser points and 2-way speakers. While these cameras are simple to use, they need some finessing for optimal operation. But once you and your fuzz-nugget become accustomed to it, the best pet camera will keep the both of you connected and safe. 
Image quality must be sharp in a pet monitor 
No matter how you intend to use the pet camera, the most important feature is image quality. Most pet cameras are ready to watch man's best friend in HD resolution, but field of view, 360-degree tracking, and zoom options play a big part in delivering a great image. Where you place the camera and how much of the room is visible make a big difference. Lil' Mr. Pufferkin can get into serious trouble if there are blind spots. 
Any camera with a resolution higher than 720p will look good enough without taxing your internet connection. You also want the ability to zoom in on where the action is taking place. To get the most detail, you'll need the best resolution. Grainy, black-and-white security camera footage won't cut it. This isn't a convenience store; it's your house. Make it look sharp. 
There are cameras that capture an image with 4K resolution, offering the best look yet at the life of your pet. These units are designed for security, so don't expect many pet-friendly options.  And as wonderful as 4K is, if you're looking at the feed on your phone while sitting in a cubicle at work, you don't need such high resolution.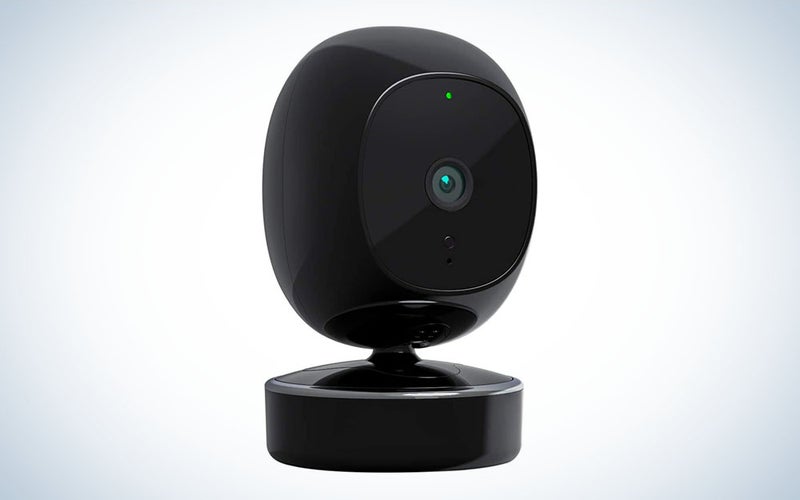 The best pet camera may not be designed just for pets. The SimCam is made to detect people and furry friends, with facial recognition and pet recognition technology that lets you know exactly who is in the living room eating the pillow. Motion tracking keeps everything in frame and the 1080p video is crystal clear. While it lacks treat dispensing options, it is equipped with 2-way communication. Say hi to your pets, or say bye to the burglars. This is the perfect mix of security camera and pet camera. 
Know the benefits and limits of a treat dispensing camera 
The best pet monitor is also a vending machine. A tried and true way to appease a rowdy dog or cranky cat is with food, and a pet camera that dispenses treats can settle and sate even the most mischievous of pets. 
A pet camera that drops treats will need to be aimed properly. Find the right angle so tiny pellets of food don't wind up in impossible to reach, or dangerous, areas. Many treat dispensing cameras will let users hone the targeting system with varying range options. Most of these pet cameras are designed for small treats; large snacks won't work. 
Treat dispensing cameras will come with instructions and tips on how to introduce your dog to its new best buddy. A little trial and error is expected. And for households with two or more pets, expect some shoving and mild fighting over a one-at-a-time treat cannon. 
The best part of treat cameras is how well they can be used to train dogs. With a little coaching and monitoring, users can toss out treats as rewards for good behavior. The dispenser can also be programmed to drop treats at specific times. Smartphone app controls are easy to use and make giving a dog a treat fun and satisfying even if you're miles away. 
Best treat dispensing pet camera: Furbo Dog Camera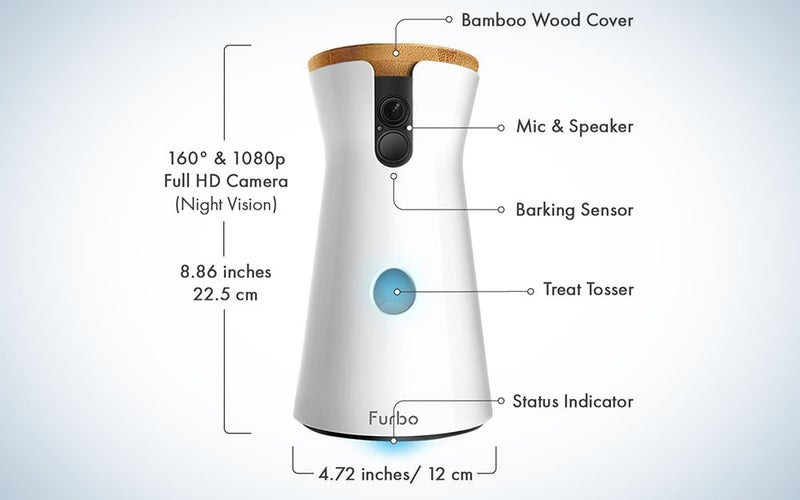 Furbo is one of the best puppy cameras available. Treats are dispensed simply and consistently, with only the lowest of learning curves to overcome. Practically ready to launch out of the box, the Furbo is a high-quality camera with 2-way communication, bark alerts, 4x zoom and 1080p image resolution. The downside is a monthly fee needed for data storage necessary for watching highlights of the day. If you opt out of the subscription, you can still use the Furbo dog camera as a great treat launcher with live streaming video and 2-way talk. Even with the limited functionality of the non-subscription option, it's still rare that you'll find a negative Furbo review. 
A pet camera made to keep cats content 
Many so-called pet cameras are really dog cameras, specifically designed for canines. A camera dedicated to cats does make a difference. For one, cat owners don't really benefit from bark detection on a camera. And let's be honest, even the friendliest of cats won't care too much about hearing your voice via a 2-way speaker. This isn't your fault. Cats are just more visually stimulated. 
For that reason, a cat camera should come with a laser light function that can keep a kitten busy and engaged. Be careful where you aim the remote controlled laser, or else you'll send the cat pouncing into potted plants or other obstacles. And don't assume all cats will be delighted with a laser pointer. Some may find it stressful and scary. 
If shopping for your first cat camera, don't spend too much. There's a chance your cat and your camera won't get along. The cat may outright ignore the camera, or spend all day in a spot that the camera can't see. Try a more budget-friendly cat camera as your introduction into pet spying. These less expensive models are still loaded with great features and capture high-quality images. It's a great way to experiment and find what works best for your feline friend.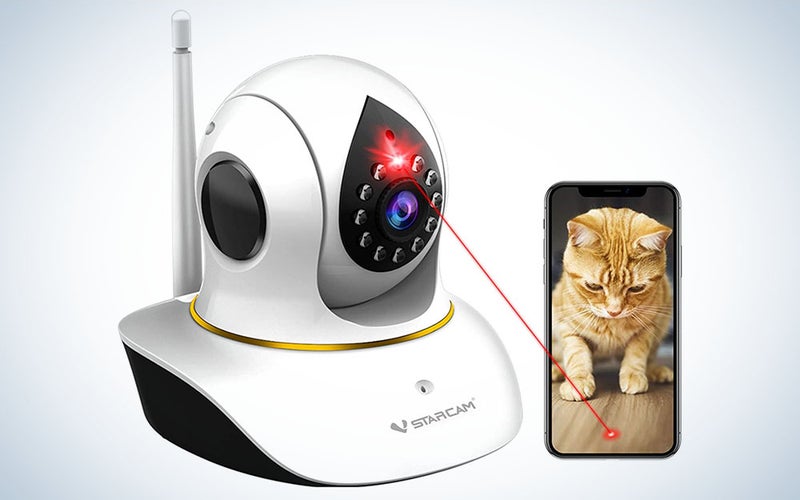 The best cat camera is one equipped with a laser. While a remote control laser sounds like something from Mission: Impossible, it's actually an easy-to-use cat toy. Use your smartphone to aim and move the laser around the room, or use the preset motions to keep your kitty active. While it's not the most robust pet camera on the list, the low cost makes it great for cat owners who aren't ready to drop $200 on a pet monitoring system. The 2-way speaker works well…if your cat responds to your voice. Treat this as a decent camera with a fun laser and you'll get more than your money's worth. 
Find camera interaction to keep you and your pet calm
The best camera for dogs must have great 2-way audio to help relax your loved one. Your dog is more likely to respond to your voice if it doesn't sound like a detuned radio inside a tin can. The richer the sound for the pet, the richer the experience. Even cats can appreciate more authentic audio. 
If you're shopping for a pet camera with great sound, why not also include smart speaker technology? Adding Alexa or Google Home makes a simple pet camera into a multipurpose home resource. Play music while home or away and give your pet the sense that everything is wonderful. And in the house, the virtual assistant can find answers to your questions about pet health. Some models can even connect you to a vet. 
While many pet cameras are user-friendly, adding voice control makes pet ownership even easier. And instead of clogging up counter space with several devices, an all-in-one pet camera/virtual assistant keeps your life streamlined and clutter-free. Look for a pet camera that does more than watch your dog or cat. Find one that helps with your entire life. 
Best pet camera for separation anxiety: Petcube Bites 2
The Petcube Bites 2 covers all the bases of a great pet camera: HD video, easy treat dispensing, user friendly smartphone app. But where it excels above the rest is in the audio department. Sound is important to your pet, and can keep anxious animals calm. With it's high-quality sound and music features, the Petcube Bites 2 is a great digital companion. The 4-microphone array and speaker bar add a rich, natural sound for 2-way communication. And it has built-in Alexa, allowing you to easily play music for you and your pet. You can also contact live vet support. This isn't just a pet camera. It's a pet entertainment hub. 
Peace of mind on a budget: What can you get for less than $40
For some pet owners, the best camera is one that shows a good image. And that's it. If all you need is something that keeps an eye on your pets, then you can skip past all the multi-functioning treat dispensers and bark alert systems of the more expensive pet cameras. Go with a well-made security camera that's armed with adequate motion detection and night vision.
When shopping for a low cost option, focus on a WiFi camera that works well with your smartphone or tablet. Keep everything simple. The more apps an add-ons the camera requires, the more likely it is to glitch and break. You're looking for a basic camera that can show you what's happening in real time. If you're willing to give up 2-way speaker options, you save even more. 
As usual with security cameras, data storage may require a monthly fee. You can find quality inexpensive cameras that still operate without a monthly subscription, but read the details to ensure the camera can do what you want without data support. And if you want improved security, consider buying multiple cameras. Adding cameras isn't as costly as you may think, if all you need are the barebone essentials.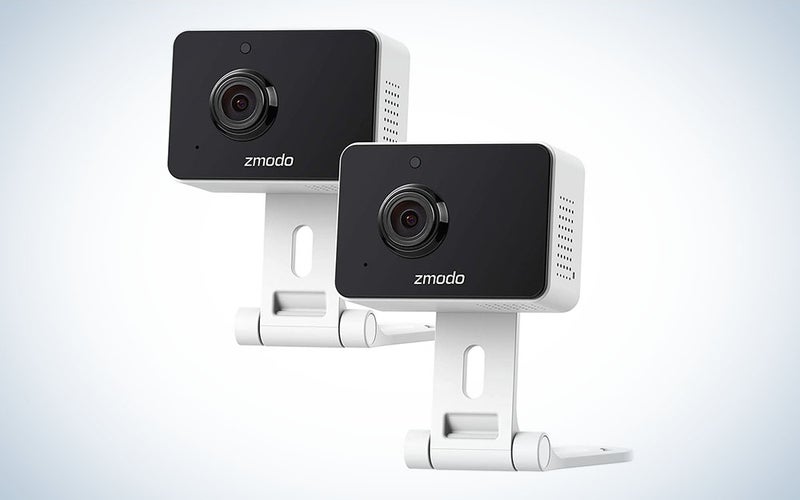 Because pets move around, multiple cameras may be required. The big benefit of inexpensive pet cameras is that you can mount additional cameras in different rooms without inflating the price too much. The Zmodo Mini Pro 2-pack is perfect for monitoring pets, babies, valuables or just keeping an eye on the garage. It doesn't have pet-centric features but with two cameras at less than $50, you can get a better, wider view of any situation. For anyone who needs a cost efficient way to monitor pets and properly, a pair of Zmodo Minis gets the job done.  
FAQs
Q: Do pet cameras help with separation anxiety?
Pet cameras may help with separation anxiety if used correctly. Separation anxiety occurs whenever your pet begins to worry and fret that you'll never return. Some pets don't like to be left alone. They can act out, tear up furniture, cry, whine and bark. It's heartbreaking. Regularly talking to your pet through a 2-way speaker can help. Playing music can help. But most importantly, you must train your pet slowly and safely. Start by leaving the pet alone for a short period of time before leaving them solo all day. Talk with your vet to learn how to best support your pet. And you can use a pet camera to monitor daily activity and see how the training is working.
Q: How much is a pet cam?
Prices for pet cams range from $30 to over $300. The most popular pet cameras like the Furbo and the Petcube sell for between $150 – $200. That doesn't include monthly data storage subscription fees. (Those subscriptions are necessary for certain features.) For example, after the free 90-day trial Furbo offers, be prepared to pay $6/month. You will pay less for annual subscriptions. 
Q: Which is better: Furbo or Petcube?
Both the Furbo pet camera and the Petcube offer exceptional pet monitoring. And they share similar features. You can't go wrong either way, but if you break it down to the nitty gritty: the Furbo is a better dog camera than a cat camera because of the bark detection and treat launcher. The Petcube Play 2 is better for cats thanks to the laser pointer. Both are good all-around pet cameras. 
The best pet camera is interactive, intuitive and intelligent
There are so many pet cameras on the market that it's easy to get lost and overwhelmed. The best pet cameras will be easy to operate and dependable, with features that work for both you and your pet. Image quality is the highest priority so you can see exactly what's happening. Treat dispensing can be a fun way to spice up the dog's day…and your day as you show coworkers the playful pup snacking. A 2-way speaker can be helpful, even if cats and some lazy dogs may not react as you hope. And a laser light can keep a cat from ripping up the curtains, unless you aim the laser at the curtains. Look for the pet camera that offers the features you find most helpful and entertaining. With a little practice and the right equipment, you'll become an expert pet peeker.