| | | | | | |
| --- | --- | --- | --- | --- | --- |
| Best overall | | Google Nest Cam Outdoor | | SEE IT | This comprehensive security system comes with smart alerts that use AI to distinguish between noises. |
| Best for the entire house | | Deep Sentinel Smart Security Cameras | | SEE IT | Connects to live guards, analyzes 50 images per second, and provides 40 feet of night vision. |
| Best budget | | Wyze Cam V3 | | SEE IT | This affordable option comes with 1080p color night viewing, weather protection, two-way talk, motion detection, and more. |
We may earn revenue from the products available on this page and participate in affiliate programs. Learn more ›
Updated Jul 17, 2023 12:11 PM
Since the people inside your home matter the most, the security system that you have outside really counts. The best outdoor security camera system is one that is designed to protect the areas you consider most vulnerable. Whether that means finding a doorbell camera that can watch the front door or a complete home surveillance system that puts multiple eyes on the entire perimeter of your house, you need something that helps you feel as safe as possible. Here's a guide to finding the best outdoor security camera systems to protect you and your loved ones.  
The best outdoor security camera systems: Reviews & Recommendations
Whether you're looking for an outdoor camera that you can install yourself, or you want a professional to customize your surveillance system, here are the best outdoor security camera systems.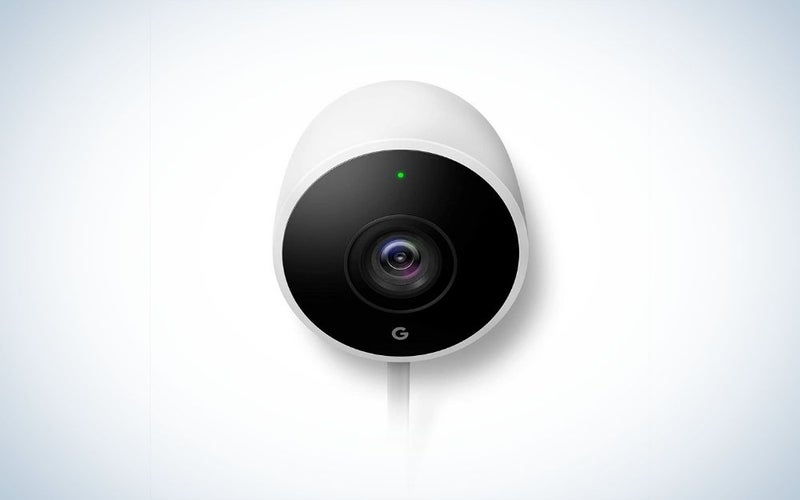 The Google Nest outdoor camera can be set up with a few simple steps. Connect the camera to your home's wireless internet, pair it with your phone, plug it in to an outside outlet, and mount it. Of course, some homes may require more nuance—like drilling through an exterior wall to connect the camera to an indoor power outlet, or adjusting the planned mounting location to get a better wireless signal. Still, as far as wireless outdoor security cameras go, the Nest installs easily. It also works seamlessly, monitoring your home 24/7. It'll send you motion alerts through the app—for $6 a month you can upgrade to Nest Aware, which, in addition to added video storage, offers intelligent alerts that can distinguish between worrisome activity and squirrels. Additionally, the camera features microphones and speakers for two-way talk, can record in up to 1080p HD, and has eight infrared LEDs that provide powerful night vision. The Nest Cam can also see in inclement weather thanks to an IP65 resistance rating. This means the surveillance system should withstand wind and rain, snow and sleet, and temperatures between -4 degrees and 104 degrees Fahrenheit.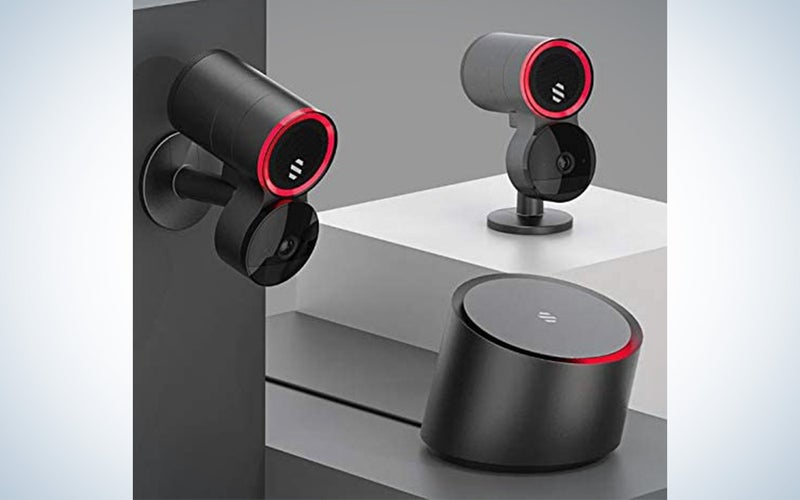 Connecting to live guards who will see your video feed the moment a threat is detected, the Deep Sentinel Smart Security Cameras outdoor surveillance system can contact law enforcement in 30 seconds. The system works with a hub that supports up to six battery-powered cameras with 130-degree viewing angles. Those cameras also offer 40 feet of night vision, and the hub features a 64GB hard drive, plus the system offers four months of cloud storage. The hub connects to an AI system that can analyze 50 images per second at a resolution up to 1080p HD. (You can also access the live feed yourself by syncing your smartphone.) If the AI detects unusual activity, the system automatically patches in live agents who can use the two-way intercom to abate an intruder before taking additional action. Before installing, note the maximum wireless range between the cameras and the hub is listed at 100 feet, and the camera batteries are slated to last three months.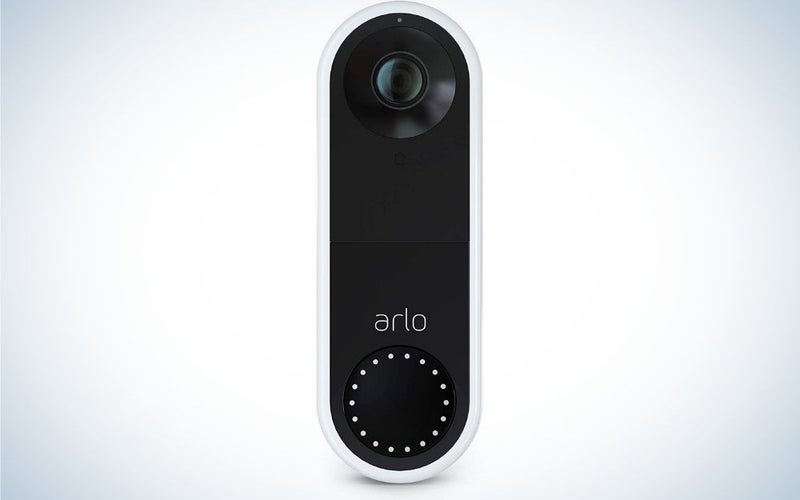 Doorbell cameras have popped up a bunch over the last few years and it's easy to see why they're so popular. With the Arlo Essential Video Doorbell, you can talk to visitors at your front door from practically anywhere in the world. When visitors press the bell, the outdoor surveillance camera gives you the option of opening a video chat on your phone, so you can tell the delivery person to put the package in a different spot or thank the dog walker for their help. These wireless outdoor security cameras offer up to 4K live video streaming, two-way talk, and motion alerts. Upgrading to an Arlo Smart subscription adds features like 30 days of cloud storage and activity zones, which tell the camera to pay extra attention to motion in specific locations. The outdoor surveillance camera also comes equipped with a built-in siren that you can trigger from the app, smart assistant integration, and LEDs for night vision.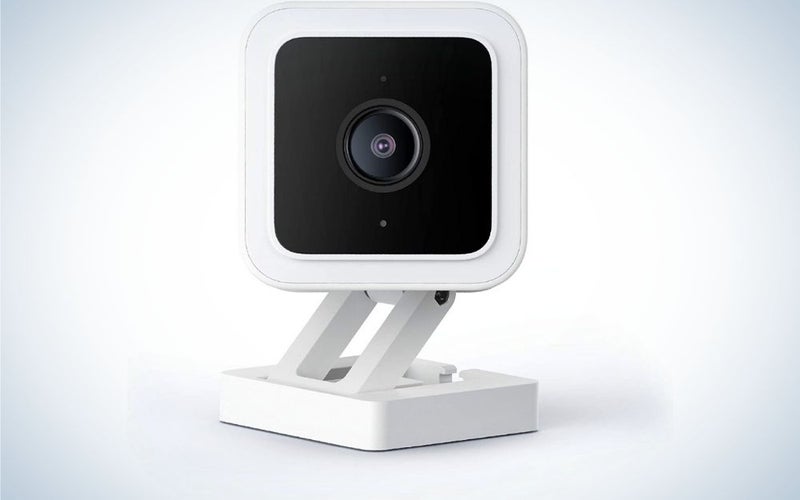 At about $35, the Wyze Cam V3 is extremely well-equipped. It offers the same IP65 weather protection as the Google Nest listed above, 1080p color night viewing that uses low-light amplifiers to illuminate dark places, and even 14 days of cloud storage, plus a micro SD slot that enables rolling recording. In addition, the wired security camera comes with two-way talk, motion and sound detection, and smoke and carbon monoxide alerts that notify you when those alarms are activated. The main downside is the wired security camera won't pan or tilt, so your viewing angle is limited. Still, given the price, it's no wonder that more than 10,000 global Amazon ratings give these cheap security cameras an average of 4.6 stars. 
What to consider when shopping for the best outdoor security camera systems
From the clearest picture to potential obstacles, there is a lot to consider when shopping for the best outdoor security camera system. Here are some important elements to factor in—for instance, can your camera stand up to the elements?—as you set your sights on the surveillance system that's right for your home.
Can you see clearly now?
The best outdoor security camera systems can transmit up to 4K HD video. They may also feature infrared LED lights that enable night vision. Look for models that boast such capabilities if you expect a sharp picture, even at night. 
Is the rain gone?
Outdoor home security cameras must be capable of enduring the elements. Look for IP65 ratings and above that indicate the camera can withstand rain, snow, and dust. It's important to note that even if a camera can handle any weather, you shouldn't mount it just anywhere. Covered areas are always better, since raindrops or direct sunlight could obscure what the lens sees. Also, make sure the camera's listed temperature range extends to include the extreme highs and lows in your area.
What obstacles are in the way?
Outdoor security cameras rely on some type of connection in order to transmit video footage to a place where you can view it. Some wireless security camera systems transmit the footage directly to your synced smartphone, while others do so via a separate hub. Meanwhile, wired security cameras require a direct cable connection. No matter which option you choose, you want to make sure barriers won't get in your way. Obstacles may include thick walls or insulation limiting the wireless signal that can reach the camera mounted outside, too much distance between the hub and camera, or too much distance between your ethernet port and desired outdoor surveillance camera location. Before you purchase any outdoor security system, consider what kinds of hurdles could prevent a specific system from operating effectively in the space you want your camera to watch.
Do you want to talk back? 
Many of the best outdoor security camera systems are equipped with mics and speakers that allow you to communicate with people near the camera. Some home security cameras even include audio alerts that you can trigger—or that get triggered automatically—when an unwanted visitor appears.
Do you need to stay alert?
Outdoor surveillance systems can alert you every time they detect motion. These alerts depend on the ability to sync to an app on your smartphone. Such alerts can be really helpful—but they can also be irksome. Smart alerts, which are often an add-on feature, use AI to determine whether motion is something you need to know about—or whether it's just a bird.
Need the rerun or just the highlights?
Wireless security camera systems will allow you to check in on the live feed and watch up to a few days' worth of detected activity. Most wireless cameras only turn on when you open the app or when they sense motion. This saves on cloud storage as well as battery life, which is important if the camera doesn't plug into a power source. If you want to record 24/7 or view footage from a few weeks ago, you should consider buying either a wired security camera, a wireless camera that connects to a hard drive, or a subscription plan for additional space in the cloud.
FAQs
Q: Are wired or wireless security cameras better?
Wireless security cameras are better than wired security cameras in some cases. Wireless security cameras, which transmit video footage over wireless internet, tend to be easier to install and use—user-friendly apps allow you to check the live feed and detect activity from your phone. Meanwhile, wired security cameras, which transmit footage via a cable, offer a more stable video feed and don't require a monthly fee for cloud storage.
Q: What is the highest quality security camera?
Grainy security footage used to be the norm. No longer. You can now find many security cameras capable of transmitting crystal-clear 4K HD video. For instance, consider the Arlo Ultra 2.
Q: What should I look for when buying a security camera?
Look for factors such as connectivity type, video quality, weather resistance, viewing angle, smart alert options, and the ability to connect to manned security agents. All of these factors will determine how well each camera will be able to watch the space you're hoping to protect. 
The final word on shopping for the best outdoor security camera systems
Buying the best outdoor security camera system could mean opting for a well-equipped, professional surveillance system to give you peace of mind. It could also mean finding a sweet deal on an easy-to-use outdoor security camera. Ultimately, the best outdoor security camera system is one that makes you feel most at peace, even when you can't be home sweet home.
Why trust us
PopPhoto has a long history of delivering the opinions of some of the sharpest and most prolific camera dorks the world has to offer. Since 1937, we've been reviewing cameras, providing wisdom from well-known photographers, and generally just nerding out about all that goes into making great pictures. Our current crop of writers and editors have decades of professional photography and camera writing experience among them. Collectively, we've probably shot with just about every camera and lens combo you can imagine—as well as some obscure stuff you may not even know about. Remember the Casio Tryx folding camera? PopPhoto does.
We also get that buying a camera is a big decision, which is why we're dedicated to helping folks choose the right one (or, in our case "ones") for their needs. Case in point: Handing over top dollar for an expensive rig may leave you unsatisfied if it doesn't fit your preferred shooting style. Sure, a $6,000 sports-oriented DSLR can capture landscapes, but do you really need to do it at 30 frames-per-second? No, you don't.