| | | | | | |
| --- | --- | --- | --- | --- | --- |
| Most versatile | | Dell XPS 15 | | SEE IT | This no-nonsense pick blends superior power, customization, and price. |
| Best video editing laptop for portability | | Microsoft Surface Book 3 | | SEE IT | This tiny but stunning laptop comes equipped with a speedy Core i7 processor and up to 32MB of memory. |
| Best budget laptop for video editing | | Apple MacBook Air | | SEE IT | Small but mighty, the MacBook Air comes with a super-efficient M1 chip that makes it a powerful machine for the price. |
We may earn revenue from the products available on this page and participate in affiliate programs. Learn more ›
Updated Apr 9, 2022 12:28 PM
Laptops used to be far too underpowered to perform the intensive task of video editing. That, thankfully, is no longer the case. On the other hand, unlike, say, Chromebooks or gaming laptops, you won't actually find products specifically targeted at video editing. So how do you find the best laptops for video editing? 
You'll have to come in with some knowledge about what video editing really requires in terms of hardware, which will span everything from GPUs to memory to storage to port selection. This stuff won't come cheap, and often won't come in the physically smallest package, but it's absolutely achievable to get a machine that's capable of editing video on the go. We're here to guide you through the maze of specifications to tell you what you actually need, and which modern laptops are the best at delivering.
Features to consider when shopping for the best laptop for video editing
A computer is, at its core, made up of components, and when we're talking about a computer for a particular task, like video editing, those components are very important. While the overall package does matter, and we'll note if the software-hardware interface is especially good or bad, the best laptops for video editing need certain hardware above all else.
The importance of the big screen
Laptop screens have gotten crazy-good. For video editors, who are staring at their screens more intently than most computer users, the screen is really, really important. Ideally, you'll want a combination of size, resolution, and quality. Size is probably the easiest one here: while a 13-inch screen is a great size for most uses, we think that's probably too small for video editing, unless it's being used as a secondary device. Instead, opt for 15-inch, 16-inch, or even 17-inch.
For resolution, you'll want as high as you can get. Many laptops are available today with 4K screens, which is a 3840 by 2160 resolution; less common is a 1440p resolution; and cheapest is a 1080p. Go as high as you can.
You'll also want a screen that offers high refresh rates for smooth video performance, a wide and accurate color gamut, and great viewing angles.
Best laptop display for video editing: Razer Blade 15
Razer's Blade 15 is technically a gaming laptop, but the requirements for gaming and video editing are quite similar making it the best laptop display for video editing. Most importantly, you'll be getting an absolutely stunning 4K OLED display, a truly premium screen with deep, inky blacks and excellent color reproduction.
What about Apple?
Apple's computers have long been the machines of choice for video editors, thanks to Apple specifically targeting editors and designers back in the 1990s. Some software, like Final Cut Pro, is only available on the Mac OS, and many video editors simply learned their craft on Mac computers. That meant that once they entered the workforce, Apple was what was familiar, and what they went for. You certainly don't need to go with Apple to do some great video editing, but they remain, as always, a great option.
Apple is at a very curious point in their evolution right now. The company is transitioning from Intel chips to its own, house-made Apple Silicon. These chips might be power-efficient and tiny, but early reviews also find that they're incredibly powerful, even enough for video editing. Really, there are two options right now for Apple video editing laptops: the new 13-inch MacBook Pro, which uses Apple's own M1 chip, and the 16-inch MacBook Pro, which still uses an Intel chip.
While the 16-inch MacBook Pro isn't the newest Mac laptop, we still think it's the best Mac laptop for video editing owing to its large, 16-inch screen. You can max out the specifications with up to 64GB of RAM, a massive SSD for storage, and several high-end mobile graphics cards. The M1 Macs are surprisingly good for video editing, but screen size matters here.
How important is a powerful graphic card in your video editing laptop?
The graphics card is the heart of any video operation in a laptop, whether that's watching videos, playing games, or, yes, editing videos. Video editing is a particularly intensive process, so a video card is perhaps the single most important internal component you should look at. You'll want, at bare minimum, a discrete GPU, which means a graphics chip that isn't merely a part of the CPU. (One possible exception: Apple's M1 chip.) 
This means, interestingly enough, that you'll likely find yourself in the gaming PC aisle: the requirements are fairly similar for high-end gaming and video editing. As for specific cards, there are too many to really name and rank here, and they change often. At bare minimum, you want a discrete card; from there, things only get better.
Best GPU in a video editing laptop: Alienware M15 R4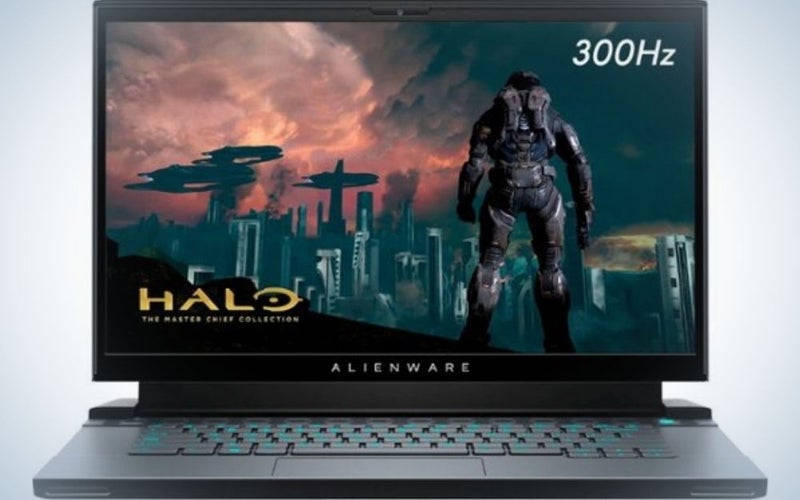 With Nvidia's GeForce RTX 3080 on board, you can be sure you won't be lacking for GPU power in this Alienware laptop. The RTX 3080 is currently the most powerful laptop GPU out there, and this beast of a laptop also features plenty of RAM and storage. It's designed for gaming, so it only has a 1080p display, but you may not even notice, thanks to screaming performance.
How much RAM do you need?
Random-access memory, or RAM, is one of the most important specs to look for in a video editing laptop. RAM provides space for your software to work on projects that you're editing; if you don't have enough, your computer will shift to other forms of storage, like your SSD or hard drive, both of which are much slower.
These days, just for general use, you'll want a minimum of 8 GB of RAM, just to run increasingly memory-hungry software like the Chrome browser. But software like Final Cut and Adobe Premiere are some of the most demanding programs, in terms of their memory use, that you can use. Those memory needs go even higher if you're editing 4K video, which many video editors are these days. You'll want 16 GB of memory at the absolute lowest, and if you can go higher, this (and the GPU) are where you should spend your money.
Most versatile video editing laptop: Dell XPS 15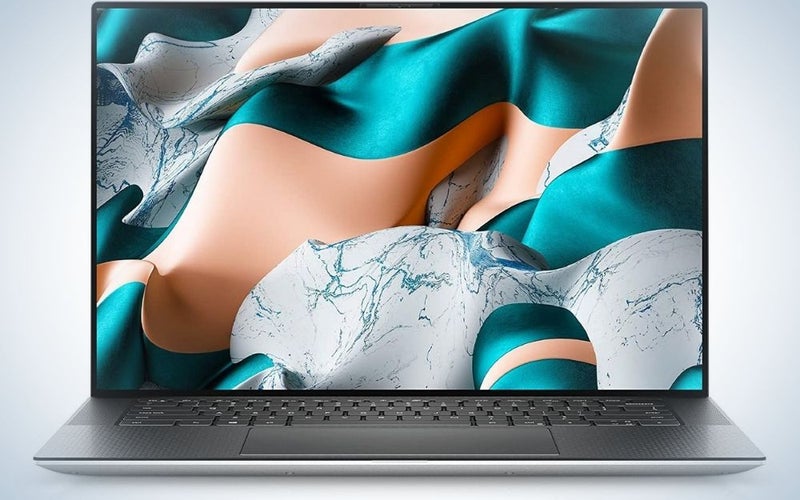 Dell's laptops are a great blend of power, customizability, and price. The XPS 15 allows you to go all the way up to 64 GB of RAM, a 2 TB solid-state drive for plenty of storage, and a discrete GPU (the mid-range Nvidia GeForce GTX 1650). All those options can get pricey, but you can pick and choose exactly what you want for the perfect video editing laptop.
Do you need a laptop to edit video on the go?
A laptop is, at its core, meant to be portable. But lots of the laptops on the market are really only portable as a technicality; you certainly don't want to be lugging around a 17-inch, seven-pound laptop with you wherever you go. That kind of weight can be bad for the shoulders and back, and can be impossible to use in situations where you really need to take up as little space as possible, like in an airport or in a coffee shop.
The problem, of course, is that as you get smaller and smaller laptops, you invariably lose power and capacity. Smaller laptops also have smaller screens; they have less space for batteries, fewer ports, and less powerful GPUs. Finding that perfect balance between portability and power is a tricky prospect.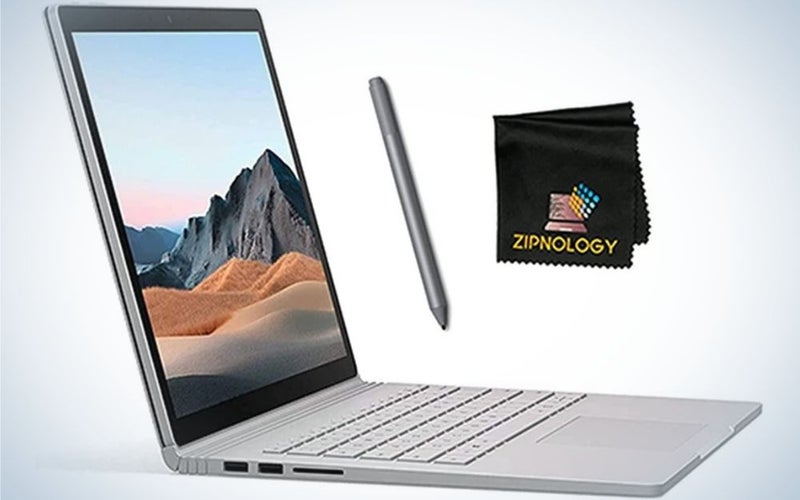 Microsoft's Surface Book 3 is absolutely beautiful, and in its smaller 13.5-inch-screen configuration, is surprisingly tiny. It weighs only 3.62 pounds (even less, if you detach the screen to make it a tablet), yet it packs in killer specs. You can configure this computer with a super-fast Core i7 processor, up to 32 GB of memory, and a GTX 1650 GPU.
Best budget video editing laptop: What you get for under $1,200
The best laptops for video editing are pricey. We're not going to dance around it. Video editing requires a huge amount of power, and power doesn't come cheap. You can very easily spend upwards of $3,000 on a video-editing laptop. But not everybody has that kind of cash, and, luckily, that doesn't mean that those with smaller budgets are left out in the cold.
You've got essentially two options for more budget-minded video editing laptops. One route would be to find a less expensive gaming PC, like Dell's G15, and carefully max out the elements that are most important to video editing, namely the RAM and GPU. You'll likely be making sacrifices elsewhere, though, like in the build quality, screen quality, or storage. 
Instead, we like the new Apple MacBooks, especially the MacBook Air. You'll get the remarkably fast custom-made Apple M1 processor, which has proven very, very fast at video editing, as well as other intensive tasks like gaming. And going for the Air is a great way to save a few bucks; after all, you're getting the exact same processor and GPU in the Air as you would in the new iMac and MacBook Pro. One suggestion: get 16 GB of memory. It costs a bit more, but it's worth it.
Best budget laptop for video editing: Apple MacBook Air
The MacBook Air has the same super powerful, super-efficient M1 chip as the Mac Mini, iMac, and MacBook Pro, and video editors are astounded at the power and ability of this first-generation Apple chip. Opt for the16 GB of RAM, and you've got a really great little video editing machine.
FAQs
Q: What laptop specs do I need for video editing?
Understanding laptop specs is vital for ensuring that a video creator finds a machine that's capable of handling video editing. You'll want, at the low end, at least 16 GB of RAM, a discrete graphics card, and a high-resolution display.
Q: Is a graphic card important for video editing?
Considering that you're working with graphics, yep, a graphics card is really important for video editing. Go for a discrete GPU, which means you'll have a graphics chip that's separate from the CPU, and you'll be in business.
Q: How much RAM does a video editing laptop need?
RAM is perhaps the most important specification for a video editing laptop, so you'll want to be sure you get enough. Absolutely do not go lower than 16 GB of RAM, and if you can go higher, you won't regret it. Some laptops have as much as 64 GB of RAM, which'll help editing fly.
A final word on shopping for the best video editing laptops
The best laptops for video editing are a mixed crop: some Apple laptops, some gaming laptops, some ultraportables, and some maxed-spec machines. Most laptops can function for video editing, but if you follow our guide and focus on RAM, GPU, and display quality, you'll get something that can do more than just function.