| | | | | | |
| --- | --- | --- | --- | --- | --- |
| Best for photographers | | Peak Design Backpack V2 | | Check Price | One of the best camera bags around can conveniently carry a laptop. |
| Best overall | | Timbuk2 Authority laptop backpack  | | Check Price | A lightweight, sturdy option with enough space for your everyday carry. |
| Best for travel | | Fjällräven Kånken Laptop 15" Backpack for Everyday | | Check Price | It's built much tougher than it looks and will fit easily in any overhead. |
If you've been on the hunt for the best laptop backpack available by searching both the online retail outlets–both big and small–and the brick-and-mortar stores near you, you've probably realized that there are a lot of laptop backpacks available for you to choose from.
For some photographers, it makes sense to buy a laptop bag that doubles as a camera bag. But for others, a high-end laptop backpack on its own can come in handy. You don't always want to mix your gear with your everyday carry. And you may not need enough room for a laptop in your regular camera bag. So, this is a mix of bags that include some camera-capable models and some excellent all-around options.
Here's a half-dozen of the best laptops currently in the marketplace.
What to look for when buying a backpack for your laptop and gear?
Before you go out and buy a laptop backpack for yourself or as a gift for a family member or friend, you'll first want to find out how you or the person you're giving this gift to will use the backpack.
Here are some important factors to consider:
Price
As with most products, you'll want to make sure that the laptop backpack you're buying is in your budget. Take note: Late summer (from mid-August to mid-September) and Black Friday are both good times to buy a laptop backpack, since other items, like laptops and other consumer electronics, are also discounted during these times.
Size & Weight
Since your laptop is the reason you're buying a laptop bag, you'll want to make sure it fits into your backpack, which means the size of your laptop (15-inch, 16-inch, 17-inch, etc.) will most often be the most important factor in choosing a laptop backpack. Next, check to see what the weight of the laptop backpack itself is, particularly if you'll be using it each day for going to class or to work. You don't want to add any more weight than you need to.
Then, make sure that you can fit your laptop as well as all the various accessories you plan on using into your backpack. This can be a challenge for some, for example, if you're a photographer since you'll be carrying two rather expensive and sometimes heavy pieces of hardware around with you—a laptop and a camera. And if you travel often, you'll want to be sure the backpack is compact enough to fit in an overhead bin on an airplane.
Comfort & Design
Another essential factor in finding the best laptop backpack for your needs is to find one that's comfortable. For instance, examine the material. Does it feel durable? Is it waterproof? Or just water-resistant? Also, feel it to see if you like its texture. Also, take a good look at the backpack's design and be sure it meets your needs. For instance, does it have the right number or type of interior compartments? Can you adjust or customize those compartments? Some backpacks let you. Make sure the interior design lives up to your expectations. Check out any user reviews on the product online, as well, which can also give you a sense of how the product actually functions in the real world, and may expose any weaknesses in its design.
Other important factors:
Once you've made sure your laptop backpack is the right size and weight, as well as being comfortable and made from the right materials, you'll also want to check the following:
Does it have any unique features? Laptop backpack makers have been very creative over the years in offering lots of special features on their products. Some include features like a charging port, which lets charge your device (using a portable power charger located inside the backpack) without needing to open up your backpack. Other unique features include a built-in battery, a combination lock and scratch- and tear-resistant material. There are a few that even have solar panels that can recharge a built-in battery, which can recharge any USB device.
Examine the warranty: Like most products, you'll find that the warranties offered by laptop backpack manufacturers vary greatly. Some offer a lifetime warranty, while others are simply a 30-day return policy, which may or may not be honored, depending on the defect. Be sure to read the warranty carefully.
The best laptop backpacks—reviews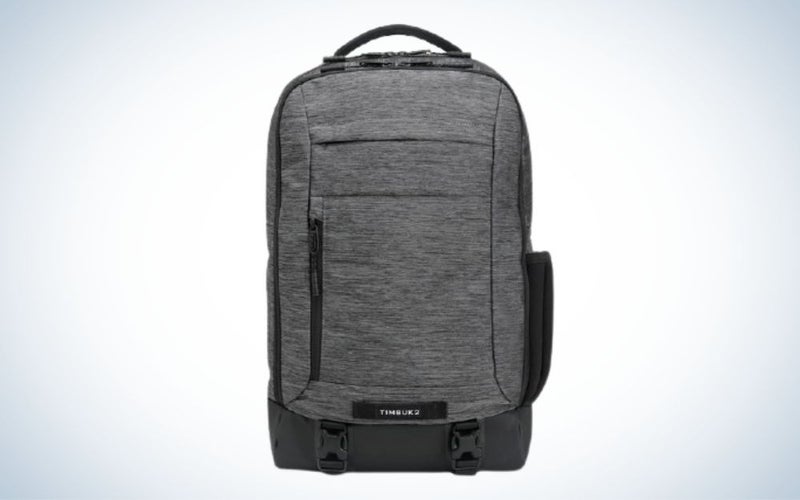 Why It Made The Cut: This is the best laptop backpack for commuting or traveling at a decent price.
Key Features
Dimensions (h x w x d): 18.1 x 11.4 x 5.91 inches
Total Volume (in liters): 28 liters
Weight (in lbs.): 2.4 lbs
Maximum laptop size: 17-inch laptop
Pros:
Very comfortable
Extra padding on back panel and the straps
Luggage pass-through strap
Can hold a 17-inch laptop or smaller
Cons:
Not quite as roomy as other 28 liter models
Timbuk2 makes a wide range of bags to fit all kinds of laptop-carry needs, including laptop backpacks, messenger bags, travel briefcases and more. The Authority laptop backpack is one of the company's best sellers, and for good reason, since it has a sturdy build but is also comfortable to wear, due to the extra padding on the back panel and the straps. It also has some convenient features, like a luggage pass-through strap on the back, which is helpful when you travel and need to slide your backpack onto the handle of your carry-on luggage.
There are a variety of compartments inside the body of the backpack. The compartment for the laptop is in the back, which is nicely padded for protecting a laptop and is big enough to fit a 17-inch laptop. The Authority comes in several colors, including olivine, titanium, eco static and black deluxe.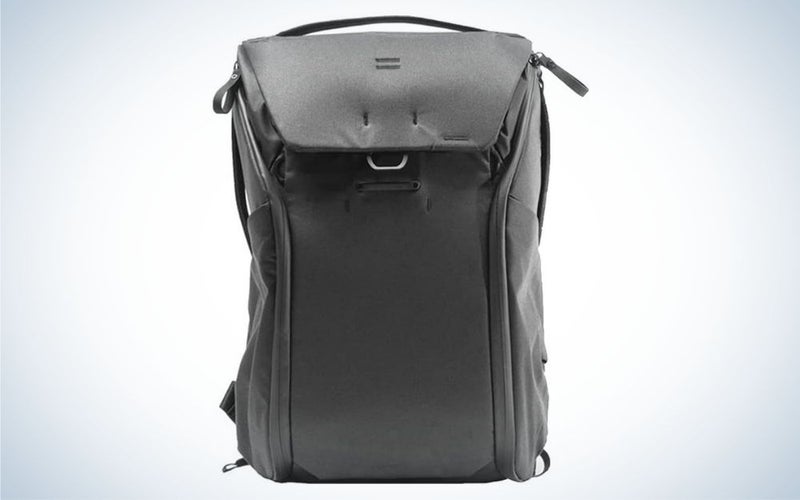 Why It Made The Cut: This is the best laptop backpack for photographers that is great for accommodating your photography gear.
Key Features
Dimensions (h x w x d): xx x Xx x Xx inches
Total Volume (in liters): 22 to 30 liters
Weight (in lbs.): 4.6 lbs (with dividers)
Maximum laptop size: 15-inch laptop
Pros:
Very versatile
Sturdy build
Comfortable
Allows you to expand its capacity
Cons:
If you're a photographer, you know that you need a special type of backpack that protects both your digital camera gear and your laptop. And that can be a tall order for some laptop backpacks.
But not for Peak Design's Everyday Backpack, which is available in either black, gray or midnight blue. This model is designed with dual side zippers, which allow you sling-style access to all your gear. It also comes with a protective laptop sleeve with pockets, for a 15-inch laptop, a tablet or files and documents. The sleeve is also adjustable, so it can accommodate smaller laptops, too.
Inside, the backpack has customizable internal dividers, which is great if you need to change what kind of camera gear you're using.
This laptop backpack also has the ability to expand its capacity–with 8 liters of internal expansion, plus 4 hidden straps for carrying items on the exterior of the backpack. And the Peak Design Everyday also has weatherproof exterior zippers and weatherproof fabric made of strong nylon canvas to keep your gear dry.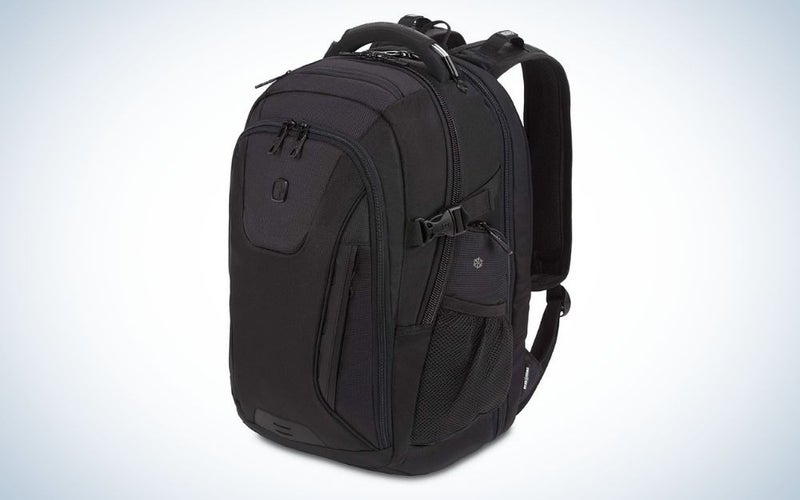 Why It Made The Cut: This is the best laptop backpack for men because it's versatile and also designed to allow you to quickly access all your gear.
Key Features
Dimensions (h x w x d): 18 x 11.5 x 7 inches
Total Volume (in liters): 31.4 liters
Weight (in lbs.): 3 lbs
Maximum laptop size: 15-inch laptop
Pros:
Allows quick access to your gear
Very roomy
Includes a side-access shoe bag
Versatile design
Relatively inexpensive
Cons:
Doesn't stand upright, unless it's filled with gear
There's a lot to like about this Swissgear laptop backpack, which has an exterior encased in a durable, abrasion-resistant polyester fabric, which is strong and also hides any scratches. But it's also very comfortable to carry. It's designed to be able to carry both a tablet and a laptop in its back compartment, but it also comes with a front pocket, which provides you with quick access to your personal item or gear.
The Swissgear 5358 has a fleece lined crush-resistant sunglasses pocket and an organizational pocket, with multiple divider pockets for pens, mobile phone, ID card and memory stick. In the center, there's a that comes with an internal zippered panel, which, when it's unzipped, turns into a side-access shoe bag. The shoulder straps and back panel are both padded, as well. It also has a built-in USB outlet power-ready port for charging on the go and mesh side pocket for storing additional items.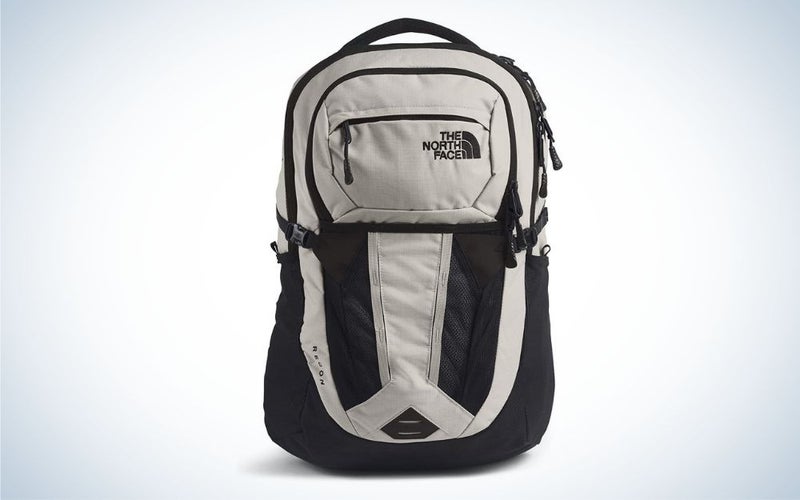 Why It Made The Cut: This is our pick for the best laptop backpack for women because it's an excellent, well-designed laptop backpack with lots of support for a comfortable fit
Key Features
Dimensions (h x w x d): 19.3 x 7 x 13 inches
Total Volume (in liters): 30 liters
Weight (in lbs.): 2.5 lb
Maximum laptop size: 15-inch laptop
Pros:
Lightweight
Roomy
Very good organization system
Very comfortable
Cons:
Northface designed this laptop backpack with its FlexVent suspension system, which the company says features a flexible yoke built from custom injection-molded shoulder straps, which provides a comfortable, padded back panel, which is also very breathable and flexible. It also has a lumbar panel, which Northface says is certified by the American Chiropractic Association. There's also a sternum strap with whistle buckle. Plus, it has very flexible shoulder straps and a removable waist belt.
In addition, it has a dedicated, protected laptop compartment and a large main compartment, for books and files, plus an extendable front stash pocket with daisy chains for added lash points. It also comes with two external mesh water bottle pockets that can double as multi-use pockets with quick-draw smartphone access on one side.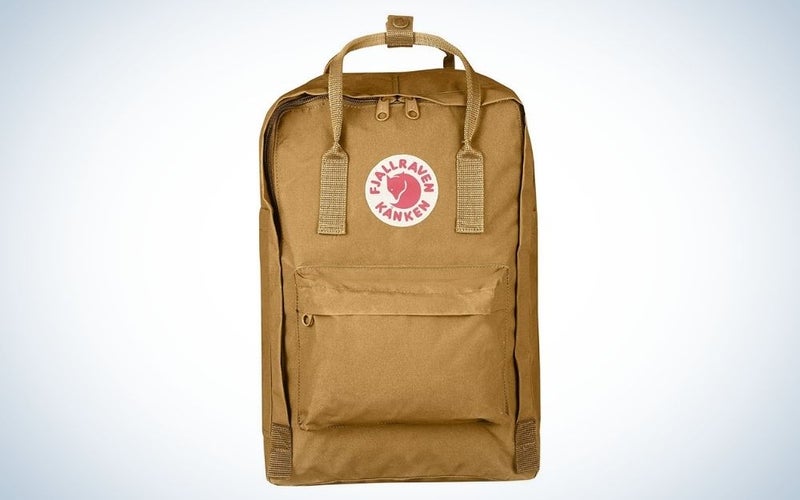 Why It Made The Cut: A fun, colorful, nicely designed backpack that's also relatively inexpensive but sturdy.
Key Features
Dimensions (h x w x d): 16.5 x 7 x 11 inches
Total Volume (in liters): 18 liters
Weight (in lbs.): 1.2 lbs
Maximum laptop size: 15-inch laptop
Pros:
Relatively inexpensive
Lightweight
Made of sturdy material (Vinylon)
Comes in lots of different colors
Cons:
Holds less than other backpack (just 18 liters)
A bit less versatile than pricier models
One of the first things you'll notice about this model (if you go to the product page on the manufacturer's website) is that this nicely designed laptop backpack is available in more than 15 different colors. But it's not just about being colorful–it can accommodate both 13- and 15-inch laptops in a separate padded compartment. This model is the best laptop backpack for travel because it also has a large main compartment to hold all your daily essentials, and front zip pockets for additional storage. And there's a side slip pocket for water bottles. You can also use it as a tote, since it has dual top handles with a snap closure. It's also comfortable, with adjustable, padded shoulder straps
However, it doesn't hold nearly as much as what's available in other laptop backpacks. So, if you're the type of person who travels with a lot of gear, this might not be the best model for you.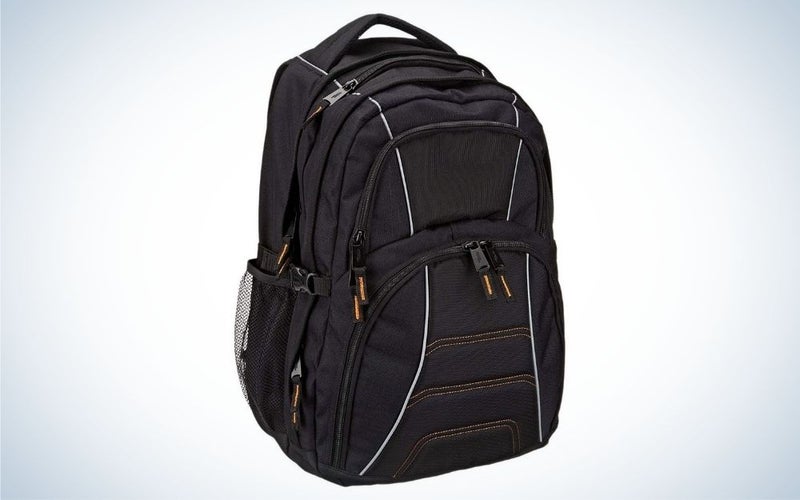 Why It Made The Cut: A well-made laptop backpack for those on a budget making it our choice for the best budget laptop backpack.
Key Features
Dimensions (h x w x d): 19.3 x 7 x 13.4 inches
Total Volume (in liters): N/A
Weight (in lbs.): 1.9 lbs
Maximum laptop size: 17-inch laptop
Pros:
Inexpensive
Nicely designed
Accommodates a large 17-inch laptop
Cons:
Might not be as sturdy as other models
No warranty (but will offer refund in some cases)
If you're on a budget or just don't want to spend a lot of money on a laptop backpack, this backpack might fit the bill. It has several large compartments, and comes with a padded sleeve to hold up to a 17-inch notebook. There are also two nicely designed mesh water bottle pockets on either side of the backpack and the backpack includes several organizational compartments, for pens, keys and other items. However, it doesn't come with some of the special features that you'll find on other models (which you'll also pay more for).
This Amazon Basic laptop backpack lacks a warranty, but Amazon does have a refund policy, provided the bag is returned within 30 days of purchase. Be sure to read the refund policy on Amazon.
FAQs
Q: How do you measure a laptop to see if it fits in a laptop backpack?
Many consumers get confused when trying to measure a laptop to see if it will fit into a laptop backpack. That's because laptops are generally categorized by their screen size, which is measured diagonally, such as a 15-inch or 17-inch laptop. 

And while many makers of laptop backpacks also suggest which sizes of laptops will fit in their backpacks (by their screen size), if you want to be certain, you'll want to measure or find the width and the depth of your laptop. Then, compare them with the specs of the size of the compartments in your laptop backpack. To be safe, you might consider adding a quarter-of-an-inch to the backpack's measurements.

Q: How can I tell if I'm buying a good quality laptop backpack?
If you can, try out a laptop backpack in person. For example, if you're shopping in a brick-and-mortar retail outlet, you should be able to examine the entire backpack, inside and out. When you do, look at the quality of the stitching inside of and on the exterior of the backpack. High quality backpacks won't have slapdash, uneven or sloppy stitching. Also, make sure all zippers are protected with flaps of fabric, a design feature that prevents water from seeping into the interior of the backpack. At the same time, you should also try wearing the backpack and see if it's comfortable or not.
Q: What's better–a water-resistant or waterproof laptop backpack?
It depends on your needs. But it helps to understand what the two words mean:
 
"Waterproof" means that water will not penetrate the material, or that the backpack is impervious to water. In short, a waterproof backpack means water can't get inside the bag–unless it's unzipped. 
 "Water-resistant" means that the material or product will repel some of the water, but not all of it. So, in some instances, like when there's a very heavy rain, some water may seep through the material and into the backpack. 

It's important to know since you don't want to get your laptop, camera gear or most other consumer electronics wet. Be sure to research your laptop backpacks so that it has the right type of material for your work or personal life. 

Methodology
For our ratings of best laptop backpack, we researched various retail websites and selected only current models (ones that can be commonly bought from major online retail outlets) from some of the major brands that produce laptop backpacks. We then researched and selected models that included the broadest spectrum of features at a reasonable price, which would meet the needs of most users.
A final word on safely using a laptop backpack
Although it seems like common sense, many people overpack a backpack, even a laptop backpack, which can be a problem, since overpacking can create pressure and damage your notebook. A laptop backpack that's too heavy can also be bad for your health.
Don't overpack when you use a laptop backpack
According to the American Academy of Pediatrics:
Children should not carry more than 10 to 20 percent of their body weight in the backpack.
Young adults should not carry more than 13 to 15 percent of their body weight.
College-aged adults should not carry more than 15 to 20 percent of their body weight.
If you want to avoid carrying too much in your laptop backpack, do the following:
Pack only what's necessary.
Use and tighten both backpack straps (it distributes weight evenly).
Use a waist or chest strap, if your backpack comes with one.
Place the heaviest items in the center of the backpack.