| | | | | | |
| --- | --- | --- | --- | --- | --- |
| Best for beginners | | DJI Mini 2 | | SEE IT | If you're just learning how to fly drones, this easy-to-operate yet equally high-tech pick has all the functions you need to capture stunning footage. |
| Best for professionals | | DJI Air 2S | | SEE IT | With a one-inch image sensor, FocusTrack technology to keep your subject in focus, and a seven mile video transmission range, this pick will take your high-flying photo and videos to the next level. |
| Best budget | | Holy Stone HS510 | | SEE IT | For those that are new to drones or want to try them out without a huge investment, this pick still offers features like 4K video recording and GPS at a lower cost. |
Updated Jan 9, 2023 5:46 PM
We may earn revenue from the products available on this page and participate in affiliate programs. Learn more ›
From state parks to national news broadcasts, drone photography and videography is becoming a regular activity, giving us glimpses of our world that were once reserved for the birds. But even if you're a skilled photographer, incorporating a drone into your work is an entirely new skill set. Fortunately, the best drones for beginners can be easy to use, with safeguards like automatic landings to protect against crashes. Still, finding the right drone with the right set of features can be even more daunting than that first flight.  But chin up! Here's what you need to know when shopping for a flying camera that looks down. 
How we picked the best drones for beginners
Price and ease of use were two primary considerations in selecting products for this list of best drones for beginners. The in-flight stability was also important, as beginner drones should be easy to control in the air even with some wind. We also considered camera quality and video recording capabilities. Lastly, we looked at flight modes and features like GPS and obstacle detection.
The best drones for beginners: Reviews & Recommendations
Why it made the cut: The DJI Mini 2 is a lightweight but easy-to-fly drone capable of 4K video and 12MP photos. 
Specs
Camera: 4K/30fps video, 12 megapixels stills
Flight time: 31 minutes
Weight: 8.78 ounces
Pros: 
Doesn't need to be registered with the FAA
4K video capabilities with zoom 
Long flight time
Stable in the air, even with some wind
Cons: 
No obstacle avoidance sensors
With a maximum flight time of 31 minutes and Level 5 wind resistance that can withstand gusts up to 25 mph without knocking the camera off-kilter, this DJI drone is built to help you get the shot—even from the top of a 13,000-foot peak. A 3-axis gimbal responds to the turbulence, ensuring that the camera captures steady 12mp photos or 4K video. 
But what makes this one of the best drones for beginners is just how easy it is to use. On the piloting side, it features automatic takeoff, accurate hovering, and a system that will send the drone back down to you when the battery gets too low. On the photography side, the camera automatically starts recording with just a few clicks. Additionally, the DJI Mini 2 drone supports 10km of HD video transmission that syncs to your app for nearly instant editing or sharing. At less than 250 grams (8.8 ounces), the small drone weighs about as much as an apple. It's also a foldable drone that can pack into the pocket of your climbing pack. So, hit the trails and head on up—the views always get better the higher you go.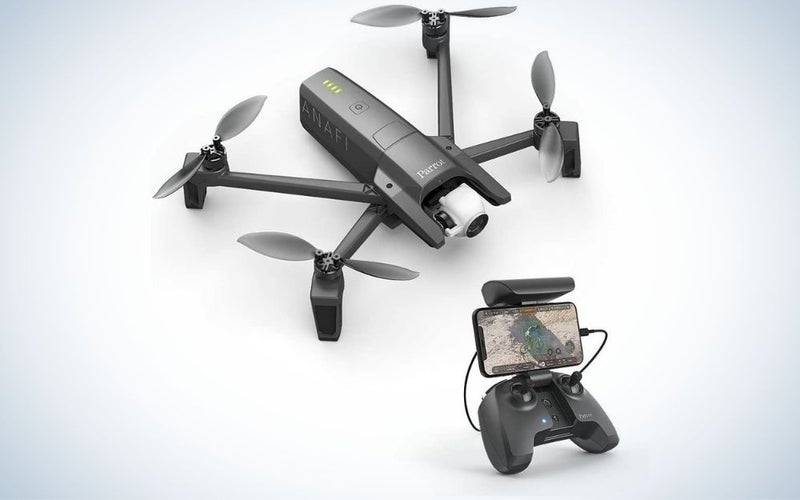 Why it made the cut: The Parrot Anafi is a foldable drone that comes with a padded case, ideal for those traveling with a drone. The unique 180-degree tilting camera lets you film action above the camera.
Specs
Camera: 4K HD video, 21 megapixel stills
Flight time: 25 minutes
Weight: 1.56 pounds
Pros: 
Very compact when folded down
Camera can tilt 180 degrees
Comes with a nice case
Built-in zoom
Cons: 
No obstacle detection
A little challenging to fly
Either of the DJI drones listed above could work well for travelers, but the Anafi drone is the best drone for beginners for those on the go, parroting similar camera steadiness seen in the DJIs—3-axis stability—while showcasing features all its own. Its gimbal can support 180 degrees of tilt, and at one pound and a half and 9.4 by 6.9 by 2.6 inches, the Anafi is a portable,  foldable drone that packs nicely into its case.
The Anafi is also technologically robust, shooting in 4K with an f/2.4 wide-angle aspheric lens that offers 2.8x digital zoom and captures 21mp photos. The 4km transmission range means the drone can travel a long distance from you, and the battery provides an ample 25 minutes of filmed flight time, recharging in 1.5 hours via a USB-C cord.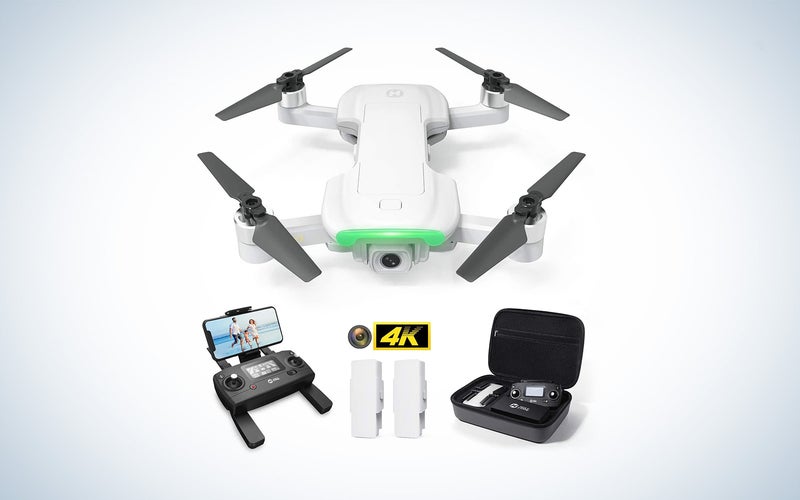 Why it made the cut: The Holy Stone HS510 is a capable yet affordable drone with 4K Ultra HD video and GPS.
Specs 
Camera: 4K HD
Flight time: 16 minutes per battery, 32 minutes total
Weight: 8.8 ounces
Pros: 
Comes with two batteries
Built-in display on the remote
Small enough to not require FAA registration
4K video
Cons: 
Only has single-axis stabilization
Camera angle can only be adjusted manually
You don't have to throw money away to find the best drone for beginners, especially not when you consider the features that come in the HS510. For example, this Holy Stone drone can record 4K Ultra HD video with a 120-degree wide field of view. In addition, it is compact, foldable, and lightweight enough that you don't need to register it with the FAA.
You will lose some features in this budget drone compared to the more expensive DJI options. For example, it only has a 1-axis gimble, so the video smoothness won't be exceptional. And the camera angle has to be adjusted manually, so once it's in the air, there is nothing you can do if you don't have it pointed the right way. But it does have a dual GPS module which allows for more accurate tracking and modes like Follow me and Smart Return Home, something you don't get with the lower-end DJI models.
Best for professional photographers and videographers: DJI Air 2S
Why it made the cut: The DJI Air 2S has a compact body with stunning 5.4K video and 20-megapixel photos.
Specs
Camera: 5.4K/30fps video, 20 megapixel stills
Flight time: 31 minutes
Weight: 1.3 pounds
Pros: 
Four-way obstacle avoidance detection
Good flight time
3-axis gimbal for stable video
High quality video and photo
Cons: 
Controller isn't foldable
The Air 2S is a DJI drone that gives you even more than the Mini 2. But, as the premium pick for the best drone for beginners, it costs more than twice as much (almost $1,000 vs. under $500). For that extra money, you get two kilometers (1.24 miles) of additional video transmission (up to 12km of range), 10k digital zoom, 5.4K high-definition video, and a 10-bit Dlog-M color profile that lets you capture the world in all its glory.
The DJI Air 2S camera also records photos at up to 12.6 stops for detailed original images and features intelligent HDR that automatically merges multiple shots. Other smart technology includes tracking that lets you better follow a subject on the move and environmental sensing that helps prevent you from flying the drone into walls and trees.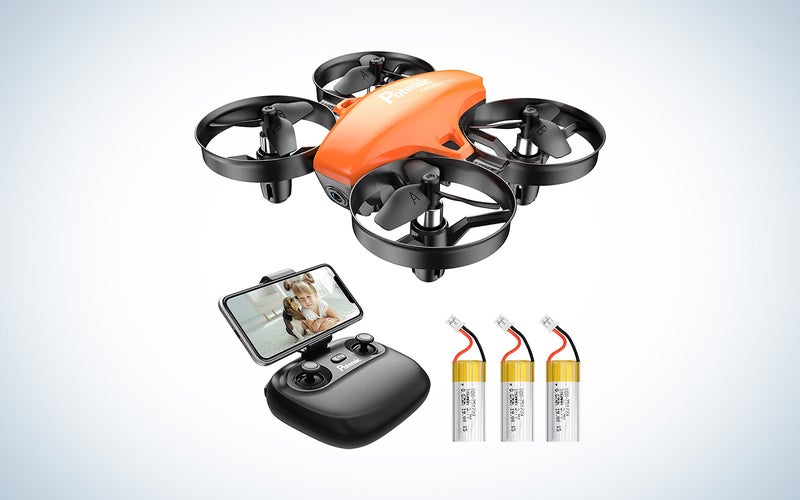 Why it made the cut: The Potensic A20W is an affordable mini drone that still has video capabilities and stable flying. It's a great way to introduce kids to drone flying and videography.
Specs
Camera: HD 720p video and photos

Max flight time: 21 minutes via three batteries
Weight: 14 ounces
Pros
Stable flight
Simple flight controls
Propeller guards for safety
Affordable
Cons
Smartphone and app required to use the camera
If you want to introduce your child to drone flying and drone photography, the Potensic A20W is a great option. Though the camera quality isn't near the professional level, it does have an HD 720p camera for both videos and photos. In addition, the included remote has 2.4G WiFi which allows you to connect via an app for even more controls.
With one-button take-off and landing and headless and altitude hold modes, the A20W is easy to fly, even for those completely new to drone flying. It also has Gravity Induction mode when using a smartphone, which allows you to control the drone by tilting the phone. It is very stable to fly for such a small, inexpensive drone. And, since this is designed for kids, the sturdy propeller guards are a welcome sight to protect the drone, your home, and other people.
What to consider when shopping for the best drones for beginners 
Whether you need a long-range drone to fly far away or a drone with a longer flight time to capture more footage, you can find the right drone for you. The best drones for beginners can shoot in 4K and travel four miles away. They can also land on their own or track a subject automatically. But not all drones are the same. Here are some key features to consider when shopping for the best drones for beginners. 
Do you need a beginner drone with a longer flying time to set up the perfect shot? 
On average, drones can only fly for about 20 minutes, with the range spanning between five minutes and 30-plus minutes. Lightweight batteries simply don't exist to support more sustained work in a flying device. The flight time you need depends on whether you're looking to send the drone up for a quick aerial shot of the family barbecue or whether you need some time searching for the right panoramic of an alpine lake. 
Do you need a drone with a long range?
A drone's range is determined by the quality of the radio transmission, which is essentially the invisible connection between you (or the controls) and your drone. While some drones can only travel a few dozen meters away from the base, some of the best drones for beginners are capable of shooting high-definition video from more than seven miles away. 
What kind of camera should your beginner drone have? 
The bird's-eye angle alone all but guarantees that drones will capture amazing video and take compelling photos, but the onboard technology could make it a certainty. The best drones for beginners can shoot in crystal-clear HD video (8K is possible with top-of-the-line models) and produce 20-plus megapixel photos. Many camera drones also feature zooming and panoramic modes to let you see clearly both near and far. Camera drones with gimbals are designed to keep the lens steady by activating motors on different axes as the drone flies through the air. 
 What kind of control are you looking for? 
While some drones come with their own controllers, other drones can be flown using a sync-ed smartphone. The handheld controllers are more reliable and provide a more accurate response than smartphone controls, but they can also have a steeper learning curve or add to the price point—or may only be available as an accessory purchase. Other control features also exist. Some drones can take off and land with the press of a button, while others automatically come back to you or land safely when their battery is low. In addition, you can find drones that sync with virtual reality headsets, drones that can lower at the sound of your voice, and ones that can take photos with the wave of your hand. 
Related: Everything you need to know about buying your first drone.
Do you want a smart drone?
Most of the best drones for beginners are enabled with a GPS that allows for some amount of autopiloting. But others are also equipped with sensors that read the environment and help the drone avoid obstacles on its own. Some drones are also designed to track a moving subject, taking the controls—and the worry—out of your hands,  which lets you focus on finding the perfect shot.
FAQs
Q: What drone has the longest range? 
The DJI Air 2S drone has the longest range. It's capable of shooting high-definition video up to 7.5 miles from its base. 
Q: What happens if I don't register my drone? 
If you don't register your drone, you may face criminal penalties. According to the FAA, failing to register a drone can result in civil penalties up to $27,500, as well as criminal penalties—including fines up to $250,000 and/or up-to three years in prison.  
Q: How do I practice flying drones? 
Practice flying drones at eye level. Work on replicating circles and turns and repositioning the camera with the drone right in front of you before you raise the altitude to 400 feet—or whatever the legal limit is in your jurisdiction. The internet is filled with tutorials that include specific exercises you can try.   
The final word on shopping for the best drones for beginners 
From the best drones for pros to the best drones for kids to the best drones for your buck, you can find many different drones that will work for your particular needs. High-definition video, autonomous features, and easy-to-use controls are all attainable, even without spending a grand for the truly top-of-the-line model. Shopping for the best drones for beginners is a matter of matching the feature set you desire to the best product to help you capture the most eye-catching footage from way up high.