Review: LowePro ProTactic SH 200 AW Messenger-Style Camera Bag
Lowepro's new ProTactic shoulder camera bag is tough, lean, and efficient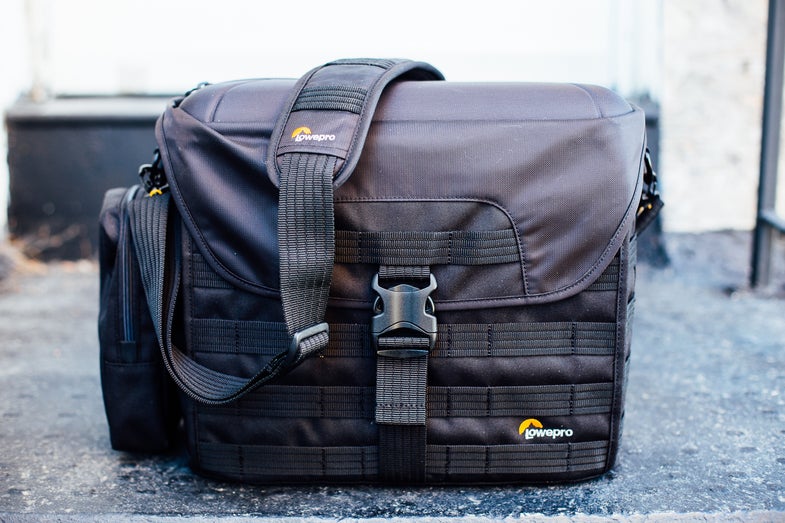 We may earn revenue from the products available on this page and participate in affiliate programs. Learn more ›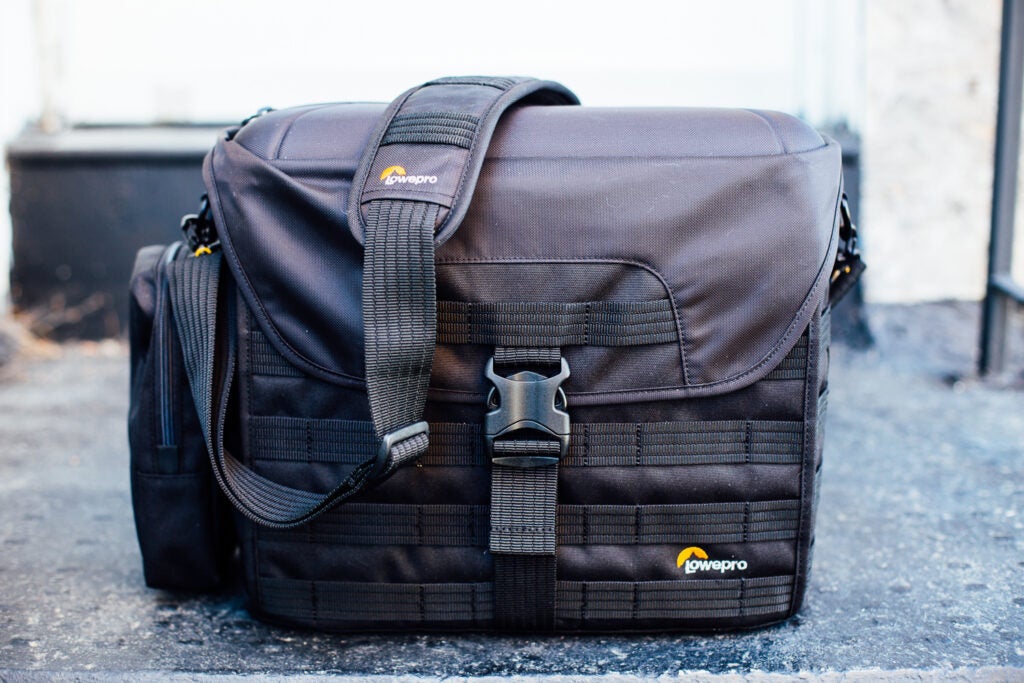 At first glance, LowePro's ProTactic camera bags look like they could be filled with SWAT team gear instead of cameras. The all-black outer and thick surrounding straps are meant to make it tough without standing out. The line first started with backpacks, but has now expanded into some shoulder bags, and I've been testing out the biggest model, the ProTactic SH 200 AW.
What is it? With slim profiles and black-on-black colorways, the ProTactic series is clearly aimed at photographers that do a lot of moving around, particularly in urban environments. The SH 200 AW is a messenger style bag meant to be worn over one shoulder and hold a moderate amount of gear, typically a body with an attached lens and then two more lenses or a lens and a flash.
Protection The padding on the inside of the main compartment is, as you probably expect, excellent. The modular cushioning lets you customize the space and provide a firm-but-forgiving layer of padding between each piece of equipment. Small pieces of padding also Velcro over the lenses or flashes to help keep them from sliding out in case the bag tips over.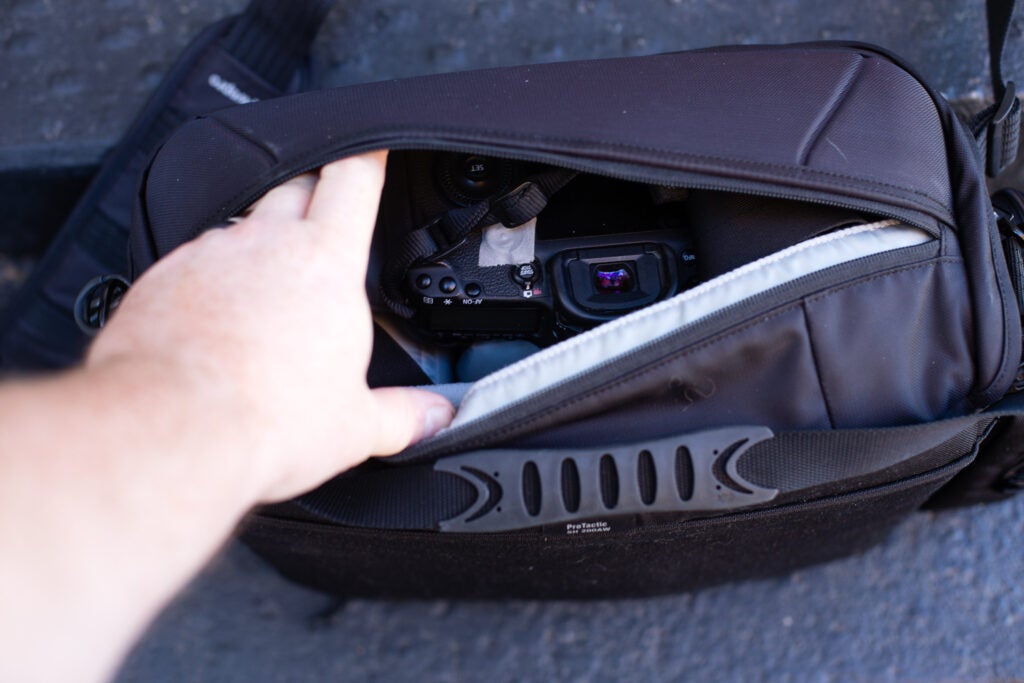 One thing I particularly like is the hard, molded top section on the bag's main flap. There's a zipper down the middle so you can get at the gear inside without opening it all the way and hardened panel provides more protection than a basic piece of material, without the need for an extra layer making the bag harder to get into.
While the padding in the main compartment is ample, it's actually a little sparse on the front accessory pocket. If you're planning on carrying anything that's really fragile or important, I would probably recommend making space for it in the main compartment.
The AW denotation stands for All-Weather, which seems appropriate here, as the durable outer shell repelled raindrops quite deftly. There's also a weather cover that deploys from a zippered pocket on the bottom of the bag.
Capacity The bag is tall enough to hold a regular-sized DSLR (not a pro-sized DSLR like the Nikon D4s or the Canon 1D X) with a 70-200mm telephoto lens attached. The other two slots can easily accept an extra lens or a flash. In fact, if you shoot primes, you can probably fit two smaller lenses to either side of the center column.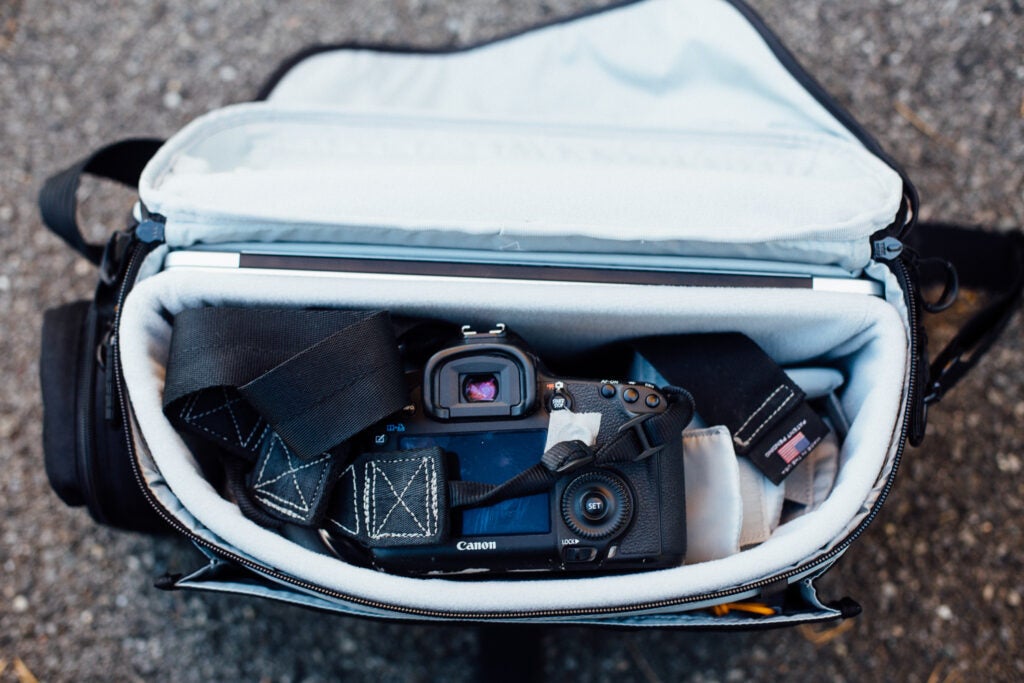 I actually found the size to be pretty perfect if I just wanted to grab as much gear as I would need to go out and shoot some portraits. If I was going to bring my compact light stand and umbrella, however, I'd switch back to the backpack.
While the camera compartment is fairly robust, options for carrying other stuff are fairly limited, at least out of the gate. The front pocket has a padded slot for a tablet and a very thin zippered pouch on the outside of the pocket, but fitting things like a bigger portable hard drive or a laptop power supply can be a challenge.
To remedy this, they include an extra small pocket bag that attaches very securely to the outside of the bag using Velcro and the straps sewn onto the bag. The idea is that you can expand the capacity if you want. And while the extra pocket felt extremely secure, I still felt better putting crucial stuff like my hard drives in an attached pocket.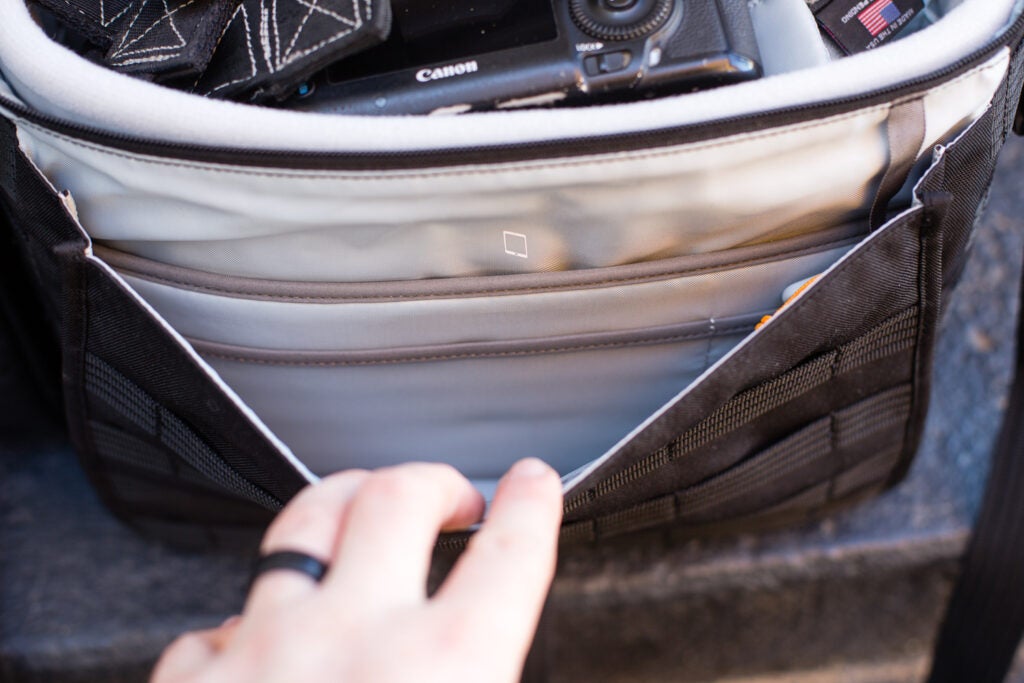 One thing that confused me a bit when I first loaded up the bag was that it claims to only fit a 13-inch laptop, but my 15-inch laptop slid right in. I didn't notice that there was a small dedicated pocket behind where I was putting my laptop that adds a tiny bit of extra padding. I know it's not an approved use, but I feel pretty good about carrying my 15-inch laptop in here as well. The bag may eventually give me a reason to regret that decision, but for now, I'll take the added bonus.
Durability I'm notorious for beating up camera bags, and this one feels like it's built to last for a seriously long time. The outer layer shrugs off scrapes and grime. Even though it's an urban bag, I took it through the woods. I was a bit worried the straps would get caught up in the branches, but that didn't turn out to be the case. It didn't even really snag despite the sharp prickers and thorns.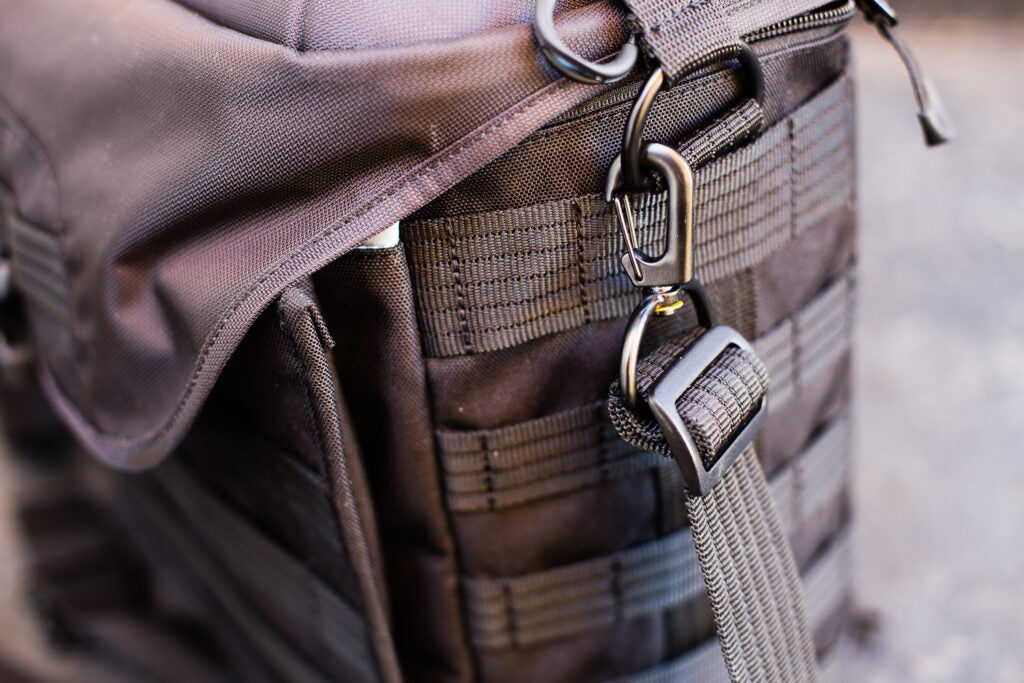 A lot of times, the weak point of a bag isn't the material or the padding, but rather the small stuff, the details, that aren't sexy, but can fail catastrophically. The ProTactic seems to pay close attention the details, though. The clips and rings that hold the bag onto the strap are very burly (and not jangly, which is a bonus). The zipper aren't the heaviest I've encountered, but they certainly feel very strong and secure.
Overall, the bag feels very solid, more so that most other shoulder bags I've tried.
Fit The strap has the ability to get extremely long using the adjustment clips, and that's a big plus for me. In fact, when the strap is at its longest, I actually found I had to shorten it a little, which is a thing that almost never happens to me.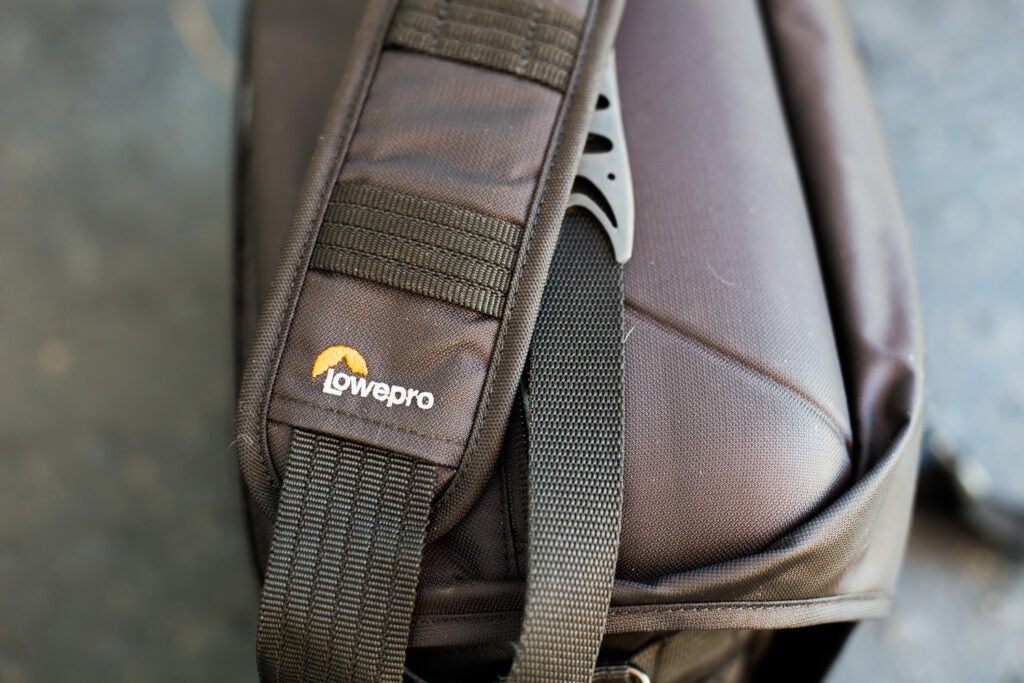 The padding on the shoulder strap is rather subtle, which I like because it's less likely to get all twisted up than a strap that's fat with padding.
There's a carry handle attached to the top of the bag as well, that's handy if you're going through security at the airport or just need to grab the bag and don't want to do the awkward dance that's sometimes required to hold a messenger bag without slapping it against the floor.
What I liked:
Sturdy construction keeps cameras safe and secure
Black-on-black aesthetic is appealing (at least to me)
Sewn-on straps allow for expansion of capacity with add-ons
Included add-on pocket is modular so you can place it where it works best for you personally
Fits the right amount of gear for a day of shooting
Molded top panel adds extra protection
Long, comfortable, versatile strap
What I didn't like:
Integrated, non-camera pockets are limited in space and padding
Tough construction makes it a little heavier than less burly bags
Bright logos throw off the all-black aesthetic a little
Zippers could be a little burlier
Verdict Overall, I found this to be a pretty fantastic shoulder camera bag. It's comfortable, durable, and fits just the right amount of gear for a day spent walking around taking photos. While it doesn't leave much room for extra stuff, that does make it slim and efficient, which seems to be the overall point with this bag anyway. Plus, if you need more space, you can always add modules. That's a lot easier than making a bag that's too big seem smaller.