You once again have to register your drone—yes, even the little ones
The 2015 rules about drone registration are back in action after suspension earlier this year.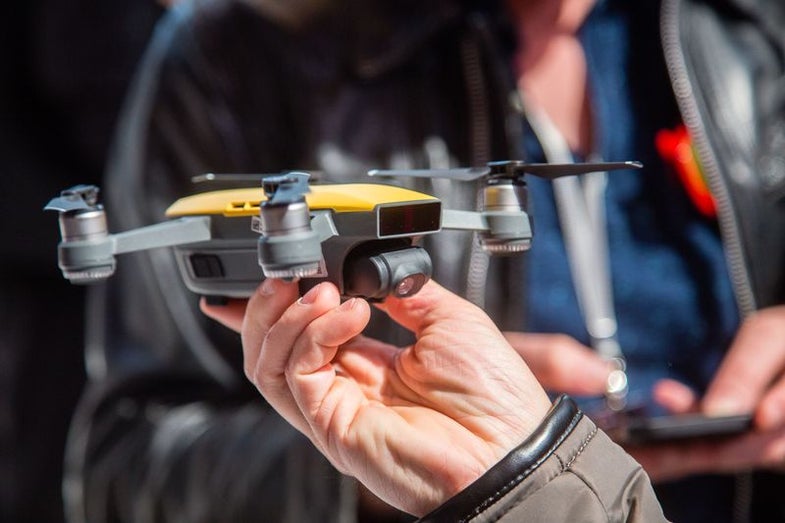 We may earn revenue from the products available on this page and participate in affiliate programs. Learn more ›
You have to register your drone if you want to fly it outside. It costs $5, you can do it online here, and there are penalties if you take to the air without doing it. Now you know. Here's some background.
Not since Ross and Rachel on Friends has there been a more epic will-they-or-won't-they story than the US has with drone registration. Up until 2015, casual pilots could send their drones skyward with little regulation from the FAA. Late in that year, however, a new program required pilots to pay a $5 registration fee and follow a series of specific rules, like keeping the craft within the pilot's direct line of sight. More than 800,000 pilots registered their drones and became a part of a national database.
Then, a District of Columbia court of appeals overturned the rule, citing the 2012 FAA Modernization and Reform act, which helped take into account the new crop of hobbyist operators sending UAVs skyward. Professionals using the crafts for commercial purposes still needed specific licensing, but the masses were unfettered by regulation to fly.
Last December a sweeping National Defense Authorization Act brought the registration back from the dead, reinstating the requirement that every drone weighing more than .55 pounds go through the registration process.
That means that people once again must register their drones (or any other remote-controlled flying device that meets the criteria) at the FAA's site for small Unmanned Aircraft System registration service. The registration still costs $5, and you still have to put put that registration number on the drone when you're flying it. The FAA suggests writing it on in permanent marker, using a label, or even etching it into the drone.
The potential penalties for failing to register are potentially steep— civil penalties up to $27,500 and criminal penalties up to $250,000 or three years in jail. Of course, those are assuming severe incidents result from unregistered drone flight, but the site does say pilots need to keep the registration certificate handy during operation or could possibly face punishment.
An FAA spokesperson issued a statement invoking the same previous safety concerns as motivation for the reinstatement: "Ownership identification helps promote safe and responsible drone operation and is a key component to full integration." In short, the agency sees this as a necessary step to keep small UAV safely sharing the skies with commercial aircrafts. While many consumers oppose the regulation, some big players in the industry like Google and prominent drone maker DJI have expressed support for this kind of regulation.
The regulations are back in effect right now. So, if you buy a drone for someone in your life, consider slipping an extra $5 in the card to cover the registration fee.