Printer Test: Epson SureColor P400
A 13-inch inkjet delivers bang for the buck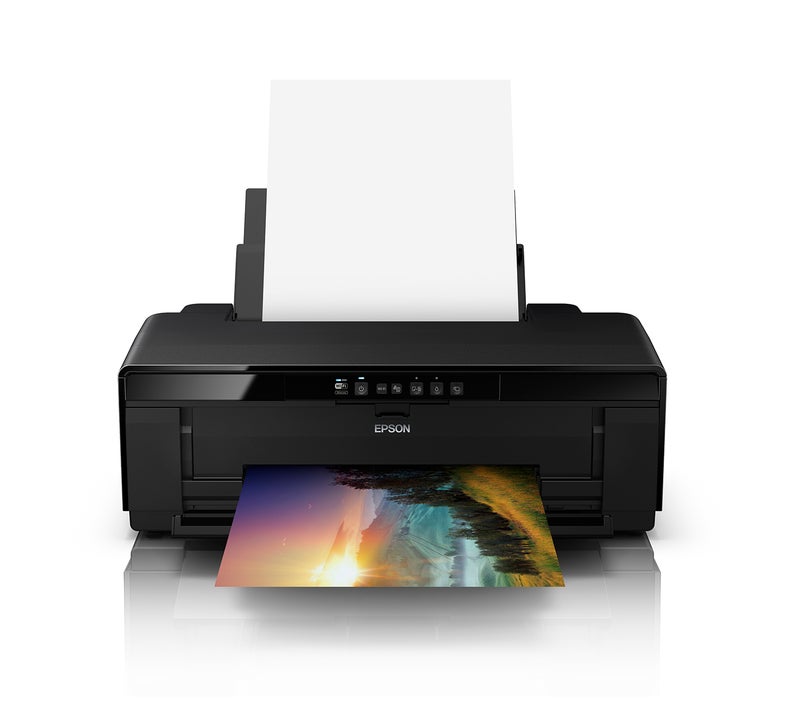 We may earn revenue from the products available on this page and participate in affiliate programs. Learn more ›
Epson's new line of inkjet printers, which the company began rolling out last year, has been steadily improving, reaching a zenith of sorts in the SureColor P400. This new 13-inch printer, $600 (street), adds to the SureColor desktop photo printer family, along with the 13-inch SureColor P600 and 17-inch SC-P800. Like the larger Canon imagePrograf Pro-1000 (tested in March 2016), the P400 represents a shift in inkjet technology toward providing broader color gamuts and easier printer maintenance.
It is just these sorts of sophisticated additions that set the P400 apart from the P600. Epson's earlier SureColor desktop was designed to work with the then-standard nine-color UltraChrome HD inkset, whereas the P400 uses the newer UltraChrome HG2 pigments. While the HG2 has one fewer cartridge than the HD system, this updated inkset incorporates new red and orange inks as well as a Gloss Optimizer to reduce metamerism.
Unlike the earlier model, the P400 has dedicated lines for both matte and photo black inks, avoiding the need to swap these cartridges out between print styles, thus saving both time and money. While both printers spray out ink in three variable droplet sizes, the print head in the P400 can render fine images by laying down 1.5 picoliter ink droplets, a significant improvement over the 2pl output of the P600.
Setup and Speed
One of the P400's most useful features is its size. With all of its various trays and feeds folded up, the printer is just over two feet wide and one foot deep, taking up little more space than a standard office printer. When outfitted for regular use, the output tray (fully extended) adds about 13 inches to the front of the machine while the two rear roll attachments tack on nearly 4 inches to the back. At about 27 pounds, it's reasonably light for a photo-quality printer and could conceivably be stacked on a shelf over other items on a crowded desk or small studio.
Setting up the P400 is a one-person job. After removing the printer from its box, make sure to remove the myriad pieces of tape affixed to nearly every part of the printer. Epson has found devilish places to hide them all, so look carefully! The P400 ships with attachments for roll media and fine-art matte paper, so be sure not to throw them out with the box after you've got the printer on your desk.
Once it's set up, using the P400 is a breeze—for the most part. Although it lacks an LCD screen, the six control buttons perform just about any function you could need for a printer of its size. Longtime inkjet owners may remember reaching awkwardly behind some of Epson's larger printers for a miniscule yellow button to print a network status sheet; that button is now helpfully provided on the front of the P400 to help troubleshoot Wi-Fi connectivity issues. The rest of the button interface serves to advance roll paper, accept replacement ink cartridges, delete and retry print jobs, and engage the printer's wireless connection.
If you are looking to make prints in bulk or simply interested in wider formats, the P400's roll paper attachment will let you print on rolls up to 13-inches wide. You can't print panoramas that are longer than 129 inches, but this seems to be an industry standard for many desktop inkjets more than a particularity of the P400 itself.
When installing roll media, make sure to wear cotton gloves because it's otherwise nearly impossible to avoid smudging the surface of your paper with Epson's two roll adapters on either end. While these fit onto the printer with relative ease, feeding roll media into the P400 can be difficult given the close proximity of the roll to the slot in the back of the machine designed to accept it. And, as the printer lacks the cutting blade that many of its larger cousins are outfitted with, separating prints from the roll can be an awkward process of trimming them off by hand with scissors while the roll is still attached to the printer. Those reservations aside, the P400 produces beautiful roll prints with no trace of tension banding.
As with Epson's previous photo-quality inkjets in the 13-inch range, thicker matte papers require a dedicated feed at the rear of the printer. The tray-like contraption that facilitates this process clips on to the back of the unit, though that is the limit of its convenience. The brand's older desktops were notoriously fussy with higher-GSM fine-art papers when printed through the rear feed, and the P400 is no different. In the Popular Photography Test Lab, we were thwarted several times when trying to load Epson's textured Exhibition Watercolor Paper, forcing us to continually reload the rear sheet-feeder.
For a desktop inkjet, the SureColor P400 outputs prints at an acceptable speed, However, we saw a difference between Epson's listed print speeds and what we observed in our tests. According to Epson, the P400 is capable of printing an 8×10-inch photo in 1 minute, 8 seconds with the caveat that printing times vary depending upon connectivity types, software, resolution, and other factors. Our own tests, using a 3.1 GHz Intel Core i5 Apple iMac, yielded different results. Printing via a USB 2.0 connection through Adobe Photoshop CS6, our test prints with Epson's Premium Glossy paper made 8.5×11-inch prints in the range of 5 to 6 minutes, depending on the border setting. Our prints were made using the Photo RPM resolution setting with the Gloss Optimizer enabled—the former option is known to increase print times and likely caused the discrepancy between Epson's listed print times and our own.
Photo Print Quality
Unlike most of Epson's previous 13-inch desktop photo printers, the SureColor P400 is built to work with the UltraChrome HG2 inkset. The new complement of pigments comprises cyan, magenta, yellow, red, orange, photo black, and matte black ink in addition to a Gloss Optimizer. The shift towards warmer colors and away from a broader array of monochromatic inks puts the P400 more in line with Epson's Stylus Photo R2000 from 2012, a nearly identical 13-inch printer with a similarly composed inkset. As the new P400 only accepts two monochrome cartridges, you can expect better black-and-white prints from its predecessor, the P600, which includes two extra types of gray inks for more subtle tones.
In our lab we compared the P400's color rendering abilities with the most widely used industry standard color gamut, Adobe 1998 RGB. Using our X-Rite Eye-One iSis color profiler, we produced custom ICC profiles from Epson's Ultra Premium Luster and Ultra Premium Presentation Matte papers. After creating the profiles, we analyzed three-dimensional models of the colors they comprised with the help of Apple's OS X Version 10.11.3 ColorSync Utility. For our comparison, we stacked the two color spaces up against the Adobe 1998 profile, which includes about half of all colors visible to the human eye.
Not surprisingly, we found that Epson's Ultra Premium Luster paper out-performed the Ultra Premium Presentation Matte in its ability to render contrast and color; matte papers tend to produce flatter images. Both papers seem to have benefit from the HG2 inkset, delivering bright yellows, oranges, and warm colors outside the realm of Adobe 1998 RGB. Most notably, the Luster paper, with its ability to render contrast, exhibited a broad range of chrominance and luminance beyond the Adobe profile's capacity. This boost in vibrance may be due to the application of Epson's Gloss Optimizer, which give our test prints an enhanced sheen.
Bottom Line
The SureColor P400 may not be the most novel printer from Epson, but for personal projects and small studios, it's priced right. The ease of set-up, use, and media feed options allow you to focus more on image making and less on the minutiae of digital printing. If you're looking to make smaller standard-sized and panoramic prints with vibrant colors and lustrous surfaces, the P400 is just what the doctor ordered.
Specifications
MAXIMUM PAPER SIZE: 13×129 inches
INK TYPE: Pigment-based
INK TANKS: Eight-cartridge UltraChrome HG2 inkset (14ml each): matte black, photo black, cyan, magenta, yellow, red, orange, and Gloss Optimizer
MEDIA THICKNESS: Front manual-feed tray, up to 1.3mm; rear manual-feed guide, up to 0.7mm
RESOLUTION: Up to 5760×1440 dpi
INTERFACES: Six-button panel; Wi-Fi; USB 2.0; Ethernet
COMPATIBLE WIRELESS PRINTING SOFTWARE: Epson iPrint mobile app (iOS and Android)
DIMENSIONS: 24.5×12.8×8.6 in.
STREET PRICE: $600
INFO: epson.com
Ultra Premium Presentation Paper Matte
Paper Gamut (in color) compared to Adobe 1998 RGB
Ultra Premium Photo Paper Luster
Paper Gamut (in color) compared to Adobe 1998 RGB
The white, polygonal shapes in these gamut diagrams illustrate color visible to the human eye represented in the industry-standard color space Adobe 1998 RGB. The brighter, colorful shapes in and outside of these polygons show the colors that the P400 can produce on two of the brand's papers.