PolarPro's PowerGrip H20 Is Built For Serious Action Cameras
It will beat you up if you call it a selfie stick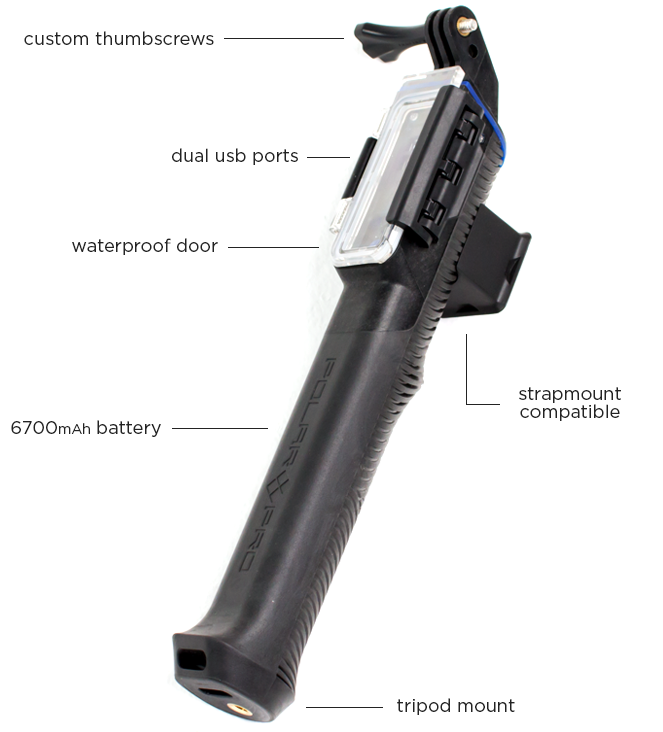 We may earn revenue from the products available on this page and participate in affiliate programs. Learn more ›
Way before the current and often insufferable selfie stick craze took off, action sports athletes were using pole mounts for cameras like the GoPro to capture their exploits. The PolarPro PowerGrip H2O is one of the most advanced pole mounts we've seen and is currently raising funds via kickstarter.
The pole itself collapses into several different sections so you can make it much more compact for travel. It's also a lot tougher than the telescoping design used by cheap selfie sticks. When all the way extended, it reaches 33-inches. The arm has a special slot running its length so you can run the cable through it.
The mount at the end of the stick will hold either a smartphone or a GoPro. Perhaps the most important aspect of it, though, is the built-in 6700 mAh battery built directly into it with a pair of USB ports, so you can keep a GoPro alive and filming for more than six extra hours.
The whole package can be completely waterproof and can be mounted to a strap so if you're a scuba diver, it's good up to 99-feet of depth.
The pole will retail for $99 when it hits stores, but the Kickstarter packages start at $69 if you act fast enough. You can also add some upgrades, including an integrated LED light that uses the built-in battery (which is just a really good idea), a kit to keep the camera charging even under water, the strap mount, and even a case to carry everything.