My Project: Marisa Scheinfeld Photographs the Ruins of New York's Borscht Belt
Marisa Scheinfeld documents the deterioration of her childhood vacation destination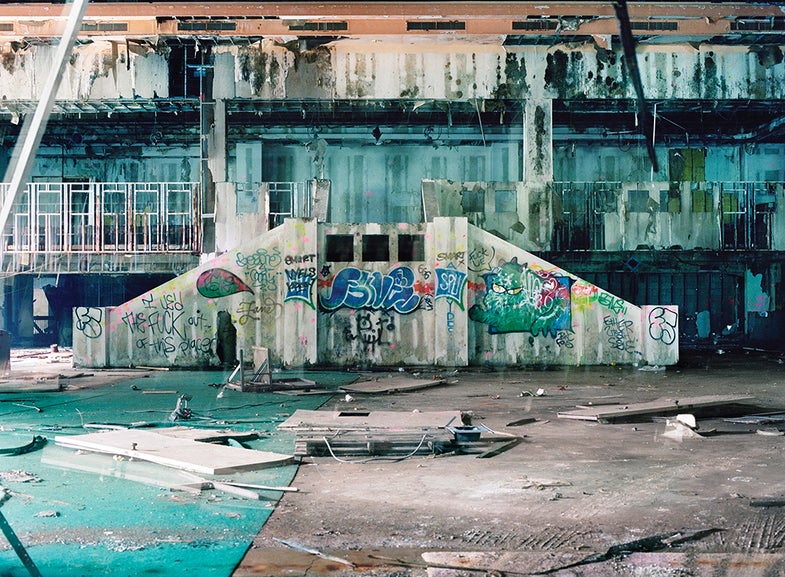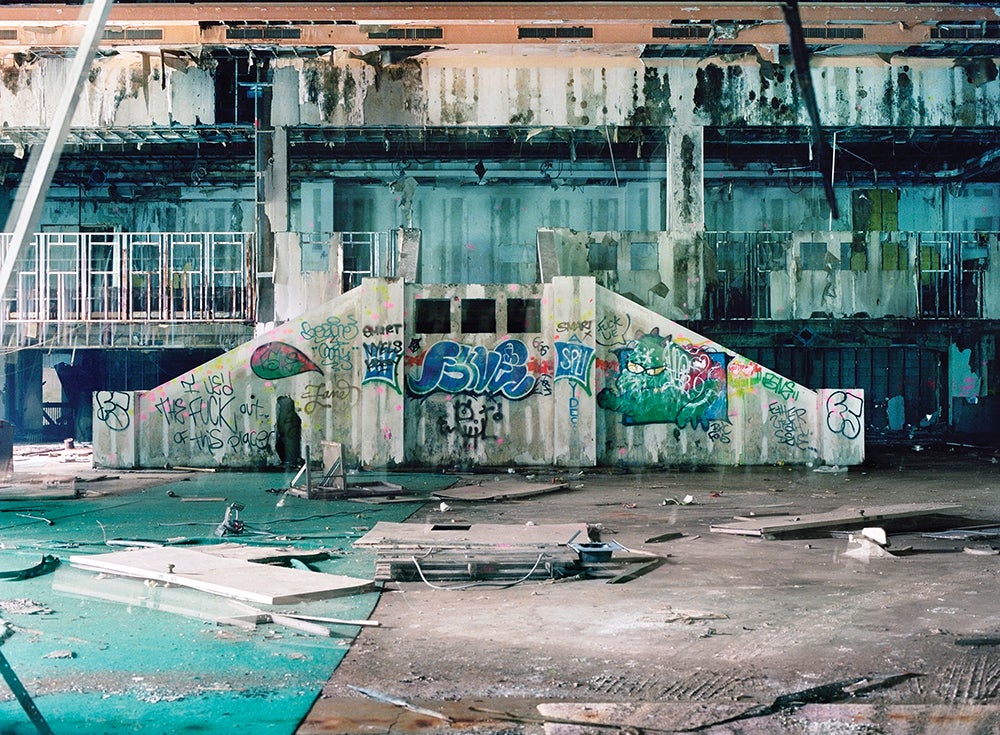 In the mid-1980s, when Marisa Scheinfeld was 6, her family moved to New York's Catskills region, once known as the Borscht Belt. A preeminent vacation spot from the 1920s to the 1970s, especially for American Jews, the area boasted more than 600 hotels with mammoth swimming pools, delicious food, and top-notch entertainment. Although Scheinfeld's family frequented resorts like Kutsher's and the Concord, by the time they moved there, the Borscht Belt's heyday was long over, and in the decades that followed, many of its hotels were abandoned or demolished.
She began her series Echoes of the Borscht Belt in 2010 as an artistic remedy for the homesickness she'd developed while working and earning an MFA in San Diego. Shooting Kodak Portra 120 on a Pentax 645 and using only natural light, Scheinfeld scours hotels for remnants of the Borscht Belt's past, focusing on spaces reclaimed by nature (an indoor pool carpeted in moss) or repurposed by recent visitors (a showroom now used as a skate park). This combination elicits warm memories but also deep sadness from former visitors.
It wasn't until a recent trip to Kutsher's that Scheinfeld felt a nostalgic ache. "I had gone to this place where things had always been so simple," she says. "Now it was literally the carcass of the hotel. All that's left are the bones."
She would like to return before it is razed and a new cluster of casinos and hotels arrive, courtesy of New York State's recent gaming legislation. Scheinfeld hopes such development will revitalize the area and remind people of the gorgeous scenery that has lured city dwellers for centuries. She doesn't expect the Borscht Belt's second coming, but rather another unique rebirth for the Catskills, which has flourished and fallen with numerous industries since the 1700s.
"This project is very much a metaphor for the life cycle—everything has a birth, a death, and there's all this space in between," Scheinfeld says. "If you look beyond the decay, there's a lot of beauty in the environment, and I think in that is potential. Even though it might be hard to see amidst rust and peeling paint, it's still there."
Marisa Scheinfeld's book of this work will be published by Cornell University Press in 2015, and more of her work is available on her site.
Image from Marisa Scheinfeld's "Echoes of the Borscht Belt"
Image from Marisa Scheinfeld's "Echoes of the Borscht Belt"
Image from Marisa Scheinfeld's "Echoes of the Borscht Belt"
Image from Marisa Scheinfeld's "Echoes of the Borscht Belt"
Image from Marisa Scheinfeld's "Echoes of the Borscht Belt"
Image from Marisa Scheinfeld's "Echoes of the Borscht Belt"
Image from Marisa Scheinfeld's "Echoes of the Borscht Belt"
Image from Marisa Scheinfeld's "Echoes of the Borscht Belt"