Photography Travel Guide: Namibia
Right between the Namib and Kalahari deserts, and getting less rain than any other country in sub-Saharan Africa, Namibia is a land of contrasts and extremes. It is also a photographer's dream, packed with stunning scenery, surprising wildlife, and surreal views.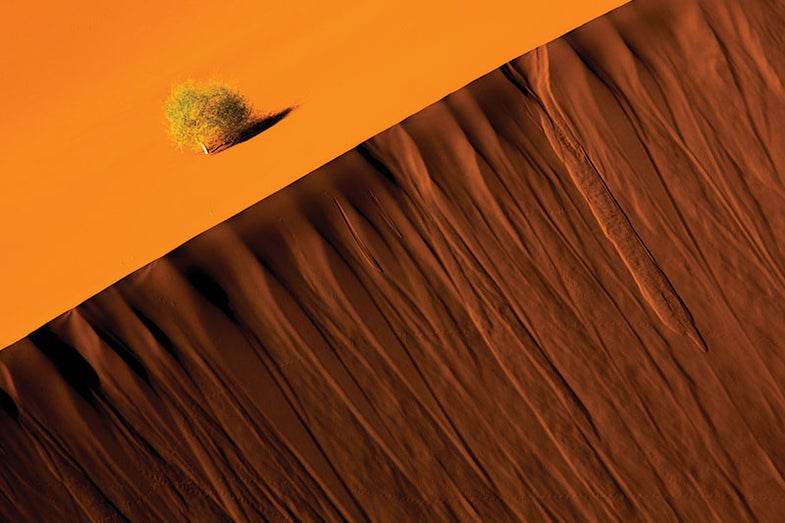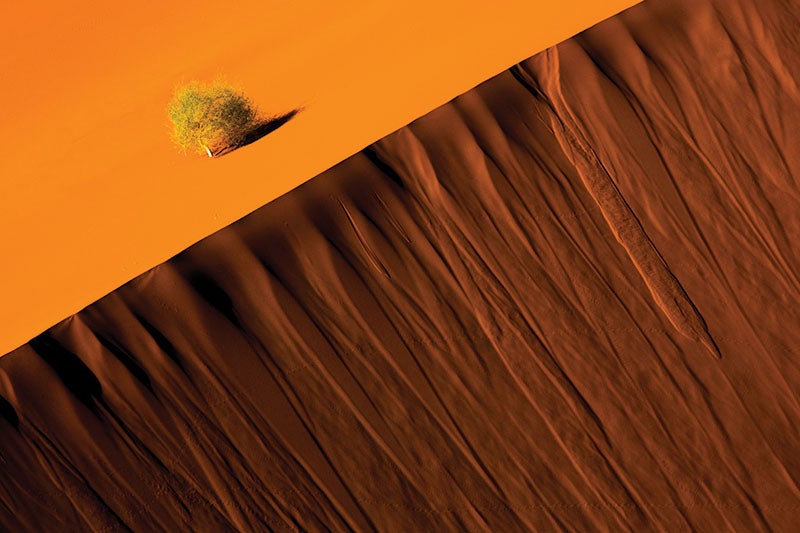 Water—and its absence—defines life in this southwestern African country. Namibia's Coastal Desert is one of the planet's oldest, with powerful winds sculpting the highest sand dunes in the world. While the country is hot and arid in the interior, the coast is cool and moist. As for the rest of Namibia, you find life only where it finds water.
HOW TO GET AROUND
A safe place to visit, Namibia's tourism industry is quite well-developed. Start your trip by flying into Hosea Kutako International Airport. U.S. tourists won't need to secure a visa ahead of time.
Rent a car—there are plenty of options—and remember to drive on the left! Namibia's roads tend to be in good condition, and paved highways take you to most of the popular destinations. Secondary routes consist of well-graded gravel. You probably won't need a four-wheel-drive vehicle, although it's useful in a few areas (including Deadvlei, next page). Bring cash, since many service stations don't take credit cards.
English is the official language and is widely spoken (although many older Namibians speak it poorly). Namibians also commonly speak Afrikaans and German as well as a number of indigenous languages.
The local currency is the Namibian Dollar (NAD). Withdraw NADs from the ATM machines available in most towns, cities, and tourist destinations. In general, you can choose from a range of quality lodging wherever you visit (including hotels and comfortable campsites).
PLACES TO SEE AND SHOOT
Etosha National Park
Renowned for its spectacular and abundant wildlife, this park is the most important wildlife sanctuary in Namibia, as well as one of the largest savannah conservation areas in all of Africa. Elephants, zebras, black and white rhinos, leopards, lions, cheetahs, springbok, giraffe, and wildebeest all call Etosha home in plentiful numbers.
In the dry months (approximately May through November), head to the water holes to find the highest concentration of animals, especially early and late in the day.
Stay at one of the three walled "rest camps" inside the park; they range from deluxe to campsites. Each camp has an adjacent water hole with a viewing area and floodlights that light up the night. There, get your camera ready to catch amazing photographs in sunrise, sunset, and twilight. Sure, you can stay at lodges outside of the park, but you'll need to drive farther to reach wildlife-rich areas.
During the day, a two-wheel-drive vehicle will do the trick for park exploration. You are not allowed to exit your car. Since you won't be able to get closer on foot, pack a telephoto zoom.
Namib-Naukluft National Park
Encompassing much of Namibia's southern coast and the Namib, this park combines some of the country's most surreal natural landscapes with a surprising amount of wildlife.
Sossusvlei is an area in the southern Namib characterized by enormous red sand dunes. Look for patterns, lines, and shapes combined with low-angled side lighting for best results. Use a longer lens when zooming in on patterns of dunes from down below; if you have the legs for climbing, bring a wide-angle for sweeping scenes that include a foreground of rippled sand.
Deadvlei is another clay pan near Sossusvlei that's entirely surrounded by gigantic red sand dunes. Photograph the dozens of stark-looking camel thorn trees that have been dead for centuries but are saved from decomposition by the arid climate. Early morning and late evening light is best, when the warm, low-angled sunlight intensifies the dunes' bright orange and red hues. Bring both wide-angle and telephoto lenses: get in close to the trees with a wide-angle and include plenty of sky, or step back and zoom in with a telephoto, pinning the dead trees against the red dunes in the background.
FEATURES AND CREATURES
Quiver Tree Forest
Near the southern town of Keetmanshoop lies a unique forest of quiver trees. These are not actual trees, but rather species of aloe large enough to be called trees by the locals, who once used them to make quivers for their arrows. The plant's candelabra-like shape creates ideal silhouettes against a sunrise or sunset. The forest is also perfect for starscapes or star trails, and streaking clouds through a moonlit sky.
Namib Desert
Horses On the eastern edge of the Namib Desert near the town of Aus is a population of feral desert horses. This group of about 100 has captured the imagination of photographers for years, as they survive in some of the harshest desert conditions. The best place to see them is at the Garub waterhole, located off of National Road B4, which connects Lüderitz and Keetmanshoop.
Kolmanskop
Once a thriving settlement built around a diamond mine, Kolmanskop has been a ghost town since production ceased in 1954. With colorful walls and sand dunes engulfing entire rooms, the ghost town should be on everyone's list when touring Namibia. The juxtaposition of the manmade and the forces of nature make for compelling photography.
The town is part of a restricted area, so you will need a permit to get in to take photos, which you can get in the tourism office in Lüderitz. The best time to photograph Kolmanskop is in the early morning or late afternoon, when light from outside is reflected within the buildings, giving the rooms a colorful glow. Footprints can be a challenge, so be careful where you step to avoid leaving tracks in a great composition.
Cape Cross Seal Reserve
Cape Cross Seal Reserve lies about 80 miles north of Swakopmund along Namibia's Skeleton Coast, and is home to the largest colony of cape fur seals in the world. If you're not too distracted by the cacophony and the putrid aroma that permeates the shore, Cape Cross offers some of the best wildlife photography in Africa. Take the elevated boardwalk to get face to face with many of the colony's members. Although your impulse might be to grab a tele, try a wide angle for creative compositions.
Dorob National Park
This coastal park is a greatplace to photograph many different bird species, especially in the lagoon near the town of Walvis Bay. Some 75 species flock to this coast, often in massive numbers. Walvis Bay plays host to thousands of flamingos and white pelicans, along with numerous others.
Finally, the most important advice we can offer on visiting this country: Make sure to give yourself plenty of time to see all that Namibia has to offer!
Richard Bernabe and Ian Plant are nature photography pros. See more of their images in their free e-book, Namibia: Two Photographers, One Vision, available on both richardbernabe.com and ianplant.com.
Dead Camel Thorn tree, Deadvlei
Bernabe shot with the 5D Mark III and 16–35mm f/2.8L Canon EF lens, 1/13 sec at f/16, ISO 160.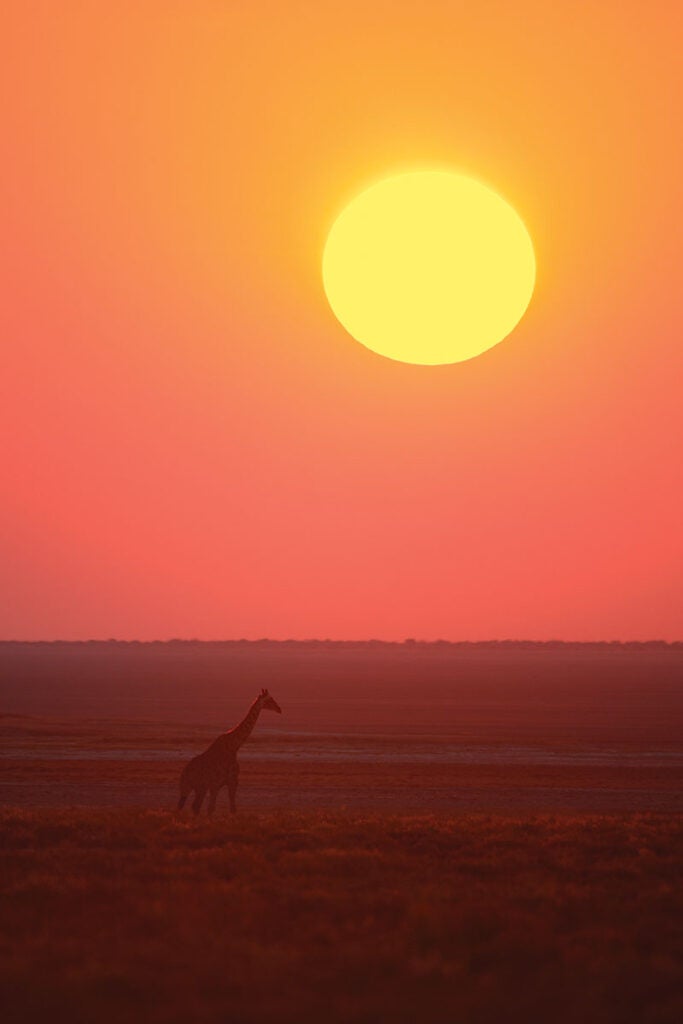 Giraffe, Etosha N.P.
Plant used a 1.4X tele-converter on a 500mm lens; 1/1000 sec at f/5.6, ISO 400.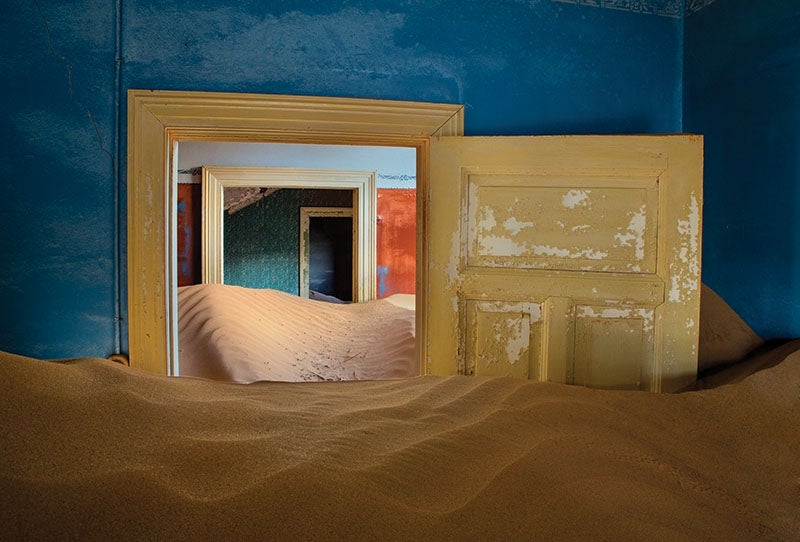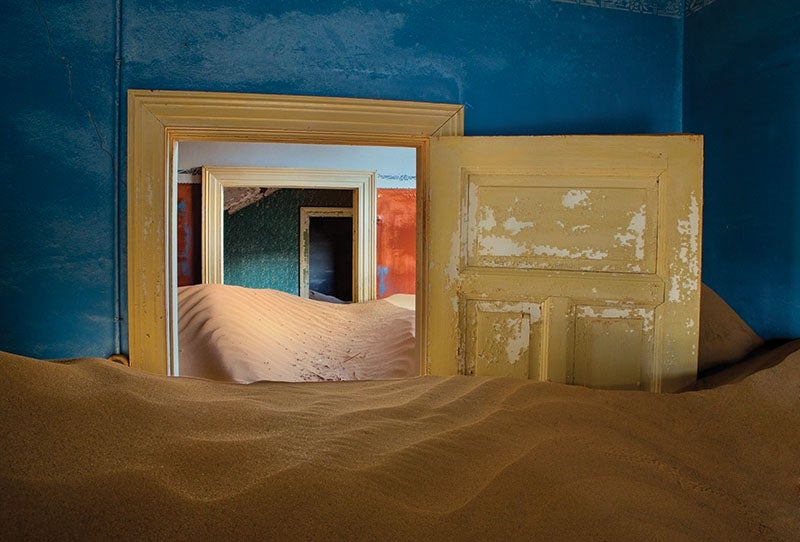 Ghost town, Kolman-Skop
Ian Plant set his Canon EOS 5D Mark III with 24–70mm f/2.8 Tamron SP VC lens on a tripod to make the exposure of 8 seconds at f/14, ISO 400.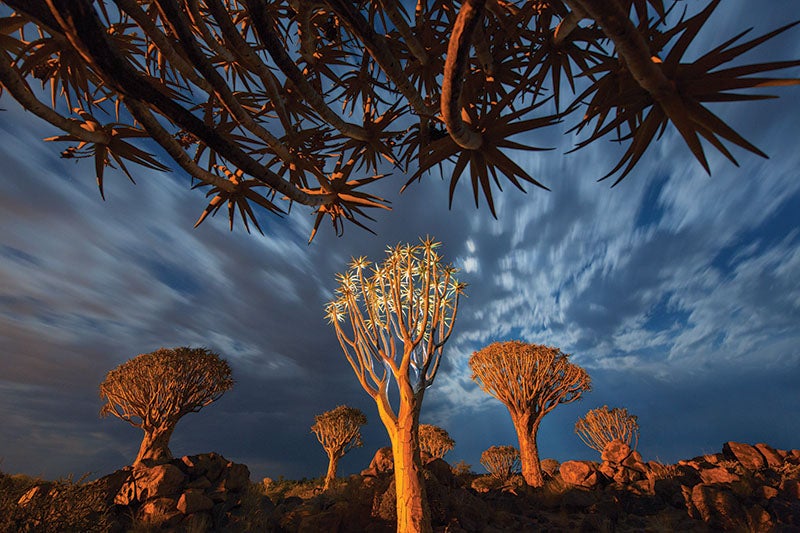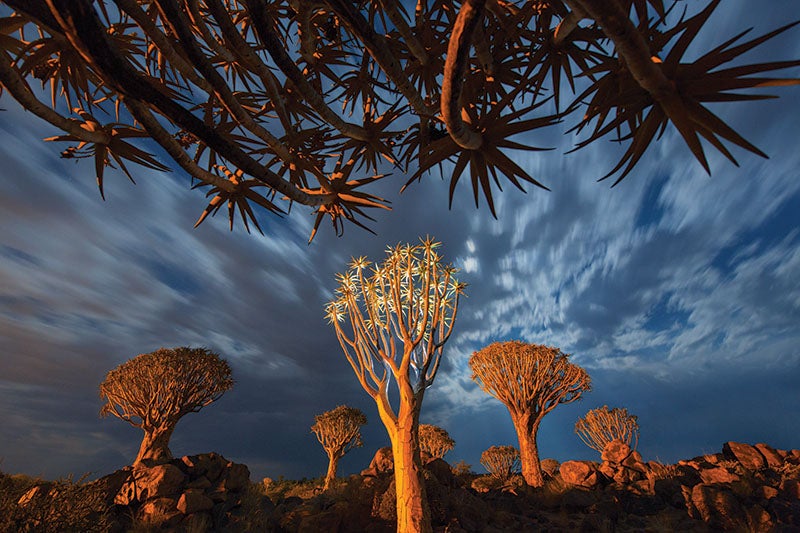 Quiver trees, Keetman­shoop
Ian Plant used a flashlight to paint light on the near "tree" during a 30-second exposure at f/11 and ISO 1600 with a Canon EOS 5D Mark III and adapted 14–24mm f/2.8 AF Nikkor on a tripod.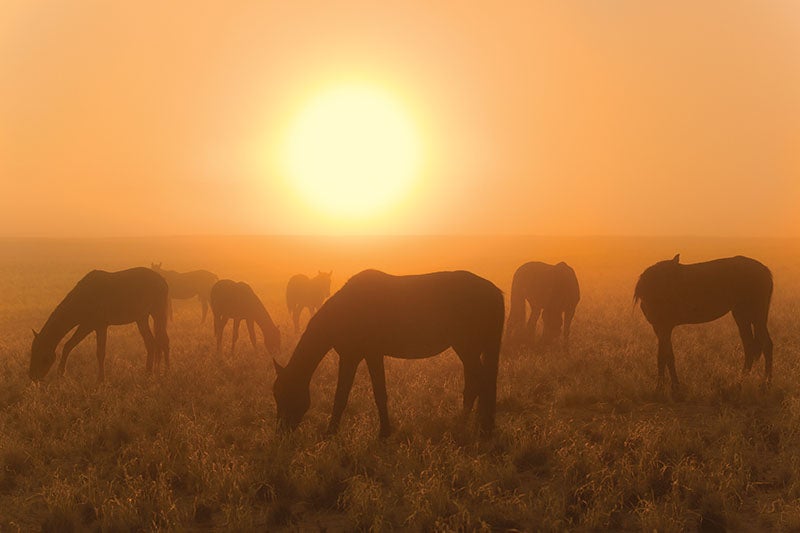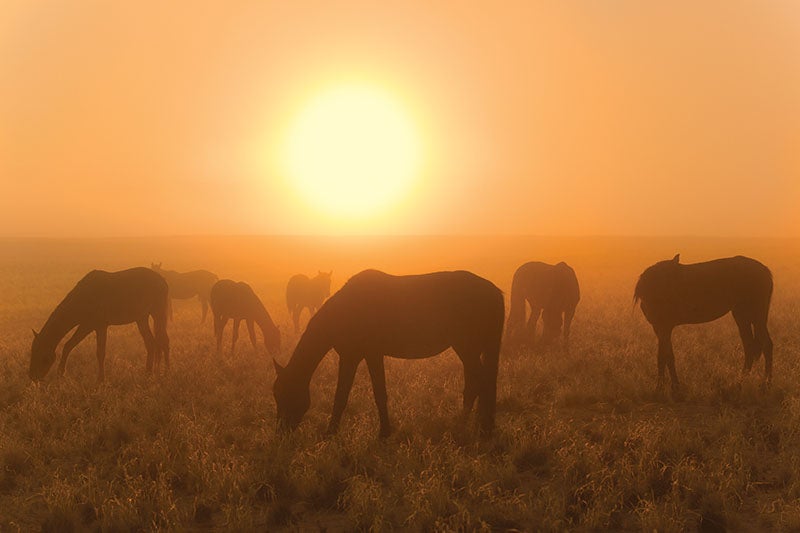 Feral Horses Near Aus
Plant used the EOS 5D Mark III and 70–200mm f/2.8 Tamron SP VC zoom for his exposure of 1/1250 sec at f/5, ISO 400.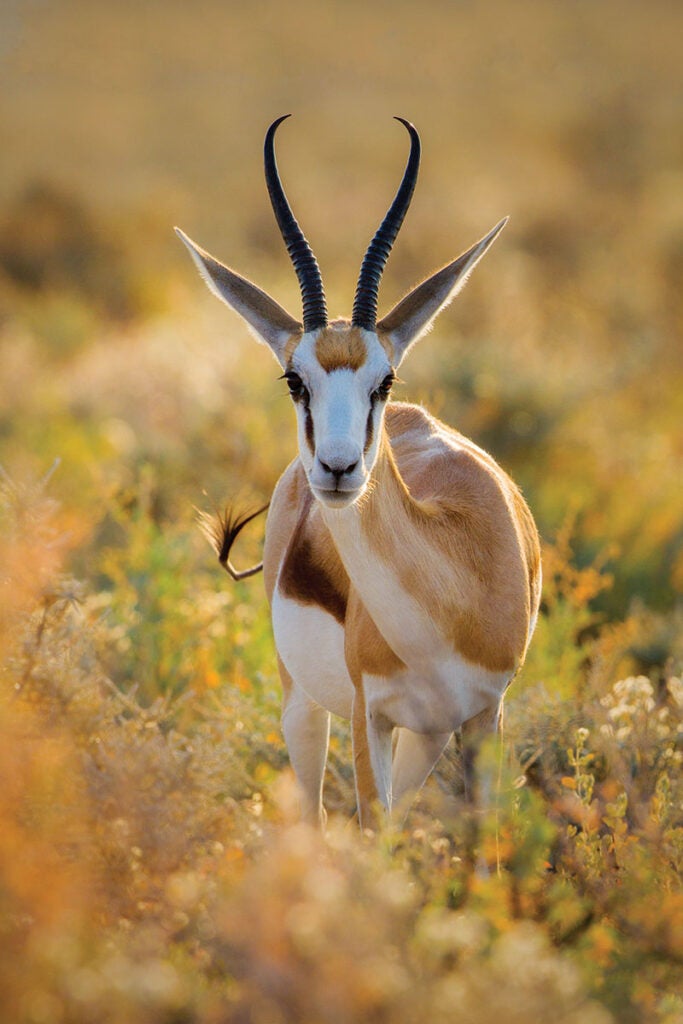 Springbok, Etosha National Park
A 500mm f/4L Canon EF IS tele let Richard Bernabe capture this portrait at 1/500 sec at f/6.3, ISO 160 with a Canon EOS 7D body.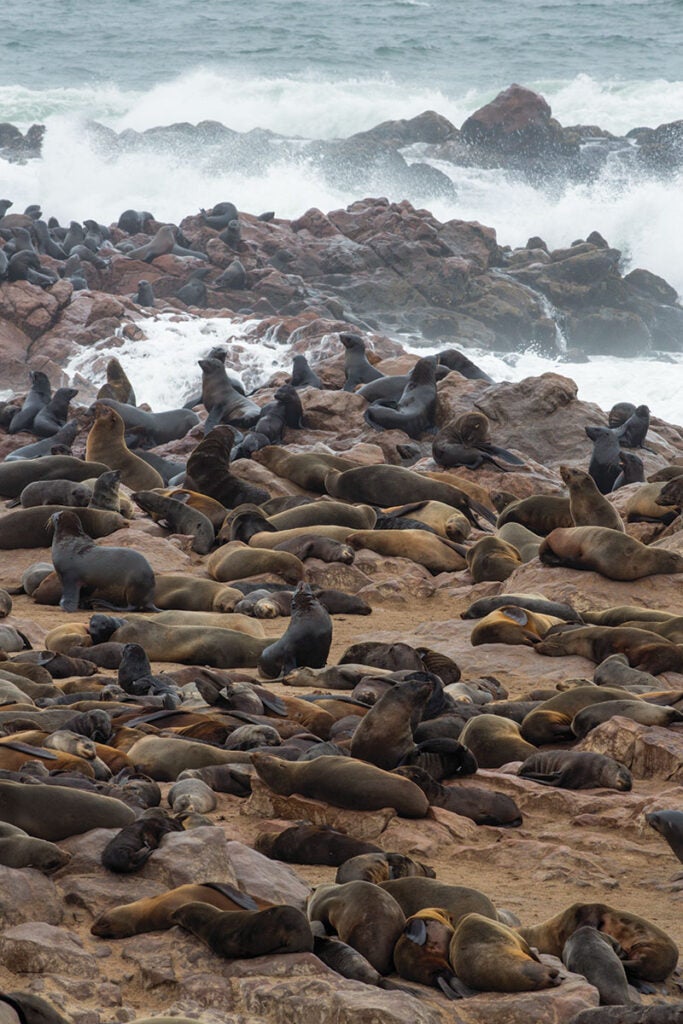 Cape Fur Seal Colony, Cape Cross
Ian Plant shot with a 500mm f/4L Canon EF IS lens on his EOS 5D Mark III for this group portrait at 1/125 sec and f/22, ISO 800.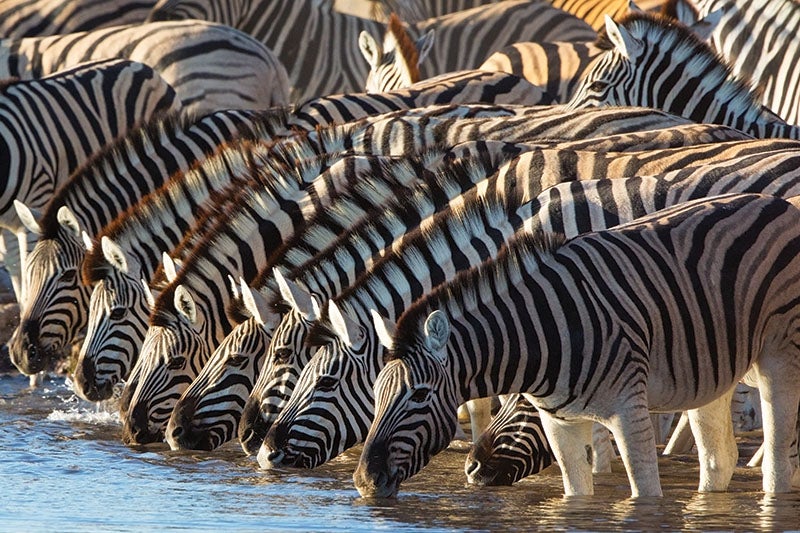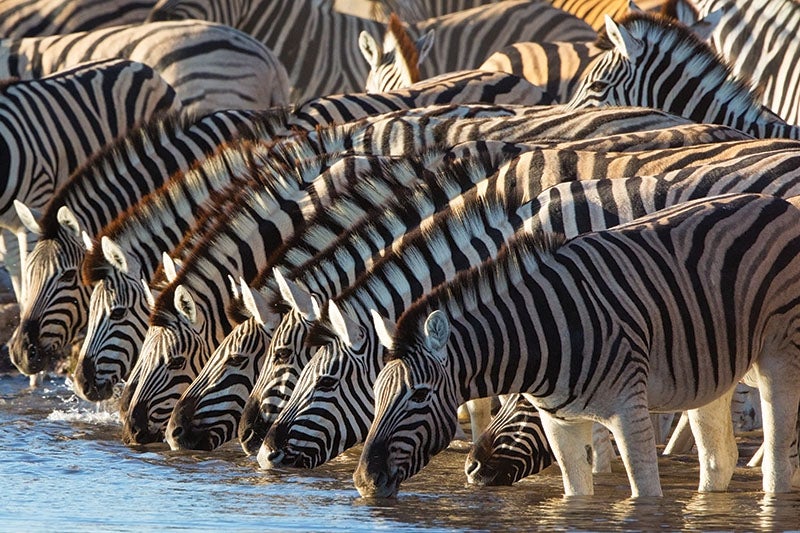 Zebras, Etosha N.P.
Bernabe used a 5D Mark III, 500mm f/4L lens, and 1.4X tele­con­verter; 1/640 sec at f/11, ISO 640.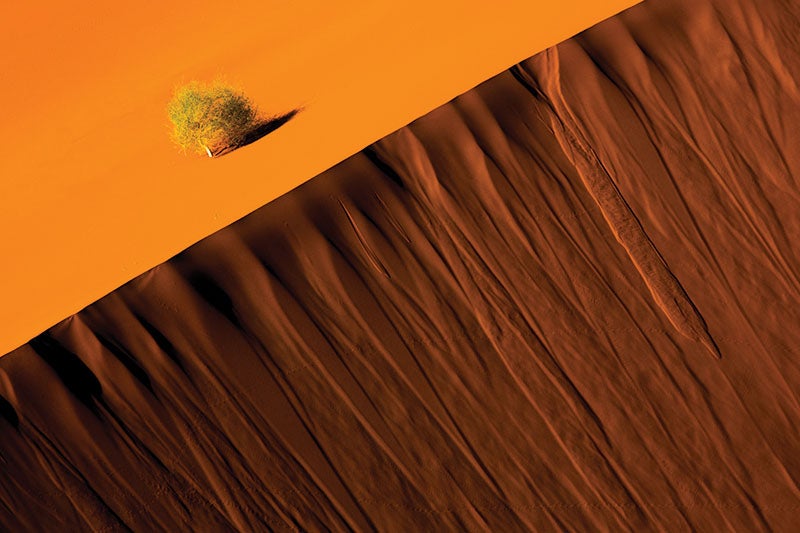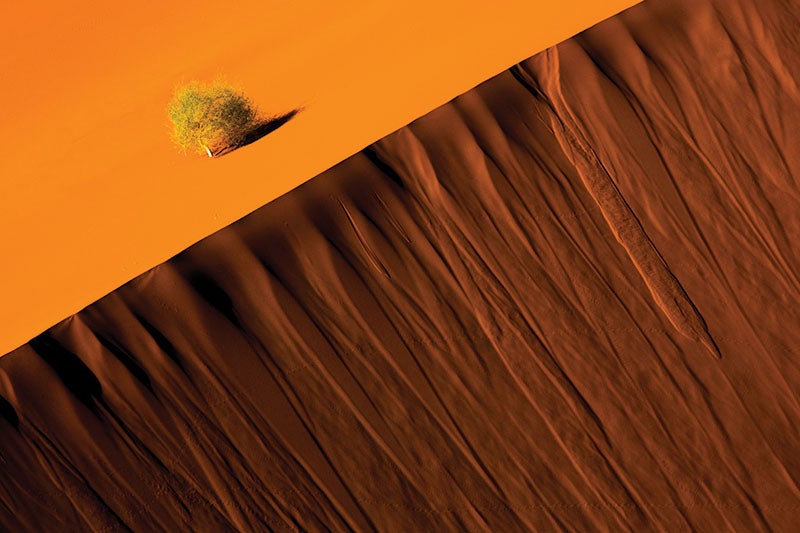 Sand dune, Sossusvlei, Namib-Naukluft National Park
Richard Bernabe climbed an adjacent dune for this view, captured with a 100–400mm f/4.5–5.6L Canon EF IS lens on a Canon EOS 5D Mark III, 1/80 sec at f/11, ISO 100.