Photo Challenge Finalists: Star Photography
Warning: This gallery may encourage you to stay up late shooting photos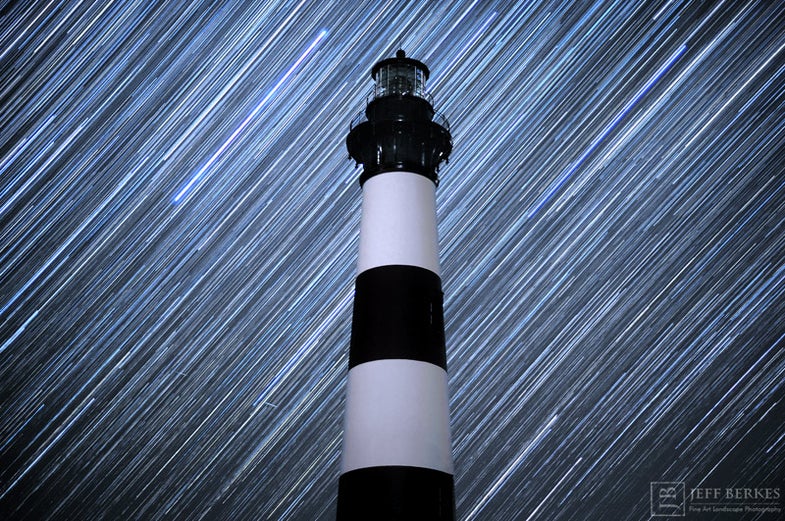 In last month's photo challenge, we encouraged our readers to bust out the tripod and the espresso, then get outside and make some incredible photos of the night sky. And while the word "epic" tends to get thrown around a lot on the internet, it really does seem applicable to many of our entrants.
The photos are an interesting collection of techniques, including single long exposures and multi-photo compositions assembled later in software. While they often produce very different images, they're all very impressive.
If you want to try your own hand at shooting the stars, check out this great tutorial full of useful tips. But first, check out the gallery to get inspired. Also, make sure you bring a couple extra batteries because the cold drains them much quicker than you're used to.
Night Train
This is a composite of 1 hr worth of 30 second exposures to create the star trails.
Bodie Island Lighthouse
Bodie Island Lighthouse was under renovations in 2012 & early 2013. I took a 6 hour 45 minute drive to North Carolina's Outer Banks to get some night sky photographs of Bodie before they activated the light again. Thunderstorms cleared the islands overnight giving me several hours of crystal clear skies to work with. This shot wouldn't have been possible when the light is activated and I don't think that light will be out for a very long time.
Bristlecone Pine on the Hill
Foreground was 3 shots at f8 combined in photoshop. Star trail 31 shots at 240 sec each f2.8 stacked in photoshop and blended with foreground shot using luminosity masks. Curve adjustment for contrast and brightness.
Royal Gorge
The Royal Gorge is one of the most beautiful and serene places I've had the pleasure of visiting. I spent a couple nights backpacking there with friends this last summer. Our days consisted of fishing, swimming, natural water slides, more or less enjoying paradise. During the night we took advantage of some great star gazing. This image was captured from our campsite.
Lost Lake
This was taken last summer on a visit to Lost Lake 30 minutes north of Mount Hood.
Standing Tall
I took this photo at the Park Avenue trailhead in Arches National Park last September. I took two photos to get this shot with identical settings except for the exposure time which was 30 seconds for the night sky and 195 seconds for the foreground, then I merged them in photoshop to create one image. I didn't do any light painting for this shot, the mountain was illuminated by the light from the nearby city of Moab, Utah.
Lonely Night
Long exposure, iPod flashlight for ground light-filling, Maglite for tree light-filling.
Teide Volcano and the Milky Way
This was captured on the Island of Tenerife at the foot of the El Teide Volcano in February of 2014. It was 9:30 pm on an evening where there had been a snow storm a couple of days earlier, so there was plenty of snow left to add some light to the mountain.
Canoeist on Loch Ness
A canoeist, rowing as he paints out his path of white with his head torch, over the waters of Loch Ness beneath a clear night sky.
An Ancient Story
The ancient drawings of our ancestors tell a story that can be interpreted in a variety of ways. Like these drawings the stars are mostly unknown to us, making us wonder what the full story is involved with our night sky.
Northern Lights over British Columbia
An epic display of Northern lights dance high above as it sent electrostatic discharges pulsating through the sky above a moonlit landscape in British Columbia's Southern Interior.
Sprague Lake Silouhettes
This was taken on a cool September evening in Rocky Mountain National Park overlooking Sprague Lake. I had taken several photos and was leaving when I saw this view. The wind had calmed, and the reflections were amazing. It took me five trips to RMNP to start to get good star and Milky Way photos. First lesson: wear gloves!! Processed with PS CC to remove noise and increase contrast.
Cabin among the stars
The image was taken in the mountains near Kalopanayiots village in Cyprus. I was waiting for the full moon to rise from the horizon and while waiting I was experimenting with night photography. This was the result.
Ayios Sozomenos under the stars
Ayios Sozomenos is a location where ruins of a temple make it an iconic location. While being there multiple times for other kind of of photography I pre-visualized how it would look with the galaxy river floating above it.
The Star River in the Sky
An observation deck with milkyway in the middle of nowhere in Muleshoe Wildlife Refuge. It was taken during the time I and group of friends were waiting for the clouds go away to catch a clear view of milkyway.
Daybreak
The planned image to capture the explosion of color at sunrise quickly changed when strong winds blew the remaining clouds out of my frame. I then changed my game plan to catch star trails at the break of day. The colors were still fantastic, this was my first attempt to have trails so close to sunrise.
Mount Bachelor Milky Way
A crescent moon that was setting, illuminated Mount Bachelor and the grass in the foreground before it got pitch black and the Milky Way appeared. There was also some Aurora activity going on which can be seen by the slight green color on top of the peak.
Musala
Musala is the highest peak in the entire Balkan Peninsula, standing at 2,925 m (9,596 ft).
Night on the Mountain
A wonderful night after a hike up Sentinel Dome in Yosemite…. A friend light-painted us briefly with a flashlight during a long exposure.
Third Bridge
New third bridge built in Augusta Maine to help reduce intown traffic. Photos stacked with StarStax. Moon rose the last 30 minutes of a two hour run, lighting the underside of the bridge for me.
Starry Night at Sennen Cove
A starry night at Sennen Cove in Cornwall.
Church of the Good Shepard
Aurora Australis over the Church of the Good Shepard, Lake Tekapo, New Zealand
Graphic Nature
Double arch lit from underneath as the world turns in a long exposure.
Ghost Town Skies
Rhyolite, NV. Pentax kr, Sigma 10-20mm.
Searching
In April 2012, news reports began stating that due to some unusual cosmic activity, that the Northern Lights may be able to be seen as far south as New Jersey, so I headed out with my family to the beach to search the sky for any hint of the Northern Lights. While no light show was present, I did get this shot of my sister sitting in the chair shining a flashlight into the sky as if she was searching for something.
Southern Skies
The Church of the Good Shepard with the milky way as a backdrop. This is one of the largest and darkest gold standard dark sky reserves in the world.
Moraine Galaxy
Milky way above Moraine Lake in Banff National Park, Alberta.
Milky Way at Thomas Moulton Barn
Captured during my first trip to the Grand Tetons last July. Subtle light-painting done to the Thomas Moulton Barn.
Under The Stars
I was driving along route 206 here in Sussex County, New Jersey, when I noticed this little cabin off the road. The sky was clear so I grabbed my headlamp to "paint" the foreground while I took a 30 seconds exposure. I looked on the back of my camera and saw all this color that I was able to capture as well. I love the simplicity of this image.
Carma Telescope
This is one of the dishes that make up the CARMA array of telescopes that is run by CalTech and UC Berkley. They are located in the White Mountains, near Big Pine, California. A seven part panorama stitched in Photoshop CS6 Photomerge. Taken May 11, 2013.
Odyssey
A still time lapse of night-morning in a West Texas dune area
A Cosmic Voyage.
An hour long exposure illustrates the movement of the cosmos across a blue dawn sky here on Planet Earth.