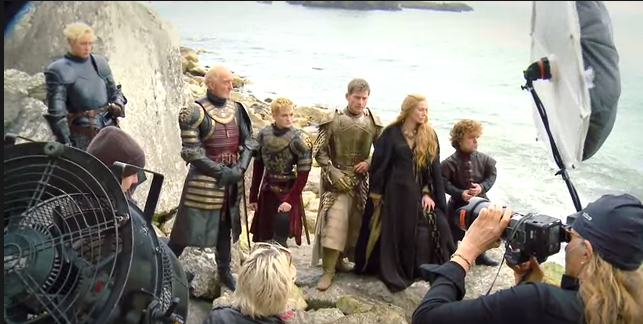 The world of high-end magazine photography is a difficult one to break into, which is what makes behind-the-scenes videos like this so appealing to many aspiring shooters. It's a mass-market video, so there's literally no technical or educational data provided, but it does give us a sneak peak at what it's like to be on a shoot like this.
The shoot was for the most recent cover of Vanity Fair, a publication with which Leibovitz has a long history. As you can see, they're shooting on location at some scenic cliffs, which very much fits the theme of the show.
While we can't see exactly what the lighting set-up is, we can see that she's primarily using one key strobe light fired into an umbrella box, along the lines of the Photek Softlighter. They're obviously shooting in daylight on what looks to be an overcast day, so adding to the ambient seems like a pretty safe way to go.
The amount of wind that's happening on set makes the assistant holding the light (or "Voice Activated Light Stand, as Joe McNally calls them) essential. If you've ever tried to use any big light modifier in the wind, you know why.
The photos look like you'd expect from an Annie Leibovitz shoot, but that shouldn't be much of a surprise.
One other thing to notice is the number of people on set. If you've never been on a commercial shoot, you might be surprised to see how many assistants, stylists, hair and make-up people (who must have been pulling their hair out on this location), publicists, art directors, and all kinds of other people there are in the area of the shoot.
Do you think you could pull off a shoot like this? If so, would you light it differently?