America's 15 Best National Parks For Photography
A shooting guide to some of country's most incredible landscapes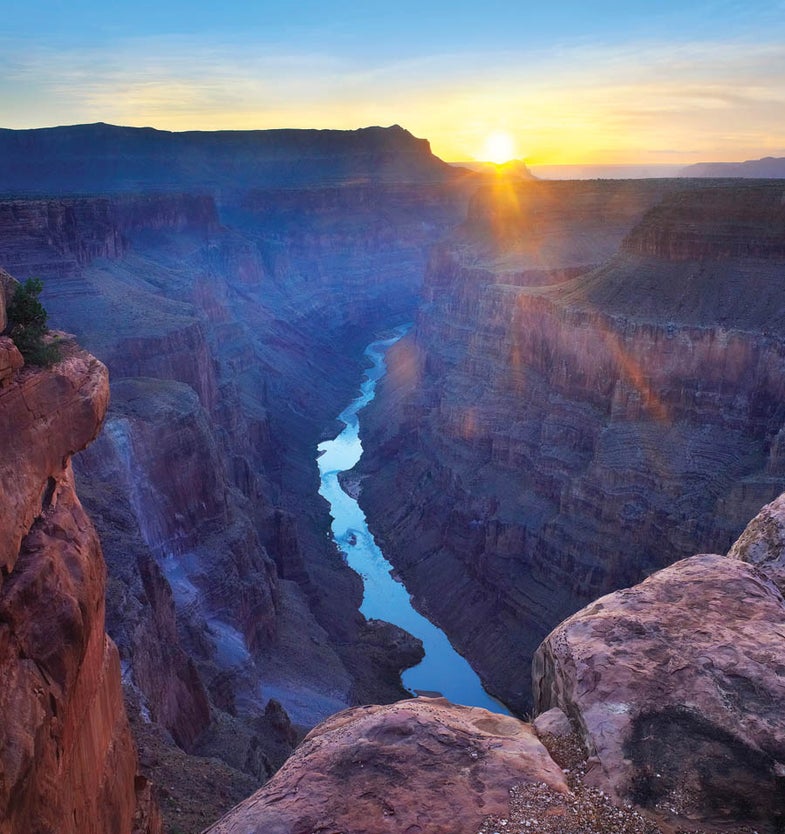 Big Bend National Park (TX)
Big Bend offers stunning scenery, gorgeous flora in all seasons, easily approached wildlife (roadrunners, coyotes, songbirds), pleasant weather, and no crowds except during holidays. Its varied terrain includes the rugged Chisos Mountains soaring to nearly 8,000 feet, expanses of cactus and creosote-studded Chihuahua desert spread over tilting planes, and dark canyons of the Rio Grande. Photographers neglect it only because of its isolated location in southern Texas. Plan to visit in late winter/early spring when temperatures are mild and wildflowers at their peak. Must shoot: Chisos Mountains with iconic agave in the foreground.
Insider tip: See the breathtaking vistas on Farm to Market Road in nearby Big Bend Ranch State Park.
Info: www.nps.gov/bibe
This photo: This strawberry cactus bouquet was grabbed in the shade of a white umbrella that diffused harsh desert light, resulting in rich color.
Badlands National Park (SD)
Badlands' undulating expanse of native prairie spreads over nearly a quarter-million acres. Its name derives from the impassable jumble of gullies, buttes, pinnacles, and spires that gouge its surface. The exotic landforms, rich colors, and changing skies beckon the landscape photographer above all others. But for wildlife shooters, Badlands offers easy access to two spectacular adjoining parks: Wind Cave National Park and Custer State Park. These are strongholds for prairie megafauna—bison, pronghorn, mule and white-tailed deer, and coyote, plus a plethora of playful prairie dogs. Must shoot: Vampire Peak in the purple twilight.
Insider tip: For shooting bison, set yourself up against a good background ahead of their line of travel—they seldom change direction.
Info: www.nps.gov/badl
Acadia National Park (ME)
Acadia's Mount Desert Island serves up a compact collection of natural attractions, including sand beaches, precipitous headlands, rock and boulder shorelines, mountains, small lakes, marshes, and a blend of two major forest types—northern coniferous and eastern deciduous. Wildlife? Present, but most species are hard to see and even harder to photograph. Scenes with the most potential: seascapes, landscapes, and still-life studies of forests and wildflowers. Fall's colorful show makes it the best time for an expedition. Must shoot: The pink granite slabs on Cadillac Mountain, with sea view.
Insider tip: Visit Machias Seal Island (2 hours north at Cutler) for a rare opportunity to photograph Atlantic puffins.
Info: www.nps.gov/acad
This photo:A 2-hour drive north of the park takes you to Cutler, a mustering site to photograph the Atlantic puffin. Best time is mid-June through mid-July.
Everglades National Park (FL)
This is the park to head for when you just can't endure another day of winter. The Everglades' forte is wildlife, especially birds. Big, colorful, and easy to approach, the pelicans, herons, spoonbills, storks, cranes, oystercatchers, and skimmers are an irresistible draw for bird photographers worldwide. Despite its relatively featureless terrain—a vast expanse of marsh interrupted occasionally by treed islands—Everglades offers surprising landscape possibilities. Evocative targets of mist and fog add drama to this watery environs on winter mornings. Must shoot: Alligators in the reeds at sunrise on Nine Mile Pond.
Insider tip: For pondside telephoto bird studies, place your camera on a beanbag at ground level for alluring background bokeh.
Info: www.nps.gov/ever
This photo:
Blue Ridge Parkway (VA, NC)
A drive-by shooter's dream, the Blue Ridge winds 469 miles through a spectacular collection of well-preserved Appalachian Mountain habitat. The road follows the ridges for mile after peaceful mile, for elevated views of the surrounding terrain at frequent, regular intervals. There are campgrounds and numerous pullovers to capture the many spectacular roadside scenes. Trails lead into the valleys to waterfalls, streams, wildflowers, and more. Must shoot: Autumn forest patterns from Steestachee Bald Overlook.
Insider tip: Take a deep breath and relax—this is America's most pleasantly productive roadside shoot.
Info: www.nps.gov/blri
Great Smoky Mountains National Park (NC, TN)
This is the top park in the eastern United States by virtue of its pristine deciduous forest of a species variety and size found nowhere else on earth. On these mist-shrouded ridges and gentle mountains flourish an astounding variety of plants (1,500 flowering species), mammals (60 species), and birds (200 species). The approachable wildlife, waterfalls, boulder-jumbled streams, spring wildflowers, and intense palette of forest color in autumn make this a superlative destination for all but the colder months of the year. Dependable episodes of gentle rain, mist, and cloud all but guarantee perfect lighting on your grand subjects. Must shoot: A silky, blurred motion image of one of the cascades along Little River Road.
Insider tip: Avoid the Cades Cove driving tour on autumn weekends. Traffic jams will eat up most of your shooting time.
Info: www.nps.gov/grsm
Rocky Mountain National Park (CO)
An iconic mountain park, Rocky Mountain is distinguished by an 11-mile stretch of paved road that winds though classic alpine habitat at an elevation exceeding 11,000 feet, a photo destination normally earned only after arduous uphill hiking. You can drive within feet of a herd of grazing elk, a sunbathing marmot, or an avalanche lily. At lower elevations are a series of pocket lakes reflecting the grand scenery. Autumn showcases the most photogenic bull elk rut on the continent. Must shoot: Bugling bull elk close-up.
Insider tip: Marmots are comical and easy to photograph at close range. Look for them in boulder fields at timberline.
Info: www.nps.gov/romo
This photo: In summer, a bull elk in velvet is an accommodating subject, but don't get this close in the autumn rut.
Yellowstone (WY, MT, ID)
The world's first national park, Yellowstone remains the gem of the system and home to a nearly complete array of Rocky Mountain megafauna. In one week you'll have a good chance of frame-filling shots of black bear, coyote, bison, elk, bighorn sheep, moose, mule deer, pronghorn antelope, and trumpeter swan. The landscape is alive with steaming hot springs, spouting geysers, and bubbling mudpots—animated accents to this wilderness of plunging canyons, towering falls, roaring rivers, pristine lakes, rugged mountains, and sagebrush steppes. Must shoot: Bison herds against a Hayden Valley backdrop.
Insider tip: Keep away from "bear jams." Due to ranger-enforced restrictions and fired-up snapshooters, the traffic snarl will keep you from other subjects.
Info: www.nps.gov/yell
Grand Teton National Park (WY)
The convenient combination of grand alpine scenery and abundant wildlife at Grand Teton is unmatched by any other park. The Teton Range, majestic and imposing, rises abruptly some 7,000 feet from the tawny benchlands of the Snake River, a broad watercourse that winds through stands of cottonwood and willow. Nestled against the lower slopes are pine-sheltered lakes and river backwaters that mirror the snow-capped backdrop on still mornings. Over this terrain roam large ungulates—bison, pronghorn antelope, elk, mule deer, and moose—readily spotted and easy to approach. Must shoot: The Tetons from Schwabacher Landing at dawn.
Insider tip: For the best light, Teton scenics in the morning; wildflowers, wildlife, and forest views in the afternoon.
Info: www.nps.gov/grte
Arches National Park (UT)
The geology of Arches seems to have been created with photographers in mind. The park boasts the largest concentration of natural stone arches in the world (more than 2,000). These formations make good subjects in themselves, but also serve well as foreground and framing elements for views of the greater landscape, filled as it is with red rock canyons, pinnacles, domes, and snow-capped mountains. Close-up enthusiasts will be greeted by an assortment of desert subjects—wildflowers, cacti, lizards, and small mammals. Must shoot: Turret Arch through North Window at sunrise.
Insider tip: Bring a reflector or a white umbrella to soften those cactus and wildflower close-ups under clear skies and harsh light.
Info: www.nps.gov/arch
This photo:The Devil's Garden from Salt Valley shows its expanse thanks to the converging parallel lines of a dirt road.
Grand Canyon National Park (AZ)
One of the most stupendous geologic formations on earth, the Grand Canyon stretches for 277 miles, plunging thousands of feet in dizzying drops in numerous places. For photographers, it supplies four elements essential to creating world-class scenic imagery: rich, varied color; deep perspective defined by ranks of receding landforms and familiar near-field features; skies energized by cloud formations for much of the year; and dramatic side-lighting at sunrise and sunset due to the canyon's east/west orientation. Any season is good. Must shoot: Remote and spectacular Toroweap Overlook—make time to see it.
Insider tip: Get the Colorado River in your composition for deepest perspective (Pima, Mohave, Hopi, Moran, Lipan, Desert View, Toroweap overlooks).
Info: www.nps.gov/grca
Death Valley National Park (CA, NV)
Death Valley's airy wilderness is furnished with tinted mudstone hills, wind-sculpted dunes, twisting canyons, snow-clad peaks, green oases, and table-flat stretches of sand and gravel, perhaps offering the greatest variety of scenery of any park. When conditions are right (check with park headquarters), the spring bloom of desert wildflowers can be outstanding. Death Valley is hot, so plan shooting here from November through March during warm, blue-sky days and cool, starry nights. Must shoot: Mesquite Flat Sand Dunes at sundown or sunrise.
Insider tip: Don't shoot during midday's harsh light; cool off instead in one of the park's swimming pools (Furnace Creek, Stovepipe Wells).
Info: www.nps.gov/deva
Zion National Park (UT)
Nestled amid the semiarid plateau country of southwest Utah, this gentle wilderness confronts the visitor with a glowing amalgam of daring color and sculpted rock evocatively arranged and gigantic in scale. Blessed with soft, warm light, the epicenter for photography is Zion Canyon, a gorge lined by sheer, rainbow-hued walls soaring 3,000 feet over a valley floor planted with juniper, willow, cottonwood, oak, and maple. Plentiful wildflowers and a routine smattering of wildlife round out the photographic attractions. The park is most beautiful in autumn. Must shoot: The Watchman at sunset from Virgin River bridge, a social event.
Insider tip: Approachable, big-rack mule deer can be photographed on the grounds at Zion Lodge in autumn.
Info: www.nps.gov/zion
Yosemite National Park (CA)
The nucleus of this park's grand landscape spectacle is Yosemite Valley, a gigantic, glacier-carved corridor walled in by naked peaks and smooth domes that reflect the sunrise and sunset as if forged in gold and bronze. This soaring tract of the Sierra Nevada range is laced by waterfalls that descend in an eerie, slow-motion roar, inundating valley floor backwaters that reflect magnificent vistas from all directions. Ancient groves of giant sequoias, wildflower meadows, flowering trees, flaming autumn foliage, and deep but gentle snowfalls add decoration during the appropriate season. Must shoot: Mariposa Grove on a cloudy day, ideally in rain or snow.
Insider tip: Shoot the earliest morning hours during summer to avoid traffic and parking problems.
Info: www.nps.gov/yose
This photo:Vernal pool reflection at Tuolumne Meadows awaited the warm light of a summer sunset to show its colors, deepened by a polarizer.
Mount Rainier National Park (WA)
Mount Rainier's isolated, ice-clad profile dominates the landscape for 100 miles in every direction. Its 25 major glaciers comprise the largest mass of permanent ice on any mountain in the lower 48 states. Below its shining photogenic crown, the slopes are carpeted by lush subalpine meadows renowned for their displays of wildflowers during August. Adding to this singular attraction are old-growth temperate rain forests, whitewater streams and rivers, cascades, waterfalls, reflecting lakes, and a confiding menagerie of alpine birds and mammals. Must shoot: Reflection Lake with wildflowers at sunrise.
Insider tip: Use a reflector placed on the ground to dramatize foreground blooms in wildflower scenes featuring Mount Rainier.
Info: www.nps/mora
Bonus Image: Big Bend National Park
This strawberry cactus bouquet was grabbed in the shade of a white umbrella that diffused harsh desert light, resulting in rich color.
Bonus Image: Big Bend National Park
A strenuous two-mile hike up a sandy creek bed takes you to this rosy, morning view of Balanced Rock at Grapevine Hills.
Bonus Image: Acadia National Park (ME)
Lichen-draped slabs of granite on Cadillac Mountain call for careful framing. Stony steps beckon the eye to sea.
Bonus Image: Acadia National Park (ME)
Timing was key for this sunrise on the rocky coast near Thunder Hole. A split neutral-density filter kept lighting ratios under control.
Bonus Image: Rocky Mountain National Park (CO)
Catch the sunrise on Hallett Peak from Dream Lake via a 40-minute predawn hike. Don't forget your bear spray
Bonus Image: Rocky Mountain National Park (CO)
A tele lens on a sturdy tripod produced this design experiment after an early snow on aspens and spruces.
Bonus Image: Arches National Park (UT)
Good foreground subjects, like these balsamroot sunflowers, are often the linchpin of successful landscapes.
Bonus Image: Arches National Park (UT)
Iconic Turret Arch and North Window had to be carefully framed to separate the two planes. A zoom was essential.
Bonus Image: Yosemite National Park (CA)
The key to shooting El Capitan at Yosemite Valley is lighting. Sunrise, sunset, and clearing storms yield fleeting theatrical effects.
Bonus Image: Yosemite National Park (CA)
The rich colors of Mariposa Grove are best under the soft light of a cloudy day. Don't let the naked sky sneak into your composition